Snapchat's My AI is a great feature that allows you to experience the power of generative AI in a messaging app. However, it can get boring to interact with the same AI chatbot with a purple face and green hair streaks. For this reason, Snapchat allows you to customize the My AI chatbot to your liking. Snapchat also gives you the freedom to change the gender of the AI chatbot, and that is exactly what we explain how to do in this guide. So, without further ado, let's dive right in.
Steps to Change Snapchat AI Gender
In this section, I will show you how to change the gender of the Snapchat AI chatbot in three easy steps. Follow the steps below:
1. Open Snapchat, move to the chats section and tap on the MyAI avatar. Then, swipe down on the "Customize" option to reveal more features.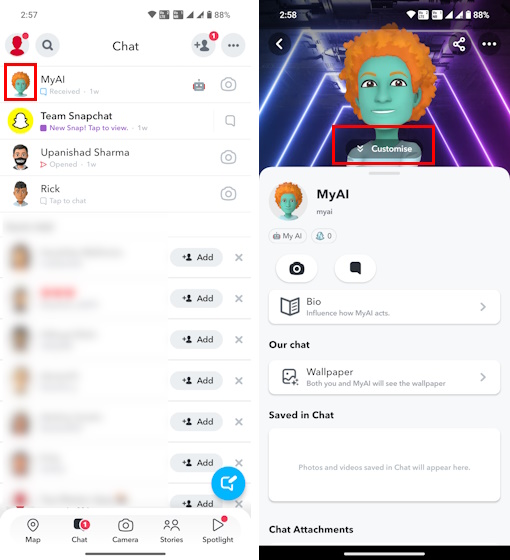 2. Select "Avatar" from the two options that appear. From the Avatar menu, select either female (above) or male (below) as the gender of your Snapchat AI chatbot.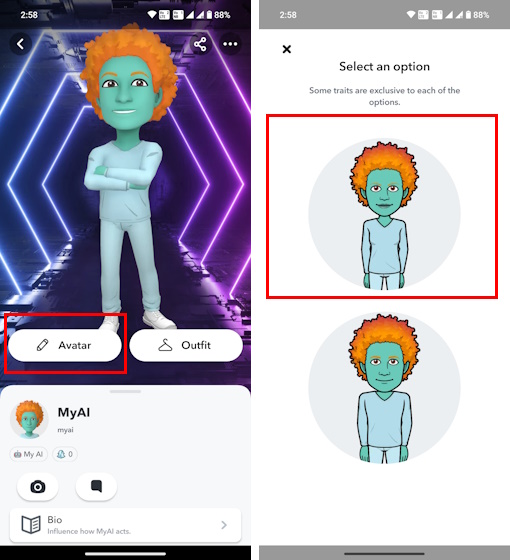 3. Once selected, you can fully customize your AI chatbot to your liking. You can choose the hair color, eyebrow color, hairstyle, dress color, and much more to make the AI truly yours. Once satisfied with the result, tap the "Save" button at the top right corner of your screen.
And that's it! You have successfully changed the gender of My AI on Snapchat. Now, while that is easy to do the first time around, you can't follow the same steps to revert to the originally assigned gender. These steps are only applicable when you are changing My AI's gender for the first time. To change it again, you will need to follow a different set of steps, which we have described below.
Re-Assign Snapchat My AI Gender
1. When in the My AI Snapchat friendship profile, tap the horizontal three-dot icon at the top right.
2. Then, tap on "Avatar Settings" and select the gender of your choice. That's it.
Now, just like you can change the gender, you can change the Snapchat AI's name as well. These simple customization options allow you to have a more personalized experience with the chatbot. So, instead of feeling like you are talking to a bot, this allows you to humanize the AI a bit for a better experience. However, if you are not a fan of the chatbot, you can get rid of Snapchat AI by following our guide. Let us know in the comments section if this guide helped you.
---
Load More