Canon has launched a new telephoto zoom lens for the RF mount. The new RF100-300mm f/2.8L IS USM is Canon's first-ever f/2.8 constant aperture zoom lens to cover the 100 to 300mm range. It's a lightweight option, which can work for sports and wildlife photographers. Check out the details below!
Canon RF100-300mm f/2.8L IS USM: Specs and Features
The Canon RF100-300mm f/2.8L IS USM improves upon the EF300mm f/2.8L lens, which has long been considered one of the best Canon lenses for sports and action photography. The new lens features a constant aperture design, which keeps the aperture at a constant f/2.8, allowing photographers to use the maximum aperture even when zoomed in at 300mm. This means they can capture fast-moving moments with a faster shutter speed, increasing their chances of getting the shots they want. 
According to Canon, the lens also produces a creamy bokeh that allows for better creative expression when shooting portraits. Previously, you might have needed a 70-200mm f/2.8 lens paired with a 300mm f/2.8 prime lens or 100mm + 135mm + 300mm prime lenses to achieve the 100-300mm range at f/2.8 aperture. However, RF100-300mm f/2.8L IS USM does this single-handedly, which means you won't have to carry as much gear for your shoots.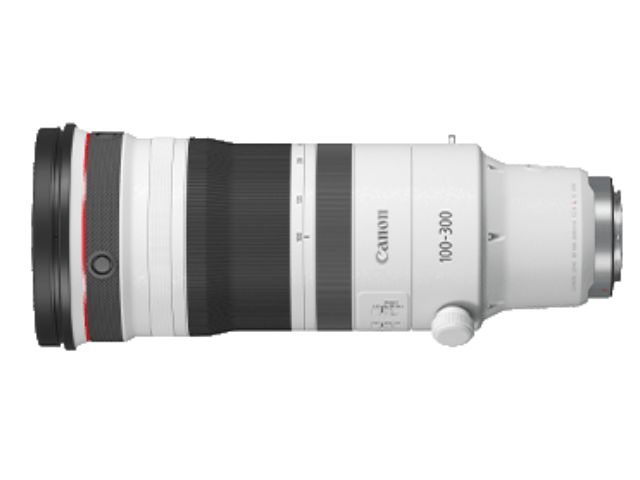 Plus, there's a cherry on top — the Canon RF100-300mm f/2.8L IS USM is the lightest 300mm F/2.8 Constant Aperture Zoom Lens for full-frame cameras. The new lens, paired with an EOS R3, weighs less than the EF200-400mm f/4L IS USM Extender 1.4x alone. Talk about taking some weight off your shoulders, eh? The lens can also be used with RF extenders if you want more zoom. For instance, you can attach the Extender RF2x to zoom up to 600mm (full-frame camera).
The lens offers fast and precise Auto Focus, thanks to its dual Nano USMs. It also features a new electronic floating focus control system that enhances image quality while reducing weight and improves the signature RF mount L-series optical quality. There's also the focus breathing correction feature during video recording to produce high-quality, professional footage. But wait, there's more! The RF100-300mm f/2.8L IS USM also features three IS modes, 5 customizable lens function buttons, and up to 6 shutter stops of in-lens image stabilization.
Price and Availability
The RF100-300mm f/2.8L IS USM telephoto lens is priced at Rs 9,19,995 and will hit the stores in May 2023.