Canon has announced the new EOS R100 mirrorless camera and the RF 28mm F2.8 STM in India. The camera is touted as Canon's "smallest, lightest, and most affordable EOS R system" to date. Check out the details about both of these products below.
Canon EOS R100: Specs and Features
At 356 grams, the EOS R100 is Canon's compact and pocketable full-frame offering. The camera has a 24.1MP APS-C CMOS sensor that is paired with a DIGIC 8 processor. This allows the camera to capture crisp and detailed stills and video footage. The camera comes with a built-in electronic viewfinder (EVF) spanning 0.39 inches for clear shots under harsh sunlight and a textured grip for stable shoots.
The EOS R100 can click sharp and crisp footage of moving objects and people thanks to its blazing fast and accurate autofocus, paired with Eye and Face Detection. The camera offers OIS and a flash, to produce "well-lit shots." in low-light conditions.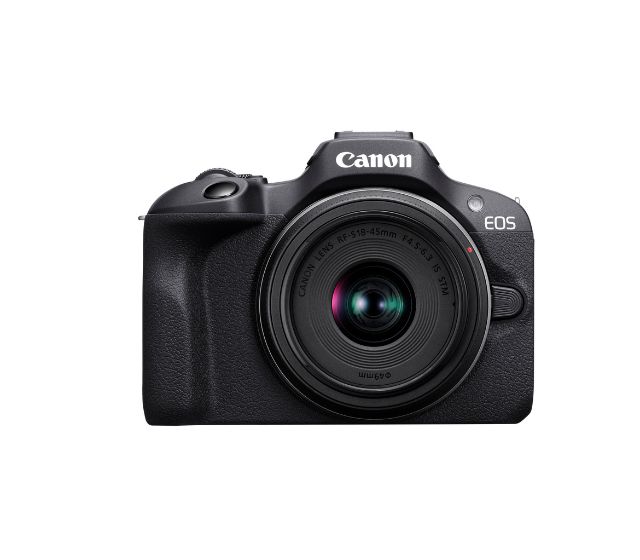 A unique feature of the EOS R100 is its Hybrid Auto mode, which is perfect for beginning videographers. It will convert your clicked images and snippets for the day into a movie. The mode will trigger the 4K Timelapse Video mode to "take shots of a scene at predetermined intervals," and stitch them into a seamless video with intact details and quality. Additional video features include 4K video shooting at 120p, Eye Detection AF and Movie Digital IS function. It has a maximum recording time of 29 minutes 59 seconds for Normal movies, and 7 minutes 29 seconds for High Frame Rate movies.
Additionally, there is support for a dedicated Canon Camera Connect app for smartphones and an SDCard slot, with Bluetooth and Wi-Fi support for ease of sharing. Apart from the regular DSLR and mirrorless camera controls, there is a Creative Assist mode to change brightness and saturation, and support for various creative filters.
Canon RF Mount Pancake Lens: Specs and Features
The "industry-first" RF28mm f/2.8 STM offers three large-diameter plastic-molded aspherical layouts to offer clear image quality. The lens is compatible with full-frame and APC-S cameras. It is a lightweight and pocketable lens that only weighs 120 grams and is 2.5cm long (when retracted). Due to its flat "pancake" design, you can also leave it on your camera.
With an f2.8 aperture, the lens can offer both bokeh and fast-motion handheld shots in full-frame cameras. This also comes in handy during low-light conditions. The 28mm focal length allows for capturing a wide range of scenes. The lens is also appropriate for perspective and portrait photography. Paired with cameras like EOS R8 and EOS R6 Mark II, the lens is suitable for capturing cityscapes and landscapes wide a wider view. It can also offer portrait shots with the subject appearing small in the frame.
In the case of APS-C cameras like the EOS R50 and the EOS R7, the lens offers a standard viewpoint for natural perspective. It is the same as a 45mm full-frame camera. You can click half-body portraits and long-distance shots by pairing the lens with EOS R100.
Price and Availability
As of now, the official pricing and the sale date for the EOS R100 and the RF 28mm have not been revealed. However, Canon has confirmed that both details will surface in June 2023.