The red-hot topic that is trending currently in the anime community without a doubt is Boruto. The latest Boruto Two Blue Vortex is a breakthrough in the Boruto series and the hype is real. After waiting for months, we have now officially received the latest chapter 1/81 of Boruto manga (check out where to read Boruto manga here). One of the major updates we have seen in the first chapter is the 4-year time skip period factor. As a result, we have significant changes in almost all of the vital characters' designs. Therefore, we have created this Boruto character design comparison guide to take a look at how all the characters have grown up and got upgrades in their designs. Check them out!
Spoiler Warning: This article contains spoilers about the characters in Boruto Two Blue Vortex manga. We suggest you watch the anime and read the manga (up to Boruto chapter 81) to avoid ruining your experience.
1. Boruto Uzumaki
The first thing we noticed in the chapter is how Boruto Uzumaki has changed a lot now. Now after a 4-year time skip period, Boruto has grown up a lot and is looking cooler than his dad was during his teenage. He has a bigger scar on his right eye and donned the clock outfit with his uber-cool sword. His hairstyle remains pretty much the same but a little shorter than before. After his training with Sasuke, he is wearing an outfit resembling his mentor now.
2. Sarada Uchiha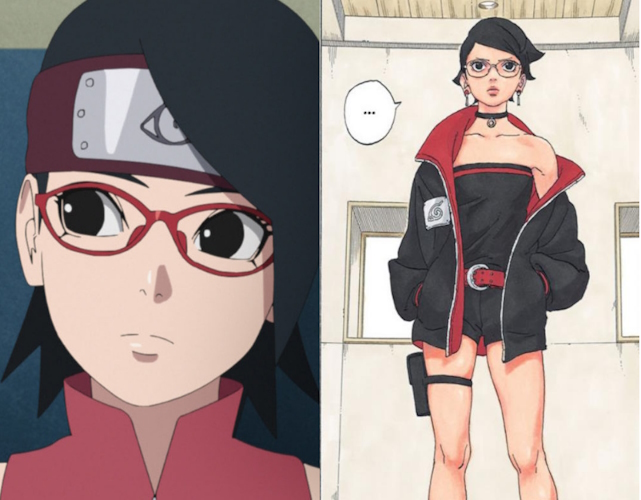 The one character whose design was talked about the most now than Boruto is Sarada Uchiha. She now wears a brand-new outfit that incorporates jewelry from the Uchiha clan, including earrings and a choker. She also got a new, stylish hairstyle. This outfit seems to be inspired by real-life pop idols and now really suits Sarada's character development as well.
3. Kawaki
Up next we have Kawaki, who has a dark and colder look than ever before. He retains his undercut haircut with both sides being trimmed but looks like he has now got long hair on top now. Now he can also be seen donning a black trench coat marked with a symbol at the back. He also wears a black T-shirt inside of the coat. When you combine everything, it adds more gloominess to the cataclysmic design.
4. Mitsuki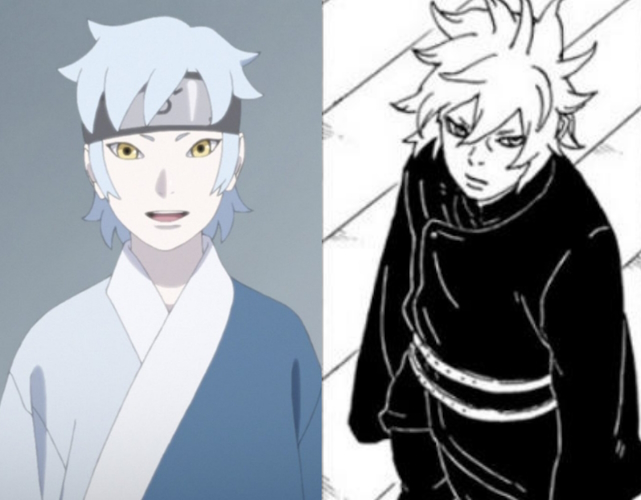 Mitsuki, the son of Orochimaru, has the look of his father's murderous intent on his face now. Like the other members of Team 7, he has also got a crazy upgrade over his design. He appears to have longer hair than before and wears a dark kimono shirt wrapped with belts. There is a significant change in the look of his character and it is terrifying.
5. Himawari Uzumaki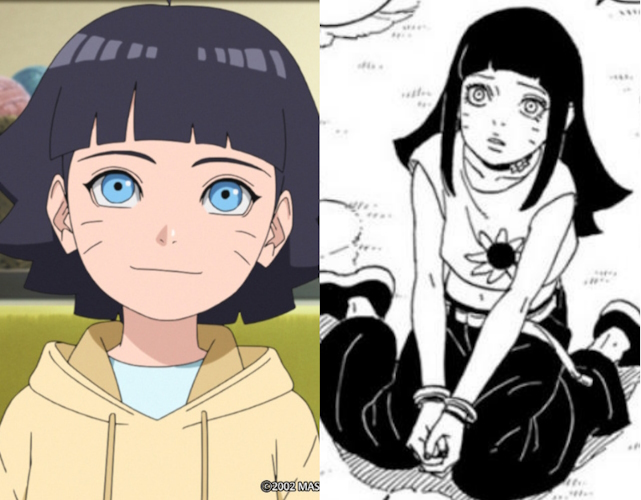 The daughter of Naruto and Hinata, Himawari Uzumaki is remembered as a cute little girl by every fan. But now she has grown up a lot and is in her teenage days now. As a result, you can see the major changes in her character's design. She has lengthy hair instead of short hair and her costume has been entirely changed from her regular hoodie. She is all set to help her true brother Boruto now.
6. Code
Code holds fast to his haughty look like before and made a surprise entry in this chapter. He is seen having a large scar in his left eye which wasn't seen before the time-skip. Code is now wearing a slightly modified new costume featuring a long-sleeved black shirt underneath his lavender-lined Kara cloak holder together with a small chain in front. Code being cocky isn't new and that is elevated with his new design.
7. Eida
Eida is one of the major reasons for the disruptive changes occurring in Konoha. However, as a cyborg, her character's design remains almost the same with the same costume and little additions. Eida's character design is one of the unique designs we have seen in Boruto and glad they didn't change anything to destroy the uniqueness. She is seen in a free-neck oversized sweater with a moon and wearing a star-shaped necklace matching her shorts and heels.
8. Shikamaru Nara
Who would have thought that our Shikamaru will become the next Hokage (check out the strongest Hokages here) in the series now? Well, due to Naruto's disappearance, the vacant Hokage seat is now filled by the intelligent Shikamaru Nara in Boruto Two Blue Vortex now. The one major change in his design is that now he can be seen donning the Eighth Hokage cloak which many of us Shikamaru fans wanted to see for years. It's happening now!
9. Sumire Kakei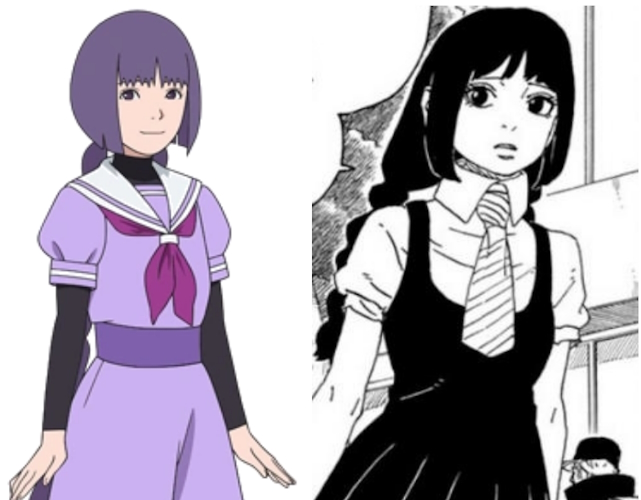 Sumire Kakei, the class rep and student of Hanabi Hyuga is also one of the major characters appearing in the first chapter. While her character design looked very different in the anime, she appears to have a few more changes in the manga now. She can be seen wearing a school uniform-like outfit and now has long hair compared to before. Let's see what she will do in this new period as she remains unaffected.
10. Naruto and Hinata Uzumaki
We all know that Kawaki imprisoned Naruto and Hinata under his power. Now we have got a glimpse of them trapped and remaining unconscious inside the realm. There are no major changes in their designs as of now. But it was kind of good and relieved to see them back in the series now.
And that's everything we have in our Boruto Two Blue Vortex: Characters Comparison guide based on chapter 81. We hope we were able to showcase the distinct changes our favorite characters have received in this new installment. They all have grown up now and the story is getting more serious and intense than before in the Boruto manga. Whose design do you think is the coolest now? Let us know in the comments below.
---
Load More