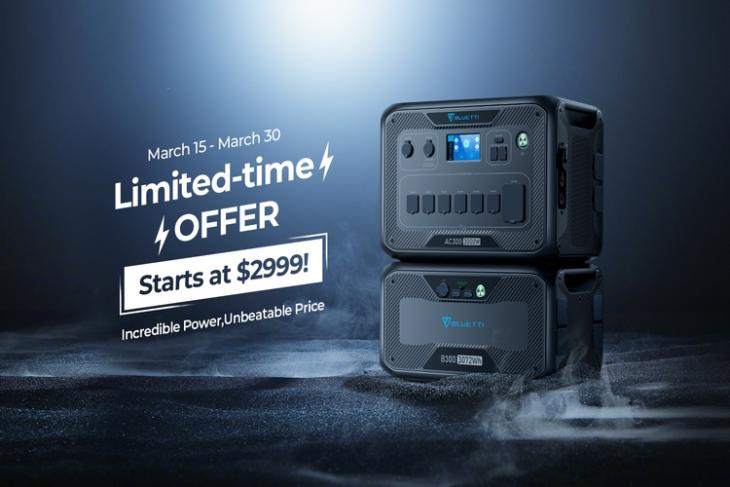 I am sure you must have heard about BLUETTI. It is a name that's synonymous with reliability, quality, and sustainability when it comes to power stations and solar generators. So, if you are on the lookout for a powerful home battery backup system, the AC300 power station bundled with the B300 expansion battery is the product you need. The AC300 and B300 together make BLUETTI's first modular power station system, which is suitable for any situation. And this might be the perfect time to bag them. BLUETTI has a limited-time discount offer, running from 15th March 2023 to 30th March 2023, on the AC300 power station bundle.
BLUETTI AC300 Limited Time Discount Offer
If you missed out on BLUETTI's Spring Sale, this is the perfect opportunity for you to grab the incredibly powerful AC300 battery backup system for your home at an incredible price (discounted by up to $899). BLUETTI is also bundling B300 expansion batteries with the AC300, which is highly adaptable and customizable based on your home's power needs. Continue reading below to learn more about the the AC300 + B300 home battery backup system.
BLUETTI AC300: The Ultimate Portable Power Station
Huge Capacity & Modularity
The AC300 portable power station has been one of the most popular products in BLUETTI's portfolio and for all the right reasons. It is a 3,000W Pure Sine Wave inverter with a surge capacity of 6,000W. The most impressive spec of the AC300 is its scalability, meaning the power station is 100% modular. You can connect up to four B300 batteries (3,072Wh each) to the AC300 to generate an enormous output of 12,288Wh. Now that's impressive!
To give you a practical example, the AC300 coupled with a single B300 expansion battery can generate enough power to run a 1,000W washing machine for 2.6 hours, an 800W refrigerator for 3 hours, or a 1500W heater for nearly 1.7 hours. These statistics are far better than any of BLUETTI's competitors.
Now, you must be wondering – what makes the AC300 so powerful? Well, it's not just the huge capacity and modularity, the AC300 also comes equipped with a LiFePO4 battery. BLUETTI claims that the AC300 power station will easily deliver 3,500+ life cycles at 80% efficiency, which is excellent. Additionally, you will make a much more sustainable and greener choice with the AC300 as the LFP doesn't contain toxic metals like cobalt and nickel.
Input/ Output Ports
The BLUETTI AC300 features a 16-output design. From the usage of power tools to household appliances, AC300 has got you covered. All the output ports are located on the front side of the AC300. This includes 6x 120V/20A AC outlets, a 120V/30A TT-30 port for a travel trailer, and multiple USB ports for phones, laptops, and more.
There are seven different ways to charge the AC300, which means its versatility extends to its charging capabilities too. For example, you can charge this power station using solar panels, lead-acid batteries, and even wall sockets. You can charge the AC300 at a max rate of 5,400W, but the charge time will vary depending on the power output. It takes around 6.5-7 hours to charge the AC300 and B300 combo with a single AC adapter or up to 16 hours with solar panels alone. Additionally, these methods can be combined to double the input.
The AC300 is a lifesaver during power outages. If your area is prone to frequent power cuts, the AC300 + B300 will be a lifesaver for you as it can serve as a 24/7 UPS system for your home. Further, you will have peace of mind with the AC300, as it has a switch rate of less than 20ms. This means your sensitive gadgets won't even feel the disruption in electricity, keeping them safe and sound.
Furthermore, the AC300 power station is easy to set up and control, thanks to the interactive LCD touchscreen on the front and support for a companion app. You get a continuous update on data like operation status, device info, and so on with the screen. Apart from these, users can unlock access to several app-exclusive features such as granular AC300 customization options, recharge time details, and more via the BLUETTI app (connects via Bluetooth and Wi-Fi).
B300 Battery Support
You can realize the true potential of the AC300 by combining it with BLUETTI B300 batteries. This combination allows you to unlock the split-phase bonding functionality. What does this mean for you, you ask? To put it simply, you will be able to drive heavier loads and achieve higher and faster recharge capabilities using this bundle. The split-phase bonding capability sees the input and output voltage jump from 120V to 240V and the output power doubles from 3000W to 6000W. This is ideal in case you run a small business or have power-hungry household needs.
The AC300 coupled with the B300 is a powerful duo that you should not miss out on. With a massive price cut of $899 on the AC300 + B300 bundle (original price: $3,898, discounted price: $2,999), this is a one-time deal that you should capitalize on right away. BLUETTI is also offering a $1,199 price cut on its AC300 + 2x B300 combo. That means you can get this home power backup system, originally priced at $6,197 for just $4,998 during this sale.
Grab the BLUETTI AC300 Now!
So, the BLUETTI AC300 power station and B300 extended battery bundle will be available at this incredible price until March 30th. The AC300 is versatile and modular enough to fulfill your home backup needs. The cherry on top is the fact that you also get the B300 battery bundled in with this offer. You can literally own a full-fledged home power station for as low as $2,999 this spring! If I was you, I wouldn't wait long to get my hands on this amazing deal. The stocks are limited and will run out soon. So what's stopping you? Visit the BLUETTI website and order your AC300 and B300 home backup system using the link below.
Buy BLUETTI AC300 + B300 (starts at $2,999 during the sale)