German audio product maker, Blaupunkt has launched its new Atomik series in India. This includes the new BB25 and the BB50 boomboxes with RGB lights, fast charging capabilities, and more as its highlights. Check out the price, features, and more details below.
Blaupunkt BB25 and BB50: Specs and Features
The Blaupunkt BB25 and BB50 boomboxes feature inbuilt RGB lights, which light up in sync with the music being played for a 'sound and light show' of your own. This can help create an immersive experience.
The BB50 provides a sound output of 50W while the BB25 goes for 35W. Both are claimed to offer deeper bass, clarity, and an overall enhanced audio output. The BB25 boombox sources its power from a 3,000mAh battery and the BB50 has a bigger 4,500mAh battery. While the BB25 can last up to 10 hours, the BB50 can provide a playtime of up to 12 hours.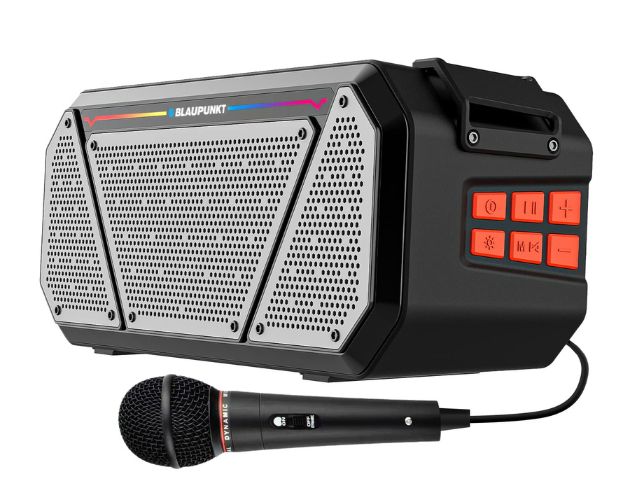 Another interesting part is that both boomboxes come with support for Blaupunkt's signature TurboVolt technology. Although, there's no claim for its capabilities!
As for the technical details, the BB25 comes equipped with dual 3-inch speakers and the BB50 gets dual 4-inch speakers. The latter also has dual passive radiators. Connectivity options include Bluetooth, USB, FM Radio, AUX, TF Card, and Mic Out.
Furthermore, there are a dedicated RGB light button, mood selector, and Bass Booster option, along with power on/off and volume up/down buttons. You will also get a microphone to host some karaoke sessions and a remote control for various controls at your fingertips.
Price and Availability
The Blaupunkt Atomik BB25 is priced at Rs 3,999 (although, it's listed at Rs 4,499) while the Blaupunkt Atomik BB50 boombox retails at Rs 4,999 (the listing price is Rs 5,999). Both of them can now be bought via Amazon.
Buy Blaupunkt BB25 and BB50 via Amazon
Featured Image: Blaupunkt Atomik BB50
---