The Internet and social media have been around for so long that most people just take them for granted. With text and discussion and media sharing being common in 2022, almost everyone does it. However, we would like to remember a time before Facebook and Instagram, when the Internet wasn't such a hot potato. It was a time when online discussions were held in a different corner, and things were shared away from prying eyes and targeted ads. This is your introduction to Usenet. If you already know what Usenet is, lucky you since this article is for you. For the uninitiated, keep reading as we tell you what is Usenet and break down the list of the best Usenet providers in 2022.
Best Usenet Providers You Should Use in 2022
Since this article encompasses more details, we have taken the liberty to divide it into parts. If you are already aware of Usenet and want to skip to the best providers, use the table below for it. For everyone else, we recommend starting from the top and getting an idea about Usenet.
What is the Usenet?
To put things simply, Usenet is a huge collection of discussion groups spread worldwide. These groups, referred to as 'Newsgroups', are platforms where thousands of people share information and data with each other. Starting from simple text articles, images, and video files to complex torrents, everything is available on Usenet. To put things even simpler, consider Usenet as a platform like Reddit but much more privacy-centric. Usenet has been here before the Internet, so you can also call it the Internet before the Internet.
Usenet users love this platform because of the vast amount of anonymity it offers, along with the huge selection of groups available on it. Using Usenet, people can download almost anything they want without any issues about privacy. Usenet is also an amazing way for users to talk and discuss various topics depending on the theme of the group. Another considerable advantage of Usenet is the lesser amount of Internet bandwidth used. Moreover, the Usenet allows people to have their own local server where their content can stay for as long as they want. This way, your data is archived and away from prying eyes.
How Does Usenet Work?
In order to access a Usenet server for data and communication, you need a Usenet provider. This provider gives people access to servers and a Usenet news program, often referred to as a Newsreader. Once you are logged in and ready, you pick a newsgroup available from the hundreds of thousands of options. You will then be shown various articles, which is what the Usenet calls messages sent by people, and can choose to respond to these articles or start some of your own. You can also choose to download various kinds of files depending on the newsgroup you are in and the type of data available.
Besides just giving you a foot in the door, a Usenet provider other advantages that daily users need, such as a data limit, simultaneous connections, and more which we talk about below.
Things to Look for in a Usenet Provider
Now that you have a better idea of what Usenet is, you must be looking for a service provider to join in on the action. Well, before you start using a service, do remember that it's best if you stick to a paid service. A paid Usenet provider is infinitely better than a free one, and we honestly could not find any good free Usenet service providers. There are also some things you should keep in mind when looking at a Usenet provider. Some of these are:
1. Retention Time
If you are going to utilize Usenet for downloading all types of files, you will naturally want an archive of files that is massive in proportion. To simplify it for you, Retention is the length of time a Usenet provider keeps copies of files uploaded to the service. So the more retention you get, the larger the file archive you can browse through. To give you an example, some providers offer retention periods of 3,000+ days, which means you can access files as far back as 8 years. The best Usenet providers will keep expanding their archive set to account for information uploaded every day. So when picking a Usenet provider, keep an eye on the Retention time.
2. Completion Rate
Articles on Usenet are stored across multiple servers owing to various factors, including downtime and data loss. What this means is the article you may want to download could be divided across different servers. A Usenet provider with a high completion rate would have access to other Usenet servers where other files are stored. A provider with a high completion rate will enable you to access almost every article out there. However, most providers keep a completion rate of 99% due to the competition out there.
3. Number of Newsgroups
As discussed before, consider Newsrooms are different groups on a bulletin board that pours in articles, aka messages and media files, from everywhere. If you are a Usenet user looking for a provider that will give you access to several groups, make sure to watch out for how many Newsgroups there are available. Remember, the more newsgroups a Usenet provider includes, the more access you have to various types of information.
4. Download Limit
Like everything else online, even Usenet services have download quotas. Once you have gone past that limit, you will not be able to download your desired articles or files. However, the best Usenet providers often have no download limits both of speed and quota on their services. So if you are someone who is going to be doing a lot of torrenting, stick to a Usenet provider which gives unlimited downloads.
5. Number of Connections
Like the Internet, the Usenet also has servers across the world. These servers are the reason Usenet folks can easily access and download the files on the platform. However, unlike the Internet, Usenet allows a user to use multiple connections at a time to download multiple resources simultaneously or speed up a single download.
While most Usenet newsgroup users don't need more than 10-15 connections, the best Usenet providers we have listed below give as many as 100 simultaneous connections. So depending on the type of user you are, take your pick.
6. Unlimited vs Block Account
Going through the best Usenet providers list, you might chance upon companies that provide block accounts. Depending on Usenet providers, users either get unlimited downloads or a quota. A block account is simply an account that limits your download to a certain amount of files. So you can purchase a block account of 100GB and download only a total of that amount of data before you have to buy another block. Keep this in mind while you're perusing.
7. Newsreader or Not
Once you subscribe to a Usenet provider, you can't just open Chrome or Safari and get to discovering newsgroups. In addition to a service, you need a special software often called a Usenet client or a Newsreader to access this content. While it sounds technical, a Newsreader is Usenet's browser for previewing and downloading articles and files easily.
Depending on the type of Usenet provider you are going for, you might get a free Newsreader that can either download files (Binary) or read and post articles as well (Client). If you plan on using Usenet for downloading files, free binary Newsreaders like SABnzdb+ (Free) will do the trick. However, if you also plan on reading newsgroups, you will need a proper Usenet client like The unPoster (Free) as well.
The Best Usenet Providers in 2022
Now that we have gone through the basics above, let's discuss the best Usenet providers you can use for your connection needs in 2022. Depending on the plans and their benefits, prices will fluctuate. For the sake of simplicity, we will only mention the subscription plans which offer the best value. However, we will also provide links to these best Usenet providers should you need more variety. So without further ado, let's begin.
1. Newshosting
Of all the Usenet providers available out there, Newshosting is perhaps the best we have come across during our research. Starting with the absolute massive retention time of 4791 days that keeps increasing, Newshosting is a Usenet provider that keeps binary and text data as far back as 13 years across all newsgroups. That means users who sign up for Newshosting get access to a ton of information. The long retention period is coupled with over 110,000 uncensored newsgroups to give users massive amounts of variety. This list like retention is ever-growing and you can expect it to increase as time passes.
On the security front, the company offers free 256-bit SSL encryption that ensures your data will never be shared outside. The said encryption is set across the wide amount of servers owned by this best provider across the U.S and Europe. If you are a user who wants more connections for rapid downloads, the best value plan gives over 100 connections coupled with unlimited download limits.
Moreover, since many Usenet folks pair their experience with a VPN, Newshosting also gives a Zero Log VPN service that users can hide behind safely. Not to mention, you also get a free Newsreader, which gives access to features like easy-to-use file search, previews, and downloads. With a ton of speed and safety features coupled with a very considerate price, Newshosting is our top recommendation and one of the best Usenet providers you can find in 2022.
PROS –
Best binary and text retention with great search results
Over 100,000 newsgroups
100+ connections for rapid downloads
Free Zero-log VPN
CONS –
Doesn't take Bitcoin as payment
Retention: 4791+ Days
Newsgroups: 110,000
Maximum Connections: 100
Free Trial: Yes, 14 days or 30GB
Price: Best Value Plan – $12.95/month for yearly unlimited (14% off) – includes free trial
Check Out Newshosting
2. EasyNews
If you are wondering whether you will need a Newsreader for every service out there, let me introduce you to EasyNews. It's a different type of Usenet provider, one that requires no Newsreader but instead gives users the power to use their web browser or mobile to browse through Usenet. It ensures you can preview or save your articles even on the go on your mobile as well. While you don't need a Newsreader, EasyNews supports all types of them.
Besides the convenience, you get 4788+ days of binary data retention, which again provides you access to a lot of information. Similar to Newshosting, EasyNews is set on growing this number. So if you get a subscription, prepare for this to increase over time. This retention is further bolstered by unlimited speed limits along with 60 connections, making sure your downloads will be smoother.
While there is a data limit of 150 GB on all paid plans, EasyNews makes up for it by its own web interface, which is butter smooth and works just like any Usenet browser. So if you are a user who wants to skip some hassle and doesn't mind a download limit, get EasyNews.
PROS –
All-in-one service: Usenet access + built-in search engine
Best Usenet search
Easy to use – no software required
Excellent retention period
Free trial included
CONS –
No unlimited data
English only support
Retention: 4788+ Days
Newsgroups: 110,000
Maximum Connections: 60
Free Trial: Yes, 3 days or 50 GB
Price: Best Value Plan – $9.99/month for Big Gig plan (67% off) – includes free trial
Check Out EasyNews
3. Eweka
Based out of the Netherlands, Eweka is one of the best Usenet providers you can spend your money on. The company pits all its features in an affordable plan for Usenet users wanting access to everything. Having close to 4784 days of retention period, Eweka ensures that older archives will not be deleted, thereby giving users access to much more information. This retention spreads over the 130,000 newsgroups that Usenet users can access. While there are only EU servers that form the structure of this company's Usenet area, users can use local customer support divided across languages like Dutch, English, German, and French.

Usenet folks who download a lot of data will love the Eweka subscription plans as they pair unlimited speed and unlimited downloads together. While you get only 50 connections, these are more than enough for almost any user out there. Your downloads will also be protected by SSL encryption, so don't worry about your safety being compromised either.
Unlike EasyNews, Eweka does require a newsreader but the company solves that problem by providing users access to the Newslazer newsreader. It enables them to easily search, preview and download articles and files. If you are still unsure about it, try the company's 7-day free trial with no data cap and make up your own mind.
PROS –
Independent server farms with high completion
High retention rates
Free newsreader with search
Unlimited free trial access
Retention: 4784+ Days
Newsgroups: 130,000
Maximum Connections: 50
Free Trial: Yes, 7 days
Price: Best Value Plan – €7.00/month for yearly unlimited (27% off) – includes free trial
Check Out Eweka
4. UsenetServer
If you are a Usenet newbie just starting out and are looking for an affordable no-nonsense solution, UsenetSever is one of the best providers you can get. Boasting over 4788 days of retention, which is pretty close to industry-leading, UsenetServer provides access to several article archives. This Usenet provider pairs that with no restrictions on data or download speeds, and this benefit is available across all paid plans. UsenetServer's plans are affordable but naturally come with a few caveats.

You only get access to 20 connections for use, and there is no Newsreader provided with the subscription. However, the company makes up for that by giving a detailed guide on setting up other Newsreaders. UsenetServer also has servers in the U.S along with the EU for more variety.
You also get a zero-log VPN client in the annual plan for that extra mile of encryption. While UsenetServer is not the best deal for Usenet veterans, it is a solid choice for beginners dipping their toes in the world of Usenet. And if you are still unsure, have a go at the 14-day free trial to get a better feel of the feature set of this Usenet provider.
PROS –
Affordable unlimited access
No data or download speed restrictions
Free Usenet Search engine included
Free zero-log VPN access included
CONS –
Only 20 connections
No newsreader
Retention: 4788+ Days
Newsgroups: 100,000+
Maximum Connections: 20
Free Trial: Yes, 14 days and 10GB
Price: Best Value Plan – $7.95/month for yearly unlimited (60% off) – includes free trial
Check Out UsenetServer
5. GigaNews
Giganews is the best Usenet provider for users who want everything and don't mind paying for it. Featuring a massive array of speed and security features, Giganews is a Usenet provider not made for beginners. Boasting a 100% completion rate, the company gives Usenet clients access to over 110,000 newsgroups and more than 18+ years of text retention. Binary users looking for files also get over 3+ years of retention coupled with unlimited speed and downloads. Want even more speed? Download the Giganews speed accelerator for more.

Giganews also promises to be the leader in privacy and provides Usenet veterans over 100+ SSL bolstered connections spread across Usenet servers in North America and Europe. The company even promises 0% downtime, meaning your articles will always be accessible at any time. Those wanting more safety can rely on the Golden Frog's VyprVPN service bundled with this service. However, all of these amazing features come at a markup and are honestly overkill for regular Usenet users. If you are a Usenet lurker who wants nothing but the most secure solution, go for this one without worries. You can also try the 14-day free trial to try out all the features.
PROS –
Extremely fast and secure
Premium VPN included
Good retention
Speed accelerator
CONS –
Expensive without sale
Not recommended for beginners
Retention: 17+ Years text, 3+ years binary
Newsgroups: 110,000+
Maximum Connections: 100+ SSL
Free Trial: Yes, 14 days
Price: Annual Plan – $99.96/Year
Check Out GigaNews
6. Usenet.Farm
While it does not have the best retention rate, Usenet Farm still manages to be a solid package for regular users. This Usenet provider offers a host of benefits, including a fast speed to download ratio for easy article access. While you won't get an unlimited download limit, you get a monthly 6TB quota, which should be enough for most users. However, the highlight feature of Usenet Farm is its incredible dashboard that gives all the information you would need at a glance. Usenet users can see all preview all their stats in one place.
You also get good SSL support and 50 simultaneous connections. Oh, and if you are trying to cut the price down, Usenet Farm also supports easy account sharing with people. If you are a regular Usenet user looking for a simple, fast, and effective solution, go for Usenet Farm since it is one of the best service providers out there. You won't even need to input a password, all it takes is an email, and you're set.
PROS –
Unlimited speeds and good quota
Intuitive stat dashboard
Account sharing
Easy sign-up
CONS –
Retention could be better
Retention: 3000 days
Newsgroups: 100,000+
Maximum Connections: 50
Free Trial: Yes, 10GB
Price: Max Plan – $111.96/Year
Check Out Usenet.Farm
7. AstraWeb
AstraWeb is one of the best budget Usenet providers in the market, and that's also because of its experience. It has been in the game since 1998 and built up a lot of goodwill due to its features and pricing. AstraWeb possesses over 4,000 days of retention coupled with a 99% completion rate. So users should find no trouble in getting articles. Moreover, the company has servers in the U.S as well as the EU, thereby having little to no chance of failure.
While you may think the retention is lower than some of its contenders listed above, AstraWeb makes up for that with affordable plans that contain unlimited speed, over 50 connections, and SSL encryption. The website displays as much along with its various paid plans, including block accounts that range from 25GB/$10 all the way up to 1,000GB/$50. Go for the Unlimted DSL plan for the best value.
PROS –
Good completion rate
Unlimited speed
SSL encryption
Old player
CONS –
Retention could be better
Retention: 4000 days
Newsgroups: 90,000+
Maximum Connections: 50
Free Trial: No
Price: Unlimited DSL – $96.00/Year
Check Out AstraWeb
8. Tweaknews
Another basic yet solid Usenet provider, Tweaknews, is counted as one of the best on this list. This Dutch company has a plethora of plans, some of which offer unlimited speeds and downloads for extreme comfort. You also get over 60 connections and a free zero-log VPN for enhanced privacy. While the retention period isn't the best at 3,400 days, users get a 99.99% completion rate that all but guarantees your downloads won't stall.
Don't be worried about a Newsreader either, as you get a free one with good search and preview capabilities. The pricing is pretty fair too, with the fast plan beginning at $9.33 a month. If you want more features, you can always upgrade to the lightning plan or go for the ultimate one that bundles the VPN.
However, we feel the contact options could be better since the company currently only has a single contact form that users can fill for help. If you are a Usenet user looking to mix and match among the various available features, consider Tweaknews as an option.
PROS –
Free VPN with top plan
Good download speeds
Free Newsreader with search
Variety of plans
CONS –
Low retention
Contact page needs more options
Retention: 3400 days
Newsgroups:
Maximum Connections: 60
Free Trial: Yes
Price: Ultimate+VPN – $127.68/Year
Check Out Tweaknews
9. Newsleecher
Newsleecher is another old player that has had its feet in Usenet for some time. This Usenet provider has been on since 2002, and it's pretty good at its job. With servers in the U.S and EU, Newsleecher gives plenty of online variety for articles. The retention rates are amazing as well, with text being 2850 days and binary retention at 4150. And like before, the company promises the archived data keeps increasing, which means they don't delete older files as newer ones arrive.

Users can also benefit from fast 500Mbps speed, SSL encryption, and the company's own additions of SuperLeach, a download automation feature that will automatically download content as soon as it's uploaded to Usenet. You also have a SuperSearch index, which is one of the best Usenet indexes available online.
Newsleecher goes a different way in providing paid plans, with the basic plan only providing Usenet access. The Ready-to-go plan is the best one, with users getting all the benefits, including speeds and downloads along with a browser. Try out the 14-day free trial to get a better idea of the service.
PROS –
Good retention
Dual servers
SuperLeach is handy
SSL encryption
CONS –
Newsreader only with top-plans
Retention: 4150 days
Newsgroups: 100,000
Maximum Connections: 30
Free Trial: Yes, 14 days
Price: Ready-to-go – $143.88/Year
Check Out Newsleecher
10. Pure Usenet
For the user looking for the most affordable Usenet service, Pure Usenet will work like a charm. Sporting plans as low as $3.63 per month, Pure Usenet offers a good combination of services at that price. Users get access to affordable EU servers with unlimited downloads and no speed throttling whatsoever. Security features include state-of-the-art free SSL encryption to protect your data.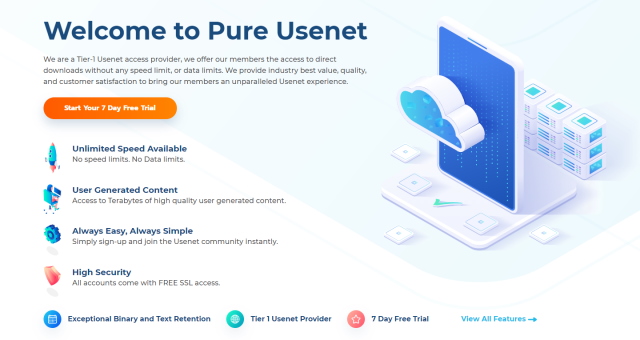 The retention stands at 4100 days which is a solid number compared to some competitors above. While you only get 12 connections, it should do be fine for more than most folks, especially when you take the price into account. For the Usenet users only wanting the most affordable and willing to sacrifice on some features, Pure Usenet is one of the best providers in 2022. If you are still unsure, Pure Usenet offers a 7 day unlimited GB free trial.
PROS –
Extremely affordable
Unlimited downloads in some plans
Good retention
Unlimited GB trial
CONS –
Only 12 connections
Only reccomended for users on a budget
Retention: 4100 days
Newsgroups:
Maximum Connections: 12
Free Trial: Yes, 7 days, Unlimited
Price: Best Value Plan – $5.97/month for yearly unlimited (20% off) – includes free trial
Check Out Pure Usenet
Check out These Best Usenet Providers
We hope you will find your perfect fit from the above list of the best Usenet providers. Make sure to weigh the pros and cons depending on your own use case and decide based on that. However, if after reading this, you have decided you are better off with just Reddit, then check out these 40 best subreddits you should join right now. Have any more suggestions for the best Usenet providers? Let us know down in the comments section.
---
Load More