The Playstation 5 has quickly become Sony's fastest-selling console ever. With support for 8K, an ultra-fast built-in SSD, and a plethora of other features, this console is something everyone is itching to get. However, gamers with a PS5 have found themselves vying for more space inside the console. With the built-in 825GB SSD also using space for the OS, it's easy for storage to run out easily. However, a very easy solution is available. You can outfit your PS5 with external storage to give the console more room and shift some games around. To help you get started with getting external storage for your PS5, we have compiled a list of the best external hard drives you can get.
Best PS5 External Hard Drives (2022)
The list below contains the very best external SSDs and HDDs for the PS5. If you're partial to a particular brand or model, use the table below to look for it.
Things You Should Know Before You Get an External Hard Drive for Your PS5
When it comes to fitting external storage besides your PS5, there are a few things you should know. The first and most important being is that you cannot use these external drives to play PS5 games on the console. While PS4 games stored on external storage will work without problems, next-gen PS5 titles require the games to be inside the built-in disk itself.
However, the bright side is you can still use external storage on the PS5 to lighten the load. External drives connected to the PS5 can be used as a place where you can offload your game files to. You can't play them but you can store them until you need them. While this constant transferring is not ideal, it's still faster than downloading the game files over and over again.
PS5 External Storage Requirements
Another thing to note is that you cannot plug in any old external drive to your PS5 and expect it to work. Sony has listed a few requirements that external drives must meet in order to work with the PS5. These are:
SuperSpeed USB 5 Gbps or later.
250 GB minimum, 8 TB maximum capacity.
Not all devices are guaranteed to work with the PS5 console.
You can't connect the drive through a USB hub.
Two or more USB extended storage drives can't be connected at the same time. You can connect multiple USB drives to your console, but you can use only one at a time.
As you can see, you cannot install any drive with storage less than 250GB and they must have USB 3.0 support at the minimum. However, don't worry as our list of the best external drives for the PS5 are all fully compatible with the console. But if you feel you need another model, then kindly pay attention to the above criteria before you buy anything.
What to Look in an External Hard Drive for Your PS5
Now that you have a better idea of all the factors, here are some things you can watch out for to make sure your external drive purchase for the PS5 is a good one.
1. SSD vs HDD
The long-standing division continues even in the console world. Both types of external drives offer their own advantages for the PS5. While SSDs will you extremely fast transfer speeds, HDDs will be more affordable and will generally have more storage.
Our advice is to gauge your budget along with your preferences. If you can afford to spend a bit and get an SSD, you should since your transfer times will be cut by a big margin. However, if affordability or extra storage is what you want then an HDD is the way to go.
2. Form Factor
The list of external drives for the PS5 below come in all shapes and sizes. While one SSD will all but disappear into the background, another HDD will stand out like a brick. Depending on your interior plans or any designs you might have, make sure the external drive you choose fits the form factor you're picturing.
3. Durability
Since at the end of the day, these are all external drives, you can unplug them and use them for other purposes if you wish. So if you're a camper or a traveler who is considering taking his/her drives out from time to time, go for a rugged one. Our top two rugged drives are on the list. Let's see if you can find them.
These are only some of the things you should look for. Depending on your use case, your metrics may be different so keep a keen eye out.
10 Best PS5 External Hard Drives for the PS5
Now that we have covered everything else, here are the best external drives you can get for your PS5.
1. WD_BLACK 1TB P50 Game Drive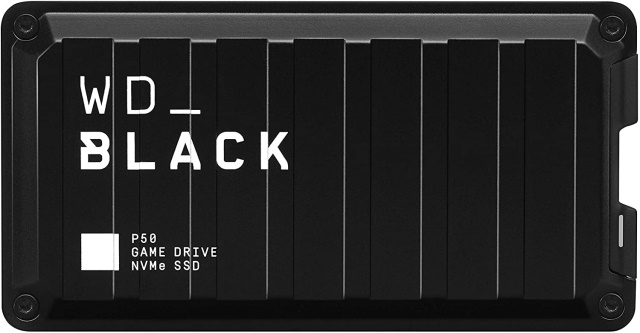 Being one of the fastest and coolest-looking drives around, the WD Black P50 Game Drive takes the cake when it comes to external storage for the PS5. The P50 Game Drive fits all our ideal requirements and it even shows. The NVMe SSD drive itself is encased by a solid metal shell that has clearly been designed to appeal to gamers. The overall design of the drive ensures that it can take a few dings and knocks without being damaged.
Transfer speeds of this external drive will be a boon to PS5 gamers. With speeds of up to 2000MB/s, any game transfers from the PS5 will be done in no time. Even PS4 games will load much faster now so any application fits. While the price is high for such quality, the WD Black Game Drive is available in multiple sizes including 500GB too.
If speed coupled with the good built quality is what you want, go for the WD Black Game Drive without hesitation.
Pros:
Ultra-fast transfer speeds
Solid metal shell
Attractive
Buy from Amazon: $189.99 (1TB)
2. Samsung T7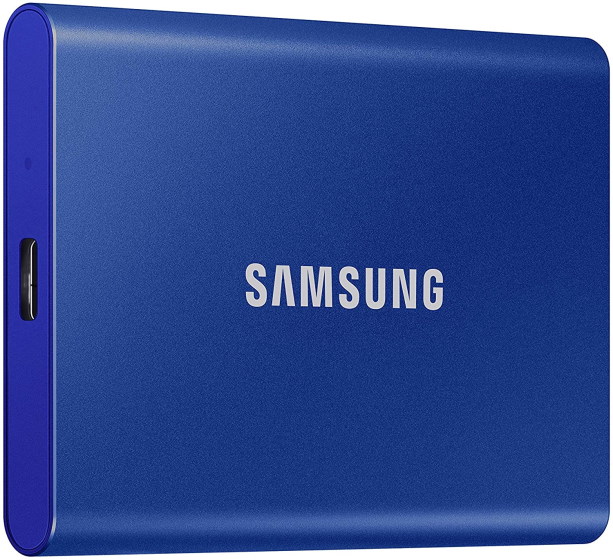 Samsung has been an industry leader when it comes to many products and external drives are one of them. The T7 external drive for the PS5 offers a lot and costs less than you would expect. This slim case SSD is the perfect fit for PS5 users looking for something nondescript and small. However, that also means it will likely be damaged easily so watch out.
While transfer speeds cap out at 1050MB/s for the T7, that is more than enough for simple game transfers for the PS5. If you're playing PS4 games you will experience improvement nevertheless since the speeds are much faster than the older console's native drive. This lightweight and fast external drive for PS5 is available in a list of storage options and is more affordable than the WD Black.
Go for the Samsung T7 if you want fairly fast speeds and don't mind a slim profile.
Pros:
Fast-transfer speeds
Slim design
Samsung backed
Cons:
Bit slower compared to others
Not the strongest
Buy from Amazon: $109.99 (1TB)
3. Samsung T5
If you liked the Samsung T7 but have no need for such an ultra-fast SSD, the T5 is another solid-state drive to consider. Boasting V-NAND tech with speeds up to 540MB/s, the Samsung T5 is a capable external drive for your PS5. The T5 is encompassed in a slim and lightweight chassis and weighs a few grams less (51 grams) than the T7.
This also means that budding travelers can easily pack this drive up and take it away with them. A bit unsure about durability? The T5 also comes with shock protection for those unlucky moments when you drop it. The drive also has a Type-C port, so you can easily use the PS5's Type-C input instead of the A-one.
While it is a bit more expensive than the T7, that is due to the premium finish and slightly lightweight design. Moreover, if you plan on using this drive outside your PS5/4, make use of the provided AES 256-bit hardware encryption to add an extra layer of security to your data. Nevertheless, the T5 will not disappoint you and let you archive your PS5 games and have you playing PS4 games in a flash. Go for the Samsung T5 if a lightweight design and fairly impressive speeds are what you want.
Pros:
Slim and lightweight design
Samsung backed drive
Premium finish
AES 256-bit hardware encryption
Cons:
Not the fastest drive out there
More expensive than T7
Buy from Amazon: $109.99 (1TB)
4. Crucial X8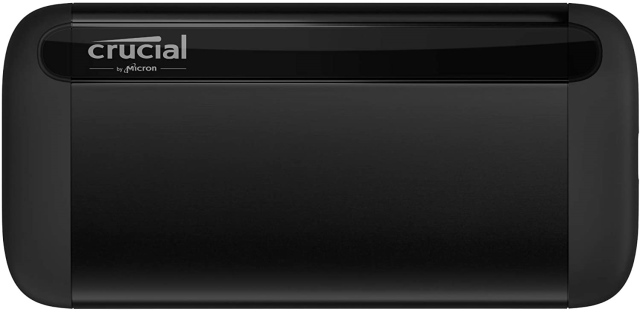 The Crucial X8 represents an external drive that is a solid combination of strong build quality and effective speeds at a good price. This NVMe powered external storage for the PS5 dishes out fast speeds of up to 1050MB/s without worries. So expect to experience fast transfers and playing times on your PS5.
However, the X8's strength lies in its build quality and other added metrics. This solid-state drive for the PS5 is extreme-temperature proof, shock, and vibration proof. It is even designed to survive drops of up to 7 feet which is not half bad. While that means, the drive is a bit thick especially around the middle, it's a fair compromise in exchange for build quality.
If you're looking for something that meets you halfway, the Crucial X8 does it nicely while being decent on the wallet. Check it out right now.
Pros:
Fast-transfer speeds
Survives drops of up to 7 feet.
Decent pricing
Cons:
Bit slower compared to others
Thick design
Buy from Amazon: $99.99 (1TB)
5. SanDisk 1TB Extreme Portable SSD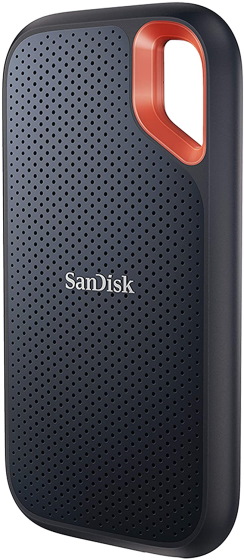 Remember we talked about drives that will last you through damage? The Sandisk Extreme is one of them. This tiny 1TB external drive will not compliment the PS5 nicely but can easily be picked up and taken anywhere. Featuring a rubberized body combined with a small design, the Sandisk Extreme Drive is one good purchase.
The drive features good NVMe speeds of 1050MB/s that are very capable of transfer and play. However, what Sandisk adds to the angle is future-proofing. The Sandisk Extreme drive comes fully protected from any future portable damage you might inflict on it. The drive itself comes with 2-meter drop protection and IP55 water and dust resistance to protect it from other elements.
So if you see yourself giving the PS5 extra space for now but plan to take this drive out and about, consider the Sandisk Extreme portable for the PS5.
Pros:
Fast-transfer speeds
Dust and water-resistant
Cons:
Design isn't for everyone
Buy from Amazon: $119.99 (1TB)
6. Crucial X6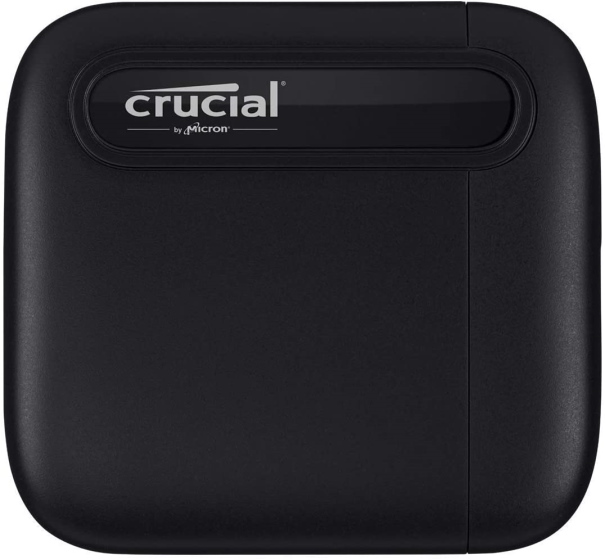 The Crucial X6 is the most affordable SSD on this list for the PS5. While there are cutbacks you will have to make to account for the price, things are actually pretty good. The X6 for starters has a tiny lightweight design that makes the drive weighs less than your car keys. So if you're someone who plans to travel light, this SSD can be the perfect companion.
The transfer speeds on the X6 aren't super fast and they max out at 540MB/s. While that seems lower compared to some of the options above, keep in mind this external drive for the PS5 is also below the 100 dollar mark. However, the drive makes up for that especially if you're trying to play PS4 games on your PS5 which gives very fast loading times.
The potential downsides like a short cable and average transfer speeds don't make this a prime choice for external drives for your PS5. But if you're a gamer who primarily wants to play PS4 games or is on a budget, the X6 makes an excellent pick.
Pros:
Handy small design
Affordable
Perfect for PS4 games
Cons:
Average transfer speeds
Not damage proof
Short cable
Buy from Amazon: $79.99 (1TB)
7. Seagate Expansion 4TB HDD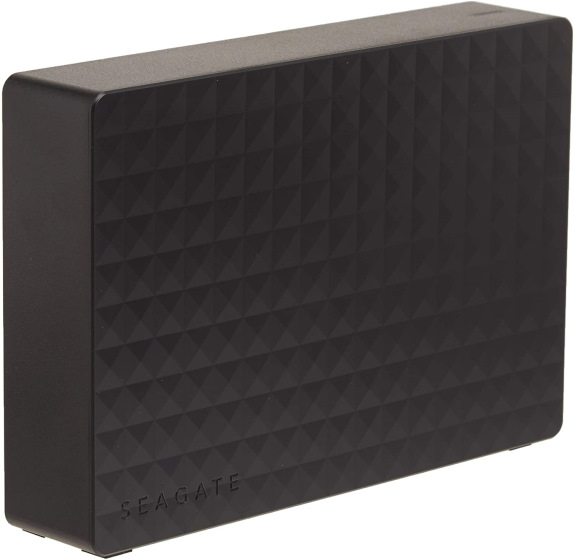 The Seagate Expansion is for the PS5 gamers who want to take extra storage and move it five steps beyond. This chunky boy features a thick rectangular design and has its own power adapter to function.
However, despite the big form factor, the Seagate Expansion series provides a dramatically better cost to storage ratio. This external drive for the PS5 provides speeds up to 160MB/s which while slow is still enough to transfer games across drives. Sure you will have to wait but in exchange, you get 4TB of space at the minimum with options up to a whopping 16TB.
The Seagate expansion HDD is for PS5 gamers who want the extra space and don't mind waiting a few more minutes for file transfers. So if long-term storage at this price is what you desire, go for it.
Pros:
Massive storage space
Decent transfer time
Perfect for long term use
Cons:
Not as fast as SSDs
Heavy design
Buy From Amazon: $85.52 (4TB)
8. G-Technology 1TB ArmorATD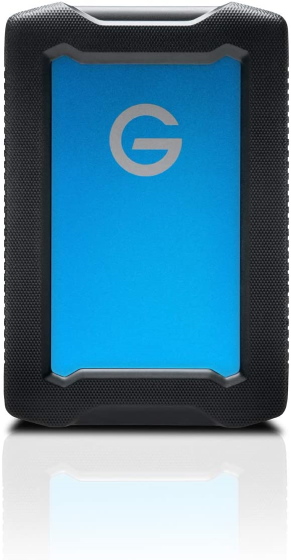 If you've been wanting the shock-proof SSDs above but can't spare the money, the ArmorATD is something just for you. The G-Tech 4TB drive does not look or even feel like a PS5 external one but trust us, it works and it works well. This external drive has been specially designed to take all kinds of abuse and still works perfectly. The ArmorATD has triple-layer shock protection, rain and dust resistance, and a 1000lbs (500KG) of crush rating. This is clearly a hard drive that will last.
Transfer speeds aren't bad either. The ArmorATD is Thunderbolt 3 ready and features 140MB/s of data transfer rate. So you can transfer all your game files from the PS5 into this 4TB beast and feel sure that they will be safe. The drive works seamlessly for PS4 games as well so gamers wanting to play them from the ATD itself are in luck.
With affordable pricing, such tough build quality, and good speeds, the G-Tech ATD is something you should get right now.
Pros:
Massive storage space options
Decent transfer time
Rugged as a rock
Cons:
Not as fast as SSDs
Heavy design
Buy from Amazon: $74.99 (1TB)
9. Seagate Game Drive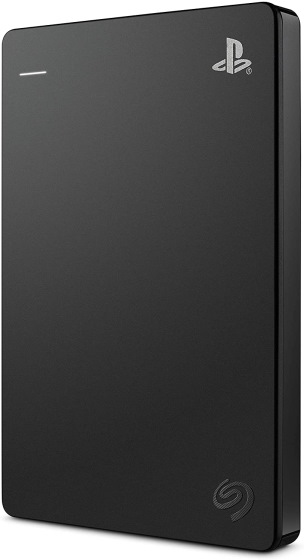 While all the above external drives work easily with the PlayStation 5, this Seagate Game Drive is the only one officially licensed by Sony. You can see the same by noticing the small PS logo on the top right of the drive. Originally designed for the PS4, this drive works flawlessly for the PS5 as well. Only available in 2TB and 4TB variants, the Seagate Game Drive has a slim form factor with a sleek aluminum enclosure for more protection.
The hardware itself is USB 3.0 and offers good read and write speeds that make sure your PS5 game files go back and forth easily. Since it was originally designed to work with the PS4, you can expect full compatibility with the console and both PS4 and 5 games.
While the drive has limited storage variants, it makes up for it with its fast transfer speeds and a good affordability angle that puts the 2TB option at a decent 80 dollars. Get the Seagate Game Drive if you've been looking for a Sony Certified HDD.
Pros:
Sony licensed product
Good transfer speeds
Cons:
Not as fast as SSDs
Limited storage variants
Buy from Amazon: $79.99 (1TB)
10. Toshiba Canvio Basics 1TB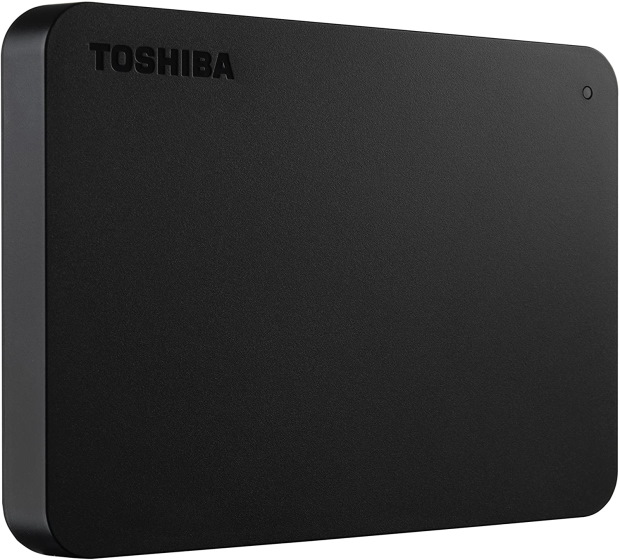 While this drive is last on the list, the Toshiba Canvio Basics provides the best value of money quality of all the drives here. Priced at a very affordable 40 dollar mark, this external drive does the job you want without taking a bite out of the wallet. Designed in a simple yet modern way, this hard drive for the PS5 looks similar to staple HDDs. While it has no drop protection, it has a design that can be easily handled without slipping.
The Toshiba Basics is for PS5 gamers who want a stupid simple place to store their game files without any added flash. This satin finish drive has fairly fast transfer speeds and loading times for all your PS5 applications. Moreover, you can easily unplug this and use it across your PS5 and PC to transfer movies and such if need be. If gamers feel that 1TB isn't enough, they can go for the 4TB variant which is still more affordable than the SSDs above.
If you're a PS5 gamer who will only transfer game files every once in a while this is the perfect fit for you. However, users looking for fast speeds and increased frequency should stick to the options above.
Pros:
Incredibly affordable
Good transfer speeds
Cons:
Not as fast as SSDs
Simple build design
Buy from Amazon: $43.99 (1TB)
Get Any of These External Drives for the PS5
We hope the external storage drives above will help you increase space exponentially on your PS5. Once you're done transferring your games, check out these best PS5 tips and tricks to optimize your experience even more. So, which external storage drive did you end up buying for your PlayStation 5, and what games are you storing on it? Let us know in the comments. Also, if you think we've missed out on a deserving option that should've been on this list, drop their names down below as well and we will take a look at them.