The iPad has been a haven for students and professionals all over the world when it comes to notetaking. The beautiful Retina display combined with the Apple Pencil lets users record the text from the tiniest of their etchings to essays that span paragraphs. If you're a fellow notetaker, you must also be on the lookout for the perfect notetaking app. While Apple's native Notes app does a good job, it leaves stuff to be desired when it comes to total flexibility. We have created a list of the best notetaking apps you will find on the App Store that gives just the right combination of fluidity, tools, and price. Check them out.
10 Best Note-Taking Apps for iPad
This list contains not only the industry-leading notetaking apps but up and comers that impressed us during our testing. Use the table below to see the list quickly and jump to your needed app.
1. GoodNotes 5
One of our personal favorites, GoodNotes 5 provides a seamless experience and feel of writing on actual paper. The paid app on iPad is very easy to set up and go. The aesthetics around GoodNotes have been designed to be more comforting and quite simple to use. The app's home screen neatly divides your creations based on single documents or notebooks (if you've created any). There are multiple notebook templates to choose from with papers ranging from blank and squared paper to specialized music paper and guitar score. GoodNotes 4 users can also import their previous documents to work on.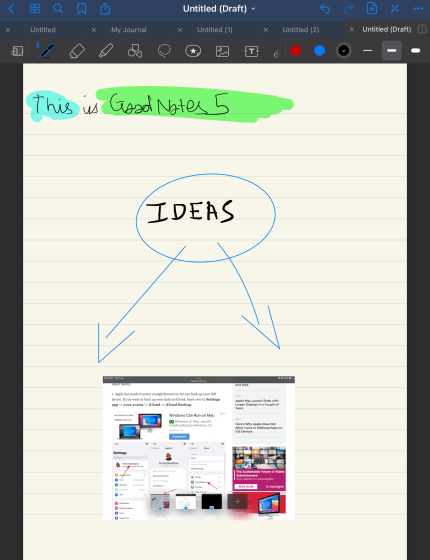 Taking notes on the app is straightforward. There is no delay whatsoever while jotting down notes and the overall experience feels smooth. GoodNotes also offers plenty of tools including your standard pencil, eraser, pen, highlighter, and sliders to adjust precise details such as tip sharpness and even pressure sensitivity, which many users look out for. You can add shapes, convert your handwriting to text, and markup PDF documents and export them quickly. While GoodNotes allows users to share their documents through links, it doesn't allow users to view shared notes outside the app. With its intuitive aesthetics, full notebooks, and custom tools, GoodNotes 5 serve as the perfect app for creativity-laden students looking to jot down their musings.
Pros:
Rich Paperlike writing experience
Variety of tools and adjustment
Cons:
No Specialized Feature
Link Sharing is Limited
Price: $7.99
Get: GoodNotes 5 
2. Notability
Often touted as GoodNotes' direct competitor, Notability is another top-notch notetaking app for iPad that does similar things but in a different way. For starters, Notability's design is focused more on a more practical nature that shows your folders on the left sidebar and their notes on the right. While for some this approach may seem basic, the no-nonsense side might find it better. The document management follows suit where you can create a subject and then group all your relevant notes under that subject. The categorization options in GoodNotes are a tad better. Coming to templates, while GoodNotes 5 offers different paper types, Notability comes with more customization options in the form of notebook covers and designs.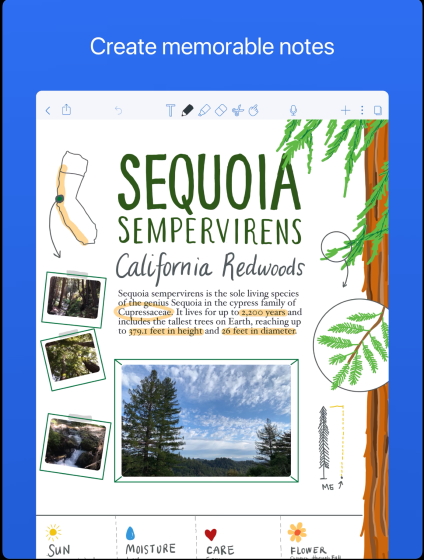 However, this also comes at a cost. For instance, you can't change the type of paper inside your notebook while writing unless you want all the papers to change. This puts a big dent during the writing process as notetakers on iPad need all types of papers while jotting things down. The writing experience in Notability, however, is as good as GoodNotes 5. The animations are smooth, the tools plenty, and a lot of room for customization. The app also has handwriting-to-text conversion along with PDF markup and sharing. However, what makes this app special is the unique audio recording feature that allows users to record audio files while taking notes. This feature comes in handy when the app animates the text at various timestamps from the voice note for context. Notability comes with a host of good writing features that make it a more practical choice for users wanting to get to writing instantly.
Pros:
Audio Recording Feature
Practical Approach
Cons:
Some might find design dated
Limited Organization Options
Cant change papers mid notebook
Price: $8.99
Get: Notability 
3. Microsoft OneNote
One of the most downloaded Notetaking apps on iPad, MS OneNote is a notetaking app that is a good combination of individual notetaking and team collaboration. Available for every major platform out there, OneNote allows users to share their notes across devices and collaborate together across platforms. However, we did encounter some delayed syncing from time to time.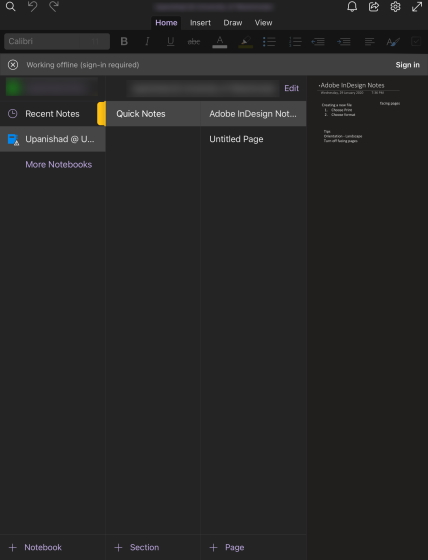 Organization in OneNote is more streamlined when compared to other apps as the app provides users the ability to build their own structure by adjusting notebooks, notes, and individual pages across its sidebar depending on their own convenience. MS OneNote supports typing and drawing at the same time along with other standard tools including your pen, eraser, and highlighters. There is also a custom drawing mode where you can draw with your finger if your Apple Pencil is out of juice. Furthermore, the app allows users to insert various file types including pictures, audio files, custom PDFS and links. Microsoft OneNote is a notetaking app made for intense collaboration and professional use, so if you belong to that lot, check out this popular tool.
Pros:
Easy Custom Organization
Notetaking is more flexible
Cross-Platform collaboration
Cons:
Occasional delayed syncing
Price: Free
Get: Microsoft OneNote
4. Evernote
One of the oldest players on the market, Evernote is a robust notetaking app for iPad that serves not only individual users but big-scale business teams with its custom-priced plans. The app also supports both iOS and Android platforms so users taking notes can easily sync their progress across two devices on the free plan. There are paid trials that let you experience higher upload limits and unlimited synching along with extended app support.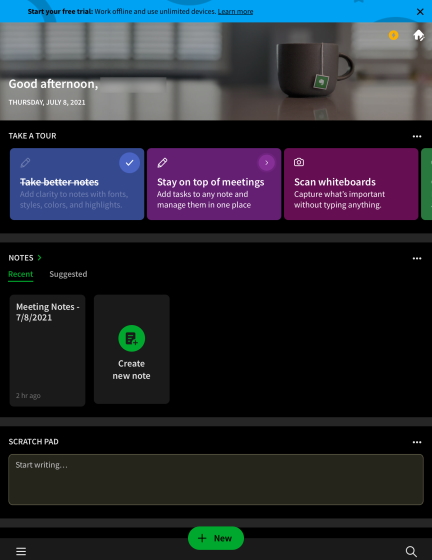 Like OneNote, writing or typing in Evernote feels like a much more professional affair with the user interface being designed in a sleek and simplistic manner. However, to keep things breezy, Evernote's popular green can be seen here and there. The home screen of the app serves as the central command where users can see the various ways they can use the app along with recent notes and any files they have captured using the built-in Evernote web clipper. You can write, draw and type in Evernote along and even insert custom code blocks. The assortment of tools serves as a nice addition. While Evernote's approach is focused on more than simple handwriting, users looking for an all-around experience will love it. However, be mindful of the free tier and its limits.
Pros:
Professional Design
Lots of included tools
Document divider and code block are nice additions
Price: Free (Paid Plans available)
Get: Evernote
5. Post-it
Taking notetaking on iPad in a whole different area, the post-it-up is a direct adaption of those sticky notes we have all come to love in life. The app revolves around the concept of making small digestible sticky notes that are all placed across a big whiteboard. Post-it allows users to store up to 200 notes at a time and then drag them across the board for easy editing.
Post-it serves as the perfect app for students or professionals in love with bullet points or extremely quick notetaking on iPad. Moreover, you can create shopping and to-do lists across notes and tick them off as necessary. You definitely won't find the same writing convenience compared to apps like GoodNotes or OneNote but this is a cool concept to try nonetheless for taking notes on your iPad.
Pros:
Unique Concept
Small digestible Sticky notes
Cons:
Limited features compared to other apps
Only good for quick note-taking
Price: Free
Get: Post-it
6. Liquid Text
Speaking of unique features, Liquid Text is another notetaking app on the iPad that deserves its spot on our list. Specially designed for students who like to review files and write notes at once, this intuitive app allows users to divide the iPad's screen in half. The left side is where students can open any PDF files whereas the right is where they can take quick notes and extract excerpts from the left side.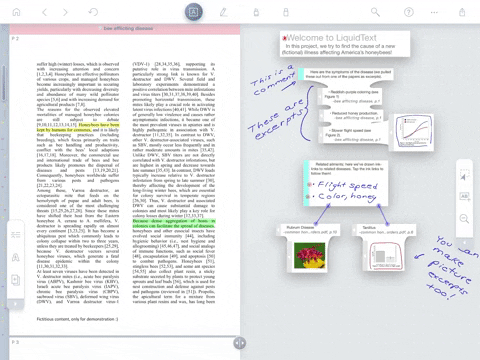 The touch and formatting feature ensures that you can select anybody of text from a PDF and drag it across to the editing side without any worries. A handy feature we loved is the ability to shrink select pages to quickly compare what's above or below the same document. Furthermore, students can create custom text boxes and then place them across any of the sides for later notetaking. While the paid version unlocks a lot of features, students looking to compare their notes or documents will love Liquid Text. Check it out
Pros:
Handy screen division feature
Can edit PDF's while making notes simultaneously
Text extraction from PDF
Cons:
Some features locked behind the paid plan
Price: Free
Get: Liquid Text
7. Bear
A great markdown editor, Bear is a convenient app packaged with a nice design and plenty of formatting options. If you're just getting started with markdown editing, Bear will prove to be a nice introduction. The easy access to header styles from H1 to H3 allows users to create sleek headings while taking notes.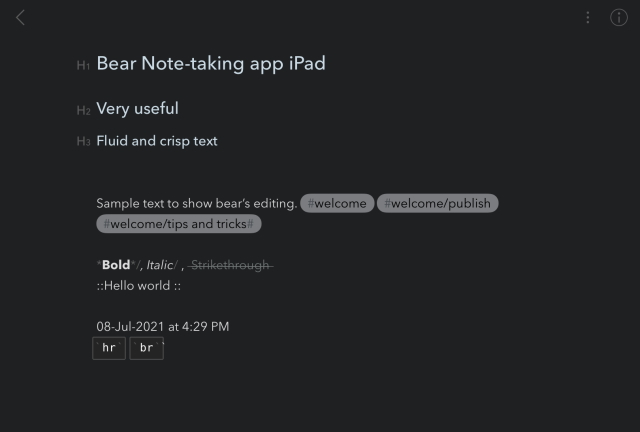 Moreover, all the editing tools you could need are placed neatly at the bottom taskbar which includes various text editing options such as align, bold, underline, strikethrough, and more. Users can even connect their other notes by using the #sign. Bear naturally supports big code blocks and inserting custom URLs for easy linking. Coming to handwriting, the app has native Apple Pencil support in the text editor itself so you can easily switch back and forth between an external keyboard and the Apple Pencil. However, it is evident that Bear is focused more on keyboard typing. There is also a separate drawing mode that turns the screen into a whiteboard for the times you want to do pure handwritten notetaking on the iPad. For users looking for a good markdown editor that provides a mix of features for free, check out Bear for notetaking on the iPad.
Pros:
Simplistic Design
Excellent Editing Options
Dedicated Drawing Mode
Cons:
Geared more toward typing
Export to PDF locked behind a paywall
Price: Free (Paid Plans)
Get: Bear
8. Nebo: Note-Taking and Annotation
Claimed by the company as having the world's best handwriting recognition, Nebo is notetaking for the iPad that is worth a try. The user interface of Nebo is a much simplistic experience with the app covered in an all-white theme by default. While some of the above apps are a mix of typed and handwritten notes, Nebo has been designed for the latter. So if you're someone who only cares about Apple pencil support, Nebo is a good fit.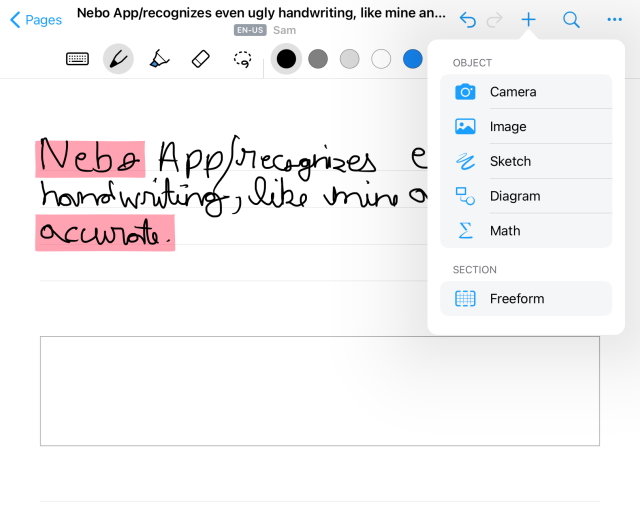 Handwriting recognition in Nebo is indeed very accurate as we saw the same during our testing. The app recognized the tiniest bit of punctuation including commas and colons. Handwriting recognition allowed us to selectively choose the handwritten text and edit it just like regular text including bolding and underlining it. The Apple Pencil gestures are also quite handy as one could simply scribble on text to easily delete it or separate words by drawing a line between them. While the toolkit is a bit limited, Nebo has custom blocks for inserting math equations and custom diagrams that serve as a great added feature. With its accurate handwriting accuracy, Nebo is one of the best notetaking apps on the iPad you can try.
Pros:
Simplistic Design
Excellent handwriting recognition
Gesture-Based editing
Price: Free
Get: Nebo
9. Notepad+
For the user looking for a quick notetaking app, Notepad+ will serve nicely. This lightweight app follows a simple design and is based on getting to work quickly. A good thing about the app is that it gives landscape and portrait mode as options before starting writing. The notetaking board supports the use of an Apple Pencil with a separate stylus/finger at the same time. The template options on NotePad+ are a bit limited when compared across apps and the actual handwriting page might appear to be empty to some users.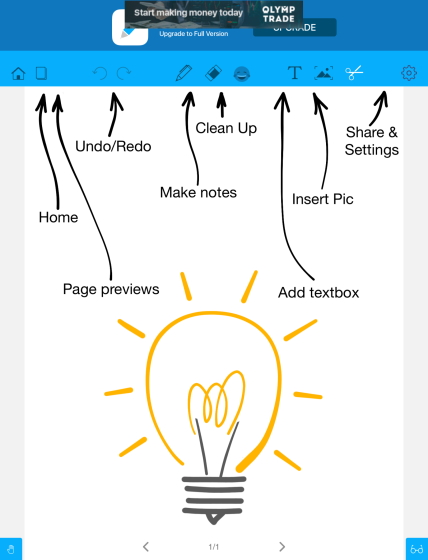 However, check the toolbar carefully and you will find enough tools to finish the job easily. Besides a variety of pens with varying strokes and colors, the app offers shapes and icons you can add to your document. Furthermore, if you're keeping your notes casual, NotePad+ also has a select few emojis you can use to annotate any document. You can also add images to support your notes or cut portions of the document out easily. However, one thing that must be pointed out is that there are some in-app ads that might bother you from time to time. However, if you don't mind that, Get Notepad+ for a simple notetaking experience.
Pros:
Quick to Grasp Design
Emoji Annotation support
Supports Apple Pencil and Finger simultaneously
Cons:
Limited Template Design
Some might find tools limited
Price: Free
Get: Notepad+
10. Notion
And wrapping up this list is the ever famous notetaking app Notion. While Notion does not support drawing through Apple Pencil, it is nevertheless an excellent keyboard notetaking app. Notion neatly organizes your creations under various categories that you can choose for your notebook.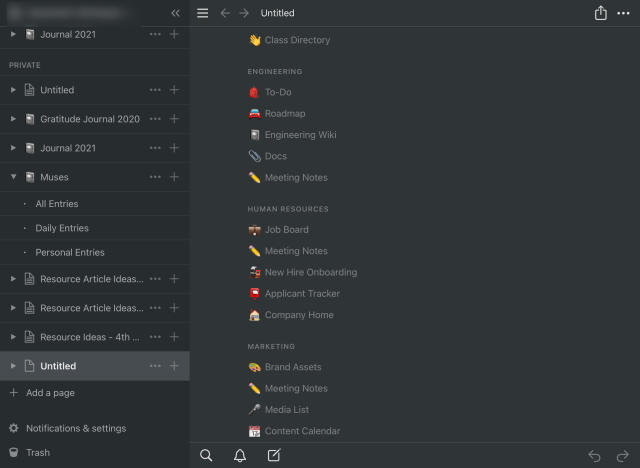 Text editing in Notion works Bear with markdown options being available. You can choose to manipulate text whichever way you wish by changing its font size, style, and color among other things. You can add images to supplement your notes. Moreover, there are a plethora of templates available that help divides your notes between sections such as reading list, thesis planning, personal CRM, budgets, and many more.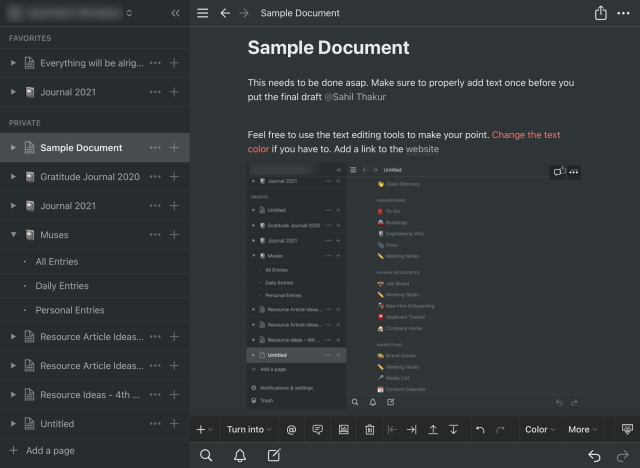 However, where Notion really shines is real-time collaboration. You can mention your teammates in comments inside the notes themselves and they will be notified and can make immediate changes. Notion syncs across browsers, Mac, and Windows so your notes will be with you even without the iPad.
For users who love taking notes on their iPad through a keyboard, check out Notion and get to typing.
Pros:
Wide variety of note templates
Seamless organization
Powerful and quick collaboration tools
Cons:
Limited Apple Pencil support
Price: Free (Paid Plans available)
Get: Notion
Bonus: Quick Note
If you're merely looking for a quick way to record your notes without installing any app whatsoever, you're in luck. Introduced in the iPadOS 15, Quick Note is a feature that allows iPad users to bring up a sticky note right from their iPad screen. This Quick Note records everything and can link apps and text system-wide. Check out the link above to learn how to use it.
Use these Notetaking apps to Ease your Experience
Well, those were the best note-taking apps for iPad that you can use. We have included both paid and free apps on this list. Plus, we have also included apps suited to different use-cases, so no matter what you're looking for, you should be able to find something that suits your needs. So, which iPad note app are you using? And if there are any other note apps that you think should be on this list, let us know in the comments.