Is Netflix unable to fulfil your movie cravings? No doubt, Netflix rules the streaming world with countless titles, multiple device compatibility, and worldwide service. Still, we go to other streaming platforms for a variety in our content. One similar platform is Apple TV+, the new streaming service launched in 2019, making its place with big competitors like Amazon Prime, HBO Max, Disney+, and more. There are some great original movies on Apple TV+ that you will enjoy. However, I don't want you to spend hours researching finding what to watch only to end up with lost time. Therefore, I did that on your behalf and created this guide for you, including all the best movies on Apple TV+ currently available. So, without any further ado, let's begin. 
The Best Movies on Apple TV+ (2022)
Apple TV+ hosts some original movies, including animated ones for kids, documentaries for infotainment lovers, and award-winning actors and directors coming together to create masterpieces. Given that the OTT platform is relatively new, it has limited movies in a few genres. Still, it can be confusing to decide which one will suit your current mood. Therefore, have a glance at this list of movies along with their review, rating, cast, and genre to make an intelligent decision to spend your next 2-3 hours.
Best Movies on Apple TV in Various Genres
Apple TV+ has movies in every genre. Be it a musical, animation, drama, comedy, or war movie; I have covered it all. Here is a list of some great movies on Apple TV+ for you to pick.
1. Swan Song (2021)
Genre: Drama, Science Fiction
IMDb: 6.8/10
Rotten Tomatoes: 80%
Metacritic: 66%
Stars: Mahershala Ali, Naomie Harris, Awkwafina
Directed by: Benjamin Cleary
Runtime: 1 hour 51 minutes
Once in a while, such a movie comes out, which reminds me of what movie-making is actually about. Swan Song picks up a hot concept of sci-fi films and combines it with grief, drama, and human elements. The story talks about a man about to die but can continue his life through a clone so that his family isn't disturbed. However, as the time comes close, he realizes he is not ready for the swap. All his emotions take over him, giving us critical insights into how it may feel before dying. The cinematography uses minimal elements to provide a look for a modern environment, whereas the music score deepens the story by playing emotional strums.
2. Finch (2021)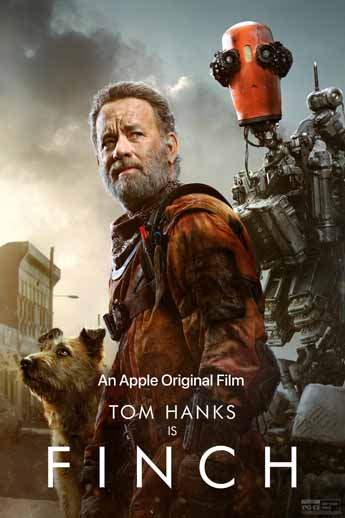 Genre: Science Fiction, Drama, Adventure
IMDb: 6.9/10
Rotten Tomatoes: 73%
Metacritic: 57%
Stars: Tom Hanks, Caleb Landry Jones, Oscar Avila
Directed by: Miguel Sapochnik
Runtime: 1 hour 55 minutes
Get ready to rediscover the great actor Tom Hanks in and as Finch. No matter how many times we see him on screen, he can somehow induce new emotions even with similar roles and plotlines. Finch is a survival story of a lone man on a damaged planet. If it reminds you of Castaway and Terminal, you are absolutely right. The story takes place in a post-apocalyptic setting where Finch, an ex-robotics engineer, tries to survive with a dog and no humans, food, or proper shelter. He creates a humanoid robot with a single agenda to protect the dog at all costs. This sci-fi movie is about trust, companionship, brotherhood, and love. So, watch this epic story with everything emotional if you are okay shedding some tears.
3. The Banker (2020)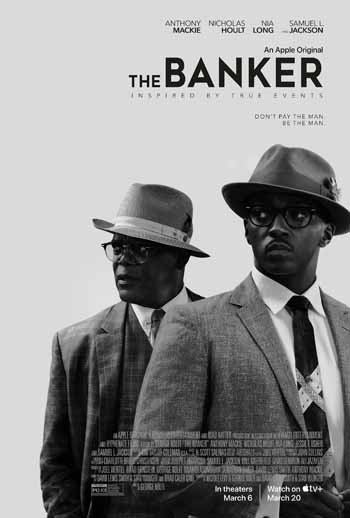 Genre: Drama
IMDb: 7.3/10
Rotten Tomatoes: 79%
Metacritic: 59%
Stars: Anthony Mackie, Samuel L. Jackson, Nicholas Hoult
Directed by: George Nolfi
Runtime: 2 hours
The Banker is inspired by a story of two black people who enter the game of real estate to provide better facilities to their community. It stars some great actors like Anthony Mackie, Samuel L. Jackson, and Nicholas Hoult. The movie revolves around answering a straightforward question, "How do you win a rigged game?" And the answer lies in a humorous drama called The Banker. The film shows us the immoral reality of the 1950s, which is sadly still part of our culture. Watching a finance prodigy making his way up to compete with high players where he belongs irrespective of unfavorable circumstances is inspiring. Meanwhile, you get a crash course on how to think like a business person while enjoying a great story.
4. The Tragedy of Macbeth (2021)
Genre: Drama, War, Thriller
IMDb: 7.3/10
Rotten Tomatoes: 93%
Metacritic: 87%
Stars: Denzel Washington, Frances McDormand, Alex Hassell
Directed by: Joel Coen
Runtime: 1 hour 45 minutes
The Tragedy of Macbeth is an adaptation of William Shakespeare's play Macbeth. The whole movie uses the Shakespearean English language for the dialogues. So, it would help to read some of his creations before watching the movie if you aren't familiar with his writing style. The film is a masterpiece with great acting, brilliant direction, and fantastic cinematography. Not to forget, the background score is unsettling and would stir up all your emotions while watching the film. The director has used minimal set decoration for giving the movie a theoretical appeal. Black and white camerawork and 4:3 aspect ratio combined with the exquisite storytelling make The Tragedy of Macbeth one of the best movies in 2021—a cinematic masterpiece.
5. Palmer (2021)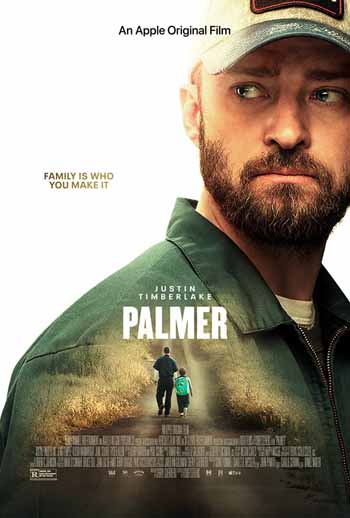 Genre: Drama
IMDb: 7.3/10
Rotten Tomatoes: 72%
Metacritic: 53%
Stars: Justin Timberlake, Ryder Allen, June Squibb
Directed by: Fisher Stevens
Runtime: 1 hour 50 minutes
Palmer is a story of a guy trying to find himself and questioning his life after spending 12 years in prison. Eddie Palmer, who happens to be a young football star, commits a crime and returns to his grandmother after 12 years. He soon finds a job as a janitor in the local school. While questioning his life, he happens to take care of Sam, a young kid of a drug-abusing mother who frequently leaves Sam under the guarding of Vivian, Eddie's grandma. After Vivian's death, Eddie bonds closely with Sam and acknowledges his effeminate nature. A clash between the adults takes place over who should take care of Sam as the matter goes to court. The movie feels dull initially but builds up interest as it goes forward. I liked how the director didn't show any past footage and let the viewers imagine the characters' stories.
Meanwhile, it firmly sheds light on the issue of gender identity without making it a big deal. This movie is about self-discovery, hope, humility, and love. The heartwarming story of Palmer can make you cry and laugh within minutes. So, be prepared to have an emotional rollercoaster ride.
6. Come From Away (2021)
Genre: Musical, Comedy, Drama
IMDb: 8.6/10
Metacritic: 83%
Rotten Tomatoes: 97%
Stars: Jenn Colella, Joel Hatch, Tony LePage
Directed by: Christopher Ashley
Runtime: 1 hour 46 minutes
Come From Away is an American-Canadian musical film directly shot from the theatre musical by the same name. The story is about 7000 passengers who were stranded in the small town of Gander in Newfoundland, Canada. The incident occurred when 38 airlines supposed to land in the US were redirected after the 9/11 terrorist attacks. The village people welcomed the passengers cordially, providing them with every possible support. Irene Sankoff and David Hein wrote the original musical with catchy composing and descriptive lyrics. Director Christopher Ashley filmed this movie version after the Broadway theatre was shut down due to the Covid pandemic. The musical tells the story of humanity, belief, and hope. It is inspiring to watch how the villagers took it to their hearts to support the confused passengers.
7. CODA (2021)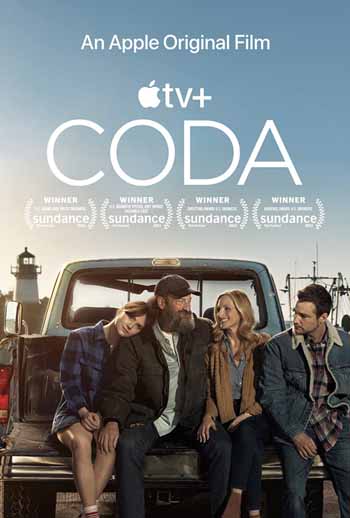 Genre: Drama, Music, Romance
IMDb: 8.1/10
Rotten Tomatoes: 96%
Metacritic: 75%
Stars: Emilia Jones, Marlee Matlin, Troy Kotsur
Directed by: Siân Heder
Runtime: 1 hour 52 minutes
CODA has by far one of the most creative and original movie ideas one can imagine. It's a story about a girl who can sing like an angel regardless of being born in a family of deaf people. The unique approach towards the beauty of art is mesmerizing, shown amazingly in this movie. It embarks on the protagonist's journey into the world, which demands leaving her family behind. The movie also has some great tracks, and you will surely fall in love with the music. Well, it's a film about music after all. Watch this inspiring story for its positivity, hope, family support, and of course, the fantastic story.
8. Greyhound (2020)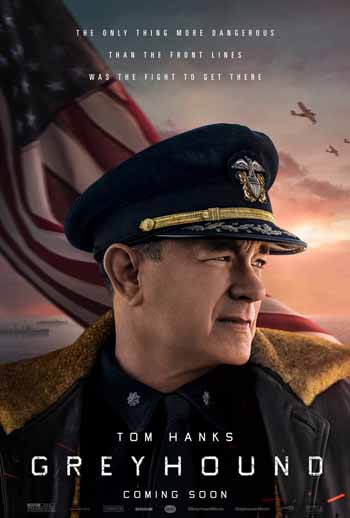 Genre: War, Action, Drama
IMDb: 7/10
Rotten Tomatoes: 79%
Metacritic: 64%
Stars: Tom Hanks, Stephen Graham, Rob Morgan
Directed by: Aaron Schneider
Runtime: 1 hour 31 minutes
Greyhound is a film adaptation of the 1955 novel The Good Shepherd by C. S. Forester. Tom Hanks played the protagonist, a Navy Commander named Ernest Krause. He is tasked with bringing an allied defense battalion across the Atlantic back to safety. However, they get stuck in an enemy area and are now attacked from every side. Commander Ernest takes it to himself to save the battalion. The movie has excellent war scenes, a stimulating music score, and breathtaking acting. I can imagine how much effort the team has put into the production, and they must be willing to launch it in theatres. I would have recommended watching the film in a cinema theatre; it's simply that good.
9. Hala (2019)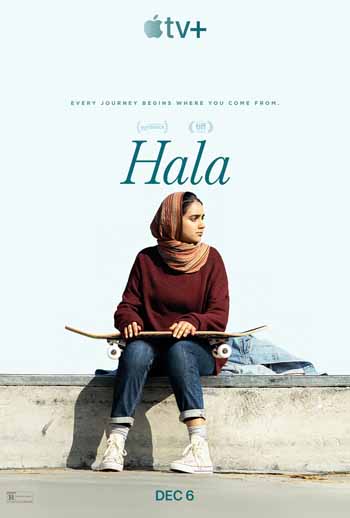 Genre: Drama
IMDb: 6/10
Rotten Tomatoes: 86%
Stars: Geraldine Viswanathan, Jack Kilmer, Gabriel Luna
Directed by: Minhal Baig
Runtime: 1 hour 33 minutes
Hala is a story of a Muslim teenager living in America and balancing her personal life with parental expectations and her own choices. The movie is relatively soft on writing and does not give proper justice to the character arc. Still, it manages to tell a good story about the struggles of a small girl confused between what's suitable for her and not. Many people believe this movie shows a stereotypical image of Muslim families and tag it as religiously inappropriate. However, the film speaks of the diversity and struggles one might face growing up in a different community. Overall, Hala has a cliche plotline that you can expect from a movie with a teenager questioning the authority of parents and religion on her. Everything about Hala, from music score, acting, direction, and the story, is mediocre, making it a lightweight movie.
10. Wolfwalkers (2020)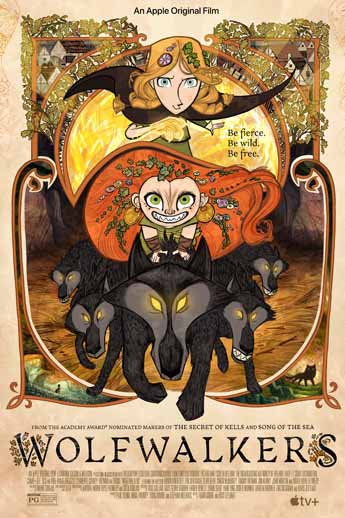 Genre: Animation, Family, Adventure, Fantasy
IMDb: 8/10
Rotten Tomatoes: 99%
Stars: Honor Kneafsey, Eva Whittaker, Sean Bean
Directed by: Tomm Moore, Ross Stewart
Runtime: 1 hour 42 minutes
Wolfwalkers is a gorgeous animated film about 17th century Ireland. It's about a girl who wants to help her father catch all the wolves in the forest surrounding the Irish village of Kilkenny. However, the girl discovers the wolves aren't the foul creatures, everyone thinks. The magic of the jungle also brings her close to another wild girl who happens to be a wolfwalker, someone who transforms into a wolf when asleep. Overall, the movie has a great story, lush animation, and a glance at Irish folklore. It's a great watch for people of all ages.
11. On the Rocks (2020)
Genre: Drama, Comedy
IMDb: 6.4/10
Rotten Tomatoes: 87%
Metacritic: 73%
Stars: Rashida Jones, Bill Murray, Marlon Wayans
Directed by: Sofia Coppola
Runtime: 1 hour 36 minutes
On the Rocks is a comedy-drama directed by Sofia Coppola, popularly known for creating music videos. However, the very few movies that Coppola has directed are critically acclaimed, like Lost in Translation and A Very Murray Christmas, both of which stars Bill Murray as the leading actor. This movie is another addition to the beautiful collaboration between the two great artists. It explores the story of a confused wife and mother (Laura, played by Rashida Jones) who thinks her husband might be cheating on her. She looks for advice from her cocky, playboy kind of father played by Bill Murray. Instead of bothering about the situation, he continually pokes fun at her and takes her on an adventurous trail following her husband from New York to Mexico.
The movie explores father-daughter relations, husband-wife relations, and emotional angles like hidden pain and giving up on people. Overall, the cast has done a fabulous job creating humorous drama, which is heartbreaking at its core.
12. Cherry (2021)
Genre: Drama
IMDb: 6.6/10
Rotten Tomatoes: 37%
Stars: Tom Holland, Ciara Bravo, Jack Reynor
Directed by: Anthony Russo, Joe Russo
Runtime: 2 hours 20 minutes
I hope you are not deceived by the rozy name of the movie and seeing Tom Holland as the lead actor. Cherry is based on a novel by the same name written by Nico Walker. It is a story of a young boy who joins the military and has PTSD because of his experience. He took to drugs to overcome his trauma and soon became addicted to it along with his wife. The confused boy starts to rob banks to support himself financially and fulfill his addiction. The story goes darker and darker with each passing minute and takes us on a thoughtful journey.
Viewers criticized the Russo brothers for the direction and screenplay. However, you can't ignore Tom Holland's acting at any point. Watching him in serious roles after playing the friendly neighborhood Spiderman elevates his respect as an actor. Overall, the movie is serious throughout and doesn't grasp the audience. However, you can watch it for the fantastic performance of all the cast.
Best Documentary Movies on Apple TV
Apple has done a remarkable job in presenting infotainment content. They are creating great documentaries around musicians, nature, artists, and a few desirable topics like politics and life. So, if you would like to spend your time enjoying a good movie while learning something new, this list is for you.
13. Here We Are: Notes for Living on Planet Earth (2020)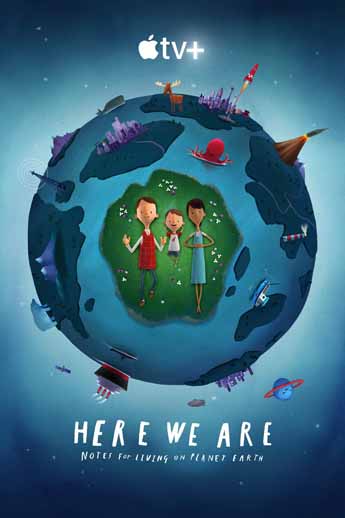 Genre: Animation, Family
IMDb: 7.4/10
Stars: Meryl Streep, Jacob Tremblay, Chris O'Dowd
Directed by: Philip Hunt
Runtime: 36 minutes
Here We Are: Notes for Living on Planet Earth is a short animated film inspired by the world-famous children's book by the same name written by Oliver Jeffers. The story dives into the life of a young boy and his learning about the Earth and its beauty on Earth day. His parents take him to a museum named Museum of Everything, where the boy satisfies his curiosity about life and how the world works. The wonderfully animated short helps us look at the world from that pure sense of interest like a child. I recommend watching this great movie, especially if you have small kids at home.
14. Fireball: Visitors From Darker Worlds (2020)
Genre: Documentary
IMDb: 7/10
Rotten Tomatoes: 98%
Metacritic: 72%
Stars: Werner Herzog, Clive Oppenheimer
Directed by: Werner Herzog, Clive Oppenheimer
Runtime: 1 hour 37 minutes
Meteorites are one of the most remarkable things in the universe. They work like messengers of the universe delivering information and matter from one galaxy to another. The documentary Fireball: Visitors from the Darker Worlds talks about what meteorites have brought us. From new elements to cultural value. From wiping out entire species to bringing in new life forms. We can't imagine sustainable life on this planet without the rocks from space contributing heavily to it. Learn more such stuff from this insightful documentary on meteorites and their impact on the Earth.
15. The Velvet Underground (2021)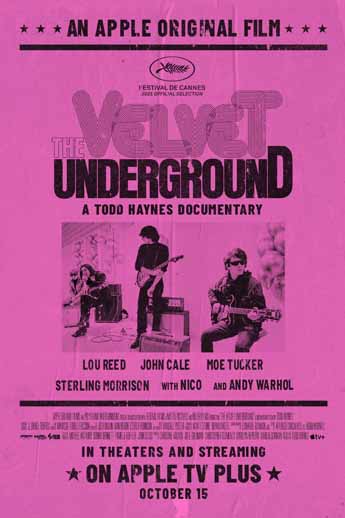 Genre: Documentary, Music
IMDb: 7.4/10
Rotten Tomatoes: 98%
Metacritic: 87%
Stars: Lou Reed, John Cale, Sterling Morrison
Directed by: Todd Haynes
Runtime: 2 hours
The Velvet Underground is a famous rock band consisting of Lou Reed, Sterling Morrison, John Cale, Moe Tucker, and Nico in the 1960s. The documentary shares their journey and impact on the world with music. It consists primarily of some old footage where a few cool people take pictures of a cool band wearing sunglasses and having indoor action. Well, everything you can expect in a documentary about a rock band from the 1960s. The Velvet Underground doesn't show anything unique or mysterious about the band. Still, it will take the fans on a nostalgic trip about their favorite band and how they contributed to America's musical history.
16. Who Are You, Charlie Brown? (2021)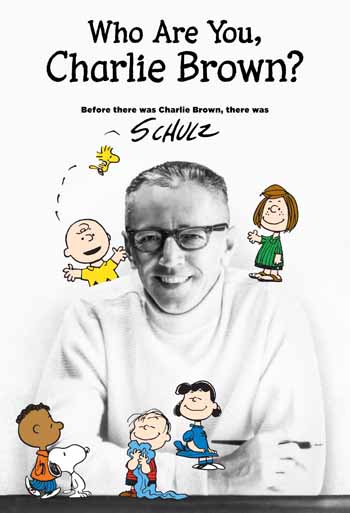 Genre: Documentary, Animation
IMDb: 7.2/10
Rotten Tomatoes: 88%
Stars: Lupita Nyong'o, Tyler James Nathan, Terry McGurrin
Directed by: Michael Bonfiglio
Runtime: 54 minutes
Suppose you grew up in the 20th century. In that case, I bet you read the Peanuts comic strip at least once in your lifetime. Creator Charles Schulz first made this strip for an American newspaper in 1950. It ran for 50 years until his death in 2000, making it one of the most extended stories ever told by a single human being. "Who are you, Charlie Brown?" is a documentary focusing on how the comic characters came into existence. It contains actual interviews with the creator himself and a few people who knew him when he was alive. So, if you ever saw, heard, or read about the insecure kid Charlie Brown, have a glance at the mind who created such a masterpiece.
17. The Year Earth Changed (2021)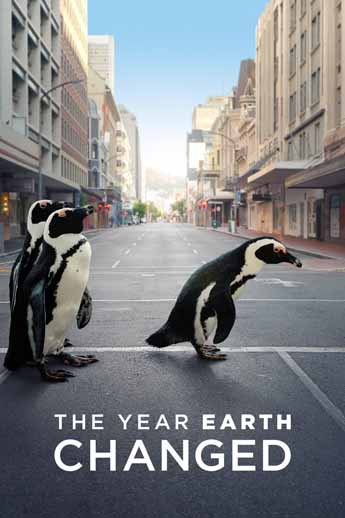 Genre: Documentary
IMDb: 8.3/10
Rotten Tomatoes: 100%
Stars: David Attenborough, Bhashkar Bara, Dulu Bora
Directed by: Tom Beard
Runtime: 48 minutes
It still sends chills through my body when I remember how a small virus changed the whole world for us. We were shut out of everything, and what was normal has altered its definition forever. I believe mother nature wanted to tell us something from the incident since we can see the positive effects of global lockdown on animals. Didn't you notice? Watch this amazing documentary directed by Tom Beard titled The Year Earth Changed. The name justifies the film entirely because it shows how the Earth recovered within a few months after the global lockdown. Animals explored new territories, ocean water became cleaner, air pollution went away, and nature healed itself. This documentary is a must-watch to see where we are leading this world and to feel gratitude towards the planet we call home.
18. Fathom (2021)
Genre: Documentary
IMDb: 5.7/10
Rotten Tomatoes: 58%
Metacritic: 67%
Stars: Ellen Garland, Michelle Fournet
Directed by: Drew Xanthopoulos
Runtime: 1 hour 26 minutes
Can you guess what the above sound is? I believe only a few can recognize that it's a whale cry. Researchers have spent countless years studying whale sounds to understand what they are saying and communicate with them in any manner possible. It's interesting because whales have been on this planet for much longer than humans or many other mammals. This beautiful documentary about humpback whales takes us a step closer to their life. How researchers interpret their language, and what we can learn from one of the largest animals on the Earth. The documentary is beautifully filmed, inspiring, and igniting curiosity in our minds. A must-watch if you want to spend your time gaining knowledge and learning about one of the oldest creatures on this planet.
19. Billie Eilish: The World's a Little Blurry (2021)
Genre: Documentary, Music
IMDb: 7.7/10
Rotten Tomatoes: 96%
Stars: Billie Eilish, Finneas O'Connell, Maggie Baird
Directed by: R.J. Cutler
Runtime: 2 hours 20 minutes
Billie Eilish is among the most popular music superstars from Gen Z, and this documentary does all the justice to bring her story in front of the world. We are living in a time when child depression is a real thing. Billie has influenced many teenagers with her heart-wrenching songs and relatable lyrics while spreading love and positivity throughout the world. This documentary answers some curious questions like how she manages her life living on the road, how her parents feel about her job, and what it takes to create record-breaking albums. Watching Billie Eilish: The World's a Little Blurry also makes you think about how great Apple's approach is with original content.
20. The Elephant Queen (2019)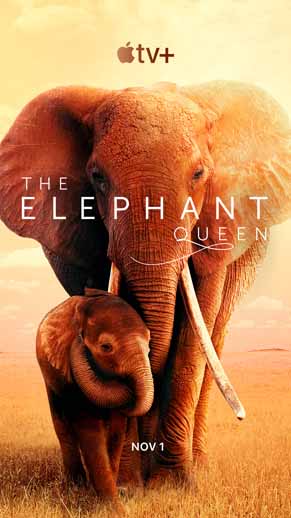 Genre: Documentary, Family
IMDb: 7.8/10
Rotten Tomatoes: 91%
Stars: Chiwetel Ejiofor
Directed by: Victoria Stone, Mark Deeble
Runtime: 1 hour 36 minutes
While growing up, I always enjoyed watching animal documentaries on Discovery, Animal Planet, and National Geography. Ever since Apple started streaming nature documentaries, I have loved the OTT platform even more. The Elephant Queen is a story of a group of female adult elephants and their offspring led by the big elephant Ethena. They start on a journey to find a new home when their old one sees the wrath of nature, and they have to move 200 miles. The documentary also showcases how elephants show emotions, their place in the wild culture, and how every animal benefits from one another. Narrated by Chiwetel Ejiofor, The Elephant Queen is an informative and inspiring documentary about the beasts and how they live in a family supporting each other.
21. Dads (2019)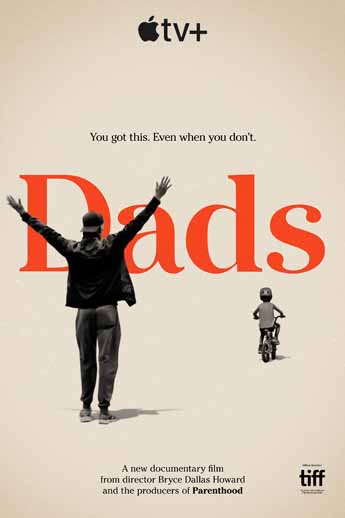 Genre: Documentary
IMDb: 6.8/10
Rotten Tomatoes: 94%
Stars: Bryce Dallas Howard, Ron Howard, Judd Apatow
Directed by: Bryce Dallas Howard
Runtime: 1 hour 20 minutes
After hosting some mind-blowing documentaries about animals and nature, Apple TV+ decided to create one documentary dedicated to the strongest creatures on the planet, dads. Yeah, as attractive as it sounds, Dads is a documentary dedicated to the struggles of parenting and questions faced by new dads and how they overcome becoming the superhero for their child. The documentary features interviews of some prominent faces from Hollywood like Will Smith, Neil Patrick Harris, Jimmy Fallon, and more. Director Howard has done a fabulous job showing us what it takes to be a good dad in the current world.
22. Bruce Springsteen's Letter to You (2020)
Genre: Documentary, Music
IMDb: 7.4/10
Rotten Tomatoes: 95%
Metacritic: 73%
Stars: Bruce Springsteen, Roy Bittan, Nils Lofgren
Directed by: Thom Zimny
Runtime: 1 hour 30 minutes
Every musician has a story that goes beyond music. Bruce Springsteen's Letter to You is a music documentary that shows us the backstory of how Bruce Springsteen created the album Letter to You. The documentary doesn't look like an informative video. Instead, you will find some crazy dudes having fun while forgetting their age and surroundings and immersing themselves deep in the beauty of music. I won't judge you if you feel intoxicated while watching this documentary; it has that powerful direction and simplicity at the same time. The documentary shows Bruce reminding us how he came up with each song, what ideas were behind the composing, and how the band creates music that touches our hearts. It is one of the best music documentaries on Apple TV+ so far.
23. Boys State (2020)
Genre: Documentary
IMDb: 7.6/10
Rotten Tomatoes: 94%
Metacritic: 84%
Stars: Ben Feinstein, Steven Garza, Robert MacDougall
Directed by: Jesse Moss, Amanda McBaine
Runtime: 1 hour 49 minutes
Boys State is a political documentary that brings us the journey of 1000 teenagers in American Legion Boys State in Texas. It follows the whole process of how this mock government is created from the very beginning. It's an insightful glimpse of how future governance might look for us, and frankly, it isn't as utopian as one can imagine. Politics is a tainted field that comes with sly marketing, messiness, and some ugly underlying truths, which are explored in this documentary. All this might sound unpleasant at first. However, what it implies is knowing the reality of our governing model. The uniqueness and brutally straightforward insight in the camp has won Boys State the Grand Jury Prize for documentaries at Sundance 2020, which is enough to mention it is a worth watching infotainment movie on Apple TV+.
24. Beastie Boys Story (2020)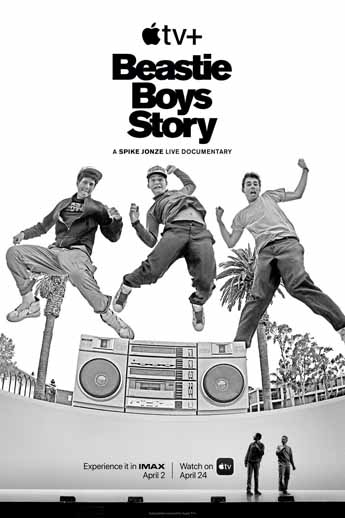 Genre: Music, Documentary
IMDb: 7.8/10
Rotten Tomatoes: 94%
Metacritic: 74%
Stars: Adam Horovitz, Michael Diamond, Adam Yauch
Directed by: Spike Jonze
Runtime: 1 hour 59 minutes
If you came from the generation when people listened to music on cassettes, you might have heard of the Beastie Boys. They were one of the first successful hip-hop bands, making their place in the Billboard 200. Directed by Spike Jonze, who also directed their music video "Sabotage," Beastie Boys Story shows us some glimpses of the old footage when the band was active while the two members, Mike-D and Ad-Rock, tell us the story behind it all. It is a musical treat to every Beastie Boys fan and opens doors for new listeners to experience the OG hip hop.
25. 9/11: Inside the President's War Room (2021)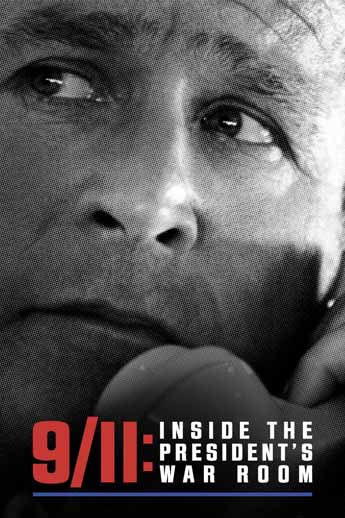 Genre: Documentary
IMDb: 7.5/10
Stars: George W. Bush, Dick Cheney, Condoleezza Rice, Colin Powell
Directed by: Adam Wishart
Runtime: 1 hour 30 minutes
The whole world can never forget the tragic terror attack on the Twin Towers of the World Trade Center on September 11, 2001. Almost 3000 people lost their lives that day under the presidency of George W. Bush. The documentary shows us some videos and clips from the day and interviews George Bush and his team for internal insights. It shows what was going on inside the President's room when terrorists openly attacked one of the busiest places in the USA. It might be the only time the whole team from the President's room at that time came forward to share their perspective of the incident. This documentary is an informative piece and a must-watch for everyone to remember the loss the world saw over 20 years ago.
Does Apple TV+ Have Good Movies?
Apple TV+ is a relatively new OTT platform compared to streaming giants like Netflix, Amazon Prime, and Disney+. You can find all kinds of movies on Netflix. However, Apple TV+ brings in some unique and original content for you. The platform hosts top-class films from great directors and actors. It even has some award-winning entries, given a little movie pool. Apple TV+ can beat other streaming services with its original content. Still, it lacks many aspects, which I hope Apple will cover soon enough. I found all the documentaries insightful and unique.
On the other hand, animated movies like "Wolfwalkers" and "Here We Are" are worth praising. I hope you found your next binging list in this article. If you have any more recommendations to add, feel free to comment down your suggestions.