Since the dawn of services like YouTube and Twitch which allows users to earn money by creating videos, video editing has become a popular creative skill. Not only video editing is a good skill to learn if you are looking to earn some side income, it has also become a very respected skill if you are hunting for jobs today. Well, if you are into video editing or just getting started, one thing that you will need to invest in is a good laptop. However, there are so many options out there that most of the budding editors waste too much time in choosing the laptop then learning the skill itself. That's why to make things easier for our readers, we are bringing the list of best video editing laptops in India one can buy in 2018:
What Makes a Good Video Editing Laptop
Before we get into our list, let me first give you guys a rough idea of the things that you should look for when buying a good video editing laptop. As a rule of thumb, you should know that video editing is a very resource taxing process, so if you are serious about making a career out of it, you should invest in a laptop with at least 8GB of RAM, SSD storage,at least a Core i5 processor, a dedicated graphics card, and a good color calibrated screen with a minimum resolution of 1920*1080.
The perfect video editing laptop for you will also depend on the video editing software that you are using. And no I am not just talking about Final Cut Pro which is only available for Macs, rather I am talking about the system requirements for different video editing software. For example, if you use Adobe Premiere Pro, you will have to invest in a premium laptop which packs at least 8GB of RAM and a high-end graphics card, but if you are using something like Shotcut or Premier elements which doesn't require too much horsepower, you can make do with a system with no graphics card too.
10 Best Video Editing Laptops (Sections)
With that out of the way, let's take a look at the best video editing laptops you can buy in 2018:
Best Budget Laptops for Video Editing (Under 40000 INR)
1. Lenovo Ideapad 110
If you are on a very tight budget and cannot afford a high-spec laptop but still want to start your video editing journey, Lenovo Ideapad 110 is your best bet. Not only does the laptop bring a 2.5GHz AMD A8-7410 processor, it also packs the required 8GB of DDR4 RAM and AMD R16M-M1-30 graphics card with 2GB of VRAM. The laptop has enough power that you can easily start your video editing journey, however, do remember that you won't get a seamless performance with this one if you are editing 1080p or higher resolution video files.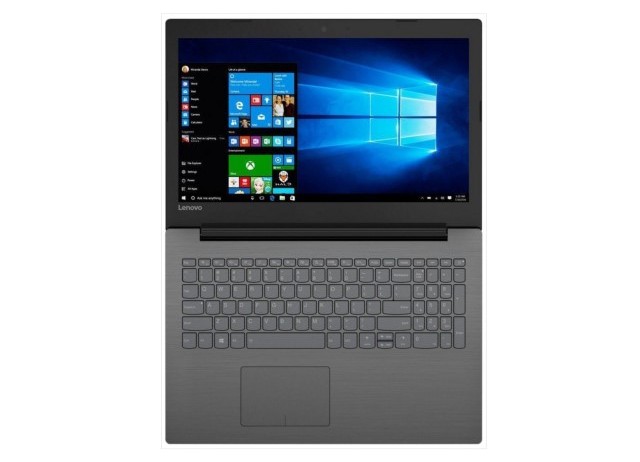 The laptop is just for people who either are just starting out or need a machine for editing homemade videos and are not necessarily thinking of going professional. Also, this one comes without windows pre-installed on it. You can either buy a license and boot Windows 10 on this machine, but that will add extra cost to your system. You can also use a Linux OS like Ubuntu, and in that case, you can use video editing programs like Lightworks and OpenShot which are Linux compatible. It's the cheapest video editing laptop that you can get and I would not recommend buying anything which has lower specs than this.
Buy from Amazon: Rs. 28,190
2. Asus VivoBook X507
Without a doubt, Asus VivoBook X507 is one of the best laptop offerings in the said price segment. It boasts of a lightweight design, at just 1.68 kgs, and a brushed metal finish in the overall design to provide a top-notch experience while featuring impressive specs to come out on top as a multimedia powerhouse. Powered by the 6th-gen Intel i3 Processor along with a whopping 8GB of DDR4 RAM, the VivoBook is a superb performer. In fact, the RAM on this laptop is clocked at 2666MHz as opposed to the standard 2400MHz frequency, which is a big plus. You get a Full HD 15.6-inch display along with a full sized keyboard, with zero compromises.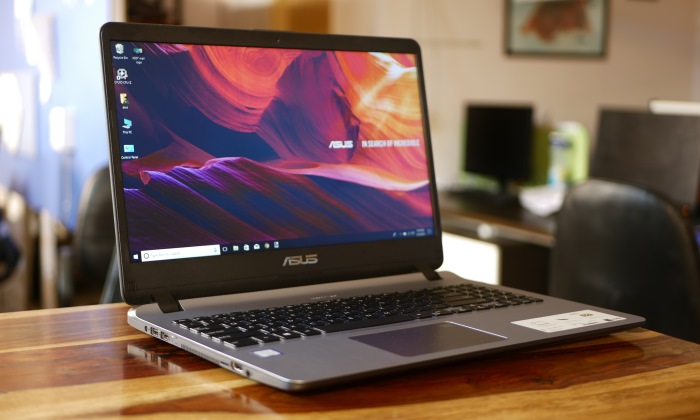 As for storage, the Asus VivoBook X507 comes with 1TB of HDD storage which should be enough for most of your tasks, and then some. Additionally, the laptop also features a fingerprint sensor which makes use of Windows Hello for biometric authentication. Furthermore, the Asus VivoBook X507 packs in the Nvidia GeForce MX110 which means that you can run programs like Adobe Premiere Elements and Cyberlink Power Director 16 to get your video editing on.
Buy from Paytm Mall: (Rs. 38,990)
3. Asus K510UQ
Another great budget laptop for video editing is the Asus K510UQ which will be able to handle 1080p footage a lot better than any other budget laptop on this list. The Asus K510UQ comes with an 8th-gen Core i5 processor paired with 8GB RAM and a 1TB hard drive. The 8th-gen processor will definitely help with multi-threaded tasks, such as most video editors that make use of multiple cores efficiently.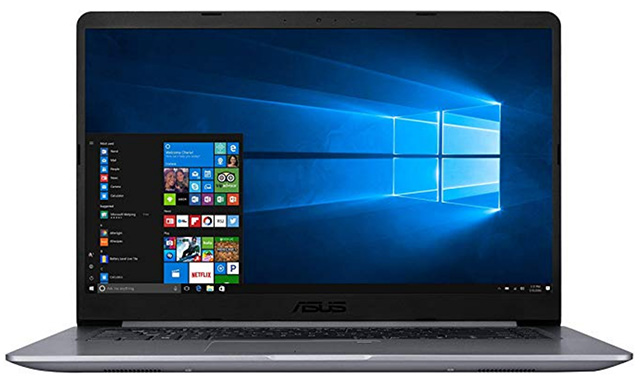 Other than that, the laptop comes with 2GB of Nvidia 940MX graphics, which will definitely help with editing 1080p videos easily. However, keep in mind that this laptop won't be able to handle things above 1080p, so if you're planning on switching to 4K in the near future, you should get a laptop from the 4K section of this list.
Buy the Asus K510UQ from Amazon (Rs. 40,000)
Best Laptops for 1080p Video Editing
If you are looking to constantly edit 1080p footage and will be using the programs like Adobe Premiere Pro or Sony Vegas Pro, here are the laptops you should be looking at:
1. ASUS VivoBook S15 S510UN-BQ217T
If you are looking for a good video editing laptop which can handle 1080p footage easily, this is the first one you should look at. The laptop brings a 15.6-inch full HD screen and is powered by 8th generation Intel Core i5 processor. It also packs NVIDIA GeForce MX150 with 2GB of memory. Apart from its power, the biggest advantage of the laptop is its screen which gets really bright and covers 100% of the sRGB color space which means it's great for color correcting your footage when editing it.
The display is also coated with anti-glare coating allowing you to easily view the content even in brightly lit areas. The fact that the laptop also comes in a fairly compact body and weighs only 1.7 Kgs also makes this one a really good portable editing workstation. The built-in 1TB of HDD also means that you will have plenty of storage to keep your large video files. If you are looking for a powerful yet portable video editing laptop, this is the one to get.
Buy From Amazon: Rs. 59,590
2. Acer Nitro AN515-51
If thin and light is not something you require and just need the maximum power you can get for your money, Acer Nitro AN515-51 is for you. The laptop can easily handle 1080p editing and can even tackle 4K projects provided they are not very large. The beast is being powered by 7th generation Intel Core i5 processor, packs a 128 GB SSD with 1TB HDD and has 8GB of RAM. However, the thing which truly gives this laptop its power is the dedicated NVIDIA GeForce GTX 1050 Ti with 4GB GDDR5 VRAM. That is a monster of a graphics card which you are getting for quite a competitive price.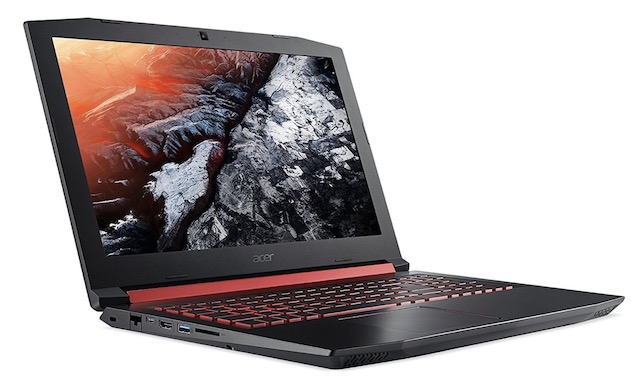 The power that this laptop packs will easily run through any 1080p footage you can throw at it. It can even handle 4K projects as it also packs an SSD which helps a lot during editing. That said, you will not want to edit a 4K footage on this one as this doesn't pack that good of a screen. Although the display is full HD (1920*1080), it's not that great. Not only the display is not perfectly color calibrated, it also is very glossy. Quite frankly the panel cannot do justice to 4K footage. So, stick to 1080p editing on this one and if you need a laptop which can handle 4K footage, look at the next section.
Buy From Amazon: ₹72,999
3. MacBook Pro 13-inch
Although the MacBook Pro 13-inch doesn't bring a dedicated graphics card, you would be surprised how easily you can edit 1080p footage on this machine. However, to do that, you will have to strictly use Final Cut Pro. If you still don't get it, well, it's basically the magic of Apple software and hardware which allows this machine to easily tackle 1080p footage without any problem. Final Cut Pro is so optimized for macOS that it doesn't need that much power to run.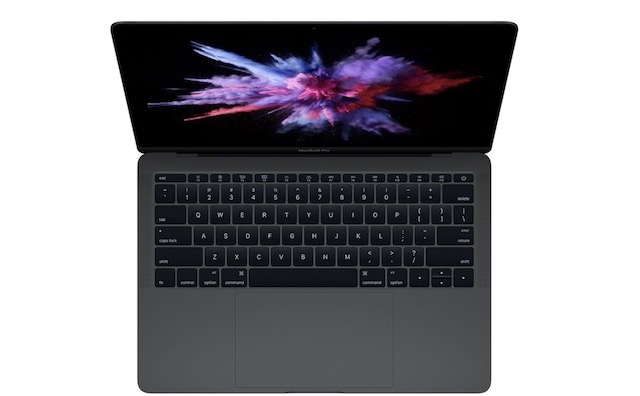 The MacBook Pro 13-inch with 7th generation Intel Core i5 processor and built-in Intel Iris Plus 640 Graphics is enough to handle 1080p footage. One of the reasons this MacBook can easily handle 1080p footage apart from the Final Cut Pro optimization is the crazy fast SSD that it packs. The ultra-fast SSDs helps in running the program in real time without bogging it down. So, if you are ready to use Final Cut Pro, which by the way is an excellent editing program, the MacBook Pro 13-inch will be enough to handle all your 1080p editing needs.
Buy From Amazon: ₹99,900
Best Laptops for 4K Video Editing
1. 15-inch MacBook Pro
No list can be complete without the most popular video editing laptop in the world which is the 15-inch MacBook Pro. The laptop is favored by most of the famous YouTubers and video professionals alike. The 15-inch MacBook Pro is one of the best laptops which can edit 4K footage easily. When it comes to raw power, the laptop might not sound as powerful as the other 4K editing laptops on this list, however, Final cut Pro runs smooth as butter on this one.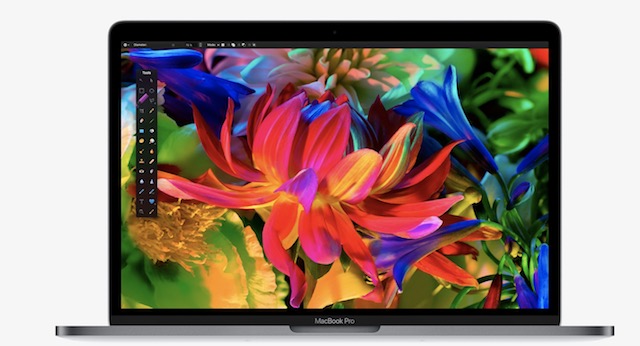 The laptop comes in various configurations. The one I am suggesting comes with a 512GB SSD, 16GB of RAM and is powered by an 8th generation Intel Core i7 processor. The laptop also packs an AMD Radeon Pro 560 graphics with 4GB of VRAM. As I said, on paper the MacBook Pro 15-inch doesn't seem so powerful, however, if you are using Final Cut Pro, you can easily edit 4K footage with it. One of the best features of the MacBook Pro is its screen. The 15-inch Retina screen that Apple packs in this laptop is one of the best in the market and really helps with video editing. If price is no concern for you, this is the best 4K editing laptop that you can get.
Buy From Amazon: Rs. 2,62,123
2. MSI GL63 8RE-455IN
While there's no denying the fact that the MacBook Pro is one of the best laptops you can get for 4K video editing, it is also pretty costly. Also, if you edit on Premiere Pro, you can get a Windows system for far less money which can provide comparable if not better editing performance than the 15-inch MacBook Pro. One such laptop is the MSI GL63 8RE-455IN. The laptops can easily handle all of your 4K editing needs.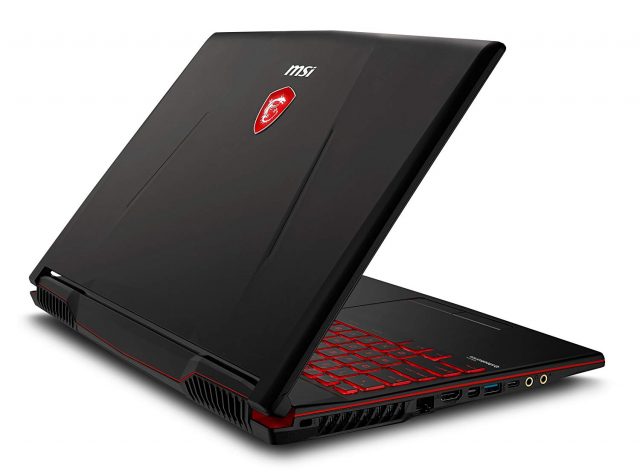 Powered by a 8th Gen Intel Core i7 processor coupled with an Nvidia GeForce GTX 1060 graphics card with 6GB of VRAM, the laptop is an absolute beast. It has enough power to handle anything you can throw at it and it also comes with 16GB of RAM so it doesn't matter how many effects you are applying at a time, it can just handle everything quite easily.
Buy from Amazon: ₹1,14,444
3. Dell Inspiron 7577
Another great 4K video editing laptop in the price range of Asus GL502VM-FY230T is the new Del Inspiron 7577. The laptop brings all the similar specs including 7th generation Intel Core i7 processor and an Nvidia GeForce GTX1060 Graphics card with 6GB of VRAM, along with a 256GB SSD and 1TB hard drive. The laptop also comes with a extra memory slots so you can stick another 16GB RAM card to increase the RAM to 32GB. The upgradability is important for future proofing your device.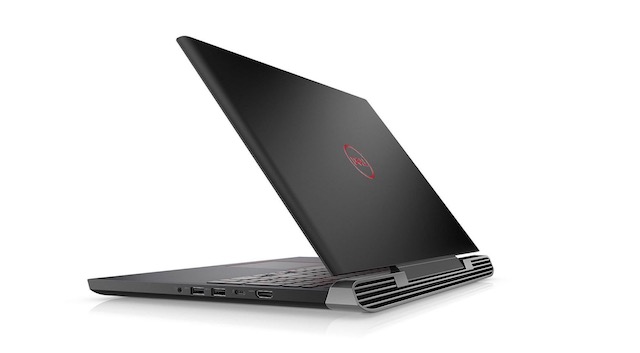 I also love the fact that the laptop brings a really good cooling system which means that you can easily render long 4K projects without ever experiencing any thermal throttling. The laptop also brings a 2-in-1 card reader which supports both SD and MMC cards. While most of the cameras support SD card, there are cameras which support MMC cards. With this laptop you are prepared no matter which camera you have access to. If you are looking for a 4K video editing laptop, this is one of the most complete laptop you can get.
Buy From Flipkart: Rs. 1,14,990
4. Dell XPS 15
Dell's XPS line of devices are one of the best Windows laptops you can get your hands on. While the 13-inch Dell XPS is best for productivity, if you need the horse power to tackle 4K video editing, you will need to get the Dell XPS 15. The best thing about the Dell XPS 15 is its beautiful 4K infinity-edge display and the 8th Gen Intel Core i9 processor which can easily power through 4K video editing without breaking a sweat.
While the Dell XPS 15 is also available with a 1080p display and a Core i7 processor, if you're looking for the absolute best you should definitely invest in the top-end variant which, along with the 4K display and Core i9 processor, packs in an Nvidia GeForce GTX 1050Ti GPU and 32 GB of DDR4 RAM. Compared to the MacBook Pro 15, the Dell XPS 15 offers more value for money and even though it isn't cheap, it definitely offers more raw power for the price.
Buy From Dell: ₹2,04,590
SEE ALSO: 15 Best Laptops for Programming You Can Buy
Buy One of the Best Laptops for Video Editing
While you can edit videos on any machine, if you are really thinking about making it more than just a hobby, you should invest in a good laptop. This article feature the best video editing laptops one can buy in their respective price range. Whether you have a limited budget or you no limits at all, there is one laptop which will meet your needs here. Do, let us know which one picked out by dropping its name in the comments section below.