Equipped with top-notch cameras, iPhones have come close to becoming a true DSLR killer. Unique features like Cinematic mode, macro photography, ProRAW, and ProRes have put Apple smartphones in their own league, despite the cut-throat competition from the likes of Google Pixel and Samsung Galaxy smartphones. No wonder many people already use the iPhones for pro-level photography/ videography. Now, whether you are a new-age vlogger or a photography enthusiast, you should get a portable tripod to capture stunning shots with the desired control on your iPhone. For this exact purpose, we have rounded up the 15 best tripods for iPhone you can buy in 2022.
Best Tripods for iPhone (2022)
What Is an iPhone Tripod Useful For?
iPhone tripods come in many different forms and have multiple use cases. If you aren't sure whether or not they can fit your needs, let me pinpoint the reasons why a tripod deserves a spot in your kit.
Vlogging and TikTok Video Creation
While vlogging has always been exciting, it had never seemed so potent and prevalent before. The advent of short video platforms, led by TikTok, Instagram Reels, and YouTube Shorts, has changed the entire landscape. In order to capture stunning clips, creators always look for improvisation. And it's this urge to craft unique content that makes a tripod an essential accessory to have in your arsenal.
Keeping in mind the fast-changing approach, accessory makers have come up with versatile tripods. They are more compact, flexible, and can help you prop up the phone at the preferred angles. Being lightweight and ultra-portable, these tripods are in sync with your vlogging-on-the-go or TikTok shooting-on-the-move.
Capture Selfies Easily
Tripods are also super handy for capturing cool selfies. They allow you to position your smartphone at the desired angle and snap selfies with ease. Better still, many tripods also double up as capable selfie sticks to help you amp up your game. Combine that with a Bluetooth remote shutter, and tripods become a great asset for your selfie obsession.
Hands-Free Video Calling
Courtesy of a rotatable phone holder with a neat height adjustment functionality, iPhone tripods can also enhance the hands-free video-calling experience. At a time when remote work has become a reality in the wake of the deadly COVID-19 pandemic, a multi-functional tripod can play a pivotal role in boosting your collaboration via virtual conference.
Night Photography, Timelapse, and More
When it comes to night photography, stability is key. No matter how proficient you are, you may not always be able to keep the unwanted shake at bay. The ability to hold phones in several different positions in accordance with specific photo/ video situations makes tripods a must-have asset for pro-level shots. And when you bring a wireless remote shutter into the mix, shooting becomes even more convenient. The story remains the same for timelapse, long exposure, and other shoots.
List of the Top Tripods for iPhone (April 2022)
Joby GripTight Pro TelePod
Key Features
Can extend up to 14-inches high
Well-built and durable
Features a mount for light/ external mic
Bluetooth remote
Joby is well-known for producing pro-grade tripods for smartphones. And well, its GripTight Pro TelePod looks fully capable to boost your iPhone photography. Design-wise, it sports a more conventional profile with flexible legs. With the useful strap and grippy handle, it's very comfortable to hold.
You can use GripTight Pro TelePod to hold your smartphone up to 14-inches high, which may not be top-tier, but you have slightly more control over the way you frame your shot. When you fold the tripod, it becomes more than 7-inches tall to become a compact hand-held camera mount.
Notably, GripTight Pro TelePod comes with a shoe mount that can amp up your night shots when paired with a miniature light. Besides, it can also hold a directional microphone to improve the audio quality. Couple it with the Bluetooth remote shutter, and it does a decent job of being your go-to selfie stick as well. While the $100 price tag puts the TelePod in the expensive category, you can't go wrong with all the features you get in return.
Manfrotto PIXI Mini Tripod
Key Features
Universal smartphone clamp
Compact and portable design
Can be used as a tripod and a grip
Can tilt phone forward and backward
Believe me, there are very few iPhone tripods in the market that can rival the Manfrotto PIXI Mini in terms of functionality. The best part about PIXI Mini is its ability to work both as a tripod and a grip. Featuring a universal clamp, this tripod supports almost any smartphone on the market.
The stainless steel construction with a matte-black finish gives Manfrotto PIXI Mini a premium look. And with the soft rubber grip in the clamp, PIXI holds your smartphone securely without scratching it. Moreover, with the low and wide orientation, this tripod allows you to tilt your phone forward and backward with ease. The only downside is that it can hold the device only in the landscape orientation.
When folded, PIXI Mini becomes pocket-friendly, making sure you can carry it even in a tiny pocket. On top of all, it turns into a hand grip for travelogue shots when the three legs are folded neatly. Priced at around $30, the PIXI Mini can be your preferred tripod for both indoor and outdoor shooting on your iPhone.
Adonit PhotoGrip Qi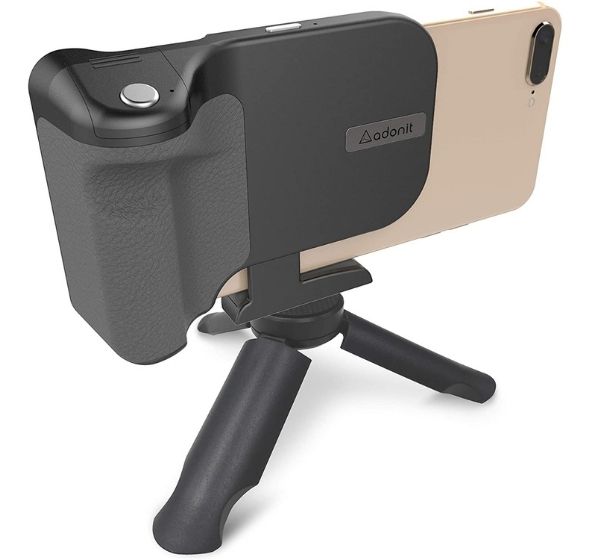 Key Features
Comfortable grip
One-hand operation
Charges your iPhone wirelessly
Works as a photo stand
Adonit PhotoGrip Qi is much more than a simple tripod. Yeah, you read that right. Apart from being a capable iPhone tripod, PhotoGrip also functions as a camera grip, photo stand, remote control, and a proficient portable charger. So, if you are looking for a multi-purpose camera accessory for your iPhone, you should give it a shot.
The Adonit PhotoGrip features a grip design to let you capture much steadier shots. While recording action-filled videos or live-streaming, the grip will have a role to play. Even better, you can also convert it into a self-standing base or even attach the legs of the tripod to turn it into a nifty photo stand for landscape or portrait orientation.
Just like most of its counterparts, PhotoGrip also comes with a Bluetooth remote shutter to let you shoot with ease. And if your smartphone ever runs low on battery, it also becomes a Qi wireless charger (3,000mAh) to power it up with ease.
Joby GripTight GorillaPod Pro 2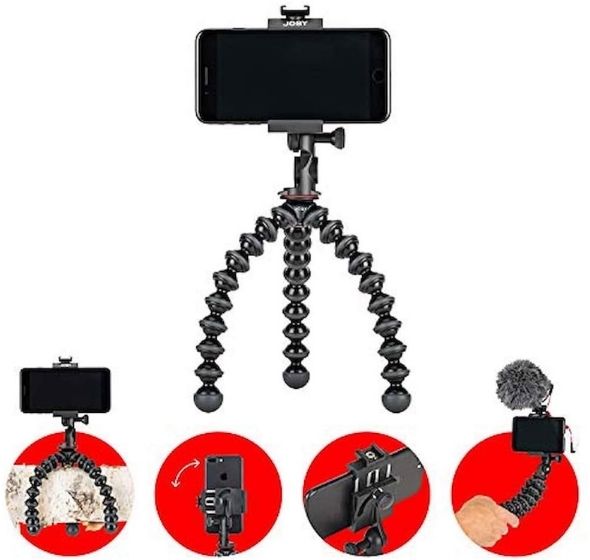 Key Features
Features a ColdShoe Pro mount
Works in landscape and portrait modes
Phone holder supports larger phones
Wrappable legs
It's the impressive ergonomic design that makes Joby GripTight GorillaPod a reliable asset for pros and iPhone photography enthusiasts. The GripTight GorillaPod Pro 2 is compatible with smartphones that have a 2.2-3.5″ width. Since the tripod supports both landscape and portrait modes, you can use it for various purposes from photography to live-streaming. 
Additionally, Joby GripTight GorillaPod features a ColdShoe Pro mount, which lets you attach a microphone or LED light. This extra mount can help you create content for any social media, whether it is Instagram or TikTok. As it's detachable, you can choose to attach any 1/4″-20 based accessory to the top of the tripod.
UBeesize Portable Tripod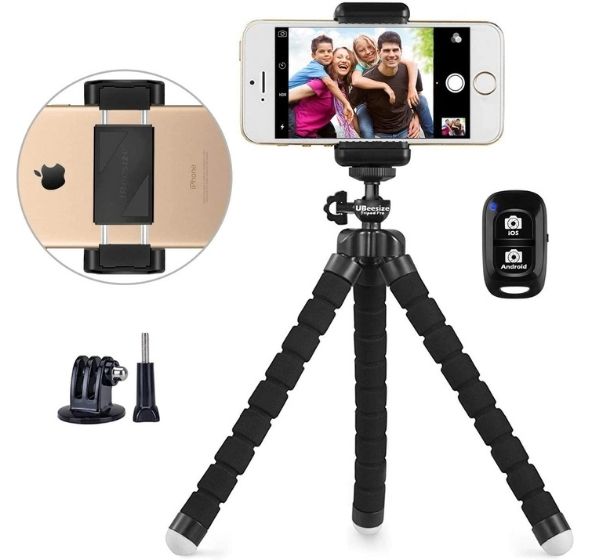 Key Features
Fully adjustable Octopus-style legs
Anti-slip feet, strong ball head
Bluetooth remote support
If you are looking for an ultra-portable tripod for your iPhone, make sure to check out this offering from UBeesize. What makes it stand out is the adjustable octopus-style legs that play a vital role in helping you capture desired shots from any angle. You can adjust the legs to attach the tripod to any surface. Made of durable foam and plastic, it's also got the needed cushion to endure minor falls.
The ball head and the anti-slip feet enable the tripod to stay steady on any surface. And what's more, it also comes with a useful wireless remote to let you take photos and videos without any fuss. Add to that the universal compatibility and UBeesize becomes a complete package (4.5 stars out of nearly 45K ratings).
SwitchPod Tripod
Key Features
Made of high-grade aluminum alloy
Finger grooves for improved grip
Tightening knob for added stability
Discreet feet
Whether you want a premium tripod for your DSLR or a collapsible mini tripod for your iPhone, SwitchPod DSLR tripod can live up to your expectation. This camera stand tripod supports both DSLR cameras and phones, thereby, offering you more photography options.
The SwitchPod is made of aluminum and features a collapsible design for the needed portability. The phone holder keeps your smartphone steady while holding the device in the landscape orientation. The tightening knob allows you to easily attach or remove your device without scratching it.
With the finger grooves, you can comfortably grip it anywhere along the neck. The improved steadiness coupled with the comfy grip makes it an ideal asset for YouTubers.
Ravelli APTL3 53-inch Tripod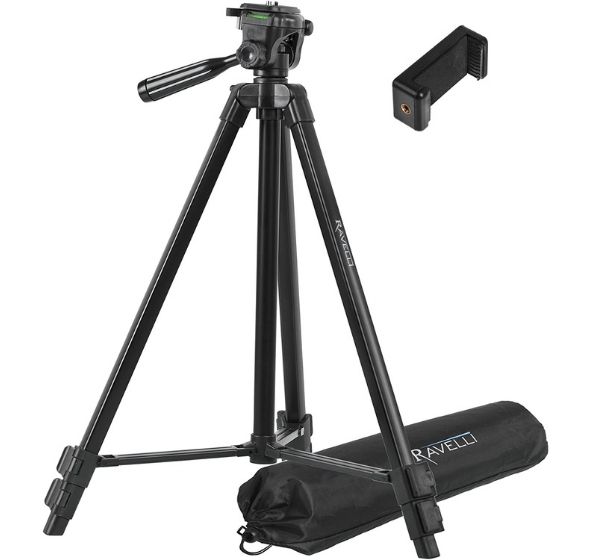 Key Features
Pan and tilt arm for smooth panning
Extends up to 53 inches
Taller than other mini tripods
Lightweight construction
Ravelli APTL3 is a simple tripod with a focus on stability. APTL3 can be expanded from 18-inches to 53-inches. Equipped with a universal mount, the tripod works with almost every smartphone in the market.
Compatibility aside, the Ravelli APTL3 tripod allows shooting in both portrait and landscape modes. Unlike many other iPhone tripods, it comes with a pan arm that allows you to smoothly pan and tilt your phone on the rotating ball head. The pan arm is an integral part of professional tripods. So, I'm glad that it exists on this affordable iPhone tripod as well.
For better stability, you can lock the lever legs so the tripod can remain steady on any surface. Moreover, APTL3 weighs less than 2 pounds and comes with a useful carrying case. In a nutshell, APTL3 is one of the best iPhone tripods that you can buy to shoot professional-quality videos.
Bluehorn Selfie Stick Phone Tripod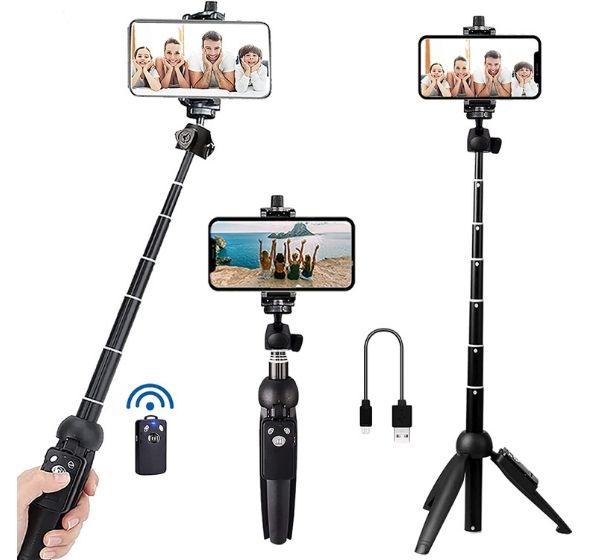 Key Features
Ultra-portable design
Anti-slip base
Fully adjustable holder
Securely locks the iPhone
Made of durable aluminum alloy and ABS material, Bluehorn's tripod is fully adjustable and also doubles up as a selfie stick. So, whether you wish to enhance the quality of your selfies or record Hollywood-style videos, it can fit into the bill with consummate ease. The portable tripod can be extended up to 40-inches. When retracted, it stands at just 8.1-inches, which can comfortably slip into even a tiny pocket.
The tripod features a sturdy phone holder that securely clamps your iPhone and keeps it steady. Since the phone mount is rotatable, you can prop up the iPhone in multiple orientations, depending on the type of shots you want to capture. And with a remote control shutter at your disposal, it's easier to take control of the cameras and get the most out of them.
ATUMTEK 60-inch All in One Tripod
Key Features
Extendable up to 60-inch
7 adjustable poles
Made of aviation grade aluminium alloy
Non-slip silicone pads
Are you looking for an all-in-one tripod? If your answer is in the affirmative, give serious consideration to the Atumtek tripod. It's not just designed to work as a super handy selfie stick but also as a well-equipped tripod. Probably the biggest highlight of this tripod-cum-selfie stick is the extra-long telescopic pole, which you can extend up to 60 inches. You can use the long telescopic pole to capture a much broader view during vlogging or family parties.
Moreover, the Atumtek tripod sports a large 10.6-inch base with three non-slip silicone pads on the feet that boost stability. Thanks to the non-slip base, it's more resistant to accidental toppling. And with the 360° rotatable design, the phone holder allows you to position the iPhone is the preferred angle. In a nutshell, this tripod offers everything to be a top-notch tripod for iPhone.
Xenvo SquidGrip Flexible
Key Features
DSLR compatibility
Sturdy design
Textured gripping neo-rubber legs
Lifetime warranty
Compact design and flexible neo-rubber legs are the two biggest highlights of Xenvo SquidGrip. The texture-gripping neo-rubber legs can hold firmly no matter where you wrap them. You can use this tripod to mount your phone in any position.
The tripod features a 360-degree rotatable ball-head that allows for 90-degree perpendicular positioning. Hence, it can let you aim your iPhone's camera straight down on the floor to use it for top-down vlogging or food photos.
The adjustable phone mount can hold almost any size smartphone. For being so compact, it can even hold a full-size DSLR camera. When you take the infinite possibilities for unique angles into account, the Xenvo SquidGrip Flexible becomes a nearly perfect tripod not just for iPhone but also for action cameras.
Kamisafe Mini Tripod Stand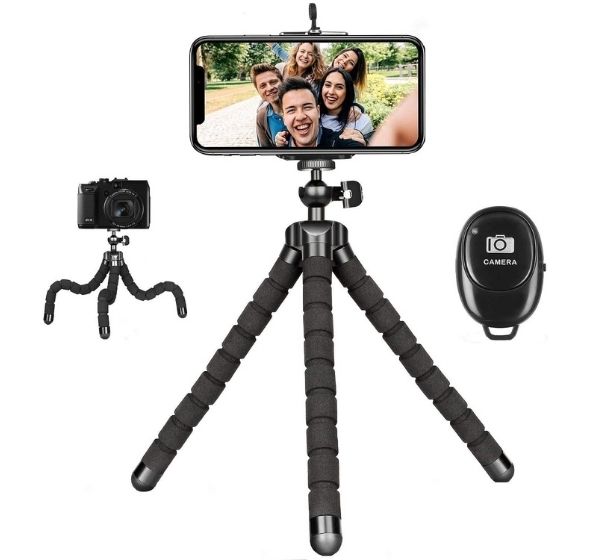 Key Features
Flexible octopus-style legs
360-degree swivel ball joint
Holds smartphone in multiple orientations
Universal compatibility
For folks who are on the lookout for a flexible mini tripod, this one from Kamisafe appears to be a solid contender. This tripod features a lightweight profile and has octopus-style legs that you can adjust in accordance with your preference. With the 360-degree swivel ball joint, you can easily prop up the iPhone for multi-angle shots.
The phone holder is fully rotatable and features a secure locking mechanism to ensure the iPhone remains in place perfectly. It also comes with a Bluetooth remote, allowing you to control the shutter without any hassle. In terms of the build quality, it is decent. The use of plastic and metal gives it enough cushion to withstand minor falls. Durability aside, the Kamisafe tripod is universal, so you can use it with almost any smartphone on the market.
Joby GorillaPod Mobile Vlogging kit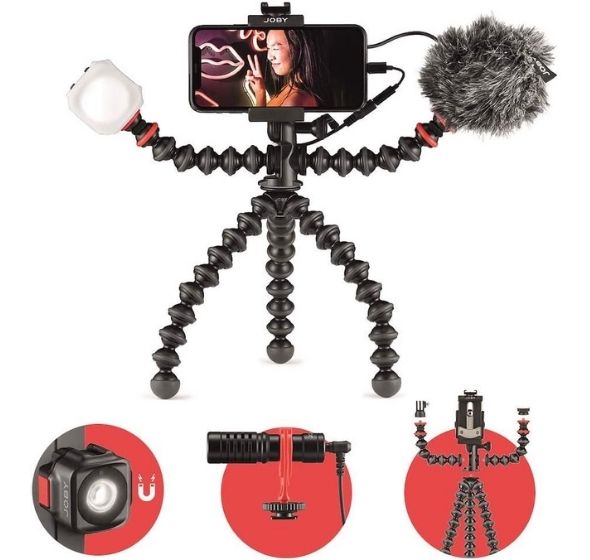 Key Features
Flexible design
Adjustable phone holder
Microphone with noise isolation
Dimmable and Bluetooth mini LED light
This one is for the new-age vloggers. This kit consists of three essential products that can let you shoot pro-grade videos using your mobile device. You can use the GorrillaPod Mobile Rig base to prop up your device in multiple orientations. With sheer flexibility, it can seamlessly fit into any video situation. And with the Wavo Mobile microphone, you can prevent crowd noise from ruining your outdoor shooting.
The kit also comes with a dimmable Bluetooth-controlled Beamo Mini LED light that can play a vital role in helping you shoot high-quality videos. Though the roughly $200 price is expensive, the Joby GorillaPod vlogging kit does have the quality tools to prove its worth.
Peak Design Mobile Tripod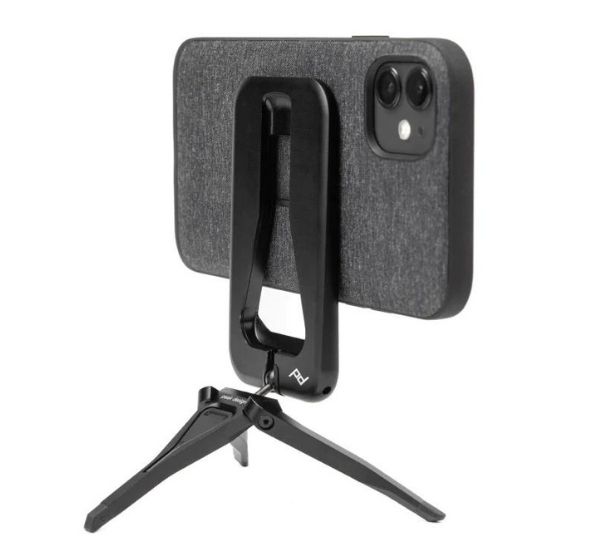 Key Features
Ultra compact design
Supports both portrait and landscape orientations
Smooth angle adjustment
Handy for night shots and filming short videos
Peak Design has come up with an innovative mobile tripod. It attaches to the back of your iPhone via a magnetic "SlimLink" connector and features 3 legs that allow you to place the phone on a stable surface. While this compact tripod (Apple MagSafe compatible) may not be able to rival pro-grade tripods in terms of stability, it's more than capable of helping you capture night shots, selfies, or film short videos.
The strong magnets allow you to position your iPhone in both landscape and portrait orientations. There is a ball/ socket at the base of the frame that enables you to fine-tune the tripod angles. Furthermore, this tabletop tripod also packs a hidden tool in the rear leg that lets you adjust the strength of the ball head.
Better still, you can also fold the legs of the tripod together vertically to hold your smartphone in your fist. This functionality can be handy for snapping selfies or recording Instagram Reels on the move.
U PHITNIS 10-inch Selfie Ring Light with Tripod
Key Features
Tripod can be extended up to 63 inches
Strong phone holder with a secure clamp
10-inch selfie ring light
3 light color modes
What about having a package that comes with only a capable tripod but also a selfie ring light and a wireless remote shutter? If it sounds cool to you, make sure to check out this offering. For starters, it offers a well-built tripod that can be extended up to 63 inches. With easy height adjustment and a strong phone holder with a secure clamp, the tripod is equipped to meet various photography and videography demands.
Talking about the 10-inch selfie ring light, it allows up to 120° illuminable angle which can help you keep dark spots at bay while shooting videos. Moreover, the selfie ring light supports three colors – cool white, warm white, and warm yellow. And each color mode features 10-level of brightness. Hence, you have 30 light colors to play with. Lastly, the wireless remote shutter does a decent job of taking selfies and shooting videos. At $30, the entire package seems to be a reasonably good pick.
JOBY Standpoint Case with Tripod Legs
Key Features
Compact protective case
Tripod legs can be adjusted individually
Built-in cold shoe
Supports wireless charging
Joby's Standpoint case with built-in tripod legs is designed for minimalists. This iPhone case sports a compact yet highly protective profile that wraps around the edges. Courtesy of the cushioned corners, the Standpoint case can withstand impact with ease. Besides, you can also trust this case to fit comfortably in your palm.
The highlight of this case, however, is the built-in tripod legs that work reliably in propping up the iPhone to let you shoot videos, capture selfies, and enjoy hands-free video-calling. You can adjust each leg individually to create different shooting angles. The rubber legs remain stable while holding your phone, so you won't have to worry about fumbling.
There is also a built-in cold shoe to let you mount a microphone for creating content on the go. And if you prefer to power up your iPhone wirelessly, you would appreciate the case's ability to support wireless charging. My only gripe with this phone case-cum-tripod is that it supports only a limited number of devices such as iPhone 11 Pro, iPhone 12, 12 Pro, 12 Pro Max, Google Pixel 4, and 4 XL.
iPhone Tripods You Should Consider Buying
So, these are the best iPhone tripods you can buy to shoot cinematic videos or pro-level photos. Featuring sturdy phone holders with 360-degree rotation, the tripods in this list offer you the flexibility to shoot images or record videos from several angles. Moreover, their ability to work as selfie sticks makes them a great asset for your photography needs. That said, let us know the name of the tripod that won your vote of confidence. Besides, if you find any deserving contenders missing from the lineup, make sure to let us know the tripod's names in the comments below.