When dealing with a behemoth like the 6.7-inch iPhone 13 Pro Max, an extra layer of safeguard against unexpected damage via bumps or drops becomes a must. You never know when an accidental slip-off may happen out of the blue, and you might end up with a broken screen. Considering the eye-watering $329 screen replacement cost for out-of-the warranty iPhones, you are better off getting screen protection right from the get-go. With that said, here are the best iPhone 13 Pro Max screen protectors you can buy right now!
Best iPhone 13 Pro Max Screen Protectors
Without undermining the capability of the Ceramic Shield on the iPhone 13 Pro Max, a glass shield shouldn't be trusted beyond a certain degree. To safeguard against impact and scratches, you should pick a durable tempered glass screen protector for your new device. They are shock-resistant and defend the screen against scratches. Moreover, you can also count on them to deliver maximum clarity and true-touch sensitivity.
Spigen Tempered Glass Screen Protector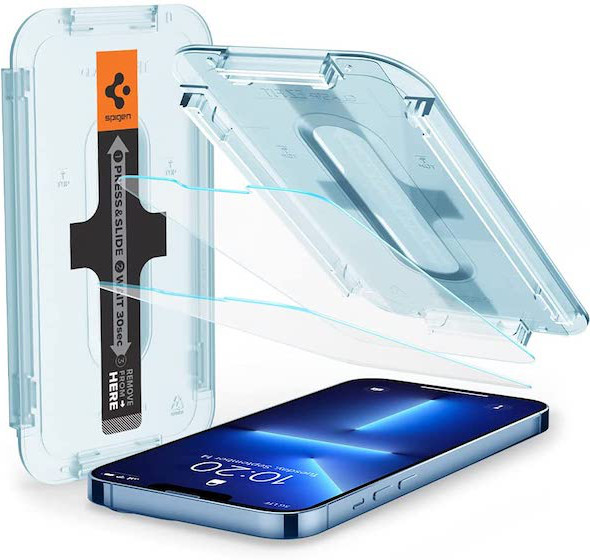 Pros:
9H hardness
High-definition transparency
Laser-cut dimensions
Cons:
Slightly expensive than competitors
Though Spigen is more known for producing high-quality yet affordable iPhone 13 cases and covers, the accessory maker has also unveiled durable screen guards for the new iPhones. As expected, the company has introduced a scratch-resistant screen protector for the iPhone 13 Pro Max. Made of tempered glass, the screen guard is durable and features 9H hardness.
Thanks to the maximum hardness, the screen guard can take on impact and prevent event sharp scratches. Protection aside, the Spigen screen guard is also up to the mark when it comes to delivering high-definition clarity. Thus, you can get the most out of the 6.7-inch Super Retina XDR display. Better still, the surface is quite sensitive to the touch. That means the 120Hz refresh rate will always feel snappier and smoother.
ZAGG InvisibleShield Glass Elite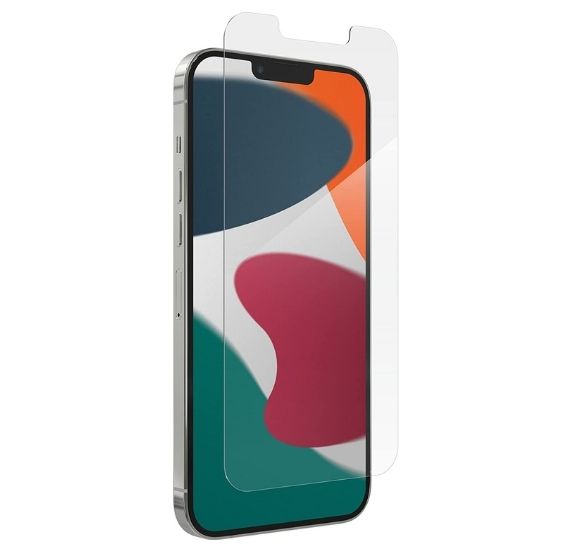 Pros:
Top-of-the-line protection
Case friendly
Offers eye-protection
Completely bubble-free
If a premium screen guard with top-of-the-line protection is what you are looking for, ZAGG InvisibleShield deserves serious consideration. Notably, this iPhone 13 Pro Max screen protector is available in three variants – InvisibleShield Glass Elite ($40), InvisibleShield Glass Elite VisionGuard ($50), and InvisibleShield Glass XTR with D3O ($60).
While the InvisibleShield Glass Elite is designed to provide a trusted safeguard against scratches and accidental drops, InvisibleShield Glass Elite VisionGuard is aimed at offering an enhanced viewing experience. Thanks to the protective eye-safe layer, VisionGuard filters harmful high-energy visible blue light. And the InvisibleShield Glass XTR with D3O delivers a top-of-the-line shield against scratch and shatter. While ZAGG InvisibleShield screen protectors do seem overpriced, they have features that make them stand out.
Torras Diamonds Hard Screen Protector [2 Pack]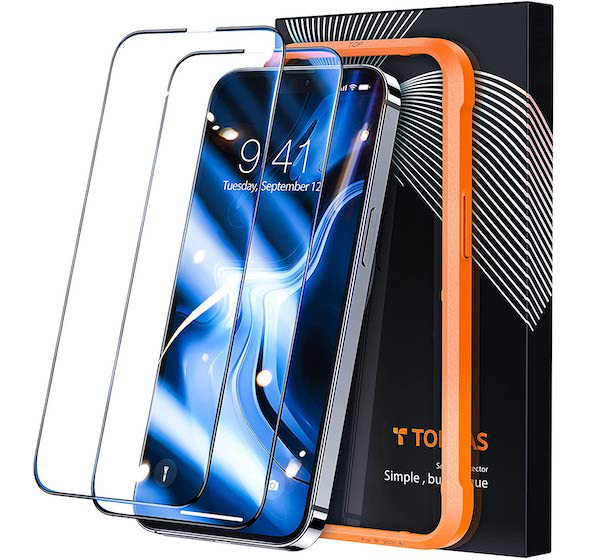 Pros:
Military-grade protection
Full coverage, HD clarity
High-quality adhesive
Easy installation frame
Torras has introduced a shatterproof screen protector for iPhone 13 Pro Max. Torras Diamonds Hard screen guard is claimed to deliver a 10X military-grade safeguard against bumps and scratches. That means you can bank on this robust screen defender to keep your Super Retina XDR display shielded against accidental damage during adventures.
Protection aside, the screen guard is also up to the mark when it comes to offering high clarity. It sports perfect cutouts and provides edge-to-edge converge. And with the desired sensitivity, the Diamonds Hard screen protector allows you to get the most out of the multitasking gestures. Though the $26 price tag is a bit on the expensive side, the screen defender has got the quality to prove its worth.
ESR Tempered Glass Screen Protector [3 Pack]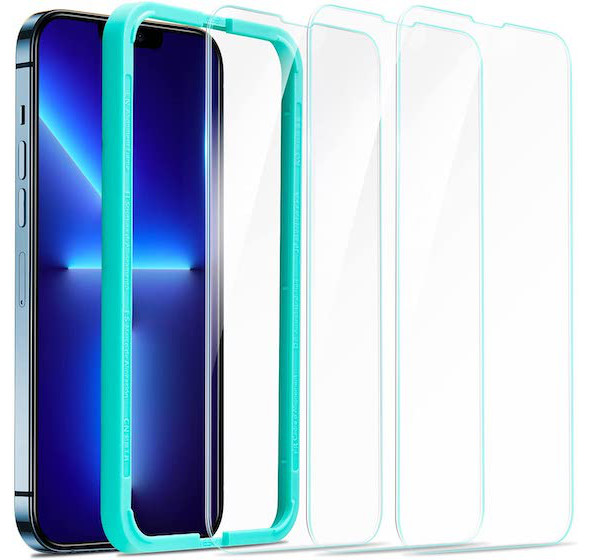 Pros:
Ultra-clear, HD clarity
Shock-resistant
easy installation frame
Claiming to resist up to 11 lb of force, ESR is one of the strongest screen protectors for the iPhone 13 Pro Max that you can buy right now. So, if you want an uncompromised shield to protect the ProMotion display, you should check out the ESR tempered glass screen protector. It provides top-notch HD clarity, so the beautiful OLED display continues to shine brighter and features an extra coating to fight out things like oil and fingerprints.
The additional coating also plays a vital role in helping the screen guard retain touch sensitivity. That aside, you can also count on this glass screen protector to be fully compatible with Face ID, so biometric authentication remains a hassle-free experience. Overall, it's quite a solid screen guard for the iPhone 13 Pro Max.
amFilm OneTouch Glass Screen Protector [2 Pack]
Pros:
Deliver high clarity
Durable and precise construction
Oil and smudge resistant
Easy installation kit
Cons:
Auto-alignment may not always work perfectly
When it comes to offering a trusted shield to the iPhone 13 Pro Max screen against scratches, amFilm OneTouch is among the best in the business. It's 0.33mm thick and provides full coverage to the screen. With the tempered glass construction and the oleophobic coating that resists fingerprints and smudge, it's fully equipped to be a long-lasting screen defender for your smartphone's OLED display.
Another feature that makes amFilm OneTouch a better choice is the true touch sensitivity that can go a long way in getting the most out of the ProMotion display. Moreover, it features laser-cut dimensions for precise installation. Keeping in mind these features, OneTouch seems to be a reasonable pick at $12 for two screen protectors.
Mkeke iPhone 13 Pro Max Screen Protector [3 Pack]
Pros:
Top-notch HD clarity
Safeguard against scratches
Laser-cut dimensions
Camera lens protectors are precise
Cons:
Less fingerprint resistant
If you are looking for high-quality screen protectors along with scratch-resistant camera lens protectors at a low price, check out Mkeke's offering for the iPhone 13 Pro Max. The company has come up with 3-pack screen guards and 3-pack camera lens protectors at around $15. Due to the durable tempered glass construction, they are capable of providing the needed safeguard against scratches.
The Mkeke screen guard provides high-definition clarity to ensure the ProMotion display looks its best. Courtesy true touch sensitivity, the screen guard allows you to use multitasking gestures with the desired smoothness. As for the camera lens protectors, they are precise and do not affect your camera use in any way.
JETech Screen Protector for iPhone 13 Pro Max
Pros:
Scratch-resistant
HD clarity, 9H hardness
Waterproof and anti-dust
Cons:
Doesn't come with plastic alignment frame
JETech's screen protectors have always been durable and scratch-resistant. So, you can trust its offering for iPhone 13 Pro Max to check off all the essential boxes. This affordable screen guard boasts a tempered glass construction that is capable of withstanding impacts. And with the reliable 9H hardness, JETech can thwart scratches.
Beyond protection from shatter, the JETech screen protector can get the best out of the 6.7-inch ProMotion display, courtesy of the high definition clarity. The ability to keep oil, smudge, and sweat away helps it retain both transparency and smoothness for a long time. This screen guard should also be waterproof and have anti-dust support. That's not all, though. The best part is that you get a 3-pack of screen protectors for just $5.
Ailun Screen Protector for iPhone 13 Pro Max [3 Pack]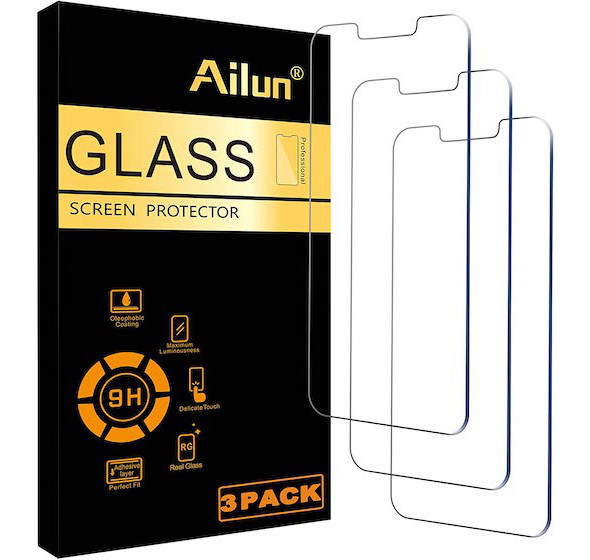 Pros:
Case-friendly design
Shock-resistant
99.99% clarity
oleophobic coating
Cons:
needs careful installation
If you want a good quality yet low-priced screen protector for your iPhone 13 Pro Max, this 3-pack from Ailun could be a strong contender. Available at a low price point, this screen guard is made of tempered glass material and delivers up to 99.99% high-definition clarity. Add to that the hydrophobic and oleophobic screen coating that fights out oil, making it an even more capable screen protector.
Even in terms of protection, Ailun leaves little room for complaint. While the 2.5D rounded corners ensure a smooth installation, the 9H hardness endows it with the additional strength to endure impacts. When you take all these features into account, the $7 price tag for three screen protectors seems to be nothing less than a steal.
Ferilinso Screen Guard and Camera Lens Protector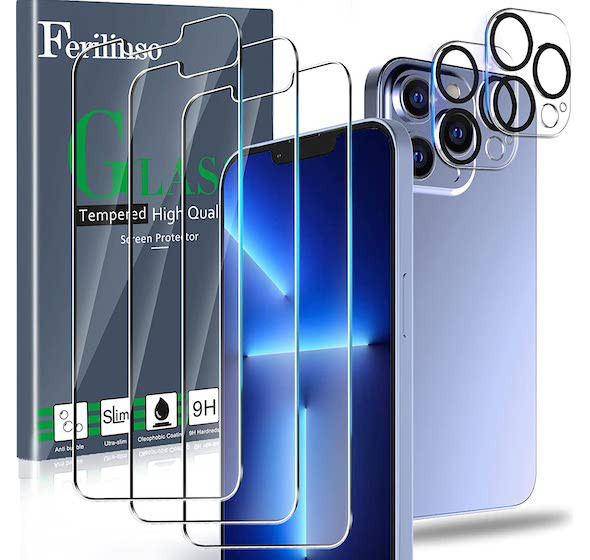 Pros:
HD tempered glass
Delivers full coverage
Camera lens protectors
Cons:
May leave adhesive behind
As I stated above, it's always better to go for a full-on safeguard against unexpected damage when dealing with a pricey investment like the iPhone 13 Pro Max. That's the reason why Ferilinso's screen guard and camera lens protector seem worth taking a look at. The company is offering 3-pack tempered glass screen protectors and 2-pack camera lens protectors for iPhone 13 Pro Max.
The screen protectors sport a precise design and are scratch-resistant. As for the lens protectors, they are neatly designed and provide up to 99.99% clarity. Thus, your picture quality won't be affected. Overall, Ferilinso's offering seems to be a solid deal for $8.89.
UniqueMe Privacy Screen Protector [2 Pack]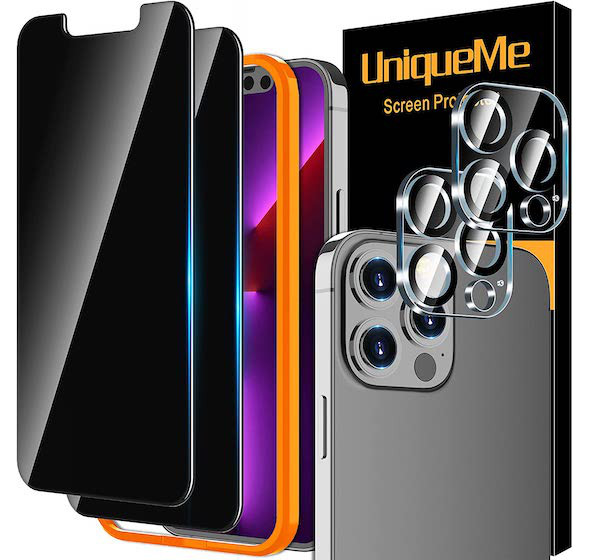 Pros:
Anti-spy glass
Bubble-free install
Ultra-thin design
Neat cutouts
Cons:
Lower brightness
Text might appear grainy at times
If you put privacy at the forefront, chances are you would love to buy the UniqueMe privacy screen protector for your iPhone 13 Pro Max. Just like a normal screen guard, it's made of tempered glass. However, what makes it different is the ability to make the screen visible to only the person viewing it directly from the front. Thus, your sensitive information will remain protected from prying eyes.
The anti-spy tempered glass screen protector features laser-cut dimensions. So, you can expect it to fit perfectly on the screen. Privacy aside, the screen guard is good in terms of offering HD clarity and can retain the touch sensitivity for a long time. That's not all, though. The UniqueMe screen protector also comes with a 2-pack camera lens protector to provide enhanced safeguard to the triple-camera module against scratches.
Choose from Among the Best Screen Protectors for iPhone 13 Pro Max
That's pretty much it! These are the best screen guards for iPhone 13 Pro Max available in the market right now. Thanks to the industry-standard 9H hardness and the ability to provide high-definition clarity, they have all the bases covered to be your preferred choice of protection for your new iPhone. That said, which one of these screen protectors caught your attention? Let us know your top picks in the comments section below. Also, do not forget to tell us the names of any screen protectors that deserve a mention in this roundup.
---
Load More