Out of all the things in a PC gamer's arsenal, a gaming mouse is perhaps the most important one. Whether you're pixel peeking to take a sneaky shot or going guns blazing on all angles, you need a gaming mouse that will react as quickly as you will. Gamers look for all sorts of things in a gaming mouse including the sensors, shapes, and much more. We all want the best gaming mouse but the choices out there are quite overwhelming. Fortunately for you, however, we are here to your rescue. Here are the 12 best gaming mice you can buy to ensure you perform at your best in those tough moments.
Best Gaming Mouse in 2022
Aside from giving you a complete list of the best gaming mice in 2021, we discuss a few important things you should notice before you purchase them. The article has been divided into Wireless and Wired gaming mice depending to cover all bases. Use the table below to jump to your needed section.
What to Look for in a Gaming Mouse
With so many gaming mice out there, how do you find which one is the perfect fit for you? Use the pointers below to understand which gaming mouse will suit you best.
1. Sensor Precision
Most modern games run on any odd number of mice without any difficulties. However, if you're a competitive gamer who plays games like CS: GO, Rainbow Six Siege, Valorant, or any other like-minded game, you will need a mouse that is precise. The best gaming mice come with top-of-the-line sensors that promise an insane number of DPI counts. However, instead of just going for a mouse that has a DPI of 20,000, try looking for a sensor that has been proven to be accurate and lag-free. Once you have that, get it.
2. Mouse Shape
While reading the list below, you will encounter all types of gaming mice that have been shaped for various hand sizes and grips. Before you go on purchasing any best gaming mouse, visualize yourself holding it and consider if you'll be comfortable. If you're unsure about what you want, we have mentioned some ambidextrous gaming mice to suit you. So whether you have a claw grip or a normal one, there's something for you. Quite personally, we are partial to G502 Lightspeed and the SteelSeries Sensei Ten when it comes to comfort.
3. Weight
No matter whether you're going for a wired or wireless gaming mouse, you don't want to hold a glorified brick. Make sure the mouse you go for is lightweight while providing an amazing experience. So if an extremely lightweight gaming mouse is your priority, check out the Logitech Pro X Superlight from the list.
Now that you have a better idea of how to pick them, let's move on to the list.
Best Gaming Mouse (Wireless)
Looking for the best gaming mouse that doesn't restrict you with wires? Well then, bring your wallet, and let's go through this list.
1. Logitech G502 Lightspeed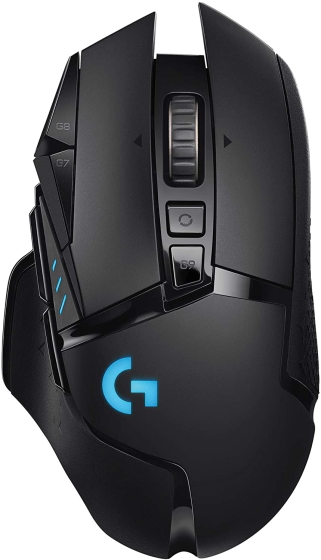 The wireless version of the ever-popular G502 Hero, the G502 Lightspeed is arguably the best wireless gaming mouse you can get your hands on. While being a bit heavy on the wallet, the G502 compensates all that with its extremely ergonomic design, its slew of features, and the Logitech G Hub software that breathes more life into it.
The G502 Lightspeed has been designed in a large yet comfortable way that gives the hand plenty of room to rest on. The grip on the left side has been explicitly designed for the thumb and side of the palm to rest and is very comfortable. Besides the beautiful design aesthetic that accompanies it, the mouse features tactile buttons that respond through a metal-spring system and scrolling wheel that can be made infinite at a touch.
The built-in HERO 25K sensor ensures you can reach DPI up to 25,600 and every swipe of the mouse is accurate and timely. Want the mouse to have more resistance? Insert the various six adjustable weights that are included and get your perfect weight. And if you feel like creating custom profiles, use the Logitech Gaming Software with ease. Be sure to use the onboard 11 programmable buttons for that. Get the G502 gaming mouse and get the best.
Pros:
Hero 25K Sensor
Responsive click system
Ergonomic design
Adjustable weights
Cons:
The design might be too big for some
Buy from Amazon: $99.99
2. Razer Naga Pro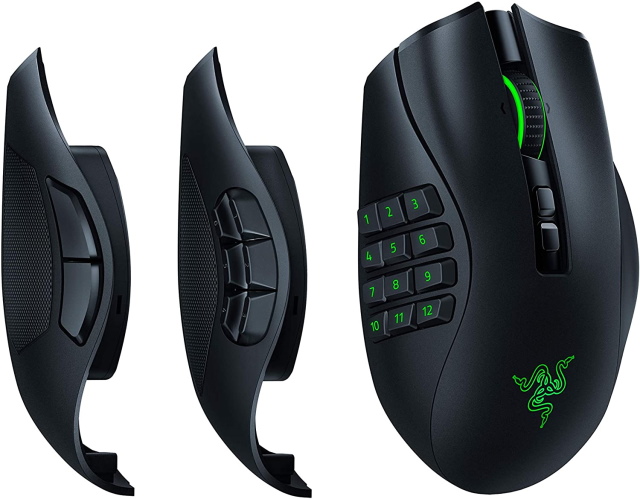 The Razer Naga Pro is a dream come true and quite possibly the best gaming mouse for MMO/MOBA and even FPS players the world over. Coming with three interchangeable side plates that have been designed for MMO/MOBA and FPS games, the Naga Pro is extremely intuitive. Combine that with over 20+ programmable buttons, the Naga Pro gives customization a new name.
Despite the bulky design that encompasses it, this wireless MOBA mouse is small and comfortable. However, larger hands might find it a tad uncomfortable. The Naga Pro contains Razer's Hyperspeed Wireless and Focus + sensor technology which the company claims are 25% faster than any other gaming mouse. The Razer optical mouse switch tech ensures every click registers immediately with a response time of 0.2 milliseconds.
Besides the amazing list of features, the Naga Pro comes with up to 150 hours of battery life, onboard memory storage, and full RGB compatibility. You can even hook it up to a Razer mouse dock but you'll have to buy that separately. Nevertheless, MOBA players should give Naga Pro a try.
Pros:
Dedicated mouse for MOBA/MMO players
Intense customization options with side plates
20 programmable buttons
Good battery life
Cons:
A bit small for larger hands
Design not for everyone
Buy from Amazon: $109.99
3. Razer Viper Ultimate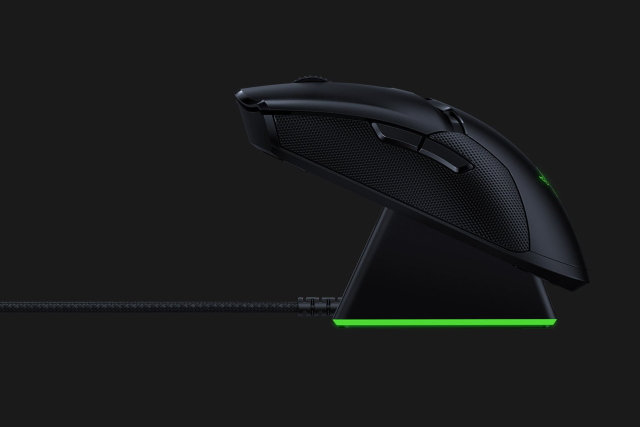 A lightweight and ambidextrous gaming mouse by Razer, the Viper Ultimate makes its way to our best list. The mouse itself has all the bells and whistles you would expect from a gaming mouse but also contains something lazy gamers will love. The provided charging dock that comes with it ensures that once you have drained the battery that lasts for 70 hours, you can hook it up and leave it to charge.
Besides that, the Viper Ultimate is a beautiful and lightweight mouse that houses Razer's new Focus+ optical sensor. Gamers looking for extreme speed can crank up the DPI to 20,000 although we doubt you'll need to go as far. The mouse is very accurate and ranks well in aiming and registering shots.
Despite having a bit flimsy primary left and right buttons, the Viper Ultimate is an amazing gaming mouse that has gamers impressed. If you're looking for an ambidextrous wireless fit with good features, consider going for this one.
Pros:
Razer's Focus+ sensor
Lightweight
Good battery life
Attractive
Buy from Amazon: $69.99
Cons:
Flimsy left and right buttons
4. Logitech G PRO X SUPERLIGHT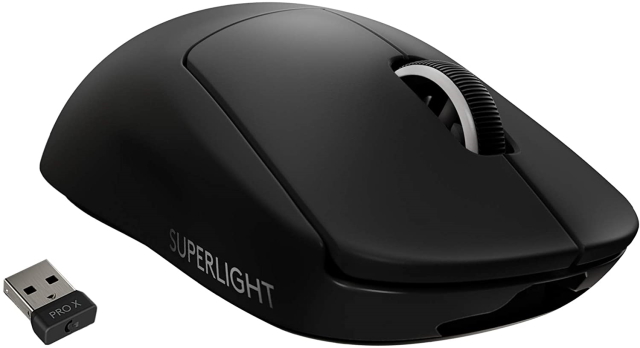 The one mouse you should go for if the lack of weight is what you want, the Pro X Superlight is one of Logitech's newest releases. Part of the Pro series that puts accuracy and professional gaming at priority, this gaming mouse is surely one of the best.
The mouse's design is quite simplistic and lacks any extended customization buttons beside the two on the left side. However, what sets the Superlight apart is its extremely lightweight nature. Weighing in at less than 63 grams, the mouse is companies lightest pro mouse ever. The technical side of the Pro X Superlight grants it a Hero 25K Sensor that gives it a max DPI of 25,600. The sensor further lends the mouse split-second accuracy so none of your shots will miss unless you have bad aim. Logitech's lightspeed tech further ensures you will encounter no lag through your PC whatsoever.
The battery life of this gaming mouse will last you anywhere around 70-80 hours which is quite decent even if you use it continuously. Like before, the battery cell is smaller to lend the Superlight its name. Get this gaming mouse if you want the best in lightweight tech.
Pros:
Extremely lightweight <63 grams
Accurate sensor
High DPI
Straightforward design
Cons:
No extended programmable buttons
The design might be too simplistic for some
Buy from Amazon: $129.99
5. Roccat Kone Pro Air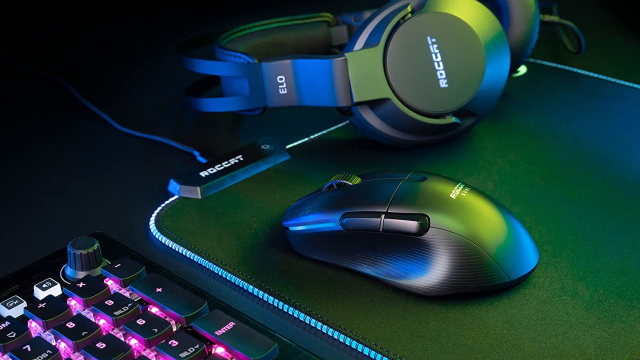 Designed as a right-handed mouse that manages to have a dented impression on the left for your thumb, the Kone Pro Air is a good wireless option. The design of the mouse is ergonomic to provide comfort and has decided texture lines to prevent fingers from slipping. While left-handers won't appreciate this mouse, we like the design.
Packed with amazing features, the Kone Pro Air is an excellent gaming mouse. The mouse contains the company's OwlEye 19K optical sensor that gives you a DPI of, you guessed it 19,000. The mouse also comes paired with Titan Optical switches that have been designed to give off a tactile and responsive click so you know when you're going for that kill. Special care has also been given to Roccat's mouse wheel which is made out of solid aluminum for durability and comfort.
Besides having fast charging that gives fives hours of battery life in just 10 minutes, the Roccat Kone Pro Air can also switch between Bluetooth and Wired mouse if you ever encounter connection or battery issues. Oh, and did we mention the mouse just weighs in at 75 grams? So if you want these extended features, you can opt for the Kone Pro Air instead of Superlight. Check out the Kone Pro Air and get yourself a good gaming mouse.
Pros:
OwnEye accurate sensor
Tactile and responsive clicks
Wireless + Bluetooth + Wired modes
Fast charging
Cons:
Only for right-handed gamers
Buy from Amazon: $99.99
6. SteelSeries Rival 3 Wireless Gaming Mouse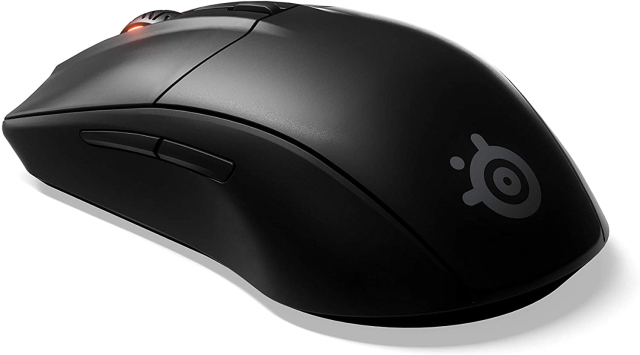 If you've been going through this list and frowning at the price tag, this mouse is for you. The SteelSeries Rival 3 Wireless is the wire-free version of the same series that gamers have come to know and love. This ambidextrous mouse is extremely comfortable and has a nice build and quality aesthetic to it.
While this mouse comes under budget gaming mice, it contains all the features a growing gamer could need. Starting with the Quantum 2.0 Dual wireless technology that gives Rival 3 extremely low latency, you'll encounter no input lag as you play your favorite shooters. While you can plug in the USB dongle and forget, the mouse also has a Bluetooth mode for the times you might hook it up to your iPad.
The in-built TrueMove sensor is extremely accurate and registers a DPI of up to 18,000 which is more than enough for all gamers. You won't get any built-in battery you can recharge. However, the SteelSeries Rival 3 promises up to year-long battery life and can even run on a single battery despite it needing two. For gamers looking for wireless mice on a budget, consider this one.
Pros:
Quantum 2.0 wireless tech
Ambidextrous design
Wireless + Bluetooth
Year-long battery life
Cons:
Not as feature-rich as the options above
Buy from Amazon: $42.59
Best Gaming Mouse (Wired)
If you're an old-time gamer who likes their mouse to be corded or if you're simply on a budget, the gaming mice below will provide you the perfect price vs performance ratio. Check them out.
1. Razer DeathAdder V2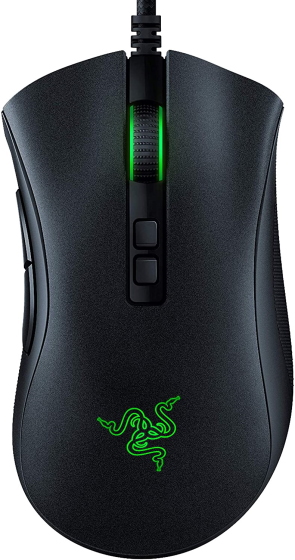 The RazerDeathAdder V2 is the newest addition to the company's DeathAdder series that has been selling massive amounts of units ever since 2006. Designed as a straightforward yet feature-rich mouse, the DeathAdder V2 is the best-wired one you can get. The DeathAdder 2 sports an ergonomic ambidextrous design that will fit most hands with ease. The built-in scroll wheel has been redesigned while keeping tactility and response in mind.
The gaming mouse utilizes the same Razer's Focus+ and Optical switches so accuracy has been placed at prime priority. To add customization into the mix, the mouse contains 8 different programmable buttons and onboard memory that can store up to 5 profiles at once. The mouse even has RGB if you like lighting it up.
The DeathAdder V2 is truly a stupid simple combination of features balanced with price and we love it for that. If you're looking for an accurate yet affordable gaming mouse, go for this one.
Pros:
Accurate sensor
Tactile switches
Onboard memory
Ambidextrous design
Cons:
Not as feature-rich as the options above
Buy from Amazon: $41.88
2. Razer Basilisk V2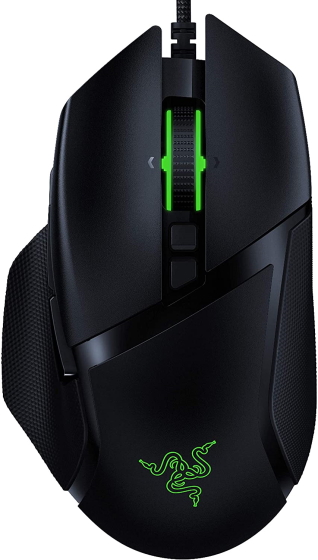 Built for FPS players who love getting those precise headshots, The Basilisk is the inexpensive version of the Basilisk Ultimate. The Basilisk V2 takes after Logitech G502 in design thereby having the same left-handed stand and a slightly bigger frame. This kind of design is quite hit and miss when it comes to gamers but we honestly like it.
Features-wise, the V2 does everything you would expect a gaming mouse to do but a bit better. The mouse contains the sensors and switches of Razer's most famous tech and lends it a max DPI of 20K. Moreover, the Basilisk V2 comes with a scroll wheel that has adjustable tension which is something new. However, what sets the mouse apart is the level of customization it offers.
The Basilisk V2 has a dedicated removable sniper button that can help lower the DPI way down to get you that headshot. The on-board 11 programmable buttons are fully remappable and you can add custom button configs by going through the Razer Synapse software. While that one is a bit complex, you can get the hang of it. Gamers not wanting to go for Logitech G502 should definitely check out the Basilisk V2.
Pros:
Ergonomic design
Contains Razer's high tech sensors
Dedicated sniper button
11 programmable buttons
Cons:
Design not for everyone
Razer Synapse can be tedious to use
Buy from Amazon: $34.99
3. Corsair Ironclaw RGB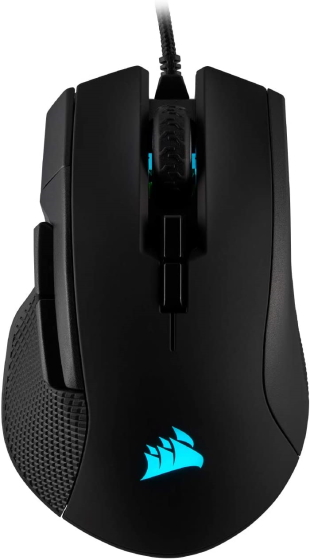 The Corsair Ironclaw true to its name is a big and sturdy mouse designed for gamers with large hands. To get even more particular, this specific gaming mouse has also been built keeping MOBA players in mind. So if you fit the above demographic, this one is for you.
Having a design that contains a little bit of every building material, the Ironclaw RGB has finishes of rubber on the side, plastic on the top and the bottom with a braided wire running from its top. The aesthetic itself is decent and perhaps it's a bit too rugged for our taste. However, the mouse is robust in durability and it shows. The Ironclaw comes with a custom Pixart PMW3391 native 18,000 DPI precision optical sensor and while that is a mouthful, the sensor itself is extremely accurate.
The MOBA angle comes with the provided 7 fully programmable buttons that can help you take advantage. However, we do wish it had side plates like the Naga Pro. To get even more precision, you can tune the entire mouse to your mousepad using Razer's iCue software. Get the Ironclaw if you have larger hands and want a MOBA mouse.
Pros:
Built for larger hands
High tech accurate sensor
Sturdy build material
7 Fully programmable buttons
Cons:
Big and bulky
Not enough buttons for full MOBA support
Buy from Amazon: $37.39
4. SteelSeries Sensei Ten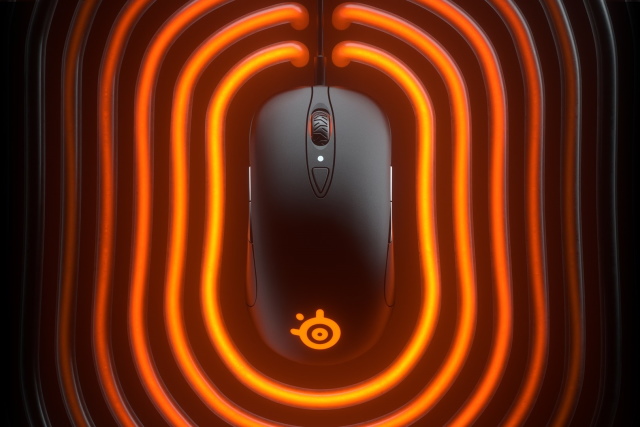 The SteelSeries Sensei Ten gaming mouse does a lot of things right and hence still holds one of the crowns when it comes to the best gaming mouse out there. Featuring an ambidextrous design that is suited for all gamers, the Sensei Ten is shaped evenly around all sides and looks quite simplistic. However, a bit more life is added to the mouse with the inclusion of RGB.
Despite the plain looks, the mouse features a SteelSeries True Move Pro sensor that clocks in the DPI at 18,000 and makes it very accurate when using it across games. A thing setting the Sensei apart is the onboard Tilt Tracking which is an onboard measure to ensure mouse tracking remains consistent even if you're lifting your mouse and putting it down at weird angles.
You also get additional 8 programmable buttons and onboard memory with room for 5 profiles to get the best out of it. The SteelSeries Sensei Ten is a nice blend of a gaming mouse done right while being light on the wallet. Get it right now.
Pros:
Ambidextrous design
True Move Pro sensor
Added Tilt tracking
Nice matte finish
Cons:
The shape might not suit everyone
Buy from Amazon: $65.15
5. Glorious Model O Gaming Mouse
While Glorious as a company is relatively new to the market, it has received more than favorable reviews and made Model O a solid choice. Featuring a honeycomb design with RGB strips that have us in love, the Model O is an attractive design that looks good while being sturdy. However, even after packing all this in, the Model O weighs in at just 68 grams thereby making it only a tad heavier than Logitech's Superlight. The company's own designed Ascended mouse Cord reduces the weight further thereby making it almost wireless.
The technology inside the Model O while not all that high tech is decent and gets the done job for most games. The max DPI here is 12,000 and more grounded to reality than most gaming mice we have seen. The Pixart 3360 Sensor is a pretty industry standard one but still accurate for gamers to land shots. That fact is further complemented by tactile quality switches that will last over 20 million clicks.
The Glorious Model O gaming mouse is a straightforward approach to a winning formula. Give this mouse a try if you love the design and don't want something too complex.
Pros:
Attractive honeycomb design
Extremely lightweight
Virtually weightless mouse cord
Cons:
Standard mouse sensor
Could have more features for the price
Buy from Amazon: $64.99
6. Logitech G203 Lightsync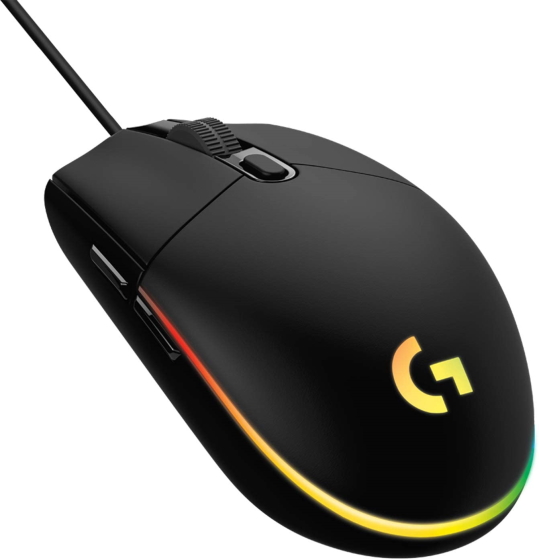 If you've been a gamer long enough, you might have heard of this old dog in the gaming market. Priced as the most affordable mouse in this list, the G203 Lightsync however, is not to be underestimated.
The G203 features a sleek ambidextrous design that works for gamers of all shapes and grip types. The design is further accentuated by three-zone RGB lighting that curves across the shape and syncs with various games thereby giving it the name. Gamers with small to medium hands will find this mouse a perfect fit for them.
While the in-built Logitech Gaming Grade sensor only goes as high as 8,000 DPI, it still manages to be enough and is very accurate in swiping gestures and landing quick shots in games. The mouse doesn't have a lot of programmable buttons but that's done intentionally to keep the price down. If you've been looking for a cheap yet effective gaming mouse that looks good, consider the G203 Lightsync.
Pros:
Ambidextrous design
Logitech gaming-grade sensor
Attractive RGB lighting
Extremely affordable
Cons:
Tech not for professional gaming
Not for larger hands
Buy from Amazon: $19.99
Get of These Best Gaming Mice and Enjoy
We hope our curated list of the best gaming mice will help you find your perfect fit for all those headshots. Once you've bought the best gaming mouse from the list, gear up and play these best online games on your PC to have immense fun. Gamers with a partner can try these best split-screen games as well. Got suggestions for more gaming mice we should add? Let us know in the comments below!