We are in an era where each day new technological enhancements are being made, and existing technology becomes obsolete day by day. As such, upgrading to the newest technology has become a necessity for everyone. The new advancements aren't a choice but are rather being imposed onto us. In the aspect of upgradations, laptops generally fall back. Closed circuitry and embedded chips make it hard for a laptop to be upgraded. While the internal HDDs/SSDs can still be upgraded, internal components such as the GPU remain embedded onto the motherboard, making it impossible for them to be upgraded. This is where External Graphic Card Boxes or eGPUs come into play.
What is An External GPU Enclosures or eGPU?
An eGPU or External GPU is essentially a piece of hardware enclosure in which a desktop graphics card can be mounted to be used with your laptops for powering up applications and games. Desktop GPUs are far more powerful than integrated mobile GPUs or APUs and offer up to 10x performance improvements over them. While eGPUs have been around for years now, their functionality has been greatly limited due to the slow connection speeds and low transmission bandwidths. But when Intel announced Thunderbolt 3, the game entirely changed.
Thunderbolt 3 is a USB-C type port that supports a Max Bandwidth of 40 Gbps, thus helping external graphics cards achieve their aim of supercharging a laptop. If you have a laptop that doesn't satisfy your gaming desires but has a Thunderbolt 3 port, then check out our list of 10 best external graphics card boxes you can buy:
Best External GPU Boxes You Can Buy
1. Razer Core
Starting off with the most famous eGPU, we have Razer's Core. Launched alongside Razer Blade Stealth, this external graphics card box is also available as a standalone product that can be paired with any device which has a Thunderbolt 3. The Razer Core is one of the most power consuming eGPUs, requiring a 500W PSU. It is quite heavy too, weighing at 10.89 lbs. While the portability of this device is limited, the features it offers, on the other hand, make up for the loss of its mobility.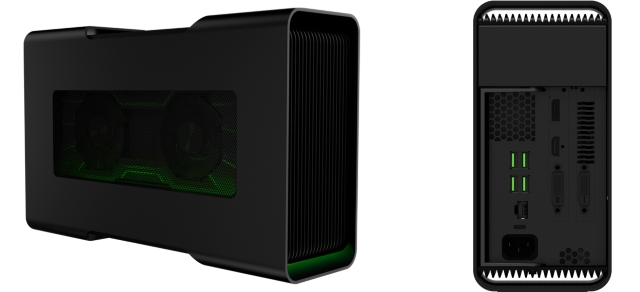 The Razer Core comes standard with 4 USB 3.0 ports for connectivity, an Ethernet port, a SATA III drive port for expansion and support for AMD's X-Connect technology. It can also support GPUs up to 12.2 inches (length).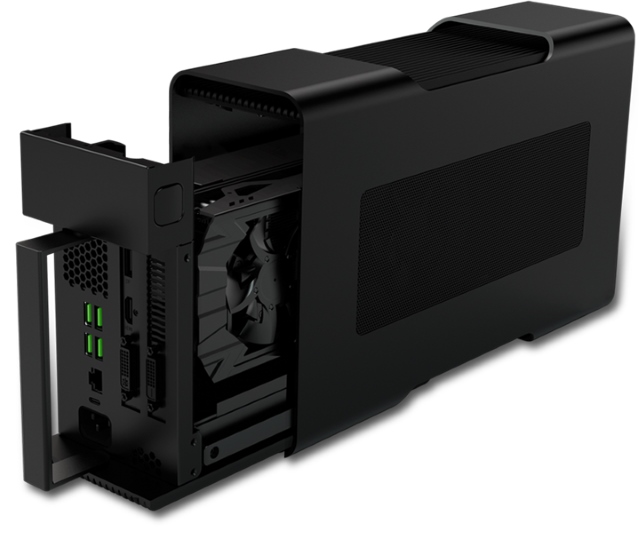 Buy from Razer's official website: ($499.99)
2. AKiTiO Thunder 3 Duo Pro Thunderbolt 3 Enclosure
Up next, we have AKiTiO's Thunder 3 Duo Pro, the successor to their Thunder 2 series. As the names suggest, this is an improvement from the previous gen, as it has moved on from Thunderbird 2 to the new Thunderbird 3 port. The Akitio Thunder 3 uses a mere 72W PSU (external) and weighs just 7.2 lbs. The Thunder3 features a Thunderbird 3 port as well as a USB 3.1 port as well for compatibility with older laptops. Do note that the max bandwidth offered by a USB 3.1 port is just 10 Gbps, so expected results may not be achieved while making use of this port.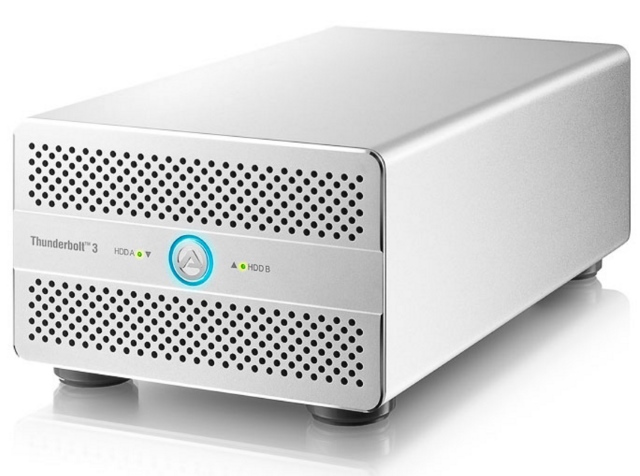 The Thunder 3 also features an external HDMI display port for connecting your monitors or TVs directly to this eGPU. The maximum length for GPU support is 7.87 inches.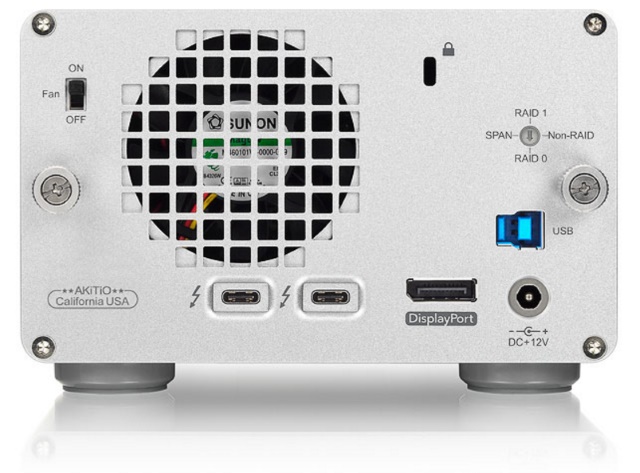 Buy from Amazon: ($319.00)
3. PowerColor Devil Box 3 Thunderbolt 3 eGFX Enclosure
PowerColor's latest offering, the Devil Box 3, is one of the most powerful external GPUs on this list. While its design may not appeal to a majority of people, its features certainly will. The Devil Box 3 has specs identical to the Razer Core, running with the help of 500W PSU, but weighing at 7.92 lbs. It also has an Ethernet port, a SATA III port and comes with support for AMD's X-Connect Technology. 
Alongside 4 USB 3.0 ports, the Devil Box also features a USB C 3.1 Gen1 port for enhanced connectivity. Just like the Razer Core, the Devil Box 3 can also house a GPU of 12.2 inches.
Buy from NewEgg: ($449.99)
4. HP Omen Accelerator
HP has recently started to make its mark into the gaming world, and it is clearly evident by its OMEN series of gaming devices. Launched alongside their gaming laptops is HP's take on the eGPUs, the HP Omen Accelerator. The HP Omen utilizes a 500W PSU but can support GPUs up-to 300W only. The HP Omen Accelerator comes with a 2.5-inch dock for SATA III, an Ethernet port, 4 USB 3.0 ports along with a USB C 3.1 port as well.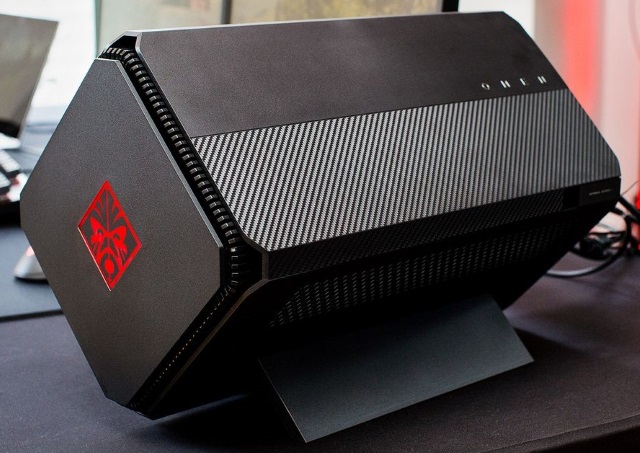 The HP Omen Accelerator is expected to be launched in the third Quarter of 2017 at a price of $300.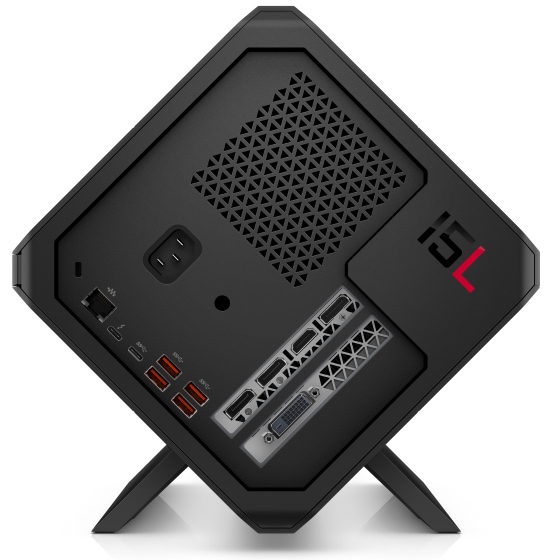 Buy: (Coming soon)
5. 
Asus ROG XG Station 2 Thunderbolt 3 External Graphics Dock
Asus has been one of the original minds behind the external GPU technology. They introduced their first eGPU – the XG Station – in 2007, which was powered by the conventional USB 2.0 port. Now, moving on with the Thunderbird 3, Asus has introduced the ROG XG Station 2. Asus' ROG (Republic of Gamers) lineup is well known for a perfect balance between performance and a visual appeal. The XG Station 2 requires a 600W PSU and weighs 11.22 lbs, making the heaviest eGPU of the lot. Alongside 4 USB 3.0 ports, the XG Station 2 also features an additional USB 3.0 Type B port. It also has an Ethernet port as well.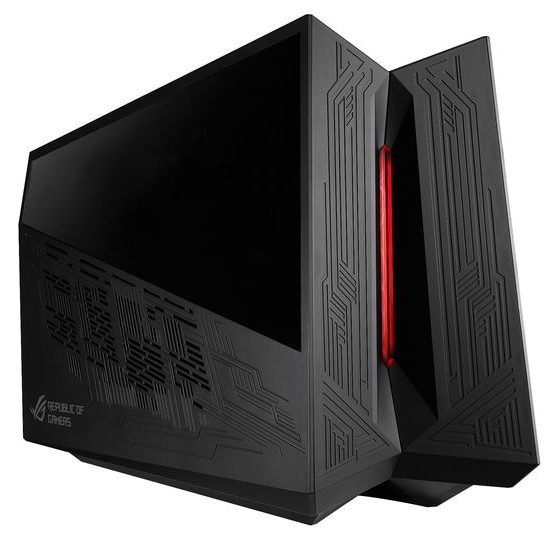 The XG Station 2 can also house a GPU of max length 12.20 inches As mentioned before, Asus ensures that all of its ROG products maintain a visual appeal, and this is no different. Alongside a phenomenal design, the XG Station 2 also has support for Asus' ROG Aura, to customize the internal lighting.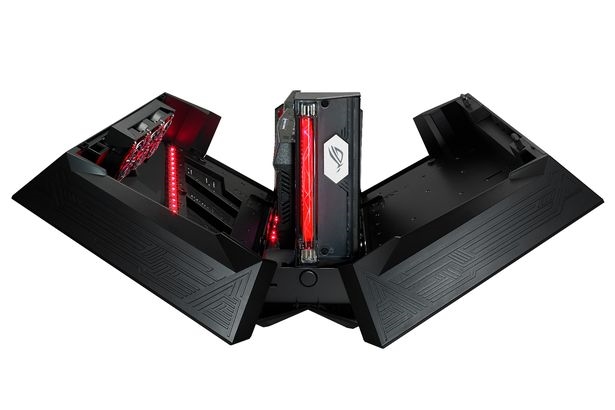 Buy from Amazon: ($685)
6. OWC Mercury Helios 3 Thunderbolt 3 PCIe Expansion Chassis
OWC is a company that follows a minimalist approach towards its product designs. The Mercury Helios 3 is a perfect example of this statement. The "Little Black Box", as OWC like to call it, requires a mere 90W power supply (externally) and weighs just 3.10 lbs, making it the lightest eGPU on this list. While it does not feature any extra USB expansion ports, it is the only eGPU to have a mDP (Mini DisplayPort) on it.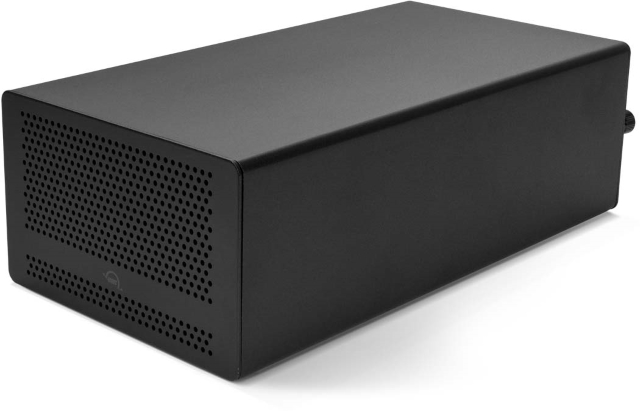 Further more, it has 2 external Thunderbird 3 ports, making it one of the rare eGPUs to offer Daisy Chaining, which basically is the ability to connect several devices in a linear passage, thus resulting in much more computational power. Though, since it's comparatively smaller than the other eGPUs, the Mercury Helios 3 can only support GPUs of length 7.75 inches.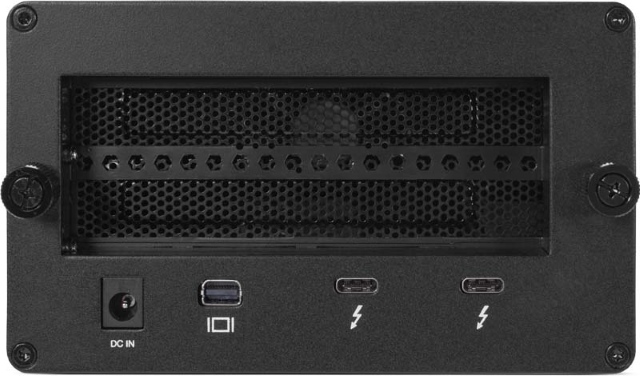 Buy from Amazon: ($259.99)
7. Mantiz MZ-02 Venus
The Mantiz Venus's primary target has been Apple's Macbook series, and it shows with it simple yet elegant design, that compliments when paired with a Macbook. The Mantiz Venus is powered by a 550W PSU and weighs about 7.92 lbs. As compared to the other eGPUs on this list, the Venus offers 5 USB 3.0 ports for expansion. It also features an Ethernet port and a SATA III Drive port. Further, this eGPU has the ability to house the biggest of the GPUs out there, with a max supported length of 13.00 inches.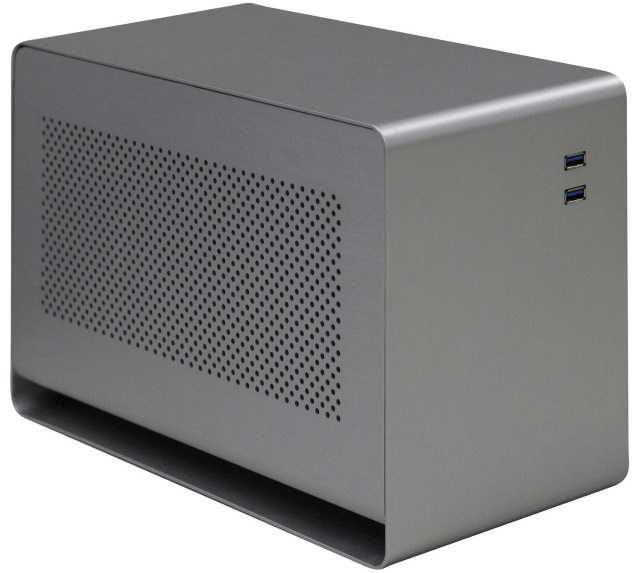 Buy from Mantiz's official website: ($389.00)
8. AKiTiO Node – Thunderbolt3 eGPU
The Node is AKiTiO's second listing on this list, which is basically an economical version of the aforementioned Thunder 3. The Node is powered by a 400W PSU and manages to weigh about 3.10 lbs. The Node follows a straightforward approach to delivering simply the best performance, without any extra features, which is evident by its lack of any expansion ports or any other significant features.
Think of it as a trimmed down version of the Thunder 3. That being said, the Node can support GPUs up to a maximum length of 12.60 inches, which still makes it quite compatible with most of the current as well as future graphic cards.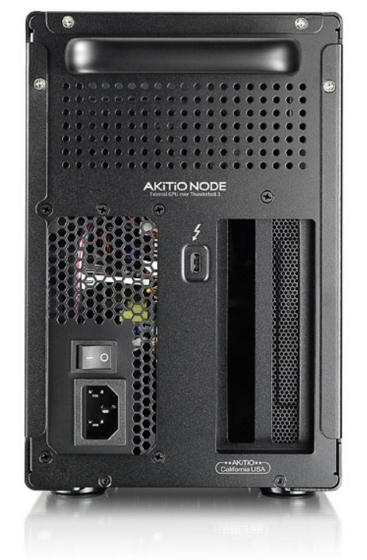 Buy from Amazon: ($309.99)
9. Sonnet Breakaway Box eGFX for AMD and NVIDIA GPUs
Sonnet has brought not one, but two eGPUs to the market, with different specs, but same design. The Breakaway Box comes in two variations, depending upon the power supply requirements of 350W or 550W. These eGPUs support GPUs up to 300W and 375W respectively. The Breakaway Box weighs 7.1 lbs, so portability isn't really an option. Like the AKiTiO Node, the Breakaway Box does not feature any extra ports or fancy features, and can support GPUs up to 12.20 inches.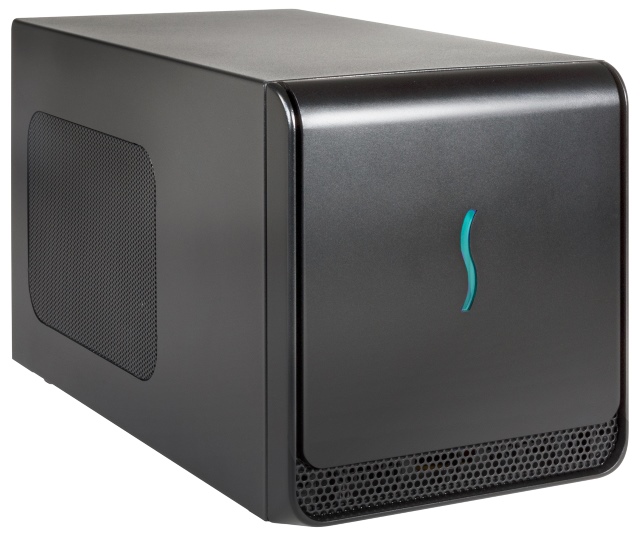 The Breakaway Box's 350W model is available as a part of Apple's External Graphics Development Kit, whereas the standalone package is expected to be available from early July for $299. The 550W model, on the other hand, will be available in the 3rd quarter for $349.
Buy: (Coming soon)
10. Bizon Box 3 External Graphics Card for Mac
Last, but not the least, we have on our list the Bizon Box 3, another eGPU focused on the MacBooks. The Box 3 is rather a highly customizable product in terms of its specs. The Bizon Box 3 comes with a 200W PSU, though you do have the choice buy a 400W PSU instead. The eGPU weighs about 8.8 lbs (with the 200W PSU), so portability is not an option. As compared to other eGPUs on this list, the Box 3 does not offer any extra features or expansion ports. Though, it has the ability to mount GPUs up to 12.6 inches. Also, at the time of purchase, the user is even presented with a choice to include any specific GPU along in the bundle.

Buy from Bizon's website: ($649)
See More: How to Build a 4K Gaming PC For Under $1500
Using eGPUs to turn your Laptop into a Powerhouse
Laptops are a great bundle of desktop computing with portability. This does come at the cost of losing out on upgradation. Since buying a new laptop every few years may not be possible for everyone, an eGPU seems to be an effective solution to stay in touch with the ever growing advances in computer processing. So, have you experienced the benefits of having an eGPU yet? Or do you plan to buy one in the near future? Share with us your experiences and queries (if any), in the comments below.