Do you have multiple Smartphones with you, which, of course, need to be charged in order to be kept running? Well, then, we are sure that you would be fed up with the task of connecting each of the devices one after another. Yet, it has to be noted that using a typical power extension will not be enough; nor you can plug all your devices into PC of yours. Nevertheless, given that your devices support USB-based charging, you've a better option — Charging Station. Plus, some charging stations come with in-built tips for almost every Smartphone!
In this post, we've come up with a list of best charging stations. The list includes charging stations for both home & organization-based purposes. You may select one from the list according to your budget and requirement; we've included enough details about each charging station so that you would know if it's worth buying and where to use it. Shall we start?
10 Best Charging Stations
1. ChargeAll Floor-Stand Charging Station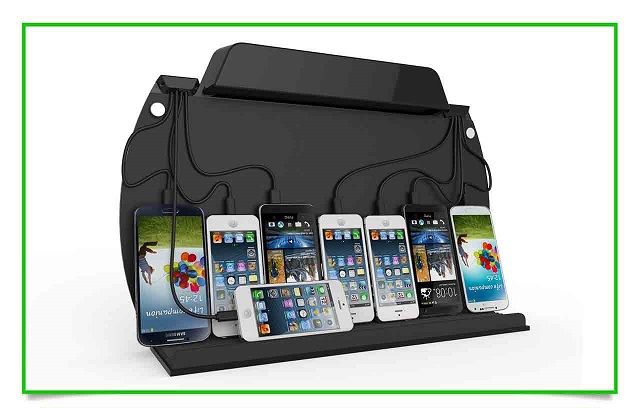 This charging station is for organizations — hospitals, colleges, airports, restaurants, universities etc — that want to provide their visitors a way-out to charge Smartphones. Up to eight devices can be charged using this station simultaneously with no compromises made in the charging speed. Other noticeable features of ChargeAll Floor-Stand Charging Station include LED black-lit areas, customizability by adding your brand-related stuff in the signage area etc. Moreover, ChargeAll has included different charging tips instead of mere female USBs. This floor-stand charging station includes two Apple Lightning pins, 2 Apple 30-pin cables, two Micro USB pins and 2 Female USBs.
Compatibility: All Smartphones & other Devices that support USB Charging, including iPhone & Android
Price: $549.95
Where to Buy: Amazon
2. Anker 40W Desktop Charger + Charging Station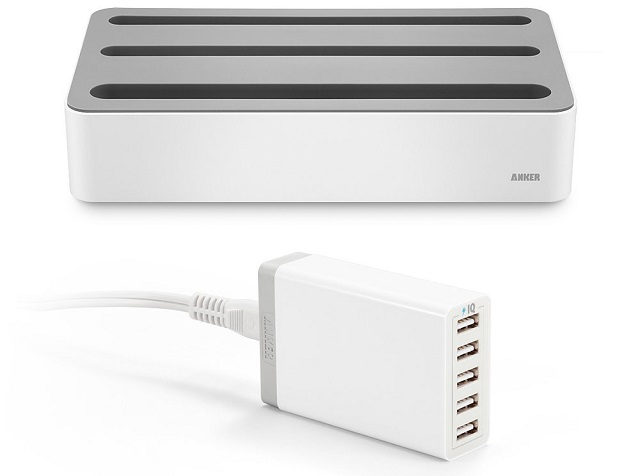 Anker 40W Desktop Charger + Charging Station is a great option when you need a nice-looking yet simple charging station to charge your devices that support USB charging. Using corresponding cables, you will be able to charge up to five devices simultaneously. Along with this, Anker Charging Station lets you organize your devices by taking out those charging pins and placing them accordingly. Considering those detachable cables and all, Anker Charging Station offers an impressive level of comfort also. Plus, the charging station comes with PowerQTM Technology that ensures maximum output through all those slots.
Compatibility: all devices that support USB Charging. You have to use corresponding USB cables
Price: $54.99
Where to Buy: Amazon
3. MobileVision Universal Multi-Device Charging Station
Universal Multi-Device Charging Station from MobileVision comes with six different slots that can be used to charge a number of different devices you have. Among the six slots, two slots provide 1A output while the other has output of 2A. The charging station comes with micro-USB charging cables that can be used to charge different devices such as Samsung Galaxy S5; in case of iPhone or iPad, however, you will have to use approved charging cables. It comes with a superb design as to keep all your devices without any clutter.
Compatibility: Every device that supports USB Charging, including iPhones, iPads and Android devices
Price: $59.95
Where to Buy: Amazon
4. Avantree Powerhouse Multi Device USB Charging Station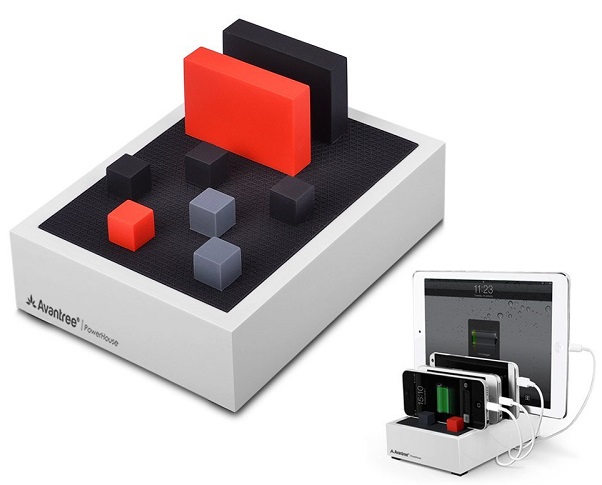 Probably the most customizable charger station you would ever get, Avantree Powerhouse USB Charging Station for multiple devices is one of the finest choices. What makes this product a great place to organize your Smartphones or other devices is its level of customization that lets you change shape of top layer and thus to make sure that devices of yours fit in the place neatly. Plus, using the Velcro system, you can get rid of those messing-up cables that will be present in a typical charging environment. Other features of Avantree Powerhouse include Smart-Port support, high output and included-in-box USB cables.
Compatibility: From older versions of Samsung tablets & mobile phones to iPhone 6, iPhone 6 plus, iPhone 5/5S/5C/4/4GS, iPad 4/3, the latest Samsung tablets, Samsung galaxy note3/note 2/S5/S4/S3, Nokia Liuma 920, HTC one, Sony Xperia Z1, Google Nexus 5/4.
Price: $47.99
Where to Buy: Amazon
5. ORICO Desktop Charging Station
Do you prefer a simple charging station that lets you charge four of your devices simultaneously to all those big deals in the market? Then, you should have a look on ORICO Desktop Charging Station, which is impressive in any sense. With built-in protection from all those electrical errors such as over-voltage and over-current, you can connect almost every device to the charging station by means of USB and it will start charging instantly. You have an option to take the cables through the downside part of charging station and thus to keep the wires' mess aside. You can use the station to charge up to four devices at once.
Compatibility: All devices with USB Charging support
Price: $29.99
Where to Buy: Amazon
6. Poweradd USB Desktop Charger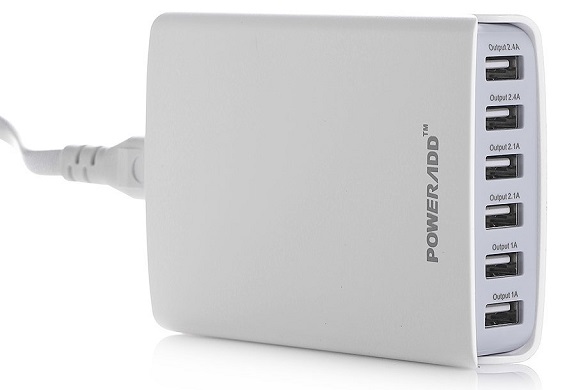 With six slots to charge your different devices, let them be Android Smartphones, your iPad or iPhone, USB Desktop Charger from Poweradd is a great charging station for almost every user, especially when you need to charge many devices at a time. The outer shell is durable and easy to use and gives a classy feel when you use it. Each slot is different if we take the case of output, and this difference helps you get maximum charging speed when you plug in certain devices like Apple iPhone or iPads. Altogether, Poweradd USB Desktop Charger is worth what you pay, indeed.
Compatibility: All devices that includes USB Charging feature
Price: $19.99
Where to Buy: Amazon
7. Bolse USB Desktop Charging Station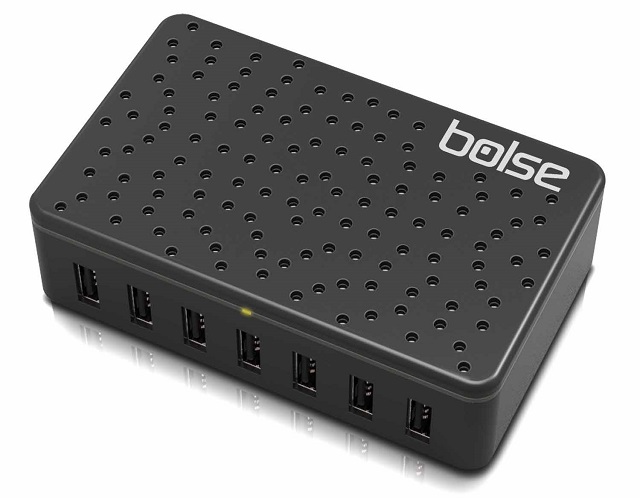 Combining a truly smart hardware system and usable design, the USB Desktop Charging Station from Bolse is a great device, especially when you want to charge up to 7 devices. Using Micro Chip, the device will recognize the device you have plugged in and act accordingly, as to bring the optimal charging time and effectiveness. Bolse USB Desktop Charger is truly handy because it is as small as an Apple iPhone 4 but has enough features to help every Smartphone user out there. Other features include LED-based notification and safety features.
Compatibility: Apple iPhone 6, 6 Plus, 5, 5s, 4, 4s, iPad 5, Mini, MP3 Players, iPod touch 4th generation, Samsung galaxy S6, S5, S4, S3, Tab 2.0. Nexus 4, Nexus 5, Nexus 6, Xoom, Amazon Kindle fire HD, Paperwhite, Tablet, Barnes Noble Nook, blu electronic cigarette etc.
Price: $29.99
Where to Buy: Amazon
8. HardNok Universal Desktop Charging Station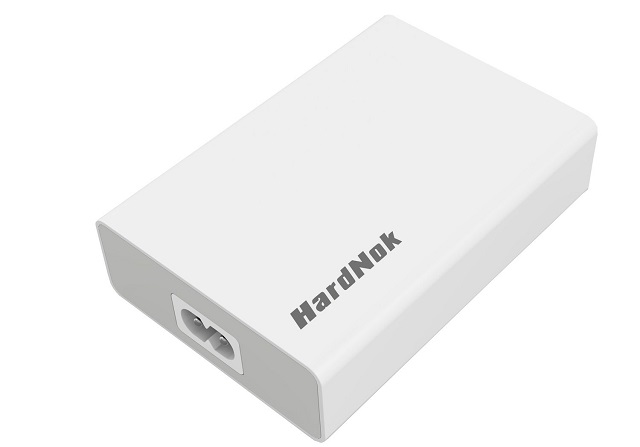 Here comes yet another device that can let you charge up to six devices simultaneously, by connecting single wire to the wall socket and saving a lot of space and mess. Smart IC feature of the device is quite powerful when we take the effectiveness of charging into consideration, because Smart IC lets the device act according to the device plugged. In short, HardNok Universal Desktop Charging Station is somewhat great, especially considering its compact design and safety features.
Compatibility: All devices with USB Charging
Price: $29.99
Where to Buy: Amazon
Note: HTC One M8, iPod Nano, iPod Classic, HP TouchPad, LG G2 and Asus tablets are not supported.
9. Sabrent 10-Port USB Charging Station
When you have more devices to charge, you can go with the USB Charging station from Sabrent! Rapid Charging method of the charging station is quite effective and there'll be no change in the performance of each slot, meaning that all the connected devices would be charged equally. It does not matter whether you want to use Smartphone or Tablet PC for charging, Sabrent USB Charging Station would be a good-to-go-for deal. There are ten ports, to which you can connect a device that supports USB Charging — simple as that.
Compatibility: Any device with USB Charging Support
Price: $35.00
Where to Buy: Amazon
10. Wall Mounted Charging Station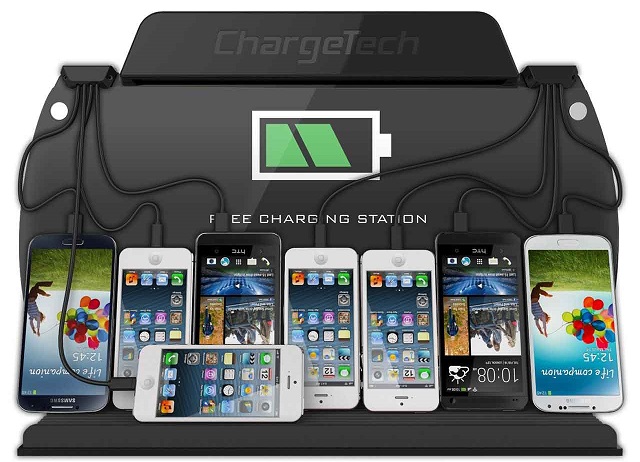 Last but not least, Wall Mounted Charging Station from ChargeAll is one of the best charging station when you are looking for public charging station to use in some organizations like hospitals and colleges. It offers a great range of customizability, as you can even set your brand name in that. Talking of the features, ChargeAll Wall Mounted Charging Station has support for eight charging tips, which can be used to charge eight different devices simultaneously. Considering all these, this organization-oriented charging station is a steal deal, we would say. Just like the first charging station in the list, it offers charging tips along with female USBs, letting you charge any device.
Compatibility: Works with iPhone 6+ 6 5 5s 4s, Samsung Galaxy S6 S5 S4, Samsung Note, HTC One, Sony Xperia, iPad, Kindle, GoPro, Samsung Galaxy Gear and all other devices with USB Charging Support
Price: $349.95
Where to Buy: Amazon
SEE ALSO: Top 10 Wireless Charging Pads For Smartphones
Wait! We are yet to know about your favourite charging station, inside the list or out of it! We hope you will let us know through comments.
---
Load More