Imagine this – you are playing your favourite title on your Xbox One when the phone rings in the other room and you don't want to leave your game, just to check out who's calling. It is during moments like these that you wished your Android smartphone to be a bit wiser in telling who's calling without actually picking it up. On iPhone, you can enable Siri to speak out the caller's name for you but, on Android, you will need a third party call announcer app. Thankfully, there are certain third-party caller name announcer apps that can speak out the name of your callers. Not only caller names but messages can be read out too. So, here is a list of the 4 best caller name announcer apps for Android:
1. Caller Name Talker
Caller Name Talker is one of the best caller name speaker apps on Android. It reads out the name of your callers, SMS senders and any other notification regarding communication services on your Android smartphone. Along with low battery notifications, it also gives you voice alerts for Gmail, WhatsApp, IMO, WeChat, LINE and Telegram. Plus, it can read your messages from all of these apps, provided that you enable the feature from the settings.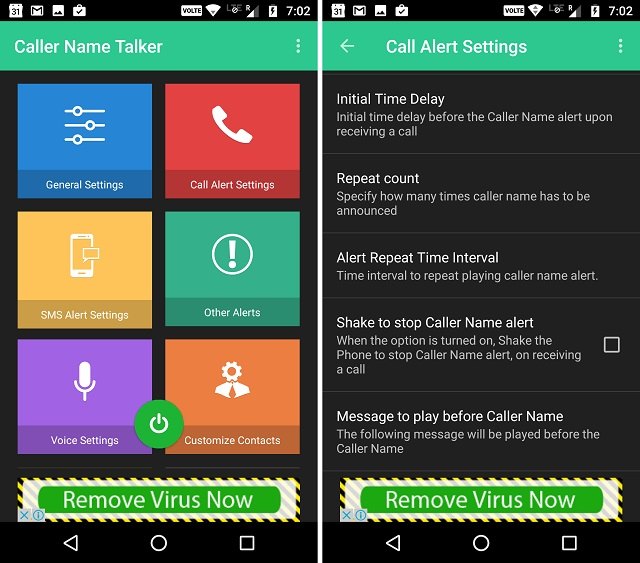 The app also provides a lot of options for the readout functions. You can set the delay time for the alerts, put in custom messages before and after the names, lower the ringtone volume while the alert plays and more. The app uses the built-in Android text-to-speech engine to voice the caller or SMS sender ID. You also get gestures like shake your phone to stop caller name alert while the phone rings. Overall, the app works well and we didn't notice any major bugs. There's a paid version dubbed Talk Caller Name PRO that is ad free but it hasn't been updated with features of the latest free version. So, it is wise to stick to the free version until the updated Pro version comes out.
2. Caller Name Talker
First of all, this is a completely different app that happens to have the same name as the one mentioned above. With a not-so-good UI, it has all the basic features a caller name speaker app should have. You can let your phone announce names of saved contacts as well as unknown numbers too. It can also read your SMS alerts along with its content. There are various customizable settings like one tap to disable/enable the functions, turn on/off the voice alert over the ringtone and text-to-speech settings. You can also put in custom messages after a caller's name.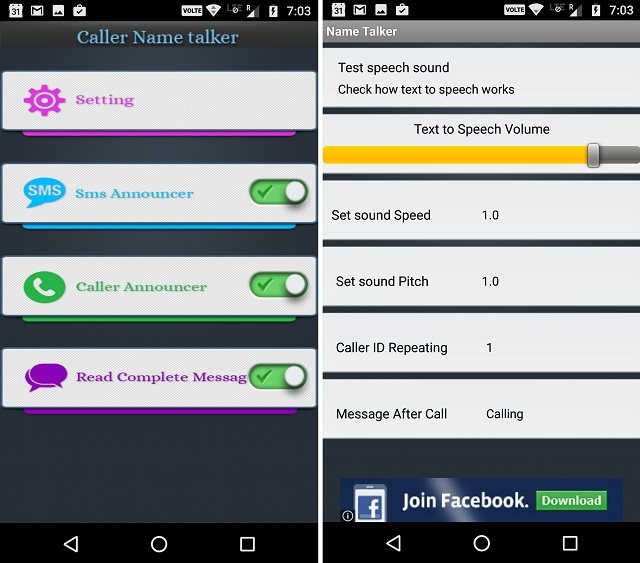 Unfortunately, it lacks most of the additional features that the previously mentioned app packs. Having said that, this app functions efficiently and is a good one if you want a simplistic and uncomplicated caller name talker app.
Install: (Free)
3. Caller Name Announcer Pro
If you want a caller name announcer app that can also act as a caller ID, then you should check out Caller Name Announcer Pro. With a smartly designed UI, the app features voice alerts for calls and SMS. You can also make it read out the contents of messages sent via SMS. There is a widget to quickly toggle the voice alert ON or OFF from the homescreen, in case you need to put your phone in a silent profile.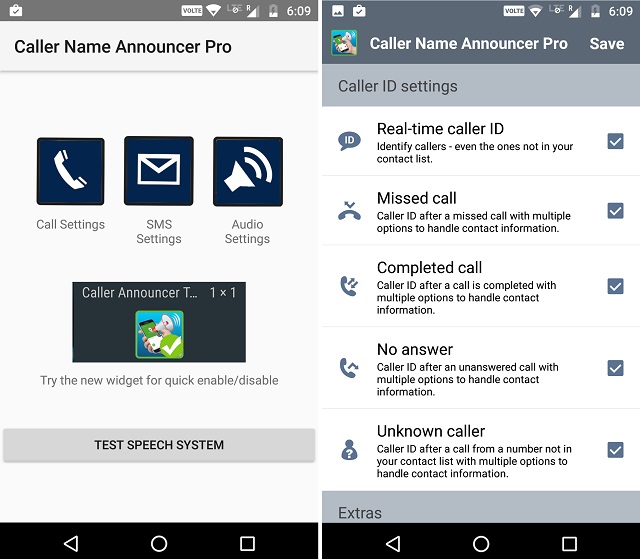 The app lets you play with the audio settings like changing the pitch settings and voice speed, as Caller Name Announcer Pro uses Android's built in text to speech library. The caller ID  function works very well, showing you caller information of unknown contacts, like Truecaller. Sadly, the customisation options are pretty limited and we suggest you to go for this only if you want caller ID features packed in a caller name announcer apps.
Install: (Free)
4. Speaking SMS & Call Announcer
Speaking SMS & Call Announcer is a feature rich caller name announcer app. As with all caller name announcer apps, it has a proper functioning voice alert function for calls and messages. It reads out the messages too with the help of Android's built-in text-to-speech system. The standout feature though is the "Battery Announcer", that allows you to set a custom threshold to get notified about low battery levels through voice.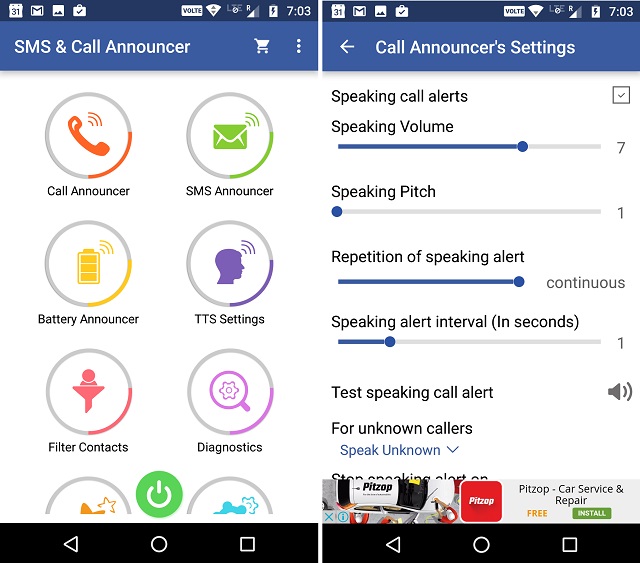 Another nifty feature is that it allows you to choose between reading an unknown phone number or simply reading "unknown". The "Filter Contact" feature is another notable feature that lets you to assign a specific list of contacts to be announced. Also, you can deactivate the app for a specific time period with its "No alert schedule". Try this out for its sheer list of features and a well laid out UI.
Install: (Free)
SEE ALSO: Top 5 Apps To Hide Text Messages On Android
Try these Caller Name Announcer Apps
So, these are some apps that make your life a bit easier by letting you know about your caller when you are unable to glance at your phone. There are many other apps that claim to bring caller name announcer functionality but they are all littered with annoying ads.
If you know of any other caller name announcer app that works well, do let us know in the comments section below.