While Apple was rather late to dive into the smartwatch race, the product that the fruit company brought to market was comparable, if not arguably better, than what was already out there. The most interesting feature surrounding the Apple Watch was the fact that developers were really keen on jumping onto the Apple bandwagon, so much so that the Cupertino wearable saw more apps available for it even before the device had itself hit the market. In contrast, Android Wear never saw this kind of an overwhelming response, and this goes miles to speak of the demand for the Apple Watch.
While this massive interest in the Apple wearable is really encouraging, the dilemma that it poses for the user is which apps to get your hands on first. Of course, there's a bunch that you can take out for a spin, since there's no shortage of free apps available for the Apple Watch, but do you really have the time to explore everything out there yourself? If not, then fret not, because we're here to share with you great apps for the Apple Watch that will make your experience all the more interesting.
15 Best Apple Watch Apps
1. Workflow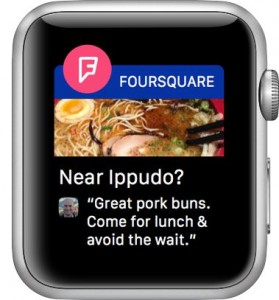 Workflow is one of the most popular automation tool for iPhone and iPad, and they've just introduced support for the Apple Watch as well. Think of it as a marriage between IFTTT and Tasker for Android, all packaged in a neat and clean interface. With the Apple Watch companion app, a lot of automation moves from your pocket (read: phone) to your wrist, allowing you to perform actions like navigating to your preferred location, read out RSS feeds, tweet the track you're listening to, and much more.
Developer: DeskConnect, Inc.
Compatibility: iOS 8.0 and later
Availability: Workflow (Paid) – iTunes App Store
2. Foursquare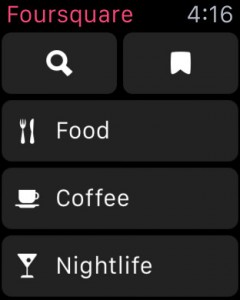 With the kind of popularity that Foursquare enjoys with smartphone users, it's almost a no-brainer that the social check-in and POI-discovery service should have an Apple Watch app. The Foursquare app will let you discover the best places nearby without needing to pull your iPhone out of your pocket, and will provide gentle alerts when there's a dish in a nearby restaurant that you must try.
Developer: Foursquare Labs
Compatibility: iOS 7.0 and later
Availability: Foursquare (Free) – iTunes App Store
3. Do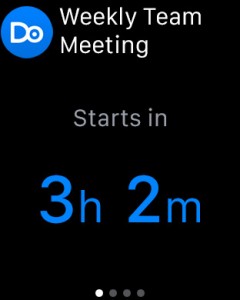 Do is one of those apps that you'll find highly useful on your shiny new Apple Watch, even if you've never heard of the service before. Do integrates with your calendar (native iOS, Google or Office 365 etc), and sends reminders of the time remaining before the start of your next meeting, viewing agenda for the said meeting, or even request one if it isn't already available. Now, for productivity, reminders like that on your wrist make natural sense, don't they?
Developer: ReDo Inc
Compatibility: iOS 8.0 and later
Availability: Do (Free) – iTunes App Store
4. Hindsight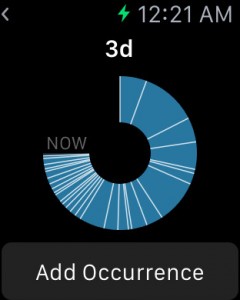 Another time tracking app, albeit with a non-business touch. Hindsight exists for one sole purpose, and that is to give you an accurate measure of how much time has elapsed since, well, everything and anything, You can record any occurrence that you want to keep tabs on, and Hindsight will tell you right on your wrist how long it has been since you, say, called your mom.
Developer: Ehsan Rezaie
Compatibility: iOS 8.1 and later
Availability: Hindsight (Free) – iTunes App Store
5. Eidetic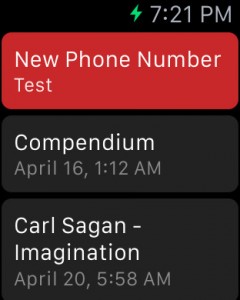 Some people are born with what we commonly call "photographic" memory, or eidetic, if we're being scientifically accurate. Others like us are perhaps not so lucky. Well, with this neat little app, you can train yourself to be somewhat similar. Eidetic uses a technique called "spaced repetition" to help you memorize pretty much anything, from phone numbers to useless facts. Time to use your Apple Watch to impress your friends!
Developer: Steven Waterfall
Compatibility: iOS 8.0 and later
Availability: Eidetic (Free) – iTunes App Store
6. Shots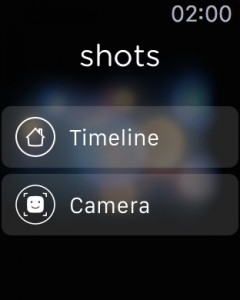 Shots is like Snapchat, except that it works right off your wrist. The purpose of Shots is to share photos and 3-second videos with your friends, and show off what you're doing. The app doesn't allow uploading from camera roll, so you know whatever has been shared is real-time. The Apple Watch app features viewing your timeline to see what friends are up to, and supports instant messaging, too.
Developer: Shots Mobile Inc
Compatibility: iOS 7.0 and later
Availability: Shots (Free) – iTunes App Store
7. Postmates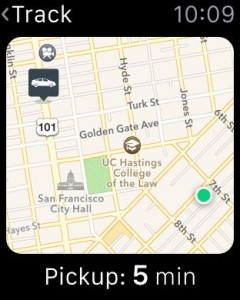 I'll admit, I was reluctant to include Postmates here, not because it's not an amazing app, but because the service availability right now is rather limited to a little over 20 states in the U.S. The concept behind Postmates is simple – package deliveries conducted by people like you and me, combining shopping and social element with a unique and elegant touch. The Apple Watch version of this app allows tracking deliveries, placing orders, seeing who your rider is etc. While the app is free, the service starts at $4.99 per month.
Developer: Postmates Inc
Compatibility: iOS 7.0 and later
Availability: Postmates (Free) – iTunes App Store
8. Glide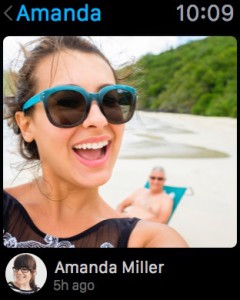 Glide is a pure video messenger through and through, and the Apple Watch version of the app affords you the convenience of watching the shared videos from your friends right on your wrist, without needing to use your phone. Since the videos are all stored in the cloud, there's no space consumption on your device, making Glide a perfect companion for your brand new Apple Watch.
Developer: Glide
Compatibility: iOS 7.0 and later
Availability: Glide (Free) – iTunes App Store
9. Human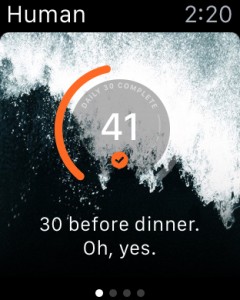 You know how the smart wearables of today are also really capable fitness trackers? Well, Human takes that a step further. With the claim that "the world is your gym", Human automatically tracks your walking, running, biking, hiking and other activities of the kind, and even provide a competitive graph of your friends' progress to keep you motivated. Your wrist will keep you abreast of whether you've made your goals for the day or not.
Developer: Human
Compatibility: iOS 7.0 and later
Availability: Human (Free) – iTunes App Store
10. Quick Fit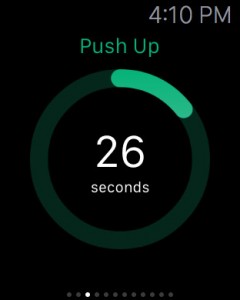 If you want to take your fitness tracking and regimens to the next level, Quick Fit is the way to go about it. This app features the scientifically-proven 7-minute full body workouts, and in my experience, having a tracker on your wrist that keeps reminding you of how much you need to spend in which activity, is a true blessing. The app itself features HD videos for each exercise to give you an exact idea of what needs to be done in each component, and achievement system keeps you motivated through small rewards to boast about.
Developer: Tiny Hearts Limited
Compatibility: iOS 8.0 and later
Availability: Quick Fit (Paid) – iTunes App Store
11. 24me Smart Personal Assistant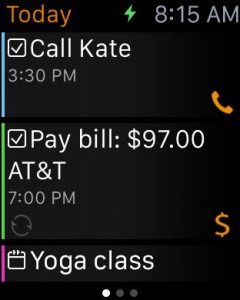 24me is your personal smart assistant right on your wrist. The app combines a number of reminders and notifications for throughout your day, and serves them based on your preference, as and when they require. Need to head out for a working lunch and don't know where that new restaurant is? 24me has you covered, with its timely reminders based on not just lunch time, but also the commute time required to reach your destination. Don't want to fall behind on your bill payments? This app will rescue once again, all from the comfort of your Apple Watch.
Developer: 24me
Compatibility: iOS 7.0 and later
Availability: 24me Smart Personal Assistant (Free) – iTunes App Store
12. Petcube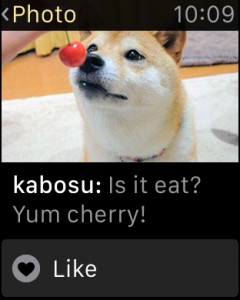 Although not designed to be just a stand-alone social app for pet lovers, Petcube's Apple Watch version allows you to keep tabs on your furry friends remotely courtesy of the company's proprietary WiFi-enabled camera with two-way mic/speaker combo and a laser pointer (let them cats go crazy). The app allows tracking your pets from your Apple Watch, and even lets you join a pet-lovers' community where you can share your pets pictures, and see others shares as well.
Developer: Petcube Inc
Compatibility: iOS 7.0 and later
Availabilty: Petcube (Free) – iTunes App Store
13. Day One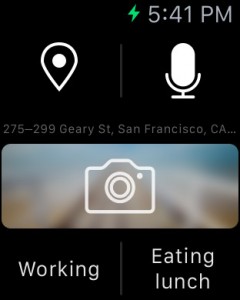 One of the best journaling apps for the iPhone and iPad now has an Apple Watch version as well, featuring things like quick entries, voice dictation, location tagging, activity logging, picture support, all with complete customizations and from the comfort of your wrist. You may view your timeline and keep track of what you've been doing throughout the day, courtesy of the well-thought-out interface for the Apple Watch. Grab it today!
Developer: Bloom Built LLC
Compatibility: iOS 8.0 and later
Availability: Day One (Paid) – iTunes App Store
14. Robinhood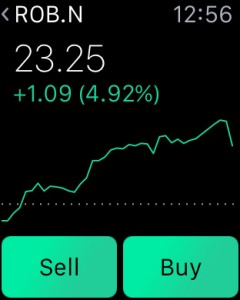 One of the most robust stock trading apps now joins the Apple Watch bandwagon as well, with Robinhood allowing you to check your portfolio's complete performance, keep tabs on your stock watchlist, grab detailed information, and even buy and sell stocks all from your wrist. While this app will find great traction with finance folks, a word of caution; don't carry out too many transactions from your list, should you make any accidental buy and sell decisions that you end up regretting later.
Developer: Robinhood Markets, Inc
Compatibility: iOS 7.0 and later
Availability: Robinhood (Free) – iTunes App Store
15. Dark Sky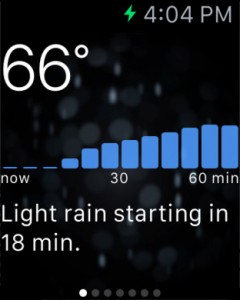 No Apple Watch must-haves compilation can be considered complete without a weather app, and Dark Sky is our recommendation in this area. The app will issue alerts for inclement weather in the next hour, alongside providing forecasts for up to five days. The interface is beautiful on the Apple Watch, and the notifications feel right at home. Dark Sky works only in the US, UK and Ireland at the moment.
Developer: Jackadam
Compatibility: iOS 7.0 and later
Availability: Dark Sky (Paid) – iTunes App Store
SEE ALSO: 10 Best Smart Watches For 2015
If you have any suggestions for our list of best Apple Watch apps that we have missed, sound off in comments below, and we'll be sure to give them a try.