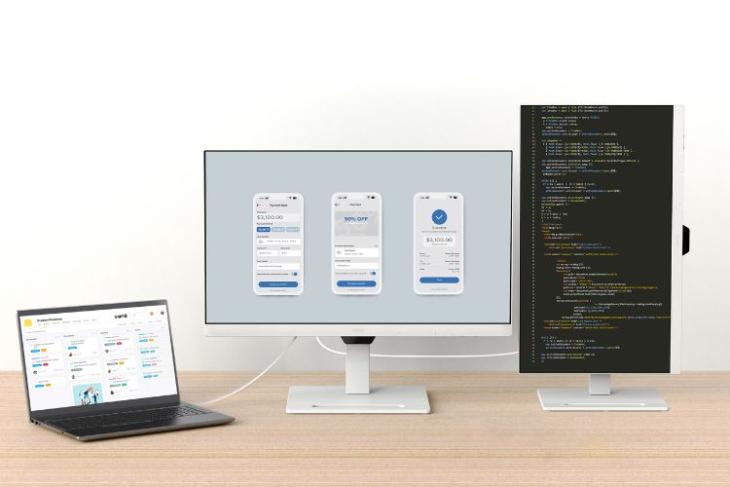 BenQ has launched its new GW90 series monitors in India with advanced Eye-care technology and a focus on productivity. This includes two QHD monitors with two size options: 27-inch and 32-inch. Have a look at the price, features, and more.
BenQ GW90QT Series: Specs and Features
The new GW90QT monitors boast a 2K QHD edge-to-edge display with Eye-Care U technology and a 99% sRGB color gamut. The 32-inch model comes equipped with a unique coding mode for programmers. The monitor is height adjustable as well as rotatable. To enhance productivity and visual comfort, the BenQ monitor can take advantage of multiple daisy-chained monitors mode.
Additionally, the unique coding mode and m-reader mode help to optimize the contrast and saturation of the dark mode with calibrated color weakness, to simulate an e-ink display. There's also support for Brightness Intelligence 2 and low blue light plus functionality can help reduce eye strain.
Commenting on the launch, Rajeev Singh, Managing Director of BenQ South Asia, said, "GW90QT monitors series is meant to help balance work and life efficiently and easily. Their USB-C 65W power delivery architecture along with noise filter speakers and noise cancellation microphones for clear-cut vocals in any environment will facilitate remote collaboration, simplifying multitasking productivity at traditional workspaces, at home, or even on the go."
Some of the other features of the BenQ GW90QT monitor include a USB-C 65W AC power supply, noise-cancellation microphones and speakers, and a compatible accessory monitor base. The monitors are only available in white color.
Price and Availability
The 27-inch BenQ GW90QT monitor is priced at Rs 26,990 while the 32-inch model retails at Rs 34,990. The BenQ GW90QT is available for purchase at Amazon and offline stores. Both variants come with 3 years of warranty.