Audi has showcased its latest concept electric off-roader at the Frankfurt International Motor Show 2019. The main feature that sets this off-roader apart from other off-roaders in the market is that it makes use of five electrically operated drones instead of headlights.
Named AI:TRAIL, the off-roader follows the lead set by the brand's other concept electric vehicles like the Audi Aicon, AI:ME, and AI:RACE. AI:TRAIL is a four-seater aimed to be a perfect blend of automated driving along with outstanding off-road experience.
"With the AI:TRAIL, we are showing an off-road concept with an emissions-free electric drive for an innovative driving experience away from paved roads. Consistent with this, we designed a monolithic basic vehicle body with maximum glazing to create an intense connection to the surroundings. A concept for sustainable mobility on demand.", says Marc Lichte, Audi's Head of Design.
The cabin of the vehicle is made of glass in the most parts which will help passengers enjoy the scenic beauty of the nature. In the dashboard, instead of packing in a huge display like competitors, the Audi AI: TRAIL comes with a smartphone display that acts as the control center for all the smart features equipped in the vehicle.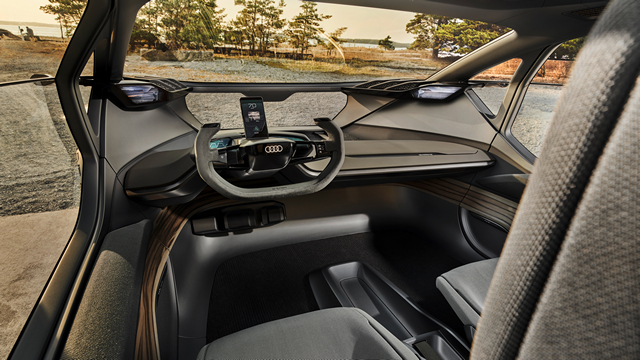 The side windows in the interior is carefully designed to make sure passengers don't feel any sense of discomfort while riding the vehicle. This is evident especially when you take a look at the regions where the shoulder and elbow naturally rests.
"The aim of the designers here was to give those inside the vehicle the best possible view of nature and their surroundings, breaking the boundaries between the interior and the world outside. In the AI:TRAIL, passengers can relax and enjoy the tranquility of the ride without even having to think about it.", said Audi in the press release.
The roof of vehicle is 5.5 feet tall and the vehicle has 22-inch wheels and 33.5-inch tires. The ground clearance of the AI:TRAIL is 13.4 inches and it can be safely driven through water up to 1.6 ft.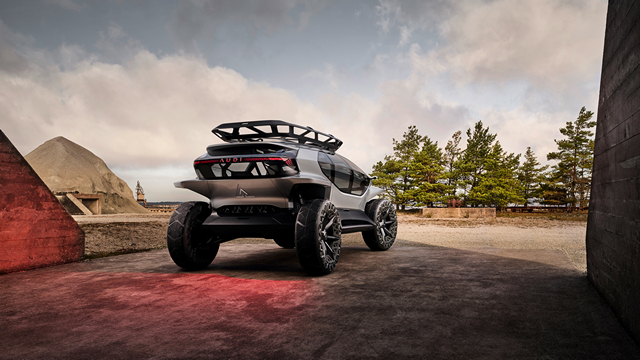 The body of the Audi AI:TRAIL is made of high-tech steel, aluminum, & carbon fiber. The selection of materials has brought down the weight of the vehicle to 1,750 kilograms. Also, it has a horsepower of 429.
Audi AI:TRAIL will hit a top speed of 130 km/h (80.8 mph) on the road. The range of the vehicle stands somewhere between 400 to 500 kilometers (248.5 to 310.7 mi) on normal roads or "easy off-road terrain". This drops down to 250 kilometers (155.3 mi) on rough terrains.
You can comfortably store your hiking boots, climbing gear, or wet clothes in the bumper which has a separate compartment for occupying such items. So, what do you think of Audi AI:TRAIL? Tell us in the comments.
---