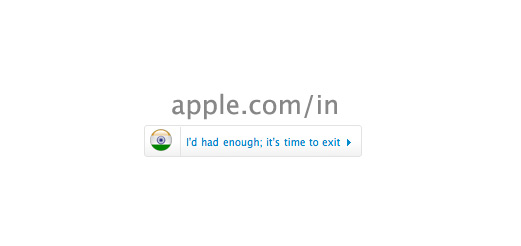 Apple made available its entire portfolio of products to Indian consumers in December, with the launch of the iTunes Store in India. This move signifies Apple's intent to gain a significant foothold in the Indian market. With the launch of its electronic distribution of media through the iTunes Store and other related products and services, consumers from India can now buy local as well as international content directly from their iDevices as well. Let's take a look at all the services and products that were launched and what they have to offer to the Indian buyer.
Apple iTunes Store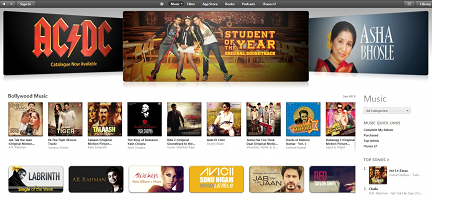 Apple launched its latest handset in India in November, a few months after it was launched in the U.S. The latest iteration of the handset has a lot of enhancements in tow, starting with a larger 4-inch screen and the more powerful A6 processor. With a density of 326 ppi, the screen is still one of the best ever seen on a mobile. Touted as the thinnest iPhone yet, the device is only 7.6 mm thick while weighing 112 grams. The design of the handset also saw brushed aluminum being used for the rear casing, reminiscent of the original iPhone. Another change was in terms of the 8 MP iSight camera, which gained the ability to shoot panoramas as well as 1080p video.
The device caused quite a stir when it launched in India, and was sold out within 4 days of its launch. The feature-set of iPhone 5 as well as the allure of the brand contributed to this frenzy. The device is not exactly consumer friendly in terms of pricing. However, it is rumored that Apple is looking to build a low-cost mobile for countries like China and India to strengthen its offerings in growing economies. While there is no concrete evidence whether such a device would actually be launched, for now the fact remains that demand for the iPhone is still high.
Apple iPad Mini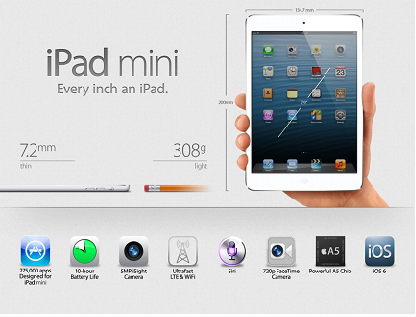 Apple made its foray into the tablet market with the launch of the iPad Mini in December.  In a market filled with budget tablets from local manufacturers, the decision to launch a device costing INR 21,000 is a smart one. The relatively low cost of the tablet is a strong selling point, with the 7-inch Samsung Galaxy Tab 2 and the Google Nexus 7 also nearly the same price but offer more flexible features such as calling and better screen respectively. Offering a higher build quality and more features than other tablets that are in the same price segment, the iPad Mini is geared toward bringing the iOS ecosystem to a wider audience.
SEE ALSO:  History and Evolution of Tablets
 Apple TV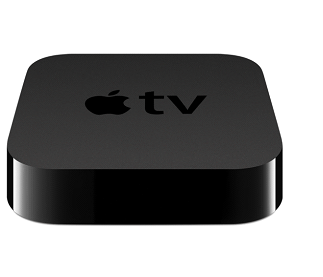 Apple TV is a media streamer that can fetch content from iTunes onto a HDTV. With AirPlay, users can stream content using any iDevice to a HDTV wirelessly. Users can also access their iTunes library and stream movies using this device. Also, availability of online services like Hulu makes this device idyllic for not only streaming HD movies from iTunes, but also accessing the latest content on the web. The device is set to launch anytime in the near future, with a cost of INR 6,999. This device features HDMI, Micro-USB, and LAN connectivity and would be an ideal addition to users who already use iDevices and have content stored in iTunes.
Problems With Apple's Still Lingering Their India Plans
Problems In Supply Chain & Official iStore Missing
Even with their bigger plans to expand in India, their supply-chain management is still one of the poorest. Their products are one of those which reach very late to Indian shores after their official announcement. Take this personal experience of mine when I wanted to buy an Apple iMac and it was the time after the recent Mac refresh. The newer Macs weren't shipped yet and the franchisee stores and official re-sellers were not ready to sell the older Macs which were on the shelves for the demo. There is no official iStore from Apple in India as well, although there  have been flop rumors about it. Apple needs to address this issue by investing more in these operations and managing it better.
Unavailability Of Carrier Subsidized Mobile Postpaid Plans
According to my guesstimates, iPad and iPhone are the largest selling computing devices in India. But compared to international markets like US and UK where mobile operators and carriers subsidize these phones if you sign a 2/3 years contract, Indian consumers have to pay the whole price upfront which makes it an issue. The 16 GB iPhone 5 price is INR 45K and paying that amount is completely insane if you are not rich kids. Heck, even more than a year older iPhone 4S sells at price higher than the price of Samsung Galaxy Note 2. Apple at least needs to reduce the prices or go and talk with carriers to offer sensible postpaid plans with iPhone subsidized.
Conclusion
Apple is making a dedicated effort to leave its mark in India but still needs to correct its plans perfectly. The unique minimalist design as well as user interface that embodies all Apple products is what makes the brand so desirable. With a bevy of new device launches combined with the content that is available in the iTunes Store, the ecosystem is finally should take off in India.
SEE ALSO:  Madness in Smartphone Nomenclature
Image Courtesy: smokingapples.com