Apple introduced the fall detection feature on its Apple Watch Series 4 back in 2018's iPhone event to make it easier to send emergency alerts. While the emergency alerts feature faced a few initial hiccups on the Apple Watch, it has matured enough to save the lives of people in the real world.
According to a report by News Corp Australia, Kate Donald, a patient suffering from epilepsy had a seizure when no one was around her. The report states that Kate's seizures could be triggered due to a lack of sleep. That is when Mr. Donald, her husband decided to take their kids to grandparents so she could get some peaceful sleep without being disturbed.
This attempt to make her health condition better backfired as she had a seizure followed by falling down when she was all alone at home. But thanks to the Apple Watch, its fall detection feature called emergency services and sent an emergency SOS to Mr.Donald who was the emergency contact set by her. The emergency SOS also had the approximate location of Kate, which you can see in the below image.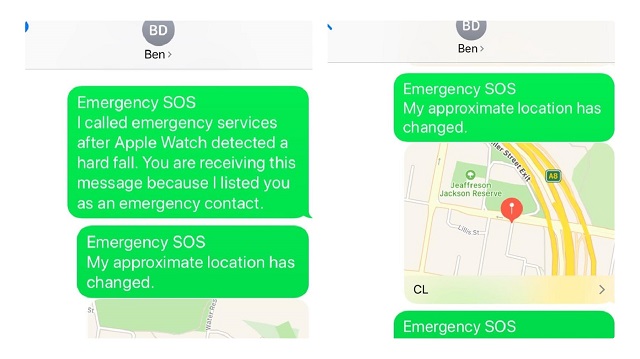 If you're not aware of how the feature works, this would help. From Apple Watch Series 4, the watch triggers an alarm and displays an alert on the screen as soon as a hard fall is detected. If there is no response from the user, it will automatically call emergency services followed by sending a message to emergency contacts set by the user.
"We thought the watch could be useful for epilepsy and falling down. When I was pregnant with Tilly, I was in hospital and falling a lot. My head was literally covered in bruises.", said Kate.
While people are constantly debating about the impact technology has on our daily lives, it feels good to witness such cases where smart gadgets are actually behaving smart and solving real-life problems.
So, what do you think of the fall detection feature in the Apple Watch? Have you or your peers ever been benefitted from the feature? Let us know in the comments.