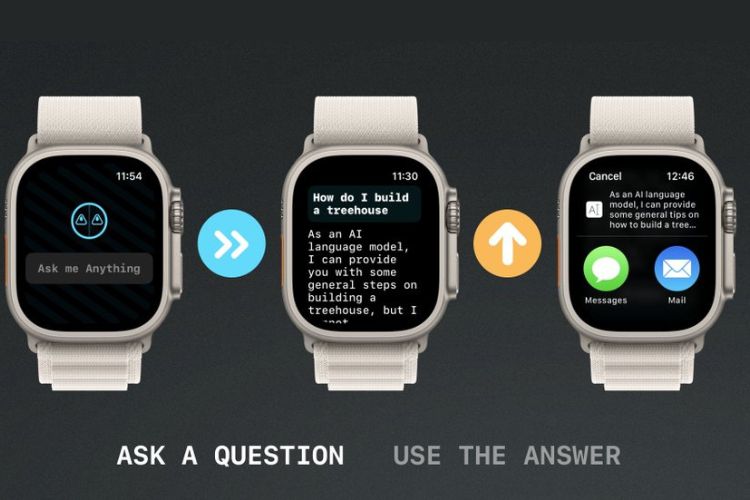 If you are a complete ChatGPT addict and wished for a way to have it on your smartwatch, well, your wish has been granted. There's a new WatchGPT app that brings the smarts of OpenAI's AI tool to an Apple Watch. This comes after OpenAI recently opened up the ChatGPT API to developers and the public. Here are the details about the new WatchGPT app.
WatchGPT Now Available for Apple Watch
WatchGPT's developer Hidde van der Ploeg has revealed that the app is now available to install via the App Store and is compatible with iPhones running iOS 13 and above. Once downloaded, the app can provide answers to whatever questions you ask.
It can help you share the responses received with others via SMS, emails, and other social media apps directly through the Apple Watch. The app's description on the App Store also suggests that it can provide long messages without typing. It can also be set as a complication for easy access.
The only drawback is that the WatchGPT app isn't free, unlike ChatGPT. It costs Rs 349/$3.99 for you to avail of its services and if this appears like a worthy choice, you can easily get it now.
This integration comes after Amazfit recently introduced the ChatGPT-backed watch face to provide AI-generated texts. Although, it appears to provide some set responses and not be as conversational as the WatchGPT app.
Now that ChatGPT's API is available for all, it would be easier for developers to come up with such integrations even for other smartwatches. And if you are all in for creating your own AI bot, we have an article on how to create a ChatGPT AI chatbot, so, don't forget to check it out! If you want to know how you can use ChatGPT on your smartphone, we have got that covered too.
Do let us know if ChatGPT support on your Apple Watch is an exciting addition and whether or not you will go for the app in the comments below.
---