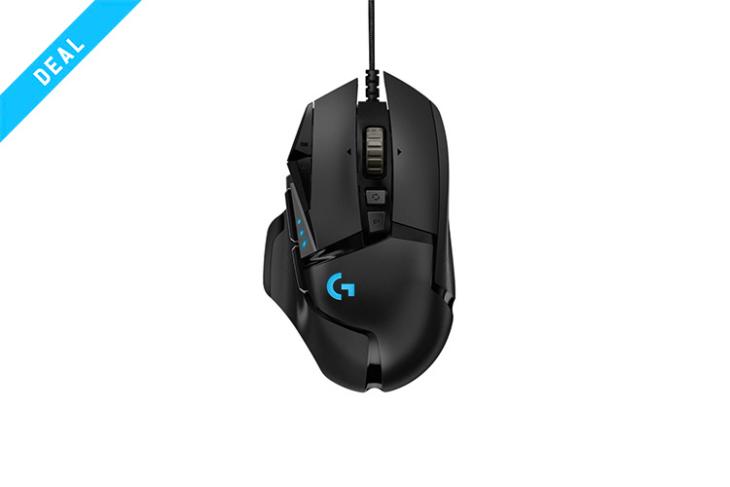 With the Amazon Prime Day sales underway, there are simply a lot of items on Amazon that are discounted, and picking the best ones out can be quite a chore, which is where this series of 'best deals' stems from. After covering the best Prime Day deals on laptops, monitors, and consoles, I wondered, what if you're simply looking to buy some accessories? So, if you are, here are the best Prime Day deals on accessories that you should check out.
1. Logitech G502 Hero Gaming Mouse
Logitech's G502 Hero is one of the best wired gaming mice out there and is loved by a wide variety of gamers (including Ninja, as far as I'm aware). The mouse, which is so loved by the gaming community that Logitech upgraded it to a wireless mouse but kept the same sensor to not piss off fans of the mouse, is currently available on Amazon for a discounted price of Rs. 3,499 — that's a sweet Rs. 700 off its regular selling price of Rs. 4,199.
The G502 Hero comes with adjustable weights, a mouse-wheel that can be switched between free-rolling and graduated rolling, 11 customisable buttons, on-board memory, and full RGB support.
Buy the Logitech G502 Hero Gaming Mouse from Amazon (Rs. 3,499)
2. HyperX Cloud Stinger Gaming Headset
Speaking of gaming accessories, a good gaming headset can go a long way in helping you during intense gaming sessions, especially if you like playing games like PUBG and Fortnite. That's where the HyperX Cloud Stinger gaming headset comes in. The lightweight headset comes with rotating earcups and 50mm drivers for high quality audio. There's an easy to access volume control on the ear cup and the built in mic can be swivelled to mute, which can come in handy when you're playing multiplayer games.
The HyperX Cloud Stinger is available for just Rs. 3,499 — a Rs. 1191 discount from its usual selling price of Rs. 4,690.
Buy the HyperX Cloud Stinger from Amazon (Rs. 3,499)
3. Samsung T5 Portable SSD 500GB
While most of us use external hard disks to carry our data around and to keep backups, external SSDs are catching a lot of hype these days thanks to their incredibly fast read/write speeds and the fact that they're less prone to failing the way hard disks do sometimes. So, if you're thinking of buying an SSD for your storage needs, check out the T5 from Samsung. The 500 GB variant is currently available for just Rs. 6,999 — a Rs. 2,000 discount from its earlier price of Rs. 8,999.
Buy the Samsung T5 Portable SSD 500GB (Rs. 6,999)
4. Seagate Backup Plus 4TB HDD
If you read the description for the Samsung SSD and went "screw that, I want more space" well, here you go. The Seagate Backup Plus 4TB hard disk is currently on sale and is available at Rs. 6,999 — that's the same as the T5, but it's also Rs. 1,500 less than its usual price of Rs. 8,499.
Buy the Seagate Backup Plus 4TB from Amazon (Rs. 6,999)