While the e-commerce battle in India is picking up steam once again after a brief thawing period, both Flipkart and Amazon are now focussing on customer satisfaction to keep their users from moving away.
And users are always happy when you throw in a small discount every now and then. Amazon will start offering users a token cashback amount on Amazon Pay if they choose to schedule a 'No Rush Delivery', and it's also making deliveries more secure, which is great for those items which are more likely to be stolen.
Amazon India has started 'Secure Delivery With OTP' which should prevent orders being stolen by logistics staff or in case the product reaches the wrong address but is already paid for.
It comes into action when you place an order on Amazon and it is out for delivery. You'll be provided with a unique six-digit OTP in the app or via message, which you will need to enter on the delivery agent's device to confirm you are accepting the order and complete the delivery. It is currently unclear whether the OTP will be offered for every order or just high-value products, as the FAQ page on Amazon.in doesn't say anything about it.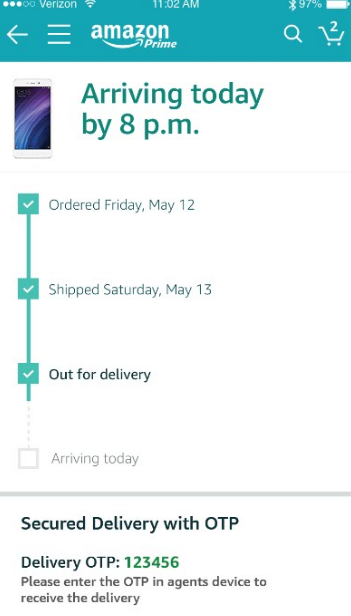 Another nifty feature that Amazon India has debuted just recently is known as 'No Rush Delivery' and you can pick this option for non-urgent deliveries. If you choose this option then your order will be delivered in the next 3-5 days (or early, as you see below), but Amazon will offer you a small reward for easing the load of their delivery personnel.
As you can see in the screenshot below, you'll receive a Rs 15 cashback in your Amazon Pay wallet on picking this option for delivery.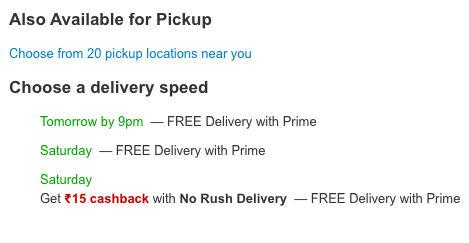 This feature has been available to Prime customers in the U.S for many years, but it is only now that it has started showing up in India. This indicates that India operations of Amazon are slowly but steadily falling in line with the American HQ and we can expect the rumored Prime Wardrobe feature to show up during the Prime Day sale next month.