As announced today via an official blog post, Amazon has partnered with retail giant Best Buy to bring its newest lineup of Fire TV Edition smart TVs to the market.
You'll be able to buy the smart TVs at offline Best Buy stores, its official website, and from Amazon across Canada and the US. The orders from Amazon will be fulfilled by Best Buy, who'll act as a third party seller. Talking about this partnership, Amazon CEO Jeff Bezos said,
Amazon and Best Buy have a long history of working together, and today we take our partnership to a new level.
While Bezos further adds that it couldn't have found a better partner in this endeavor, he also reveals that the new Fire TV Edition smart TV lineup will first be released by Toshiba and Insignia. They'll collectively launch close to ten 4K and HD Fire TV Edition models, with sales set to begin this summer.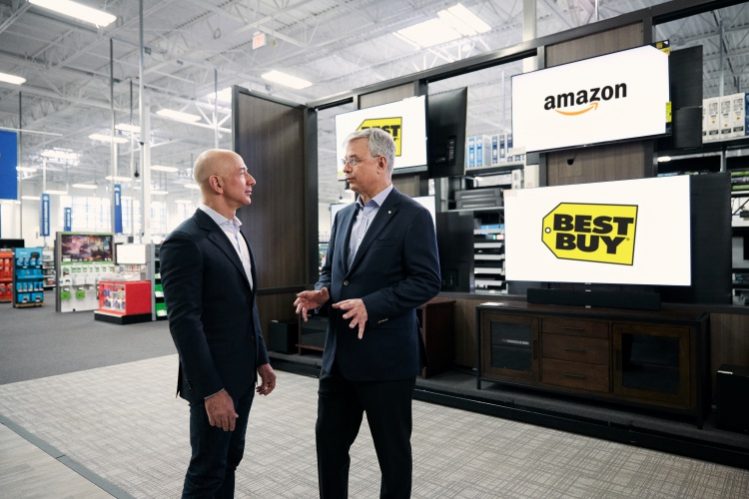 So how do Fire TV Edition smart TVs differ from Amazon's Fire TV stick. The TVs pack all the usual Fire TV stick features, such as Alexa voice control and access to streaming services. But, it also gets live over-the-air TV, thus offering you a complete package.
You can use Alexa to not only control what's on your TV but use the voice assistant to control your smart lights, plugs and smart home devices as well.
Amazon first introduced the Fire TV Edition smart TV lineup last year, in partnership with Element for $449. The e-tailer is, however, now looking to tap a larger audience with the offline retailer also benefiting from this partnership. Best Buy now has exclusive rights to sell Fire TV Edition smart TVs and it's a huge win for them.