The flagship smartphone market in India is pretty diverse and the latest contender to the segment is OPPO Reno 10x Zoom Edition, which is a pretty great and feature-packed smartphone. Not only does it come loaded with features you desire from a phone in the flagship price segment, but innovation like the world's first shark-fin rising camera and a 10x zoom functionality.
OPPO Reno 10x Zoom has stepped forward into the flagship smartphone segment with a slew of impressive tricks up its sleeve. So, let's not waste any time and check out 5 aspects that make OPPO Reno 10x Zoom a desirable smartphone:
5 Things That Make OPPO Reno 10x Zoom a Desirable Smartphone
1. Striking Glass Design
The first and foremost aspect that makes OPPO Reno 10x Zoom desirable is its premium design. The moment we pulled it out from the rather elongated packaging, we were impressed by the striking and premium rear glass design, which has both a glossy and matte finish to it. OPPO Reno 10x Zoom has an iridescent glass back that comes in two vibrant colors Jet Black and Ocean Green. It looks awesome and the in-hand feel is pretty comfortable and sturdy too.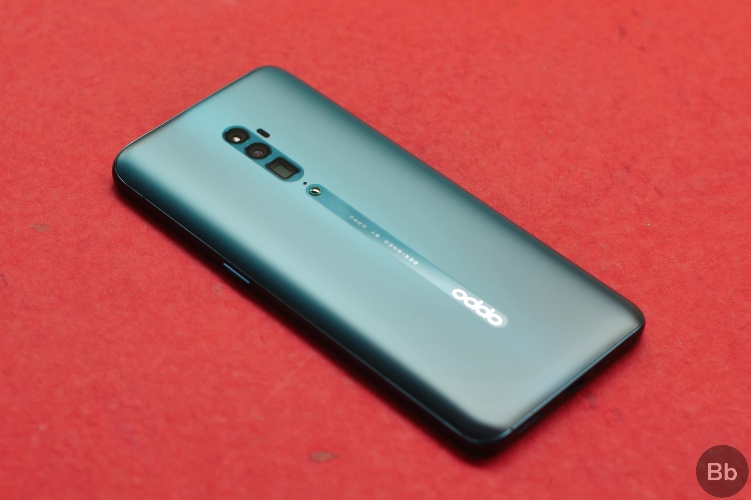 My favorite thing about the OPPO Reno's rear panel is its central axis. Yes, this central axis not only defines the look of this flagship but is also functional in its own sense. The triple camera module aligns with the said axis, is flush with the rear panel and we're thankful to OPPO for this design decision. No one likes wobbly phones but there's also the ceramic O-dot (with a green ring around it) to keep the phone lifted a wee bit when placed on a table to safeguard the back cover against scratches.
We are truly in love with the Ocean Green color of OPPO Reno 10x Zoom which we currently have with us, but you can never say NO to the Jet Black variant as well. Both the colors of OPPO Reno 10x Zoom look marvelous and you'll definitely like the grip this smartphone offers.
2. Bezel-less Panoramic Display
It's not only the rear panel that makes OPPO Reno 10x Zoom look pretty and desirable. OPPO has introduced a notch-less display with ultra-slim bezels, providing a screen to display ratio of 93.1% to provide a panoramic display.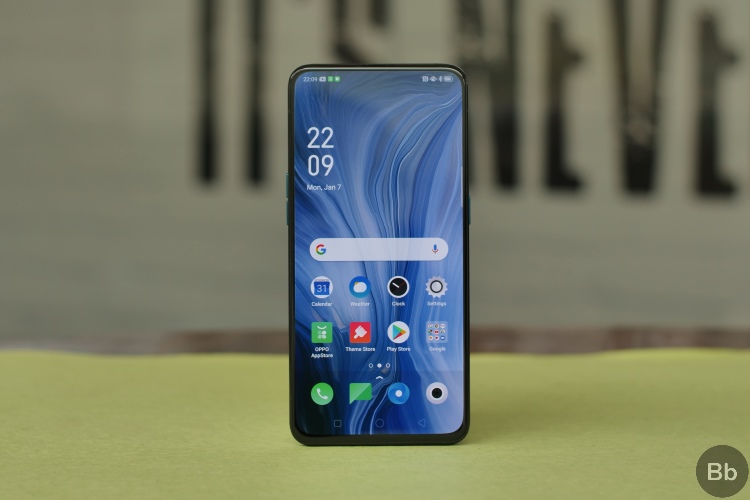 This is exactly what users are craving for nowadays and OPPO delivers this with sheer perfection. With a vibrant and sharp 6.6-inch Full-HD+ AMOLED screen, the Reno 10x Zoom boasts a display resolution of 2340×1080 pixels and a pixel density of 387ppi.
3. Shark-fin Rising Selfie Camera
Recently, you may have witnessed a ton of pop-up camera phones coming to the market, even budget phone makers are trying to incorporate it in order to provide users a fullscreen experience. OPPO has been leading the front for a while now and has taken this to the next level by adding its own little twist to make it more reliable and sturdy. Meet the world's first shark-fin rising camera module.
The shark fin is an incredibly smooth pop-up mechanism, which swivels up in about 0.8 seconds and makes no sound. It houses a 16MP (f/2.0) selfie camera, an earpiece, and a soft flashlight to make it possible for you to click selfies in the dark.
The shark-fin rising selfie camera of OPPO Reno 10x Zoom is amazing. You won't be able to take your eyes off it.
OPPO Reno 10x Zoom's shark-fin rising camera starts off fast and then slow down so as not to wear down the mechanism too quickly. However, you don't need to worry about it as the company claims that the rising camera has been tested 200,000 times and that's around 5 years of continuous usage – even if you click 100 selfies a day.
4. 10x Lossless Zoom
One of the biggest highlights of OPPO Reno 10x Zoom is right in its name. Yeah, the smartphone comes packed with a triple camera module, including a 'periscopic telephoto lens' on the rear, giving you the ability to get closer to subjects with the 10x Hybrid Zoom capability.
The 10x Hybrid Zoom feature opens up new possibilities for photography enthusiasts as they are no longer require to go closer to subjects. Instead, they can now simply point the camera at the subject and zoom in order to get crisp and sharp pictures with the 10x Hybrid zoom. OPPO Reno 10x Zoom combines all three lenses together in order to produce the 10x Hybrid zoom, you can check out the same on our Instagram page right here.
The 13MP (f/3.0) telephoto lens, along with the primary 48MP (f/1.7) lens, also has OIS baked in to make it possible for you to click hand-held 10x zoom pictures with ease – by reducing the stutter or motion that creeps in when you zoom onto objects. The phone is capable of producing 60x digital zoom and it pits OPPO Reno against the Huawei P30 Pro. You will get a similar feature for almost half the price, isn't that great?
5. Flagship Internals
Apart from all the goodness we just talked about, OPPO Reno 10x Zoom packs flagship internal specifications to round up the kitty. OPPO Reno 10x Zoom is powered by the Qualcomm Snapdragon 855 chipset, based on the 7nm architecture, and is coupled with up to 8GB RAM and 256GB storage. This means OPPO Reno 10x Zoom has the raw power to handle everything you throw at it on the daily.
On the other hand, if you're a gamer who has caught the PUBG Mobile fever, well, OPPO Reno won't disappoint. You will be able to game at the highest settings without worrying about the phone heating up, thanks to the triple-cooling technologies in tow. OPPO Reno 10x Zoom is equipped with a triple cooling control that's composed of a thermal gel, graphite, and copper pipe cooling tech to keep the smartphone's temperature under check while you enjoy your game video streaming experience, which is awesome to have at this price tag.
OPPO Reno: 10x Zoom, Shark-fin Selfie Camera, and a Lot More!
With the cut-throat competition in the Indian smartphone market intensifying day-by-day and phone makers gunning for a larger share of the pie, the entry of Reno 10x zoom makes quite a strong platform for OPPO. This smartphone brings all of the flagship features that one desires such as a panoramic screen and ultra-thin bezels, a powerful set of cameras, and capable chipset for a justifiable and worthy price tag of Rs. 39,990 for 6 GB RAM and 128 GB ROM and Rs. 49,990 for 8 GB RAM and 256 GB ROM.