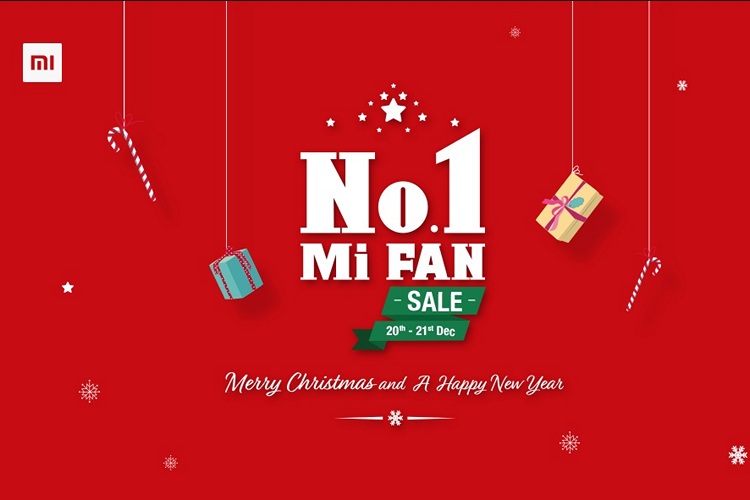 Xiaomi has announced its 'No. 1 Mi Fan' sale that will be held on December 20th and 21st. As part of the festivities, the company has announced grand discounts and special promotional prices on many of the products on its portfolio, including smartphones, power banks, cases, accessories and more.
The company has also announced a new model of the Mi A1 Android One handset that will be offered at just Rs. 12,999 during the two days. Called the 'Mi A1 Special Edition Red', the device joins the existing Mi A1 lineup that includes Black, Gold, and Rose Gold color options. As you'd expect, the device comes with the same exact internal hardware that can be found on the other versions.
In case you're interested in the various deals and discounts available during the Mi No. 1 Fan festivities, here's what you need to know:
₹

1 Flash Sales
Xiaomi Redmi 5A with 2GB RAM, 16GB storage (Gold)
Mi VR 2 Play (Dark Grey)
Mi Router 3C (White)
Redmi Y1 Lite (2GB RAM, 16GB Storage (Gold)
Mi Wi-Fi Repeater 2 (White)
Mi Band – HRX Edition (Black)
Discounted Smartphones
Mi MIX 2 – At Rs. 32,999 (6GB, 128GB), Rs. 3,000 off
Mi Max 2 – At Rs. 12,999 (4GB, 32GB), Rs. 1,000 off
Xiaomi Redmi Note 4 – At Rs. 9,999 (3GB, 32GB), up to Rs. 1,000 off
Redmi 4 – At Rs. 8,499, up to Rs. 1,000 off
Redmi Y1 Lite – At Rs. 6,999, flat Rs. 1,000 off
In case you are looking to pick up original Xiaomi accessories, you will be able to do so from the company's online accessories store at a discount of up to Rs. 500.
Discounted accessories
20000mAh Mi Power Bank 2i – At Rs. 1,499, Rs. 500 off
10000mAh Mi Power Bank 2i – At Rs. 799, Rs. 400 off
Mi Band HRX Edition (Black) – At Rs. 1,299, Rs. 500 off
Discounted Earphones and Headphones
Mi In-Ear Headphones (Basic Matte) – At Rs. 499, Rs. 100 off
Mi Capsule Earphones – At Rs. 899, Rs. 100 off
Mi In-Ear Headphones Pro HD – At Rs. 1,799, Rs. 200 off
Mi Bluetooth Speaker Basic 2 – At Rs. 1,799, Rs. 900
Mi Bluetooth Speaker mini – At Rs. 899, Rs 400 off
Discounted 'Smart Home' Products
Mi Router 3C – At Rs. 999, Rs. 200 off
Mi Wi-Fi Repeater 2 – At Rs. 799, Rs. 200 off
Miscellaneous Products and Accessories
Mi Band Strap HRX Edition – At Rs. 199, Rs. 100 off
Mi Business Backpack – At Rs. 1,299, Rs. 200 off
Mi Crewneck T-Shirt (Black) – At Rs. 499, Rs. 50 off
Mi Car Charger – At Rs. 699, Rs. 300 off
Mi VR Play 2 – At Rs. 1,299, Rs. 200 off
---