Gaming laptops in 2022 are flooding the market. With every manufacturer offering a particular mix in their product, it's tedious to sort the variety and pick the most standout option. MSI is one of those companies and for years has remained one that provides performant gaming tech without taking a big chunk out of the pocket. And if you're a gamer who wants nothing but the best, MSI is certainly the way to go. And as the festive season draws near, gaming laptops are poised to become more affordable. MSI, however, has gotten a headstart on that and is offering a good amount of discounts on MSI Crosshair 15, a specialized series of gaming laptops with a beautiful design and powerful specs. So let's look at why the Crosshair 15 series from MSI can be the perfect companion for all your gaming needs in 2022.
MSI Crosshair 15: Competitive Gaming at Great Value (2022)
Inspiring Gamer-esque Design
Everyone wants their gaming machine to have a design that is appealing and stands out. Fortunately, MSI Crosshair 15 is a gaming laptop that does that job brilliantly. Catching the eye of Rainbox Six Extraction fans right off the bat, the design of the Crosshair 15 focuses on the game and its intricacies. The chassis of the laptop itself is made out of robust plastic that wraps around the machine but its design has been elevated in various ways.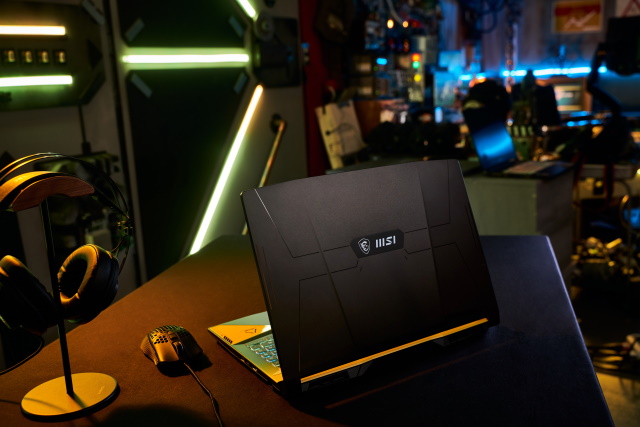 The exterior design of the laptop is a mix of gaming aesthetics and general cool style. The exterior lid houses an armor line contour design that zeroes in on the MSI logo in the middle. The bottom of the laptop has been intentionally shaped to resemble a hive. And if you are the type of gamer who loves to see their internal components, the bottom also has gaps so you can gaze at MSI Crosshair 15's heat pipes.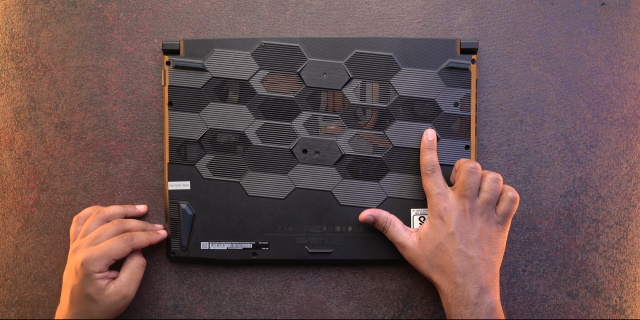 Opening up the laptop brings even more gamery goodness. The top half of the keyboard deck is colored yellow, and it flows into a gradient that features the official Rainbow Six extraction colors. The base of the laptop near the trackpad features the REACT logo and its full form in a lamination. MSI has paid special attention to the laptop's keyboard as well.
The sci-fi illuminated spectrum backlit keyboard has a custom color profile designed according to the game. Even the WSAD keys have a translucent yellow design to make them stand out. The rest of the keys while normal have different backlit colors corresponding to the game's overall gradient of blue, yellow, and green.
If all those awesome design choices aren't enough for you, then you will be glad to know that the MSI Crosshair 15 comes in two different variants. The Crosshair 15 limited edition comes with even more standout Rainbow Six Extraction design elements to make your machine stand out.
When it comes to portability, the Crosshair 15 is a bit on the heavier side reaching near 2.5 Kgs. However, this weight is also due to the fact that MSI has given a high ground clearance for optimum cooling, which takes priority. Considering that the CrossHair 15 packs extremely powerful components and a design like this, its slightly heavier weight can be reckoned with.
As a seasoned gamer who loves machines that make their mark on the design front, the Crosshair 15 manages to tick the right boxes for me. And I appreciate the appeal behind the R6 Extraction theme and would love to carry this beast around with me.
Top-of-the-Line QHD 165Hz Display
One of the most important aspects of any laptop is its display. And if you are a user looking to buy a gaming machine, a mediocre display will just not do. Thankfully all the variants of the MSI Crosshair 15 only offer the very best. All the models of the Crosshair 15 come with a 15.6-inch QHD IPS (2560 x 1440) display that supports a 165Hz refresh rate. This display delivers 1.77 times more pixel density as compared to standard FHD displays. You also get your much-loved 16:9 aspect ratio.
When it comes to actual panel quality, the display comes with a 100% DCI-P3 color gamut, which makes it perfect for not only gaming but consuming entertainment regularly. From my own experience, 4K shows and videos delivered beautiful and vibrant colors without taking anything away from the Crosshair 15.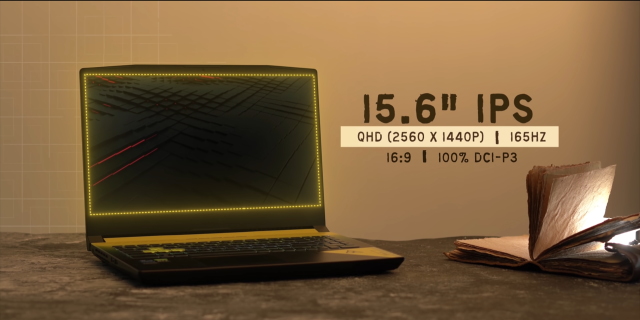 This excellent color accuracy carries across the display's viewing angles, which are pretty good from all sides. The black toning itself also is fairly well, so you can watch dark scenes without any issues. You also get support for 300 nits of peak brightness, which will be more than enough to day to day working and gaming.
The Crosshair 15 packs a display that manages to fall right into the sweet spot of gaming and entertainment. Packing a laptop with a good QHD display under the Rs 1.5 lakh umbrella is not something every company does but MSI is the exception here. If you're a serious gamer looking for that high refresh rate or just a casual user looking to watch Our Planet, this Crosshair 15 will do.
Excellent Gaming and Thermals
And now we talk about the centerpiece of any gaming laptop which is the actual gaming performance. As mentioned above, I regularly play Rainbow Six Siege and have been for a few years now. And if you have ever played R6, you know how important high FPS is and any stutter can mean defeat.
The MSI Crosshair 15 laptop I tested packed an Intel 12th Gen i7-1200H with 14 cores and 20 threads. Coupled with it was an NVIDIA GeForce RTX 3070 with a huge 140 Watt TGP. The laptop tops that off with 16GB DDR4 RAM and PCIe Gen 3 SSD. There's also a lower-end variant with RTX 3060 GPU available in India.
And as you might be able to tell already from the internal hardware, the gaming performance on MSI Crosshair 15 is legendary. Playing R6 Siege at QHD resolution at Ultra Settings was a delight, and I clocked around 100+ FPS all the time with the game hitting 120 FPS too. To get even higher FPS, I lowered the resolution to FHD and instantly got a massive boost up to 200FPS, which immediately crossed the display's 165 Hz refresh rate.
However, I do know that most gamers also indulge in AAA games, which is why I also booted up Far Cry 6 on the Crosshair 15. Running at QHD at Ultra settings, I got around 74 FPS with the frames always stating above 60. Since FC6 is a very demanding game, 60+ FPS on 2K resolution is no small feat. I got the same level of performance with R6 Extraction while running on 2K Ultra settings.
A big reason why I got consistent frames on the laptop is because of the excellent thermal design of the laptop. MSI has built a specialized Cooler Boost 5 solution for the Crosshair 15 series. Packing 2 fans with 6 newly designed thin heat pipes, the laptops remain cool even during the heaviest moments.
Fortunately, this claimed thermal performance does match real-life statistics. All throughout my gaming sessions, the GPU and CPU temps never reached above 75 Celsius, which is well below the safe zone. This excellent cooling also means I could easily hit a keyboard combo to send the cooling to the max to keep the entire machine cool.
MSI Crosshair 15 is a gaming laptop that is chock full of powerful hardware and manages it well. While high-wattage GPU options mean your games will always have power, you can also rely on excellent thermals to keep things cool. So no matter which title you play, you will always get the best FPS possible.
Is MSI Crosshair 15 Value for Money?
At the end of the day, the value for money factors boils down to your own metrics. However, as far as gaming laptops go, vital components that should fit the bill are display, performance, and design. But cramming all that in a portable machine and especially under a moderate budget can be hard.
For gamers who wish to buy the most value-for-money laptop around 1.5 lakhs, the MSI Crosshair 15 ticks all the right boxes. Including a large gorgeous color-accurate QHD display, the Crosshair 15 is perfect for gaming and entertainment. Speaking of gaming, the i7-12700H combined with high-wattage Nvidia RTX 30-series GPU variants gives excellent performance. So no matter if you're a gamer or a working professional, the MSI Crosshair 15 will prove its worth to you.
The MSI Crosshair 15 series normally starts from Rs 1,56,990 that comes with an Intel i7-12700H and an RTX 3060. An RTX 3070 variant is also available at a price of Rs 1,79,990 for the extreme package. If that seems too much, MSI is actually offering discounts up to 30% on selected models, which means you can get the Crosshair 15's 3060 variant for Rs 1,21,990 (standard price: Rs 1,29,990).
MSI Crosshair 15 Give Other Laptops a Run for Their Money
The MSI Crosshair 15 has proven to be a gaming series that balances its performance and price ratio quite well. With a healthy mix of good components tagged at an affordable price, this is a series you can go for without any second thoughts. Gamers looking for a different design and more horsepower can check out MSI's promotional page linked above for some amazing discount deals. Here you will find the likes of the MSI Pulse GL, Katana GF, Sword, and even the Thin GF series on discount. However, note that the deals will not last forever, so make sure to act fast and grab this beast. And if you already have Crosshair 15 by your side, let us know your experience in the comments below!