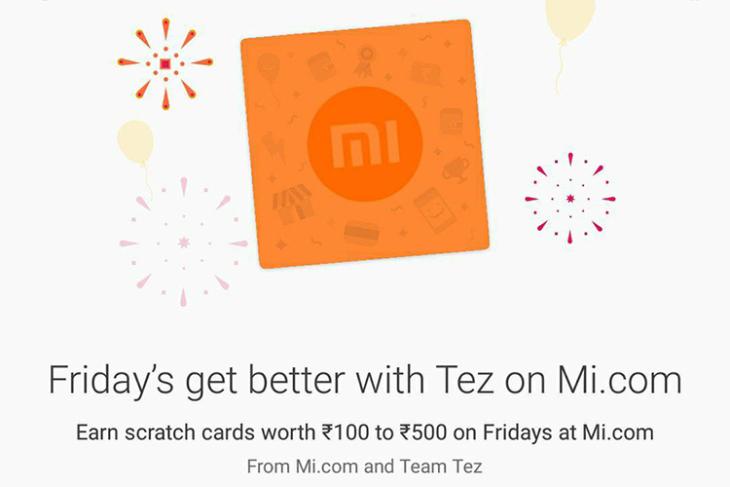 Google's UPI-based payments app Tez offers a bunch of rewards to its users for using the app to transfer money, pay their rent, utility bills etc. The rewards come in the form of Tez's trademark scratch cards with which users can stand a chance to win money that is directly transferred to their account.
The Tez Team has now partnered with popular smartphone manufacturer Xiaomi to offer scratch cards for purchases made on Mi.com. The rewards offer gives the user a chance to win scratch cards worth Rs. 100 to Rs. 500 for purchases made on Mi.com every friday. The offer details as mentioned in the app are as follows:
"Every Friday, from now until the end of 2018, earn scratch cards worth from Rs. 100, up to Rs. 500 on your Mi.com purchases when using Tez as your form of payment. Applicable on payments over Rs. 5000."
However, as always, there's a catch. Users will be able to win one scratch card reward per day and a total of four until the end of the offer on December 31, 2018. Another thing worth noting is that the offer is not valid for users in Tamil Nadu, as per the Tamil Nadu Prize Scheme (Prohibition) Act of 1979.
The requirement of purchases being over Rs 5,000 means you cannot just buy new products such as the Mi Smart Scale, and may have to combine it with other devices to make the cut.
Google Tez has seen a massive bump in adoption since its release, thanks in part to the unique reward system and a bevy of new features. Google recently started rolling out a simple new chat feature for the app which aims to facilitate communication between users during a transaction.