If you own a computer that is placed at a distant location, out of your reach, you might be worried about access to its files and programs by other people able to access it. If you are looking for a solution to control your system remotely from a far location to prevent any unauthorized access or to protect your children or any other user from performing certain actions, then SniperSpy is a perfect solution for you. With this tool, you can easily monitor your computer from a remote location and view activities performed on it live through the internet.
 Along with this you can also keep a check on Facebook and other social media activities and filter out unwanted or explicit content over the internet. A fast speed of control allows you to send instant commands to your computer and thus, have an overall control over your system, even when you are not able to touch it. This software is available for users of Mac as well as Windows based systems and offers many features that most of the remote control and spying softwares fail to provide. A recent update to the version 8.0 of the software is launched with a new set of features to make your monitoring activity easy, more secure and effective.
Features of SniperSpy
SniperSpy offers a number of features for its users to control and monitor a far located system effectively. Different features offered by this software are divided into different categories including activity logging, content filtering, live monitoring and other features. Different features of this software are described as below.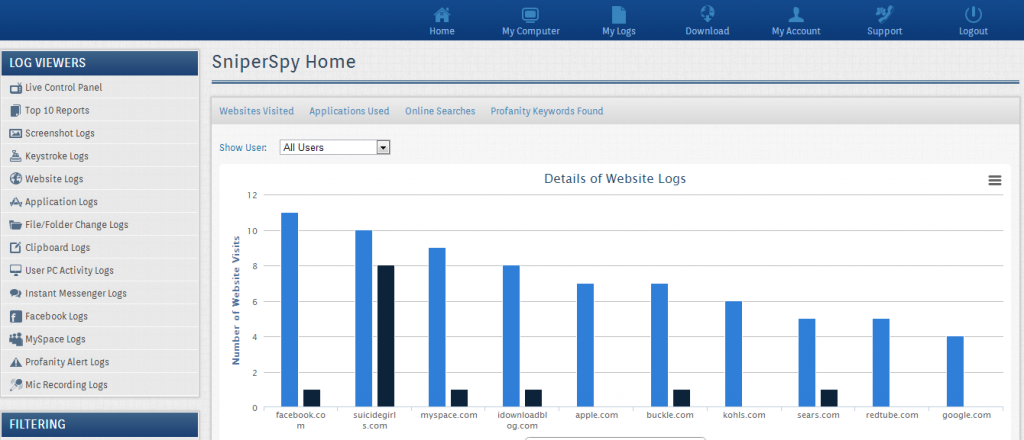 Activity Logging: With a silent functioning, this tool can log all the activity on the target system, which are then uploaded to the control panel. You can access the control panel easily by logging into your account from anywhere in the world. Different activities that can be performed under this category are listed as below.
Capture actual screen shots
Record surrounding sound using the system's microphone
Record websites visited and keystrokes
Access logs for Facebook, MySpace, User PC activity, clipboard and profanity alerts
Record actual PC location, chat conversations and details of applications executed
Changes made to files/folders, email and archive logs are also recorded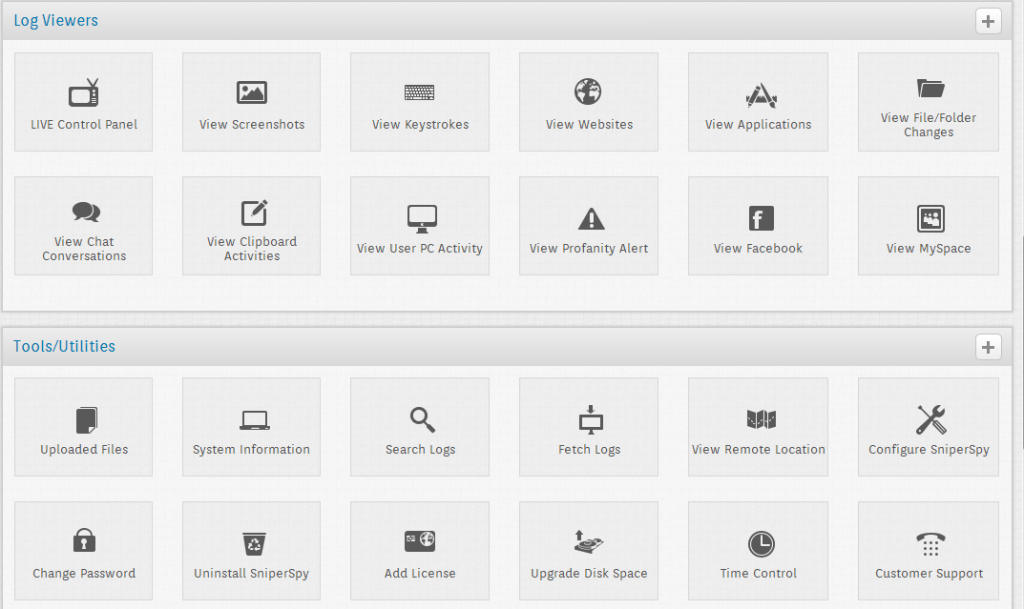 SEE ALSO : Top 5 Affordable Tablets With Voice Calling Feature
Live Monitoring: Along with different activity logs recorded by the software, it also offers you to monitor your system live and send instant commands to the system for performing different tasks. The Live Control Panel has been improved to provide a faster response and thus, offer a better service. Several features covered under this category are given as below.
Real time view of the system's screen, keystrokes and webcam snapshots
Remote file browser along with search functionality
View list of active processes and launch desired web address or application
Hide taskbar and desktop icons
View live events and recent documents
Browse through files uploaded over the internet and access bookmarks
Send an alert message to the user or remotely send a command for system shutdown/reboot/logoff.
Content Filtering
With this feature of SniperSpy, you can completely control all the activities performed by the user over the remotely monitored computer. Different filter and control services offered by this tool are covered under this category and are listed below.
Block certain applications or messengers from being used on the system
Block desired websites and social media sites and content from being accessed by the user
Set the time control feature to allow only a dedicated time for the user to be able to use the computer.
Other Features: Along with the above mentioned features, other features offered by this tool include a secure access along with ability to modify security settings of the system. With many logs and filtering features, this tool can be remotely uninstalled from the target system as well.
SEE ALSO : Samsung Galaxy Round Specifications, Features and Launch Date
About the Company
Retina X-Studios is a professional service provider offering PC monitoring softwares to its customers. With the use of modern technology, advanced testing and regular updates, its customers are ensured for stable and highly secure monitoring tools.