Can't log in to your Roblox account or the captcha won't load? Nowadays, such issues are becoming common for the Roblox community with no permanent solution in sight. Furthermore, most of the time you can't even find the cause behind such issues, which makes them even more frustrating to deal with. So, let's put an end to this situation and figure out how to fix all the Roblox login issues in no time.
Roblox Login Issues (2023)
Why Can't I Log Into My Roblox Account?
There can be several issues that can prevent you from logging into your Roblox account. Some common ones include:
Corrupted Browser Data: Corrupted cookies on cache files of the Roblox website can prevent you from logging into your account.
Internet Settings: Custom internet settings can block the Roblox servers from connecting to the internet and loading all requirements for safe login.
Account Restriction: If your account is undergoing a ban then Roblox's servers might prevent you from logging in. This commonly happens alongside the Roblox error 267.
Hacking: Hackers can gain access to your Roblox account and change its login details to prevent you from logging in.
We already have a guide to help you get back a hacked Roblox account in no time. But, if that doesn't apply to your case, keep reading to find a solution that works for you.
Fix Common Roblox Login Issues
Let's go over different common Roblox login issues along with their fixes.
1. Roblox Server Down
If the official server of Roblox is down or under maintenance, you can not log in to your account until it the server comes back online. So, before you try other solutions, make sure that Roblox's servers are up and running as per their official server status website (here). If the server is down, you should wait for a few hours before trying to log in again.
2. Allow Captcha
To keep the bots at a bay, Roblox makes its users solve a captcha while they login into their account. However, your interest settings can block the third-party websites responsible for the captcha. So, make sure that both of the following domains are allowed by your internet:
.arkoselabs.com
.funcaptcha.com
Usually, domains get blocked due to custom proxy settings, unexpected firewall restrictions, or interfering browser extensions.
3. Disable Browser Extensions
At times, some browser extensions including, but not limited to, ad blockers and VPN can obstruct the connection between Roblox and its authentication services. So, if you suspect that might be the case, we suggest you try logging into your account in a private browser tab. The usual shortcut for the same is the "Ctrl + Shift + N" keys.
If you can successfully open your Roblox account without facing any login issues in the private tab, it's time to uninstall extensions one by one and single out those causing problems.
4. Clear Temporary Internet Files and Cookies
If disabling your extension doesn't fix the Roblox login issues, chances are that the browser's temporary files might be the real culprit. The purpose of these cache files and cookies is to make Roblox's website faster to load and your experience smoother. But their corruption can prevent you from logging in to your account. Here's how to fix it:
1. First, go to your browser's history settings. In most browsers, such an option is present in the main menu or the ellipses (three dots) icon. Alternatively, you can also try using the "Ctrl + H" keyboard shortcut.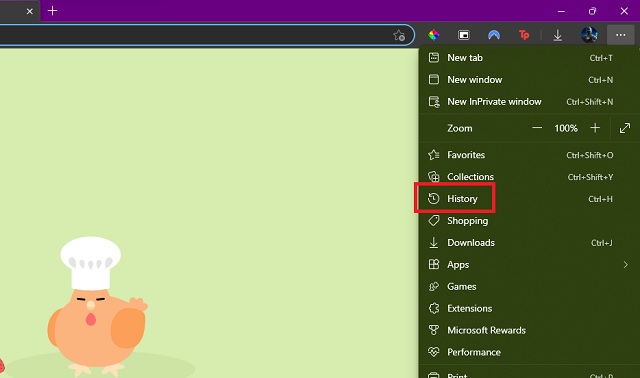 2. Then, click on the "Clear Browsing Data" option.
3. Next, a pop-up will appear asking you to select the type of data you want to clear. Here, make sure to select the "Cookies" and "Cached files" options. Then, click on the "Clear now" button.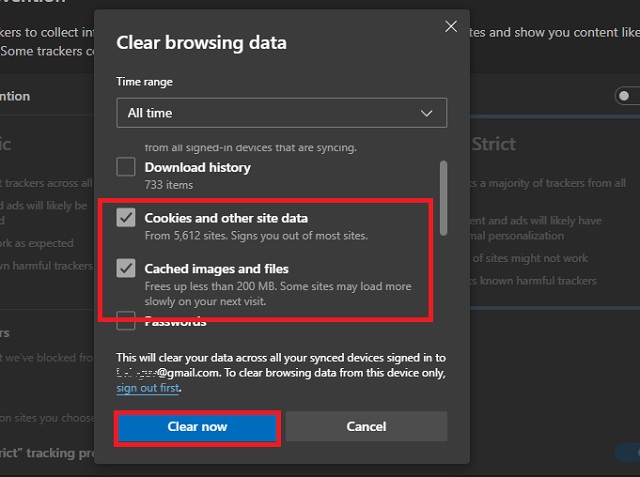 If you have any confusion or doubts, we suggest you explore our dedicated guide to clear browser data on all popular browsers.
5. Fix Date and Time Mismatch
While this is rare, many users use custom dates and times on their devices that don't match their time zone, which can lead to Roblox login issues. This usually happens while you are traveling, and your date and time aren't automatically updating, as per your time zone or when you change your date or time manually.
To fix this issue, you need to turn on your location settings and set the date and time to update automatically. If you manually changed the date or time, we suggest you fix that too before trying to open Roblox. We already have a dedicated guide to changing the date and time on Windows 11, the platform that faces this issue most commonly. Refer to the guide if you get stuck at any step.
6. Open Appropriate Ports
Another uncommon but possible Roblox login issue is your system's UDP port settings. The User Datagram Protocol (or UDP) port is a set of communication rules that your system follows to accurately transfer data between your computer and various websites. Imagine it like sending letters, where UDP assigns "port numbers" to each letter to ensure it is delivered correctly. But if certain port numbers are closed, then you won't be able to send or receive letters aka data from those ports.
This issue usually arises if the system has an external administrator or custom Internet settings, like in a school. To fix it, make sure that the range of 49152 – 65535 UDP ports is open. In most cases, you will have to contact your system administrator or internet handler to ensure the same.
7. Account Restriction
Lastly, if none of the above-mentioned solutions work, then chances are that Roblox itself might be preventing you from logging in to your account. This usually happens when you violate their guidelines or do suspicious activity on any Roblox experience. However, attempts at hacking your account and false reports about your account can also lead to the same.
Unfortunately, there is no way to fix it manually. If your account is restricted, your best option is to contact the Roblox support team (here). Though, if you know the duration of your ban, it's simply best to wait it out rather than look for alternate solutions for it.
[FIXED] Can't Log in to Roblox Account
With that, you are now ready to fix annoying login issues and get access back to your account in no time. However, this isn't the end of the issues that come with playing Roblox. Lucky for you, we already have a guide in place to fix common Roblox game issues in no time. Then, once Roblox is up and running, it's time to invite all your friends and try some of the best Roblox multiplayer games. With that said, which fix got you access to your Roblox account? Tell us in the comments section below.