Every time an Amazon Studios original series wins a Golden Globe, Amazon sells more shoes. We're not making this up and the statement was, in fact, made by the Amazon CEO, Jeff Bezos, in 2016. Since then, the situation has only gotten better and that is clear from Bezos' booming net-worth. Amazon's strategy of inviting more shoppers to its main business by offering them video-on-demand service along with two-day delivery benefits is actually working, and very well at that.
As per documents acquired by Reuters, nearly 5 million people bought the Prime membership for its video benefits and in turn shopped more in early 2017. This psychological hack seems to be bringing Amazon great gains. Moreover, "Prime Originals" or exclusive shows available only on Amazon Prime Video attracted as many as one-fourth of the sign-ups between 2014 and 2017.
This is interesting information as Amazon does not share data on the performance of its shows, or the number of Prime subscribers they have brought onboard – not even to the investors.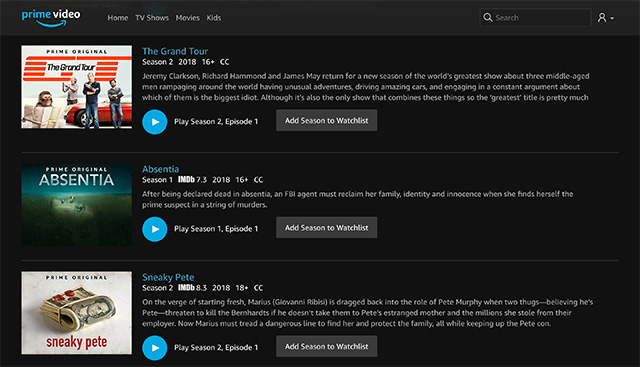 Amazon calculates the average expenditure per user by dividing the total cost of production of original shows by the number of users. It found out the average cost of acquiring a new Prime subscriber was $63 which is nearly two-thirds of the yearly subscription of $99 (or equivalent) in countries such as the USA, UK, Germany, Japan, and Austria where Amazon Prime Video was launched before its global rollout in December 2016.
This discovery gives enough evidence about why despite many shows like Transparent and Good Girls Revolt which won Emmy and similar awards, Amazon has been more interested in creating shows that bring more audience, and thus more shoppers to its website. One such show which has been successful for Amazon is The Grand Tour which features former Top Gear stars and generated an average cost of $49 per user.
Amazon is now betting on popular titles and has acquired rights to make a prequel to The Lord of the Rings saga for $250 million. Bezos also wants to create a hit drama like HBO's Game of Thrones and has a long lineup of shows using which it expects to attract many new users.
At the same time, Amazon has added a free subscription to Amazon Prime Music in the bundle and that is likely to attract many more new users.
---