I have reviewed a fair number of laptops over the last few years and most of these have been gaming laptops that come with powerful hardware in really big, bulky packages with massive charging bricks and a back-breaking weight. So when MSI sent over the productivity-oriented MSI Modern 14 A10RB (Rs. 74,990) laptop to us, everything about it attracted me. I've used this laptop for everything I usually do on my own laptop, and some things I have never done on my laptop, and I think the Modern 14 is a solid, bang-for-buck offering from MSI. Let's take a deeper look.
Design and Build
Starting off with the design, like I said, everything about this laptop is stunning. The silver-white colour, the aluminium body, the sleek design. All of it is perfect and extremely eye-catching. I'll be honest with you, I usually prefer laptops in darker colors, but MSI has done a flawless job designing the Modern 14, to the point where I'm trying to find issues with the design just so I have something to talk about.
On the outside, there's really nothing to dislike. The lid looks gorgeous, the laptop is thin and very light at just 1.2kgs. There are all the ports you would want; heck, it even opens up with a single hand.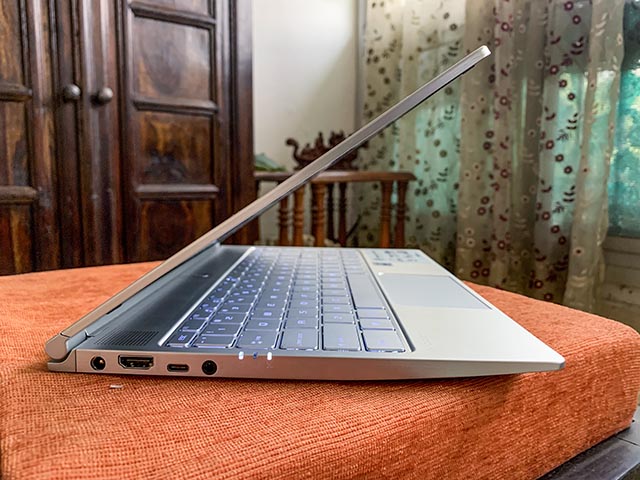 However, the one and only issue I have with this design is something I spotted when I first opened the lid. You probably guessed it — the webcam. It's placed on the bottom bezel, reminiscent of laptops like the XPS 13 from Dell, and with all of the same problems as that one including the fact that people are often looking into your nostrils while you video conference with them. This is also a pretty big deal for me right now since I have been working from home a lot due to the coronavirus scare, which means I find myself video conferencing a few times in the day and it's just embarrassing. I had no idea my nostrils looked like that from below. Ugh.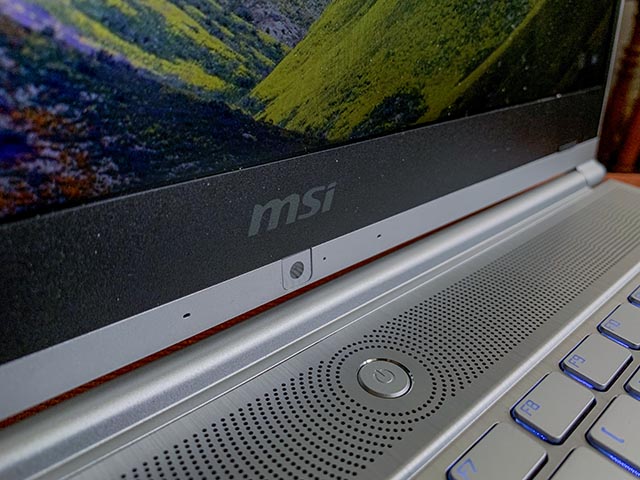 Apart from that single issue however, this laptop looks and feels awesome. The build is sturdy and strong, and it does look like the laptop can take a hit. Full disclosure, I did not, in fact, test whether the laptop can take a hit, but it does look strong enough.
Display
Speaking of things that I saw when I opened the lid, let's take a look at this display. The Modern 14 packs in a 14-inch FullHD IPS display and it's pretty nice. It's not the brightest panel I've seen on a laptop, but it's definitely more than bright enough, and sunlight visibility shouldn't be a problem thanks to the matte finish on the screen that reduces glare considerably.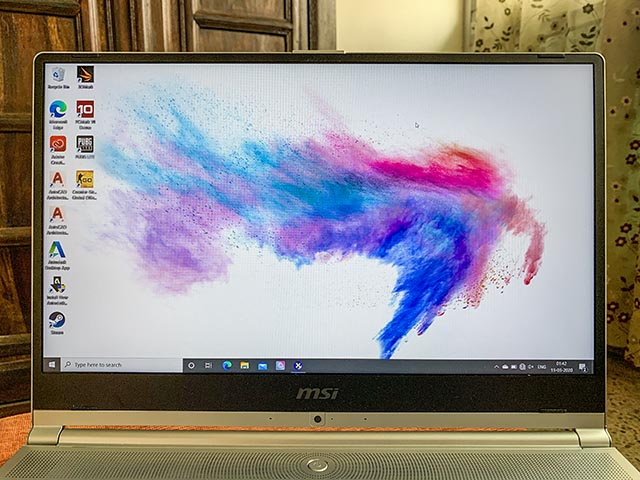 I also really appreciate companies reducing bezels around the display, and the Modern 14 does more of the same. As a result, the display looks more immersive, and the laptop can fit a 14-inch screen within a footprint that's impressively small.
What I don't really like about this laptop is the 16:9 aspect ratio of the screen. It just feels too wide for no reason, and is weird for me personally, since I consume a lot of written content on the web, and a taller screen is more helpful to my workflow than a wider one. Although, if you're a content creator, a wider screen may or may not be more useful to you.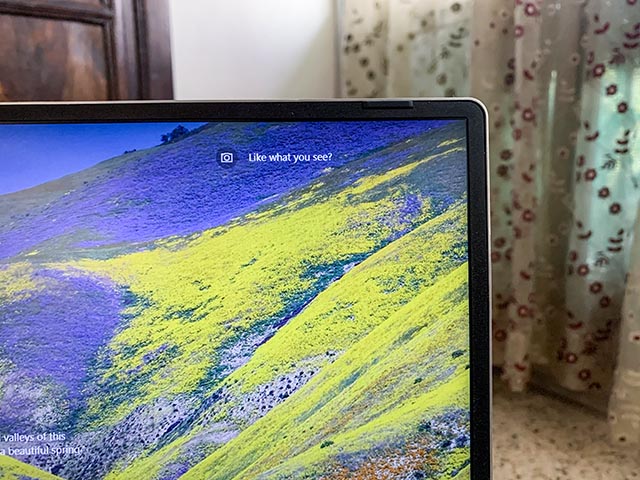 Other than that, this display gets all the things you'd expect from it. It's nice and sharp, the colors look good, even if they don't feel contrasty enough, and it also has good viewing angles — all of which is awesome. Plus, the screen doesn't flex too much like some other laptops in this price range, and that's something I really appreciate.
Performance
Alright, let's talk about the performance. The MSI Modern 14 is no slouch on paper. The laptop packs in a 10th-gen Core i7-10510U processor paired with 8GB RAM, and a 500GB SSD. There's also MX250 graphics here from Nvidia to help along with any GPU-heavy tasks. These are solid specs for a mid-range ultrabook-like laptop, and that shows in the kind of real world performance this laptop can push.
As I mentioned at the very beginning, I've been using this laptop to do everything I do on my daily driver and some things I don't do on my daily driver, and I'm happy to report that the MSI Modern 14 takes it all and breezes through it.
Obviously, the usual Chrome with around 15 tabs open, playing YouTube Music in the background kind of work is handled pretty easily by the laptop, but even with slightly more demanding tasks such as handling large photoshop files, the Modern 14 performs really well.
MSI also mentioned to us that the laptop is great for software such as AutoCAD, so I downloaded a trial for AutoCAD and since I have absolutely zero idea about how to use the software, handed the laptop to my girlfriend who is an architect to check it out. She went ahead and designed a bunch of detailed architectural plans on the laptop and was very impressed with how the laptop performed even with a huge number of plans open at the same time. There was no lag, or any kind of delay in executing commands that I can't really remember the names of, but that's a whole other story.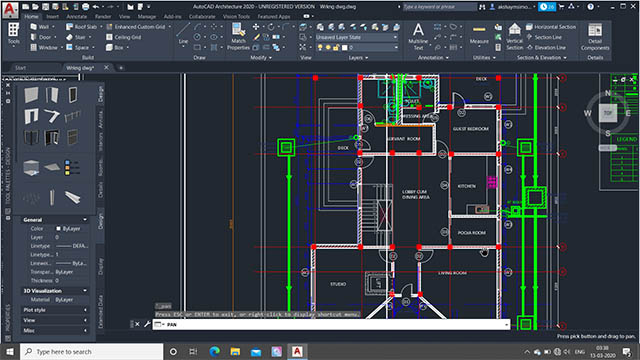 I also put the laptop through 3DMark and PCMark benchmarks to see how it performed, especially because the Modern 14 comes with the latest 10th-gen Core i7. As you can see from the screenshots below, the laptop's scores in both of these benchmarks are pretty decent and on par with what you'd expect from an ultrabook with these specs.
I didn't test out games on the laptop, partly because this isn't a gaming laptop, and partly because the kind of games you'd play on a laptop like this include CS:GO and PUBG Lite, and both those games will definitely run flawlessly on this hardware.
Keyboard and Trackpad
Of the many things I absolutely adore about this laptop, the keyboard has to be somewhere right on the top of the list. MSI has slapped on a Steelseries keyboard on the Modern 14 and it is great.
Look, I spend most of my time typing on a laptop, that's just what I do for a living, and a bad keyboard can really ruin my life. The Modern 14, however, has an amazing keyboard. The keys are big, so there's a less chance of pressing the wrong ones, and there's ample key-travel as well, which is not something I'm used to any more courtesy of Apple's butterfly switches on the MacBook Pro, but I still appreciate it.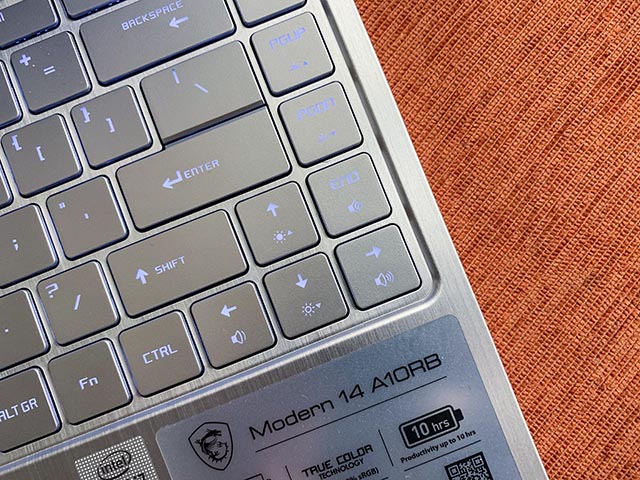 The keyboard is also backlit, which is another thing I feel is an absolute must on laptops, especially those aimed at creative professionals, because believe it or not, we do tend to spend late nights working, and a backlit keyboard is a godsend.
That said, the trackpad on this laptop evokes mixed feelings in me. It is a Windows Precision trackpad, so technically all the gestures and the ease of use are there, but it's tiny and that makes it quite difficult to actually use this trackpad consistently throughout the OS. If you're used to trackpad-based gesture navigation on your laptop, as I am on my MacBook, you'll be hard pressed to actually get much use out of this one here. What I'm trying to say, is you need a mouse with the Modern 14 to actually enjoy using it, and that's not something I like saying about a laptop.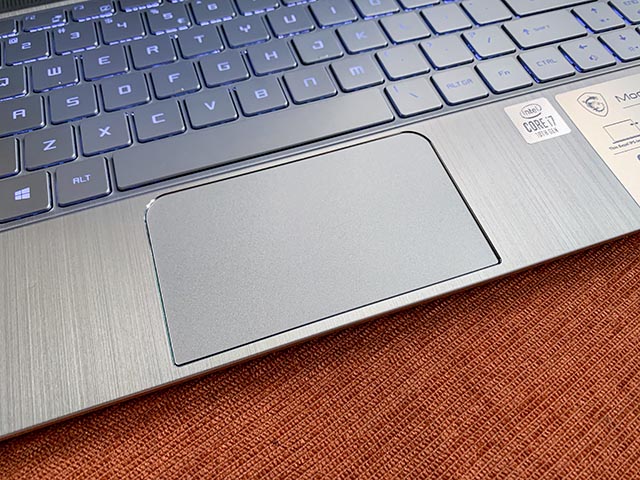 Also annoying is the fact that the trackpad kicks the OCD in me, big time. The shape here is awful. It has curved corners on the top, and sharp ones at the bottom, which is just a jarring look.
Overall though, even though I'm not a fan of the trackpad on this laptop, the Steelseries keyboard here more than makes up for it, so that's good.
Ports and I/O
The Modern 14 A10RB also comes with a wide selection of ports and I/O options so you will probably not run out of connectivity choices for your peripherals. The laptop has an HDMI port with support for 4K@30FPS video out, 2x USB Type C ports, and 2x USB Type A ports. Plus, there's an SD card reader here, because a lot of content creators, especially videographers and photographers do need that port to actually transfer data between their cameras and their laptop.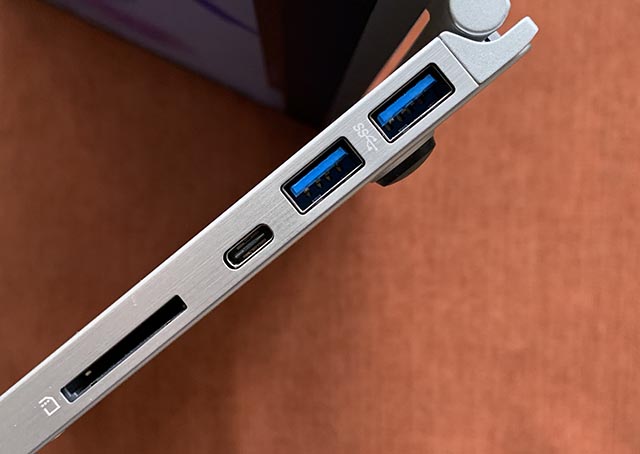 Personally, I mostly only found myself using the USB-A ports, and, on occasion, the SD card reader, but it's great to know the other options are available if you need them.
Audio
For Audio, even though the MSI Modern 14 might look like it has speakers right up top, that's a big fat lie. The speakers are actually on the bottom here which isn't great.
The laptop doesn't have the best speakers I've heard in the price range. The volume is low, even at the highest levels, and there's absolutely no bass in the sound so if you're used to watching movies or listening to songs directly from your laptop's speakers, the Modern 14 isn't going to cut it for you.
The speakers can still do an okay job in a video call if you're in a pinch for speakers or good earphones, but I would recommend investing in a pair of good Bluetooth speakers for this laptop.
Battery
Lastly, there's the battery, and this is another thing where the MSI Modern 14 excels. The laptop comes with a 50Whr battery, which isn't the biggest in the segment, but it does last long.
MSI says the laptop can last up to 10 hours on a charge, which, for someone like me, is great because I tend to move around a lot at work when I'm writing an article and carrying the charger around isn't the best option most of the time.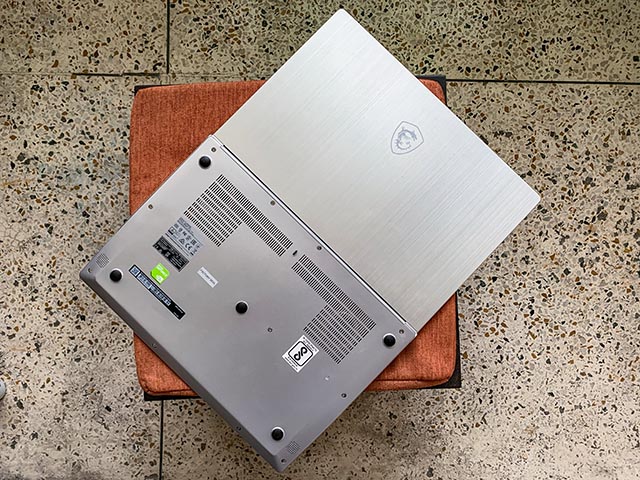 In my usage, which involves using Microsoft Edge with around 12 tabs open at all times, a session of Photoshop running alongside, and sometimes YouTube Music or Amazon Prime Music playing in the background, the laptop does last around 8ish hours, which is great. I'm sure with slightly more casual usage, the 10 hour claim will hold true, but for the most part, expect somewhere in the ballpark of 7 to 9 hours on a charge.
The charger that MSI ships along with this laptop is a 65W brick which charges the laptop from 0 to 100% in around 2 hours. So yeah, the battery performance on the laptop are pretty decent.
Pros and Cons
As it is with almost everything, the Modern 14 also comes with its own set of pros and cons.
Pros:
Lightweight and portable
Great battery life
Really impressive performance
Cons:
Speakers are disappointing
Trackpad can be finicky
MSI Modern 14 A10RB: An Amazing Laptop with Minor Issues
Everything said and done, the MSI Modern 14 A10RB is a solid laptop for its asking price of Rs. 74,990. The laptop comes with an impressive design and build, and is very lightweight which makes portability easy. It also packs in pretty solid specs, including the latest 10th-gen Intel Core i7 processor, so it's fairly future proof.
That said, there are other options you can consider as well. If you're looking for something that will let you play the latest games in this price bracket, consider going with the MSI Alpha 15, which, at Rs. 74,990 brings the Ryzen 7 processor, 16GB RAM, 1TB HDD + 256GB SSD, and an AMD Radeon RX 5500 M GPU. You can also check out the Asus Vivobook F571GT which brings a 9th-gen Core i7, but ramps up the RAM to 16GB, along with an Nvidia GTX1650 GPU for Rs. 72,990. Or you can just go with the 10th-gen Core i5 packing variant of the MSI Modern 14 that's priced at ₹52,990.
So yeah, there are a lot of choices out there, even in this price bracket. However, the MSI Modern 14 seems to bring the best amalgamation of price, performance, and portability that I have seen so far. If you're looking for a laptop that won't break the bank or your back, and will still let you do all your creative tasks with ease, the MSI Modern 14 should be on your watchlist.
---
Load More