Games are a fun way to take a break from work, refresh your mind, or simply to kill time on a long journey. We've all been there, getting bored on a long train journey, stuck in a monotonous routine at work, or just bored witless. Mobile games have always been the number one go-to solution in such situations. With the advancements in iPhone's capabilities, the rise of the A9 chip, and Apple's Metal API for game development, console-level graphics are within the reach of our beloved iPhones. However, graphics are not everything. Look to Counter-Strike, for an example of how gameplay mechanics trump graphics, especially in multiplayer games.
One of the biggest advantages that iOS has, over other mobile ecosystems, is the development environment that Apple offers. It is awesome, and is also why iOS apps are constantly updated, and iOS generally attracts more developers than other operating systems. New games are added every-day to the App Store, and are just waiting for you to try them out. We have compiled a list of all the latest games that are available in the App Store, covering a wide range of genres, ranging from Platformers, to Puzzles and even a Card game. Read on to explore the latest games that you can try on your iPhone.
Note: Most of these games recommend you to be running an iPhone 5 or newer device for optimum performance.
1. Star Wars: Galaxy of Heroes
The Star Wars franchise is one of the most well-known and loved franchises in the world, and a large number of games have been developed based on the series. Star Wars: Galaxy of Heroes is one such game, available on iOS. While the game itself is not fresh off the racks, the developers have made some radical and game changing (noticed the pun?) modifications to the game. Players can now create Guilds, and mod their heroes in the game, along with everything else that the game already offered.
Star Wars: Galaxy of Heroes is a turn based game, in which you are started off with a Hero (I got a Jedi) and are sent into battle against some "B1 Battle Droids". The first battle is a tutorial battle, where you are taught how to use the different types of attacks that your hero has, so you will almost definitely win it. The graphics in the game are good enough, and the background music is awesome. I recommend you put on headphones while playing the game, as it will make the experience that much better.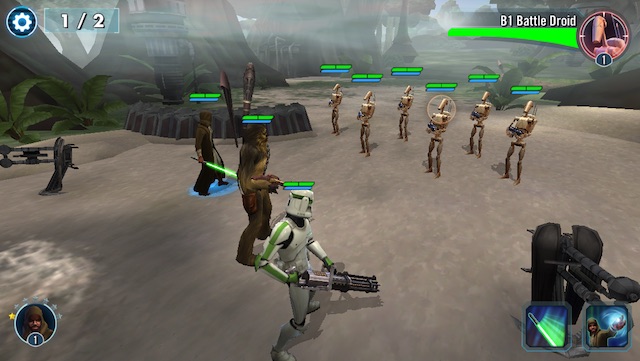 As you progress through the game, the enemies will get harder to kill, and you will encounter various "boss levels" spread out throughout the game. You can also train your team, to increase their attack, hit-points etc.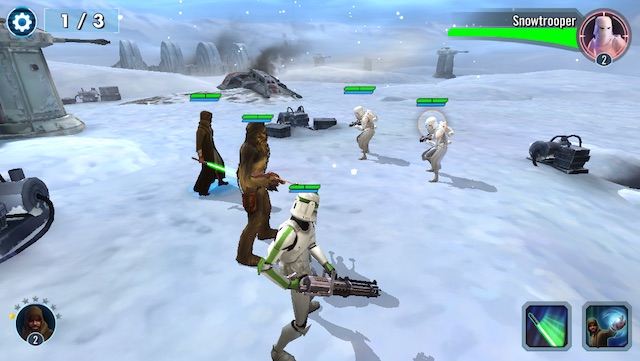 Download here (Free)
2. Hopscotch
Hopscotch is actually meant as an app that allows kids (and adults) to create games on their iOS devices using simple event-based drag and drop conditions and statements that are easier to understand for people who are new to programming. However, the app allows users to play games created by other users, as well, which basically means that Hopscotch is like a supercharged game cartridge from an old Nintendo. Jokes and nostalgia aside, Hopscotch has some really fun platformer games available to play, and you can create your own games. The app provides a large number of assets for you to use in your games.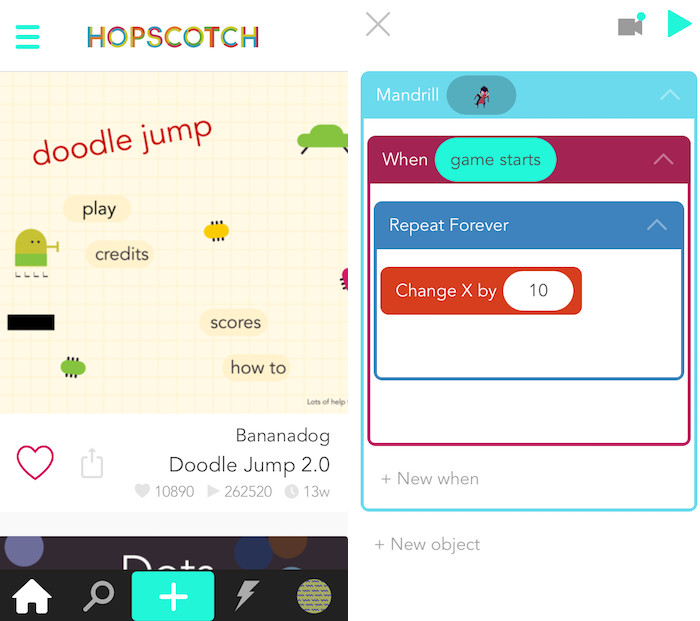 Note: Hopscotch itself is an old app, however, they added coding support on iPhones only this year, which is why we included it in the list.
Download here (Free)
3. Smurfs: Epic Run
Smurfs: Epic Run is a cute, albeit slow runner game; one, that I would probably compare with something like Mario. Smurfs: Epic Run, has really well drawn (2D) graphics, and can be an easy way to kill some time, should you need to. The game starts off with some cut-scenes showing Gargamel brewing a potion in a cauldron, and releasing it into the Smurf village, catching every Smurf in the village… almost. You manage to escape, and now are on a quest to free the captured Smurfs (that can be found in cages, when you're running). The concept is a lot like Subway Surfers, except in 2D, and the implementation reminds me of Mario. It's a good game, and will prove to be a hit, especially among kids.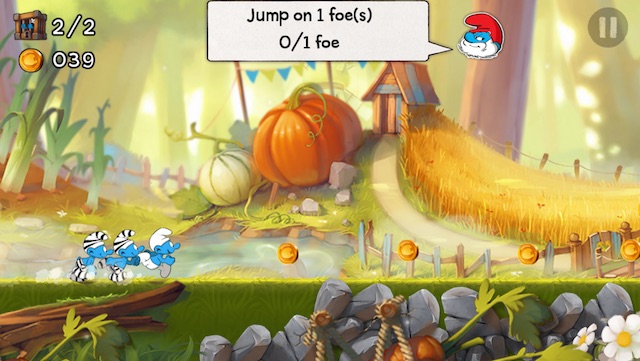 Download here (Free)
4. Klocki
Klocki is quite simply the best puzzle game available on the App Store. It's minimal in design and execution, and as such, does not even have a splash image. The game simply starts off when you launch it. The difficulty level is easy at the beginning, but starts to get pretty difficult as you progress through the game. The music is also good, creating a really nice effect, and overall impressive game.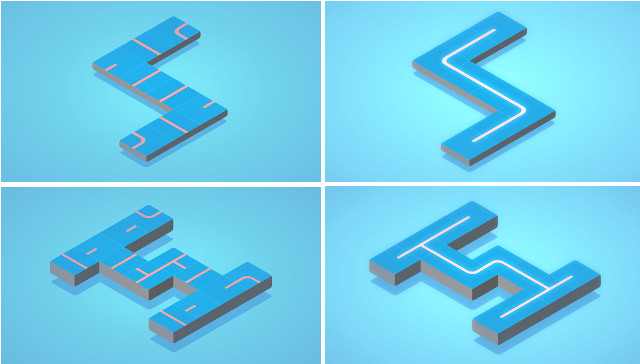 Download here ($0.99)
5. Marvel: Avengers Alliance 2
When I first saw this game mentioned in the App Store, I was really excited. Especially since it's free. Yes, it's a turn based game, just like Star Wars: Galaxy of Heroes, and I expected something spectacular, just like it. However, I was quickly disappointed by the graphics and the artwork. The sound effects and music are also not very impressive, and are nothing, as compared to the Star Wars game.
The game started me off with Hawkeye, teaching me his abilities and how to use them. The tutorial was quick and easy, and I was joined by Iron Man, for the next level. Captain America also made an appearance by the third or fourth level in the game. The gameplay is similar to Star Wars: Galaxy of Heroes, but is underwhelming, somehow. However, that's just my opinion, and you might have a different one, so I'd definitely recommend giving it a try. It's free, so you have nothing to lose by just trying it out.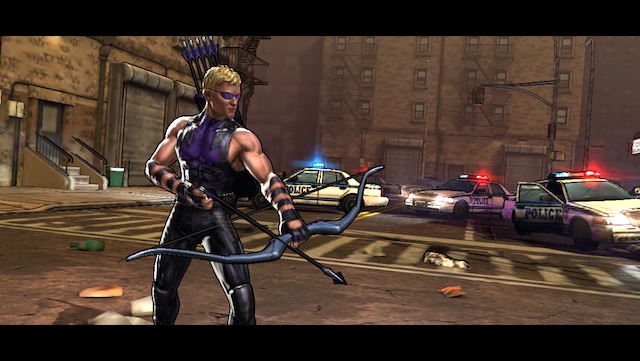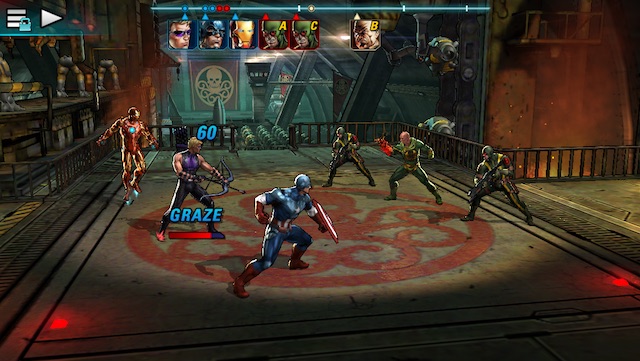 Download here (Free)
6. Hold the Jelly
Hold the Jelly is basically Ninja Jump, but with jelly, instead of a Ninja. The concept is the same, and you are started off with a cube shaped piece of jelly. Tap and hold the screen, and the jelly will stick to the wall. Release your finger, and the jelly automatically keeps jumping left and right on the screen.
The game is notoriously difficult, at least it was for me, as compared to Ninja Jump. Personally, I think it would have made for a better control scheme, if tapping on the screen caused the jelly to jump, giving the player better control over the movement of the jelly. But hey, that's just my two cents on the control scheme. The game could be a lot of fun, if you get the hang of it. I certainly couldn't, in the 5 minutes that I played it.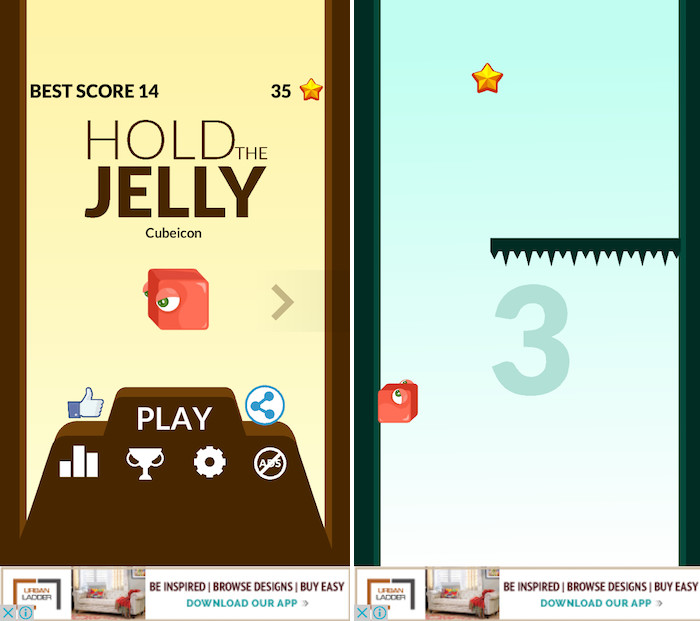 Download here (Free)
7. Through the Fog
Through the Fog is one game that I can't recommend enough. Especially with headphones on. I can't seem to be able to place in a genre, but I guess it's kind of a puzzle and adventure game. Through the Fog is surprisingly challenging, and incredibly fun. In the game, you are in control of a, for the lack of a better word, wall, that keeps moving forward. Tapping on the screen turns the wall left and right, alternatively, and you are required to manoeuvre it through a landscape with a lot of obstacles, some of which are not even visible until you are close enough.
The best part about the game is that you can play it in multiplayer mode, as well. Not just one type of multiplayer, either. No, the game offers three different modes of multiplayer gaming:
You can play with another person on your device itself.
You can play on a local network with another player, both of you playing on your own devices.
You can play multiplayer against players from all over the world.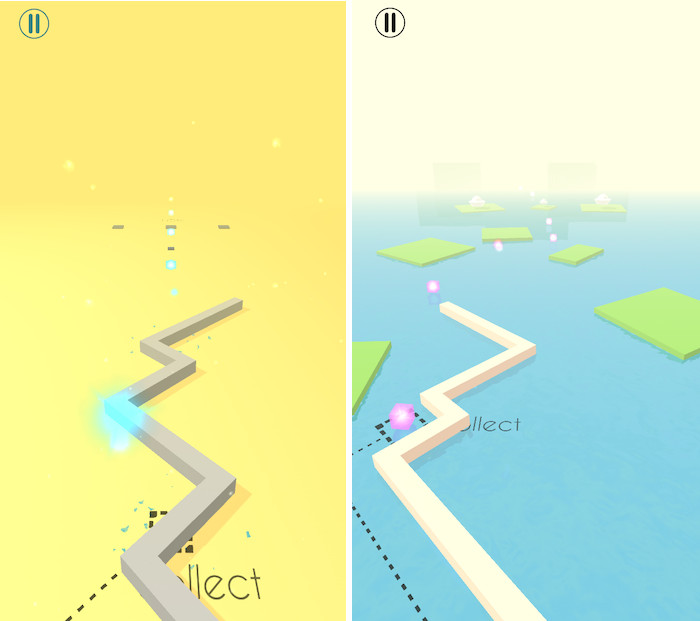 Download here (Free)
8. Crush Your Enemies
Crush Your Enemies is a fun, albeit not suitable for kids, game. You are the leader of a Barbarian clan, and are out to invade territories, kill enemy barbarians and capture their land. The game is ad-supported, but the ads are not very frequent. Between invasions, there are cutscenes which are hilarious.
Note: The language in the game is not suitable for kids. The cutscenes have a lot of expletives. You have been warned.
Graphics wise, this is one of those games that proves that graphics are not especially important to create a good game. Crush Your Enemies has graphics that would fit in perfectly with 8-bit games, but, somehow, the game is rather fun to play. The cutscenes are fun to watch, but can be skipped in case you don't want to watch them.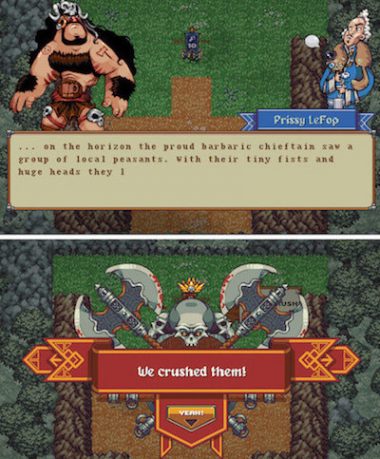 Download here (Free)
9. Galawars
Galawars is a game that will test your skills at recognising patterns and finding gaps. The aim is simple: get your spaceship from the bottom of the screen to the top. However, blocking your way, are a number of obstacles that keep moving, constantly. You need to time the launch of your spaceship in such a way that it doesn't collide with any of the objects as it moves up the screen. The obstacles keep increasing in number as you progress in the game, making Galawars one of the more challenging games I have played in a long while.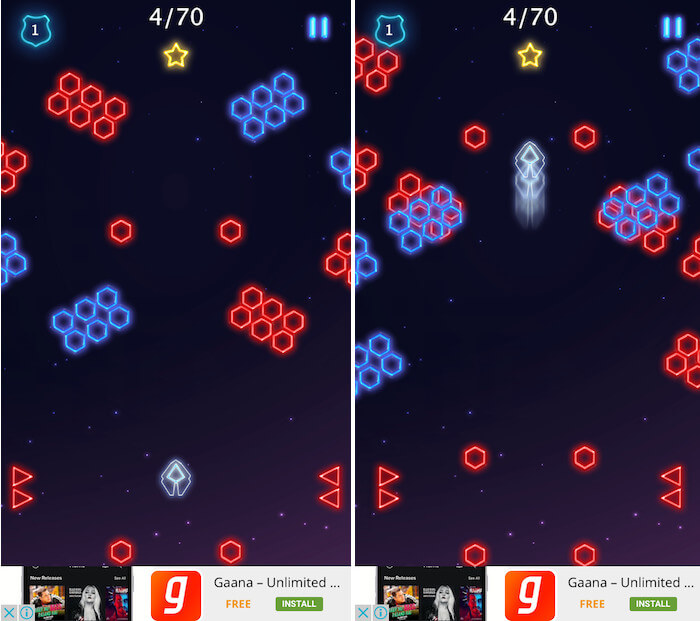 Download here (Free)
10. FIE Swordplay
FIE Swordplay is a fencing game. You play as a participant in a fencing championship. The game starts by teaching you the basic movements you can do, and then teaches you how to attack your opponent and parry their attacks. I didn't expect it, but the game is slightly addictive, and definitely fun, especially if you like sword-fights. The graphics are decent, and the movement of the players is really well done. The game is featured in the App Store's "New Games We Love" section, and playing it will tell you exactly why.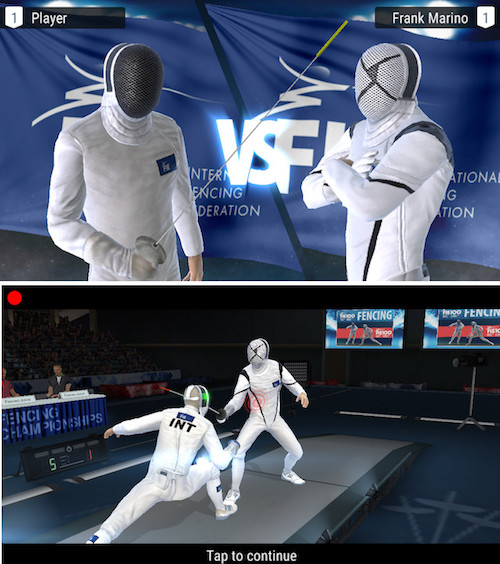 Download here (Free)
11. Batman: Arkham Underworld
By far the best (as in, most fun) game I played while curating for this list. Batman: Arkham Underworld gets almost everything right, in a game for a franchise that's as big as Batman. Instead of using a turn-by-turn gameplay, like we saw in Star Wars, and Avengers; Batman: Arkham Underworld gives you complete control over how to deploy your troops, and for special characters such as Riddler, you get to decide when to use his special abilities.
In the game, you play as the villains – power hungry, and looking to control Gotham. The game teaches the basics of deploying thugs by making a tutorial out of you helping Riddler escape from Arkham Asylum. You can buy stuff from the black market (obviously!) and use it to improve your hideout, while attacking enemies in your quest to establish yourself as the greatest gang in Gotham. You get to name your gang, so get creative. I went with "Suicide Squad", just because I can, and also because I was as far away from creative as one can be, when I was naming it.
Over-all, the game is fun to play. The Riddler makes witty remarks all through the various missions, making the game even better. There are cutscenes in between that you can skip, but I don't think you will.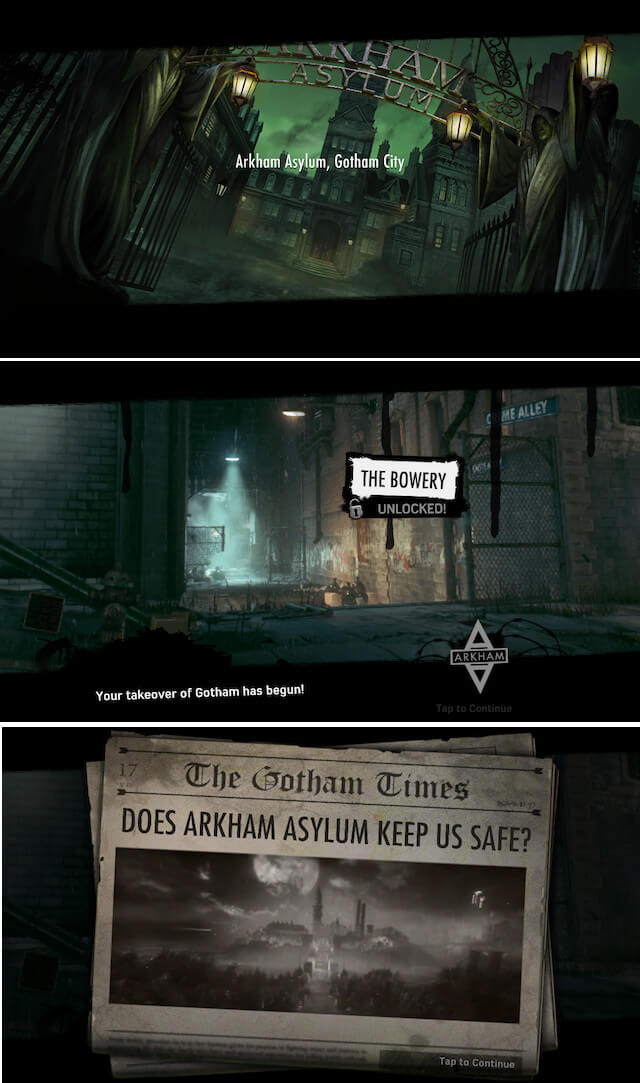 Download here (Free)
12. Politaire
Politaire sure is a funny name, and, ironically, the game itself isn't all that fun. I may be biased, not being a card-game fan, so I'd still ask you to give it a try. It must be fun, because it featured on the "New Apps We Love" section in iTunes. The game is apparently a mix of Poker and Solitaire, hence the name "Politaire". Heh, imaginative.
In the game, you are dealt a hand of five cards, and you are required to make hands. You can choose cards that you don't want, by tapping on them, and swiping them up. The game then proceeds to fill your hand with the same number of cards that you swiped out. If a hand is made, it automatically gets detected, and creating back to back hands gives combo bonuses.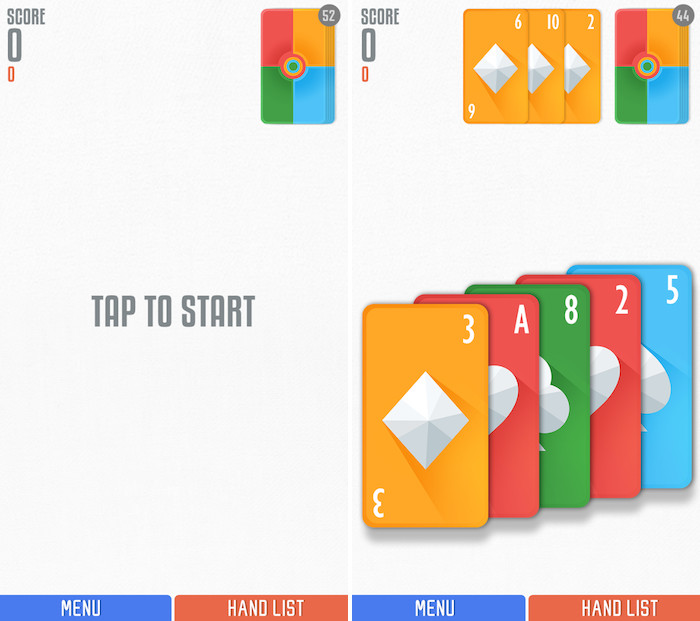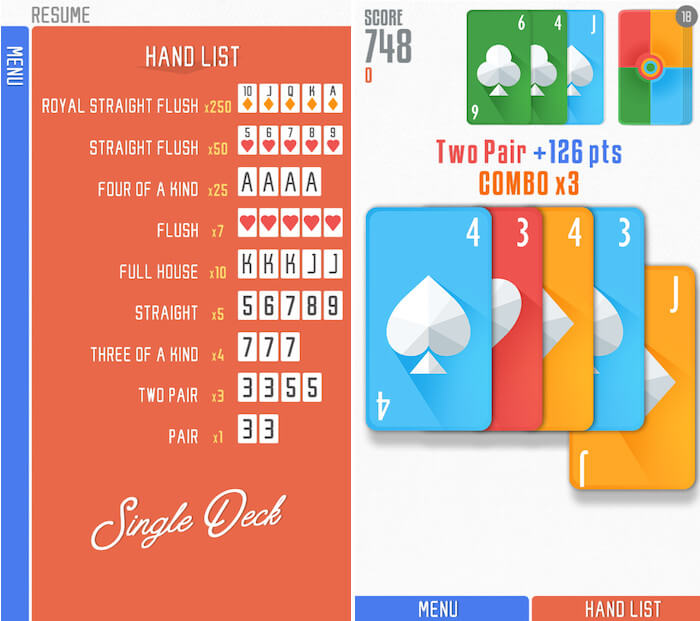 Download here (Free)
SEE ALSO: 5 More Amazing Games Like Pokemon Go
Foray Into Another World With Games
Games can be the portal to different worlds, all inside your iPhone. The next time you are bored, or just looking to refresh yourself for a bit, make sure you try out the games I mentioned in this article. If I was to pick one game that I would definitely recommend to everyone, I'd say Klocki. The puzzle game is a lot of fun, and can easily keep you occupied for a long time. Minimal in design, and without too many elements, Klocki is one game that will never cause cognitive overload, and will definitely refresh you (unless what you need to be refreshed from is solving puzzles… then, go with something like Batman: Arkham Underworld).
If you feel like I missed out on some awesome new game that definitely needs to be on a list as awesome as this, give me a shout out in the comments section; you know where it is. Until then, may the force be with you.
---
Load More