No matter what you do, your iPhone battery will degrade over time and lose its ability to hold a charge. As a result, your iPhone won't deliver the same peak battery performance as it used to offer when it was brand-new. Generally, an iPhone battery stays good for around 2 years or even longer depending on your usage and charging habits. That said, we cannot escape the fact that sometimes you might experience more battery degradation than expected and you would require iPhone battery replacement. We completely understand how annoying it gets. While it may seem to be a daunting task, it's pretty simple if your basics are sorted.
In this guide, we'll tell you everything you should know about iPhone battery replacement. Right from when to do it, how much it would cost you, and how to replace an iPhone battery. we've covered all the essentials. Without taking much time, let's get going right away.
About iPhone Batteries
An iPhone uses rechargeable lithium-ion batteries that charge faster and last longer as compared to other batteries with older technology. In addition, lithium-ion batteries have advanced features and are less prone to battery issues. That said, all rechargeable batteries are consumable components that become less effective and hold a lesser charge as they chemically age. This would leave an iPhone with a lower charge-holding capacity, offering fewer hours between charges. Also, you may experience several issues like iPhone shutting down unexpectedly, sluggish app performance, lower speaker volume, frame rate reduction in some apps, and more. Since an iPhone battery degrades over time, it becomes important to replace the battery.
When to replace your old iPhone battery?
Before you know the iPhone battery replacement process, you should know when to replace an iPhone battery. An iPhone has a Battery Health feature that shows the information on maximum battery capacity and peak performance capability. When your iPhone (or any device) becomes years old, it won't have the same charge-holding capacity as it had when it was brand-new. You need to check your iPhone's battery health to figure out if the battery needs a change or not. Here's how to do it:
Open the Settings app on your iPhone.
Scroll down to the Battery section.
Then, tap on Battery Health & Charging.
Here you'll see the Maximum Capacity of your battery and that's your iPhone's battery health. The higher the number, the better the battery health.
Apple recommends that if the Maximum Capacity is more than 80%, your iPhone has a healthy battery.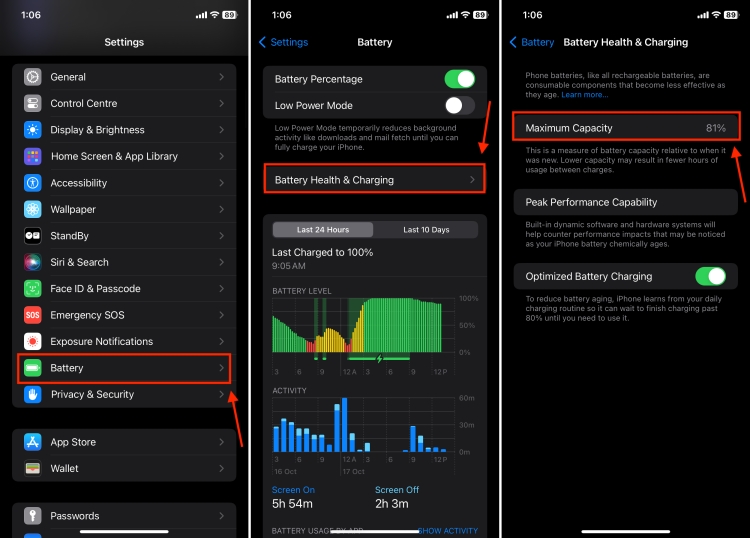 If your iPhone is ready for a battery replacement, you'll see a small notice at the very top. Also, the Maximum Capacity might say Service.
Under normal conditions, a lithium-ion battery is designed to retain up to 80 percent of its original capacity at 500 complete cycle charges. On the iPhone 15 series, Apple has added the feature to check battery cycle count. When the maximum capacity goes beyond 80%, Apple recommends an iPhone battery replacement. So, if your iPhone's battery health is less than 80%, you should replace your old iPhone battery.
How to replace your iPhone battery?
1. Go for Apple Authorised Repair
The most reliable way to get your iPhone battery replaced is to reach out to Apple and let them do it. You don't have to worry about anything. Exploring third-party repairs might void the warranty and might even damage the iPhone's water-resistant capability.
Apple offers iPhone battery service under several conditions.
First, if you have AppleCare+ coverage, your iPhone has a maximum capacity of less than 80%, and there are no additional damages, Apple will replace your iPhone battery for free.
Second, if you do not have AppleCare+, Apple will charge you a fee. It's worth knowing that your iPhone's warranty doesn't cover batteries that wear down over time with normal use.
Once you've decided to go for Apple's iPhone repair service, you have three options (depending on your country/region) to do it.
You can ship your iPhone for repair. If you decide to ship your iPhone, bear in mind that it might take up to 5 to 9 days as you'll have to wait for Apple to go by their standard procedure.
You can contact Apple support and ask them to send a service provider to your address.
Lastly, you can schedule an appointment at the nearest Apple store or Apple-authorized service provider. On the flip side, if you choose to visit the nearest Apple service center, the repair might be completed in one day. In case there's additional damage, the repair might take up to 5 days.
How much does it cost to replace an iPhone battery?
The exact iPhone battery replacement cost depends upon the model you own, any additional damages, and more. You can use Apple's Get Estimate tool to have an idea about how much you'll have to pay if you get service directly from Apple.
For instance, the iPhone 11 battery replacement cost is $89. This price remains the same for iPhone 11 Pro and iPhone 11 Pro Max replacement. If you want an Apple-authorized service provider to come to your home or office, you'll have to pay an additional $30 as a visit fee. Here's a list of Apple's iPhone battery replacement costs depending on the model:
iPhone Model
Battery Replacement Cost
(without AppleCare+)
iPhone 15, 15 Plus, 15 Pro, 15 Pro Max
$99
iPhone 14, 14 Plus, 14 Pro, 14 Pro Max
$99
iPhone 13, 13 Mini, 13 Pro, 13 Pro Max
$89
iPhone 12, 12 Mini, 12 Pro, 12 Pro Max
$89
iPhone 11, 11 Pro, 11 Pro Max
$89
iPhone XR, XS, XS Max
$89
iPhone X
$89
iPhone 8, 8 Plus
$69
iPhone 7, 7 Plus
$69
iPhone 6, 6s, 6 Plus, 6s Plus
$69
iPhone SE (all gen models)
$69
iPhone 5s
$69
Apple's iPhone battery replacement price
2. Apple Self Repair Program
Apple understands that at least some users have the knowledge and experience to repair their devices themselves. For such users, Apple offers a Self Service Repair program that offers access to genuine Apple parts, tools, and manuals to perform out-of-warranty repairs.
So, if you're a DIY person or a professional who can open up his devices and repair them, you can replace your iPhone battery yourself. Before you proceed, keep these important points in mind.
Make sure to use Apple batteries and proper smartphone repair tools.
If you don't use an Apple battery, it's likely that iOS will show up a warning notice and the Battery Health feature won't work on your device.
If you aren't a trained professional, opening up your iPhone might cause further damage.
Only proceed if you've understood everything and are ready to take responsibility for any adverse results. Under Apple's Self Service Repair program, you have a repair manual to prep yourself, then order necessary tools & parts, repair your device, then return the replaced/damaged part for recycling.
You can also choose to buy smartphone repair tools or battery replacement kits from a third-party manufacturer. That said, if you choose to replace your iPhone's battery on your own and you've got a water-resistant phone, it might lose its water-resistance after you've opened it up.
3. Third-party repair services
If you aren't a DIY person or Apple's iPhone battery replacement cost doesn't suit well with you, there are third-party vendors that offer repair services. That said, be very careful while looking for third-party iPhone repair options. The iPhone battery price, repair quality, and whether the service process maintains water resistance varies from vendor to vendor. So, make sure to gather all the feedback and customer reviews before trusting a vendor. We do not recommend going for third-party repair services to replace iPhone batteries. However, if you're confident enough, you can proceed at your own risk.
Frequently Asked Questions
1. Is it worth replacing iPhone battery?
If your iPhone has a maximum battery capacity of less than 80% and you experience unexpected shutdowns or lower on-screen time, it's time to replace your iPhone battery. In case you don't do it, you'll have to charge your iPhone more frequently and still won't get an optimal performance.
2. Is 85% battery health good or bad for an iPhone?
As per Apple, battery health of 80% or above is considered optimal for your iPhone. So, you don't need to replace an iPhone battery at 85%. You can wait for some time before going for a battery replacement.
3. Why is my iPhone battery draining so fast?
Some of the common reasons for iPhone battery drain problems include the following:
Bad battery health.
Apps that consume a lot of power.
Incompatible, non-certified, or faulty chargers.
Playing heavy games at a stretch on mobile data.
Exposing your iPhone to high temperatures.
Running an older version of iOS.
4. How to save iPhone battery?
You can uninstall misbehaving apps, avoid overcharging your device, turn off background app refresh, and adjust screen brightness to save your iPhone battery. These are only some of the ways, we have a few more points to help you save iPhone battery.
With this, we have come to the end of our iPhone battery replacement guide. We hope it helped you understand how and when to replace your iPhone battery. Make sure to follow all the important points we've mentioned in this article for a smooth experience. If you have any doubts, reach out to us in the comments below.
---
Load More