Out of many kinds of accessories that you can have for your Smartphone, armbands are quite useful, especially if you carry your device when you go to jogging or something. Likewise, you can use a armband — if you are ready to add a bit more weight to your hands — to keep your Smartphone safe during comparatively dangerous situations or when you don't have a pocket to keep it. The jogging aspect becomes way too impressive as it comes to the case of iPhone 6s, which has all the capabilities to track your activities and then act accordingly. Moreover, when you've spent a lot of money buying a brand-new Apple iPhone 6s, it seems perfectly fine to spend a few more dollars, to get a powerful and convenient armband for your iPhone 6s. To help you choose the best one for you, we have created a list of top ten iPhone 6s armbands. While some armbands in the list are iPhone 6s exclusive, some will be fine with others also.
Choose the best armband for your iPhone 6s
1. JOTO Sport Armband for iPhone 6s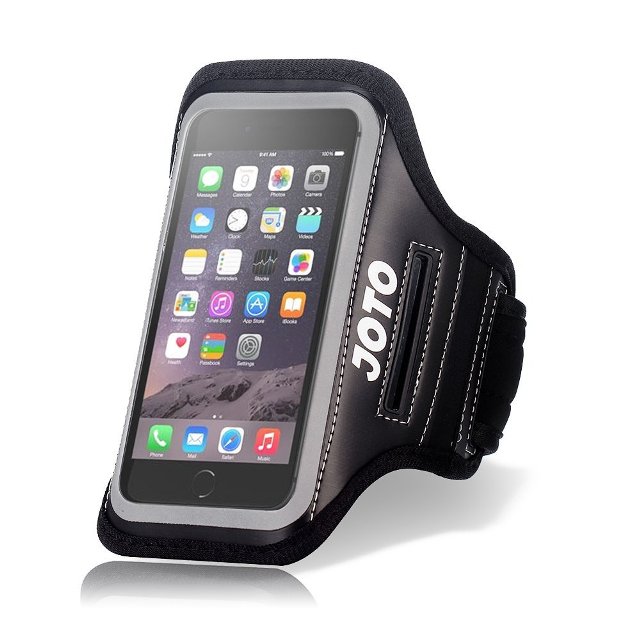 This iPhone 6s armband comes with a sleek design that is most suitable for fitness-oriented purposes, such as when you are jogging or working out in gym. You have complete access to the touch screen and there is earphone jack opening, which is useful for listening to music. Also, JOTO Sport Armband for iPhone 6s comes with dedicated storage for your keys, ID card or debit card or cash. Circumference of the case can be adjusted from 9.5 inches to up to 16 inches, and it's pretty much comfortable. Talking of material, JOTO has used neoprene that's sweat-resistant and lightweight. It's a single-handed mounting system as well. You can have black, white, blue, grey and pink colour variants of it.
2. MPOW iPhone 6s Sport Armband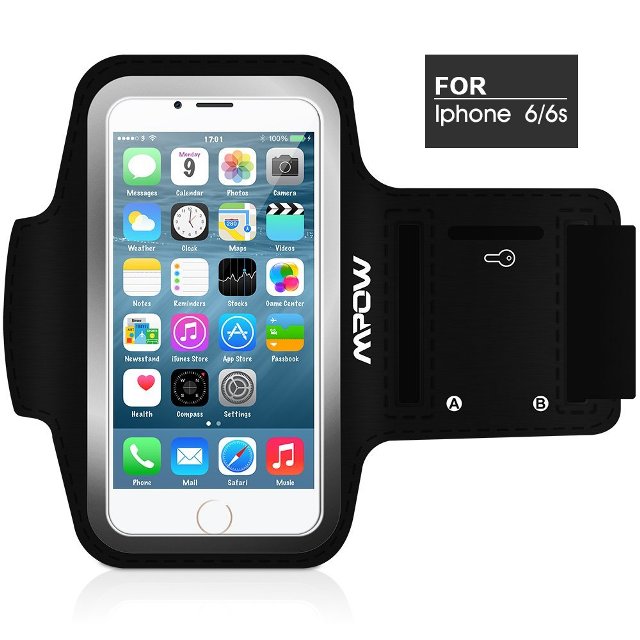 This is yet another iPhone 6s armband you can have, especially if you would like additional capabilities. You can, for instance, store a variety of stuff in the armband, such as your key, money or a few debit/ID cards. As it has been made exclusively for iPhone 6s, you'd have no problems with compatibility, like when you want to connect earphone to the device. Using the built-in regulating slots, you can have two ranges of circumferences — one ranging from 12" to 14" and the other ranging from 8" to 11.5". There's even a 27.5 cm extension if you have larger biceps. In spite of the lightweight nature, MPOW has used Neoprene and Lycra materials to make the armband and it's sweat-resistant for that matter.
3. Colectica Lightweight iPhone 6s Armband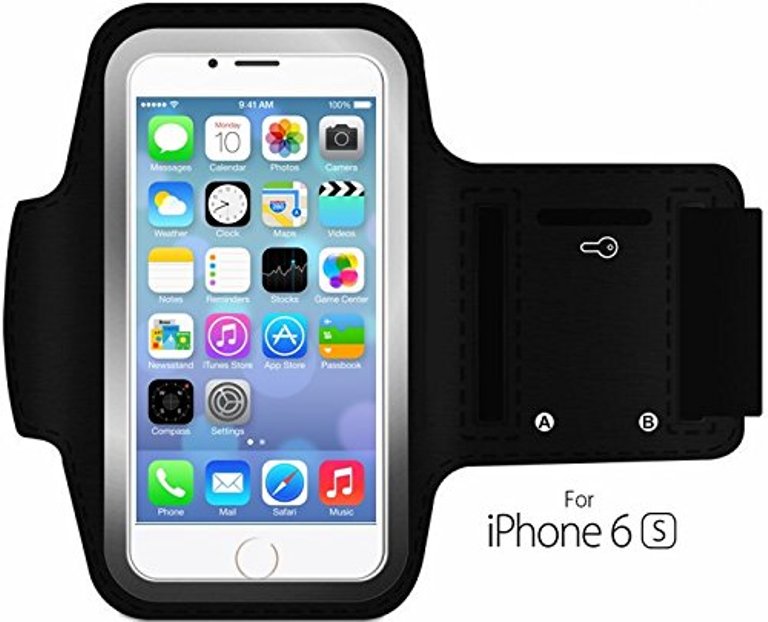 From this truly lightweight product, you can have optimal protection for your iPhone 6s when running and it is most suitable for fitness environments and workouts. Colectica Lightweight iPhone 6s Armband is made using Lycra, which is of high quality and lightweight. While high quality ensures safety from all the sides, you will know the perks of the lightweight-structure when you wear the armband. Apart from the key holder slot, the in-built screen protector lets you get the best touch screen experience without compromising safety. In addition Lycra has a flexible structure, thus giving you less strain on your arm. Despite being resistant to sweat, you can wash Colectica Lightweight iPhone 6s Armband using gentle soap and water.
4. J&D Tech iPhone 6s Armband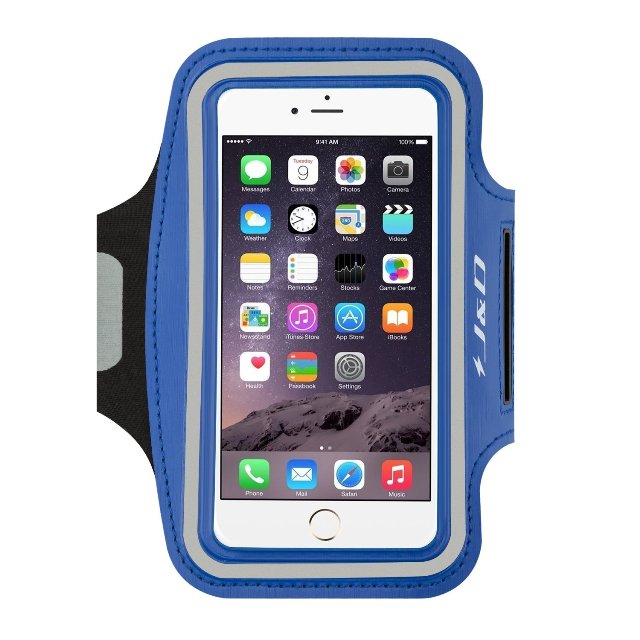 Available in five different colours, J&D Tech iPhone 6s Armband would be a good-looking companion for your iPhone 6s when you're jogging or in an adventurous task. Despite being protected, you can have easy access to touch screen and it's good for functionality, we suppose. It comes with a Velcro that can be adjusted between 10" to 14" and you can make sure that your arm fits it. According to most of customer reviews, J&D Tech iPhone 6s Armband is way too resistant towards resistant and there's enough access to the buttons and touch screen. An issue you might have to face is its vulnerability towards prolonged sweating or water. Altogether, it is a superb choice when you need affordability and functionality in one hand.
5. MyBand Armband for iPhone 6s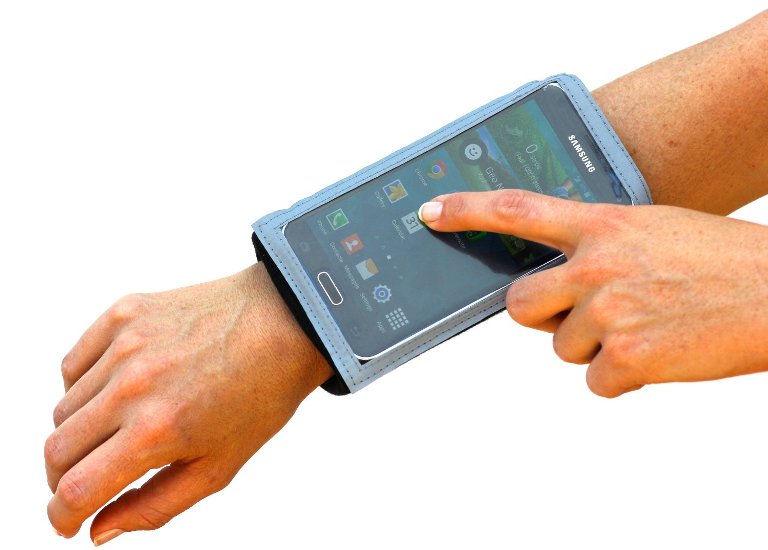 MyBand Armband for iPhone 6s is not actually limited to iPhone 6s. On the other hand, if your device has a size that is similar, you can use the armband with it. And, officially compatible devices include iPhone 6, Galaxy S6 and S6 Edge. Despite being universal, it doesn't compromise features either. For instance you have zipper-based pocket for storing your keys, ID cards or some cash and an adjustable circumference ranging from 5" to 11". As per what the company says, MyBand Armband for iPhone 6s would be optimal for not only those jogging and adventurous stuff but also a lot of others, such as for note-taking. It has two variants and is available in Black and Pink.
6. Mediabridge Armband for iPhone 6s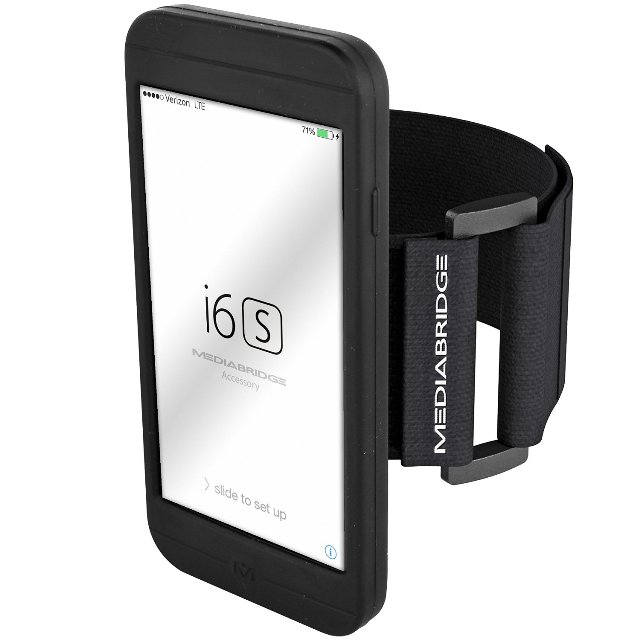 When compared to aforementioned armbands for iPhone 6s, Mediabridge Armband boasts a sleeker & convenient design, which makes the device fit your arms. It's an open-face design and you can touch the screen, get the headset connected or do whatever, but make sure you've an extra screen protector for iPhone 6s. Mediabridge Armband for iPhone 6s is made using silicone rubber skin that's flexible at the same time strong. In addition, the elastic trap would be just awesome when you're working out or jogging and the Velcro can be kept to a convenient length, ranging from 9 inches to 21 inches, which includes most of the arm sizes. By the way, it is not waterproof, either.
7. Ubegood iPhone 6s Sports Armband
Ubegood iPhone 6s Sports Armband is a multi-device armband you can have. It works fine with iPhone 6s, 6, 5s, 5, iPhone 5c, Samsung Galaxy S6, S6 Edge, S5 and Galaxy S4. It also means that if you have a device that is having same length, you can get it working. Ubegood iPhone 6s Sports Armband comes with an in-built card & key holder. In addition, it has a reflective strip that would be useful in low-light conditions and impressive access to the device touch screen. Due to its adjustable design, you'll be able to wrap it around your wrist or arm. Material in use is a combination of nylon and neoprene. Considering its price, it's good to go.
8. Bolt iPhone 6s Armband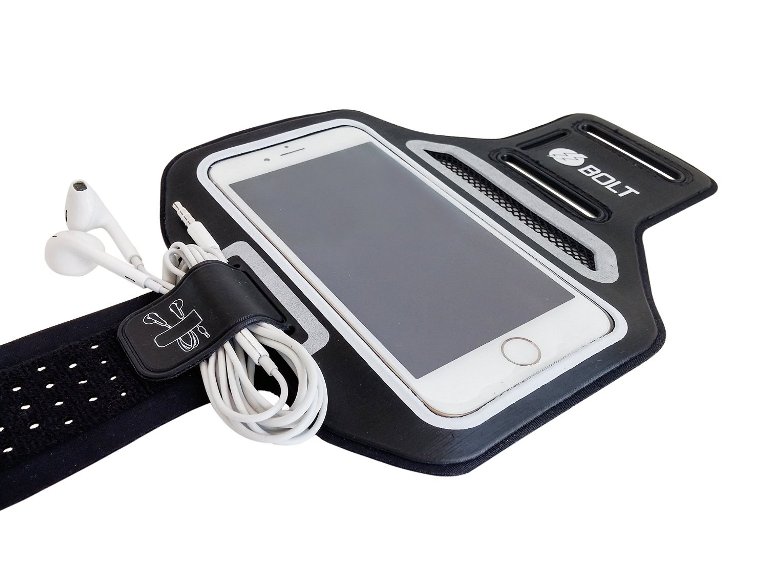 Bolt iPhone 6s Armband is made using a combination of Lycra and Polyurethane leather and that can be effective as it comes to sweat resistance and flexibility. The design is comparatively sleeker and the breathable mesh is quite nice when it comes to skin-friendliness. Other features of this slim iPhone 6s armband include the in-built option to hold headphone cord, convenient space for keeping your keys and money, etc. Circumference of Bolt iPhone 6s Armband ranges from 10 inches to 17 inches, thanks to the dual adjustment slots. Most customer reviews are praising the band for its ease of use. Moreover, Bolt offers lifetime warranty, despite the comparatively higher price range.
9. Ionic Pro iPhone 6s Armband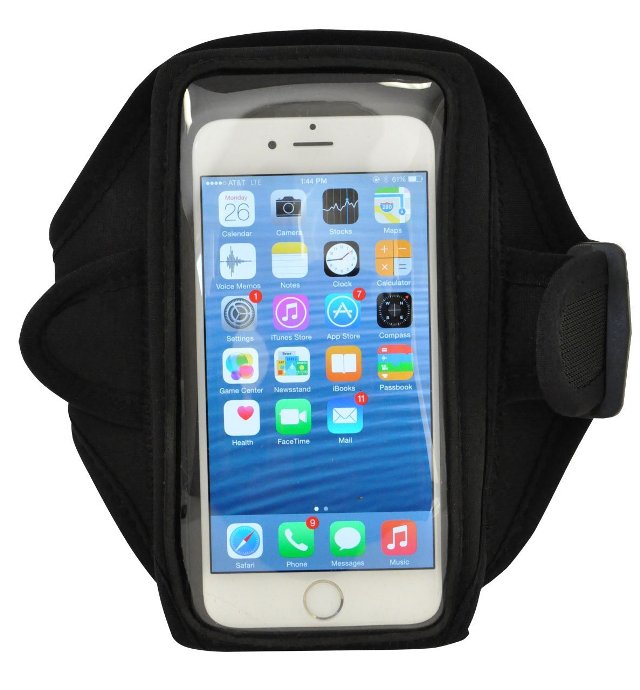 Ionic Pro iPhone 6s Armband offers six colour variants at same price, such as Black, Blue, Pink, Red etc. when we are to compare the band with others in the list, it seems to be a bit more bulkier, which some of you might find to be an issue. However, Ionic Pro says that the stretchable material is way too good in terms of usability and you won't have any issues with safety. That having said, most customers say the armband is good for workouts and all that its built-in space for storing keys and headphone cords is just superb. And, considering the fact that Ionic Pro Armband is the most affordable iPhone 6s armband in the list, it makes sense to go for it.
10. Tune Belt Armband for iPhone 6s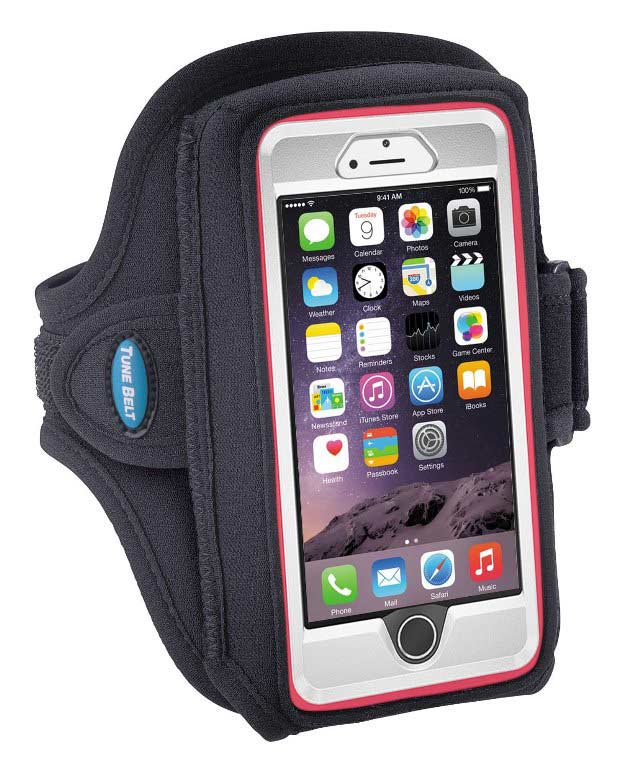 This neoprene-made armband comes with native support for OtterBox Defender Cases that are available for iPhone 6s and Samsung Galaxy S6. It means that you can use the armband even when you have protected iPhone 6s with a case from OtterBox Defender series. Tune Belt, the manufacturer, has an experience of more than thirty years, thus making you confident about protection for your iPhone 6s. Talking of additional features, there's space for storing earphones and the material is washable as well. And, Tune Belt Armband for iPhone 6s has an adjustable Velcro that ranges from 9 inches to 16 inches. It's a bit expensive, but worth it.
SEE ALSO: Top 10 iPhone 6s Bumper Cases
Now, it's up to you to choose! Well, do let us know which armband did you decide to buy for your iPhone 6s/6?
---
Load More