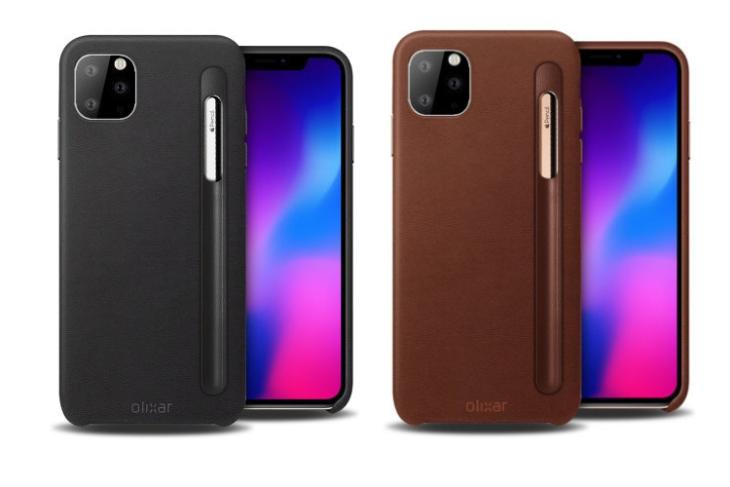 The iPhone 11 lineup is launching next month and the rumor mill is ablaze with chatter about the upcoming iPhones, but we never expected it to support the Apple Pencil. The analysts, followed by case makers, have sparked rumors that the iPhone 11 will launch with a smaller new Apple Pencil.
Citi Research was the first one to predict that iPhone 11 would pack stylus support and we'll witness the launch of a smaller Apple Pencil. Well, popular case maker Olixar appears to find some credibility in the reports as it has made a new leather case lineup with dedicated slots for holding a miniaturized Apple Pencil on the rear.
The cases are currently listed for pre-order on MobileFun's website, with the description reading, "Crafted from premium genuine leather, this exquisite case from Olixar for the iPhone 11 Pro provides stunning style and prestigious protection for the phone in a slim and sleek package, with the added convenience of an Apple Pencil sleeve."
Apart from the Apple Pencil, support for which still seems far-fetched on the iPhone 11 lineup, we can notice the case renders show off a triple camera setup (in the form of a massive square bump) and the notch we have come to recognize and utilize for FaceID.
Rumors of Apple iPhone gaining support for Apple Pencil have existed online for several years, but there hasn't been much buzz about it this year. Also, it wouldn't really make sense for Apple to add stylus support as the move would draw a ton of criticism from a myriad of Steve Jobs enthusiasts around the globe. Jobs hates styluses and he made it clear during the launch of the first iPhone back in 2007.
So, do you want to see Apple Pencil support come to iPhones? Let us know down in the comments section.