Creating videos has never been easier—with high-quality video cameras built into nearly every modern smartphones, anyone can be a videographer without training or a lot of time spent practicing. But if you want to produce videos that look better than your average iPhone video, you'll need editing software. iMovie is a popular option for Mac users, but what if you're on Windows? These 13 alternatives give you the power you need to create high-quality videos for sharing with friends and family from your Windows machine.
iMovie Alternatives for Windows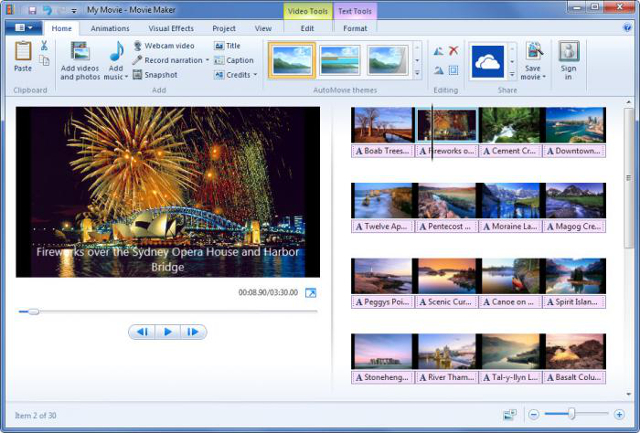 The standard Windows video editing app, Windows Movie Maker is actually a great choice if you're looking for a basic tool to edit your videos. This program can handle a wide variety of different video formats, including .WMV, .MPG, .AVI, .LFV, .MOV, and others, making it a good choice if you want to import videos from a number of sources. You can even use the app to capture video from a webcam on your computer.
There are plenty of effects and transitions that you can add to your movie, like "Film Age," which will give your video an old-timey look that adds a lot of character. Adding transitions between clips, titles, and text effects let you fully customize your movie for the look you want. Movie Maker is available for versions of Windows all the way back to XP, so there's almost certainly a version that you can use.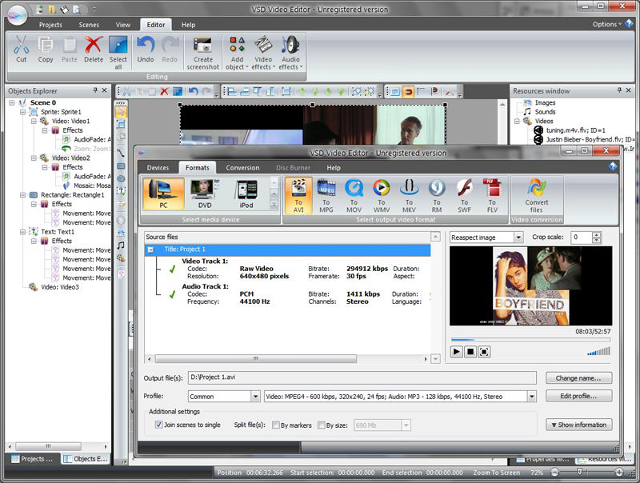 If you're looking for a more powerful editor that's still free, VSDC's Video Editor is a great choice. Color correction, object transformation, filters, transitions, and special effects are all available with a few clicks, so you can make your video look exactly how you want it to. You can even rescue some poor-quality videos and make them easier to see, though they may get a bit grainy.
VSDC also offers audio editing, so you can add your own soundtrack or just improve the sound quality of your video. It even includes the ability to automatically remove the background of your video so you can make it look like the video was taken somewhere else! (Using a solid-color background will help with this.) Because it's free, the interface isn't as polished as many of the other options, but you will gain a lot of power over Windows Movie Maker with VSDC.
A rather simple editing program, Avidemux has always been one of the top free options for Windows video editing. Its focus on simple cutting, cropping, and filtering means you don't have to learn a super complicated interface just to make quick edits of your videos. If you're looking for more advanced capabilities, though, you can take advantage of workflows and scripting to automate your edits.
Avidemux is open-source, so it's constantly receiving updates and upgrades from users who tweak the code and add useful features. Combine these with the core features of easy resizing for specific formats, video and audio filters, splitting video and audio, and creating your own custom filters, and you get an app that will appeal to a wide variety of users.
https://www.youtube.com/watch?v=9vRlO0qz2r4
An impressively powerful video editing app, Lightworks has actually been used to edit a number of big-name films, including The Wolf of Wall Street, Pulp Fiction, and The King's Speech. Getting this software for free is a phenomenal deal! The free license, however, only allows you to export video in MP4 format and 720p resolution. The pro version—available for $25 per month, $175 per year, or $438 forever—includes more exporting options, and the two latter packages also come with additional editing software.
With workflow and project management, advanced color correction, over 40 effects templates, and a real-time waveform and vectorscope, Lightworks gives you all the tools you need to create professional-quality video. Because it's a very powerful video editing app, it has a steeper learning curve than many other options, but if you need to create a top-quality video, it's tough to beat this free option.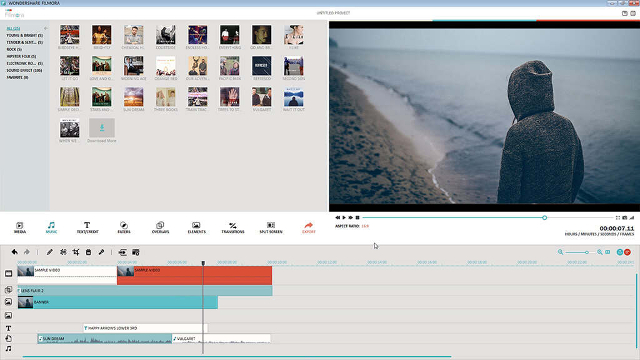 If you appreciate apps with well-crafted interfaces, you're going to like Filmora. Designed for the iPhone age, this app has very nice-looking prompts, tools, and windows, and will help walk you through creating the awesome video you have in mind. You can use the free version as long as you want, but you'll also get watermarks on your movies until you upgrade to the paid version for $30 per year or $40 for a lifetime license.
Filmora comes packed with cool filters, including "Snow" and "VCR Distortion" for an old-school look ("Charcoal" and "Canvas" are also very artsy). You can also add over 300 effects with the downloadable resource package. And to help you improve your editing skills, you can sign up for Filmora's "Get Creative" web series, which provides tips on how to use the different elements of the app, as well as improve your filming skills using simple tools that you already have around the house.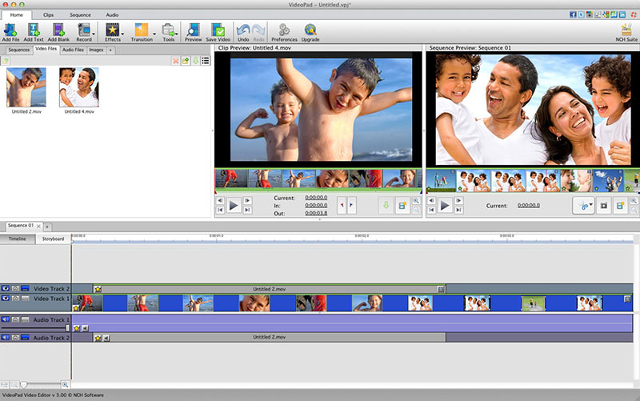 If you're looking for a video editor that will give you a seamless experience between your desktop and mobile devices, VideoPad is a great option; it's available Windows, OS X, Android, iPad, and even Kindle. And if you're not using it for commercials purposes, you can use it for free as long as you want. Its many input and output formats make it a versatile editor for use with any type of recording and playback devices you have, too.
Its features read like many other editors: video clip transitions, text overlays and captions, audio import capabilities, narration recording, and color optimization are all included. VideoPad also has some unique features as well, like a sound library that you can use to insert a variety of audio clips. and 2D-to-3D stereoscopic conversion. Although it doesn't have as nice of an interface as some of the other apps on this list, it has one of the best for a free app.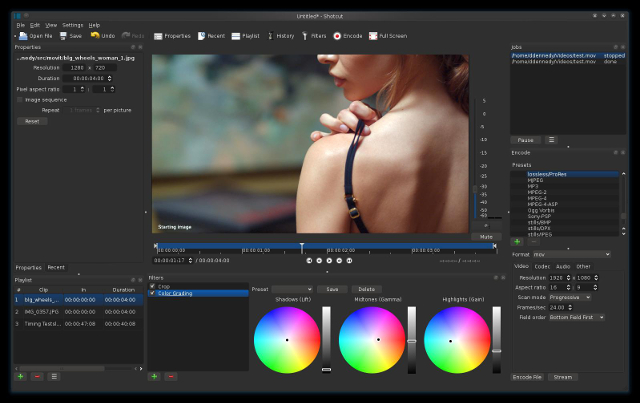 Another open-source video editor, Shotcut is built around keyboard shortcuts that make it easy to move through your clips at any speed you like. And with no-import native editing, this makes for a video editing app that lets you make tweaks to your videos at top speed.
The wide variety of video and audio filters and support for just about any file type you could need, as well as a multi-format timeline and all of the features you'd expect for a solid video-editing app, Shotcut is one of the most robust apps you can find without a pricetag. The website isn't quite as polished as other competitors', so it might take you a little while to find what you're looking for, but the app itself is a well-rounded option.
There are plenty of free video editors out there, but if you want real editing power, you're going to need to pay for it. Power Director is an award-winning video app that combines easy editing with professional-level tools. Other apps have 50 or—for very impressive options—100 templates and effects, but Power Director has over 500, and also includes access to a huge developer community that will help you get even more out of the program.
But it's not just for professionals and enthusiasts: it's great for first-timers, too. The Easy Editing mode keeps everything simple and walks you through the basics to show you how to use the program and get great results. And the Express Projects option gives you pro-level tools to create high-quality videos with minimal effort. Whether you're a beginner or an old hand at video production, Power Director gives you the tools to quickly create great videos and learn along the way.
Not sure you need all of the super-powerful tools in Power Director? Video Easy will help you go from total newbie to experienced enthusiast without the  same level of cost or complexity. With one of the best interfaces in the industry, you won't be overwhelmed with a huge number of tools, and a number of video tutorials will show you how to go about turning your family videos into masterpieces.
Connection, introduction, and automatic video editing wizards take a lot of the work out of learning to edit, and the ability to add a wide range of animations and transitions will give your movies a professional look. This app is made for newcomers to video editing, and provides a very welcoming introduction to the field.
Another app with a very pleasing interface, Nero Video's home screen gives you an easy-to-navigate overview of all of the things you can do with the app, from importing videos and images to accessing video tutorials and backing up your files. While the video editing interface itself isn't anything too special, there's certainly something to be said for making it easy to get around the app.
Nero Video provides basic editing capabilities, but where it really shines is as a media center. You can backup, stream, and store your video files easily with the app, making it great for showing off your creations to family and friends. Keeping your video files organized is also made easier with Nero MediaHome, which can also store image and audio files. If you need a storage solution as well as an editor, Nero is a great choice.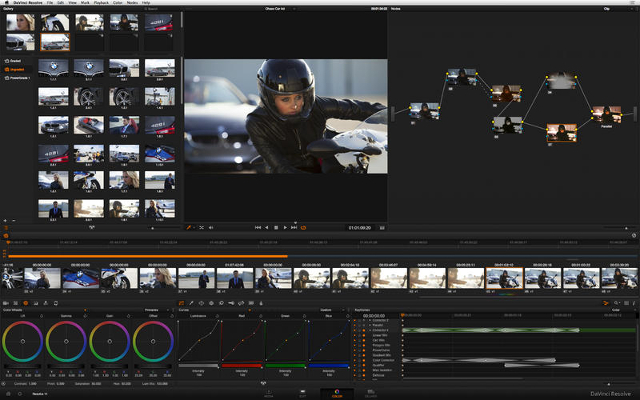 Although this is a free app, it comes with absolutely top-shelf power. So much power, in fact, that to unlock the full version of the app, you'll have to pony up $995. The pro version of the software (along with the $30,000 control surface) is used by Hollywood studios, so you know that the technology behind DaVinci Resolve is some of the best in the world. They advertise it as using the world's most advanced color correction technology, and there's no reason not to believe them.
Of course, that's probably not what you need. If you need a tool that will help you from the set of a movie to post-production, this app has you covered. Real-time collaboration between editors and colorists, RAW image coloring tools, remote grading, multi-camera production, context sensitive trimming, multi-layer and mixed-format timelines, a range of transitions . . . this list of features goes on and on. DaVinci Resolve 12 is the ultimate powertool for Windows video-editing.
https://www.youtube.com/watch?v=MqQeYFDQy50
Just want to do some simple editing without downloading a powerful app that will let you work like the pros? WeVideo is a great choice for family videographers, students, and hobbyists. It's cloud-based, so all of your videos are stored and edited online, freeing up plenty of valuable space on your hard drive.
Drag-and-drop editing, transitions, custom titles, narration, commercially licensed music, and the ability to download your edited videos makes this a perfect tool for anyone who's not looking to spend a lot of time editing, but still wants enough power to express their creativity. There are a variety of subscription plans, from $11 for an hour of published video, usable whenever you want, to a $49 annual subscription for up to 5 hours of published video, and a $99 annual for up to 6 hours. The more expensive plans also come with more storage and export options.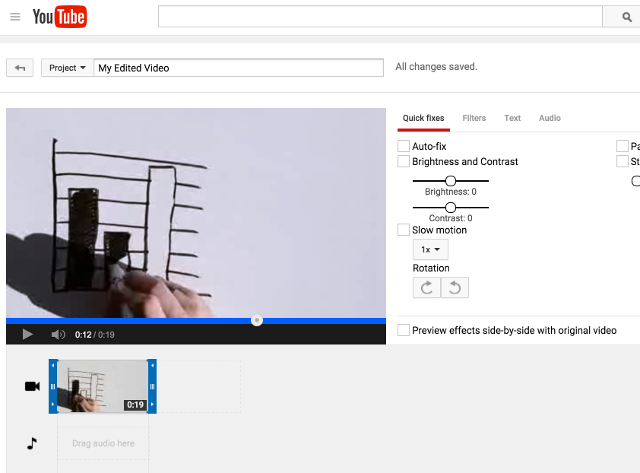 Did you know that you can use a number of free editing tools on YouTube? Once you've uploaded your video to the service (or selected a Creative Commons video), you can add transitions, audio, photos, and text. You won't get any of the powerful tools you get with other apps on the list, like color correction or editing wizards, but if you just want to make some very basic edits and get your video out to the world, this is a great tool to use.
All you need to do to use it is sign up for a YouTube account and upload your videos. That's all there is to it!
SEE ALSO: 15 Best Video Editing Software
Start Your Editing Career
With this many options, ranging from basic and free to professional-level and bank-breaking, you're sure to find a video-editing solution that fits your needs. Start with a free one to see if you like video editing, and if you think you'd like to make it a hobby, consider upgrading to a paid option for more tools and capabilities.