The bot problem on Twitter is real and very much evident. The micro-blogging platform has been swarmed with bots for quite a long time and it is becoming really difficult to escape its clutches. If you're a regular Twitter user, there surely must have been times when you have encountered a spam bot that was spreading information wildly. The bots are usually used to spread fake news stories and political propaganda, which is now being seen as the biggest problem with Twitter at the moment. However, you can still try to keep your Twitter account free of bots by identifying them on the platform.
Tips to Recognize Twitter Bots
There is no defined method you can adopt to identify bots on Twitter but here are a handful of pointers you should keep in mind while using the micro-blogging platform to be aware of their presence. These will help you avoid interacting with them, clicking on malicious links, and blocking them if need be.
Look out For Bogus Account Names
The easiest way to filter out bots from amongst the Twitterverse is through the usernames, which may not conform to their identity or the function they serve. You can easily guess that a username belongs to a human by instinct, as they'd look thought out, whereas a bot's username may contain too many symbols, numbers or fake names, exposing their identity.
There are also times when the username and profile picture used by the Twitter bots aren't related to the same individual. For example, the username @alfredhitchcock tells you that the person using the said Twitter account should be a male but the profile picture sings a different tune, as it belongs to a female. These accounts are trying to maintain their anonymity but a simple goof-up is all it takes to make me chuckle every time.
Detect Duplicacy of Profile Pictures
This should be one of the initial steps that you should perform to judge the authenticity of a profile on Twitter. Since the number of bots on the platform is too high, there is a possibility that the people creating bots are reusing their profile or cover images to save time and deploy more spam profiles.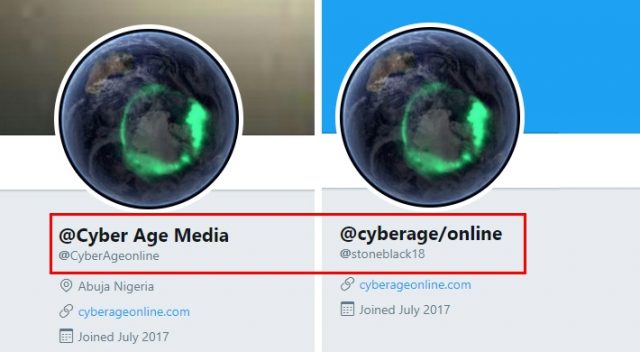 However, if you right click on either of the 2 images and perform a reverse Google image search (via images.google.com), then you might find multiple profiles linked to the same picture. You may need to copy the URL of the image or save the same to then upload it to Google to see all matching results. Hence, you would be able to firmly deduce that the account you've stumbled upon is a bot and that it is part of a bigger bot network.
Direct Response Within Seconds of Tweeting
There are numerous types of bots that've been deployed on Twitter to spam your account but the one that's the easiest to spot is the topic-related spambot. It is activated when you send out tweets related to a certain topic, almost instantly. The bot may follow you, reply to your tweet or add you to their Twitter list, while attracting you to follow them as well.
No human can read the content (or the link) and reply to your tweet within milliseconds of you sending out the same. This signifies that the reply or follow was automated and that a human wasn't involved in the process. It helps you weed out unwanted accounts from your social profile while safeguarding your privacy.
Check out Twitter Account Activity
In terms of indicators, the activity of a Twitter account trails alongside the username and profile picture. There could be one of two scenarios. Either the bot was recently activated and has sent out a single tweet, with high engagement figures or the bot has sent a huge number of tweets in a rather small window of time.
You can calculate the account activity of any Twitter user by diving the number of tweets by the number of days it has been active on the platform. You can check the joining date of the user by hovering over the Joined 'month/year' tag under the profile.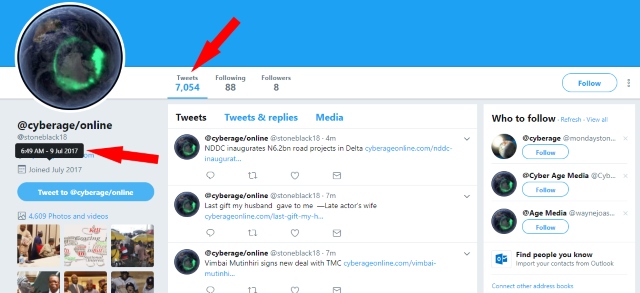 There are a diverse set of benchmarks to decide whether an account is bot-controlled. But, if the activity varies between 50-75 tweets per day then it is regarded as suspicious. It can be tagged highly suspicious if the number of tweets exceed 144 per day, a pattern uncommon for human users. The bot account shown above displays an activity of about 59 tweets per day.
Additionally, there are times when you receive an almost real-looking tweet and it is enough to send you looking through the sender's profile. It is then you come to the realization that the sender was a bot because it has been tweeting the same info to every user on the platform.
Check 'Bot Score' of Twitter Account
Since social media has become a core element of our society, researchers are now working on methods to make it easy to identify bots on Twitter. The researchers at Indiana and Northeastern University has developed a new tool called Botometer, which tells you the likelihood of a Twitter user being a bot. It's difficult to determine an absolute threshold percentage to detect bots but the closer the score is to 100%, the probability of the account being a bot increases.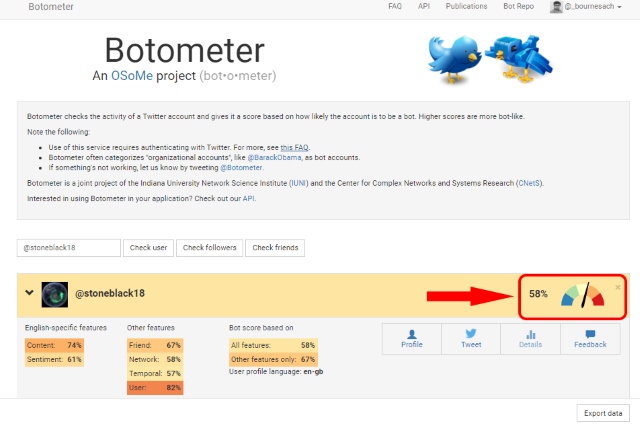 Here are two screenshots, one showing the bot score of my Twitter account (30%) and the other showing bot score of an online news spambot (58%). The tool employs a wide range of signals, such as user behavior, emotional content, and other feature types to set the rating. However, it is not always accurate.
Semantic Similarity (Common Content)
Ideally, it should be difficult to catch spambots on any platform, be it Twitter, but we can detect them because of time and money constraints. It is common to see spam bots post the same tweets, across all of its accounts as per a part of some strategy, giving away the secret of their identity.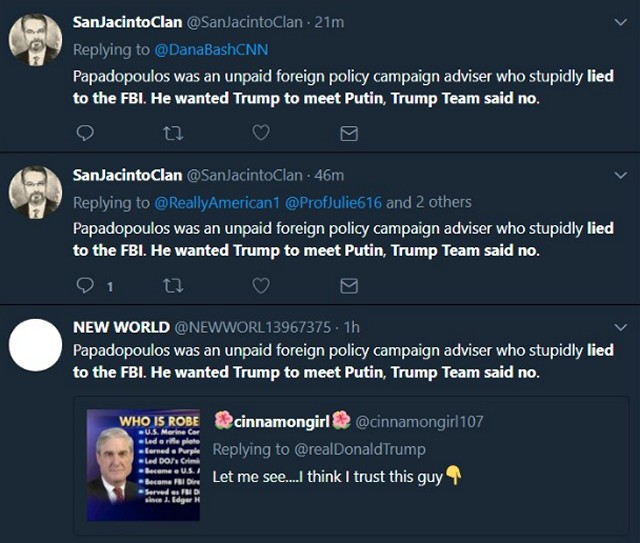 This gives birth to the concept of Semantic Similarity, which means you need to take a look at all the tweets (about a topic) that've been sent out in a short span of time, let us say 15-20 minutes, to single out contextually similar tweets. Most Twitter accounts that surface after this process can be seen as spammers and may be blocked by the micro-blogging platform in the long run. You can take the examples of Jio or President Trump to notice the spam that has made its way to Twitter in the recent past.
Beware of Twitter Botnets
The spamming bot accounts do not operate singularly. A collection of these bot accounts is said to be controlled by a spammer, who can spread the word about anything by using this network of automated Twitter accounts. You should be cautious of spam accounts as they propagate malicious links and false news, which may result in voicing a wrong opinion on the topic without taking into account all the necessary facts. The bots could also be used to make any topic trend and spread hate speech across the platform, which is not the purpose of the crisp format of Twitter. You can check whether you're conversing with a propaganda bot on Twitter with the use of the Botcheck.me tool.
This is possibly the worst consequence of the presence of bots on Twitter. The spammer is known to tweet a politically-charged message or factually incorrect news from one of the bot accounts, which is spread around the platform like crazy by companion bot accounts. You'll notice that the one odd tweet that is present on the bot account has more likes and retweets than most influencers on the platform.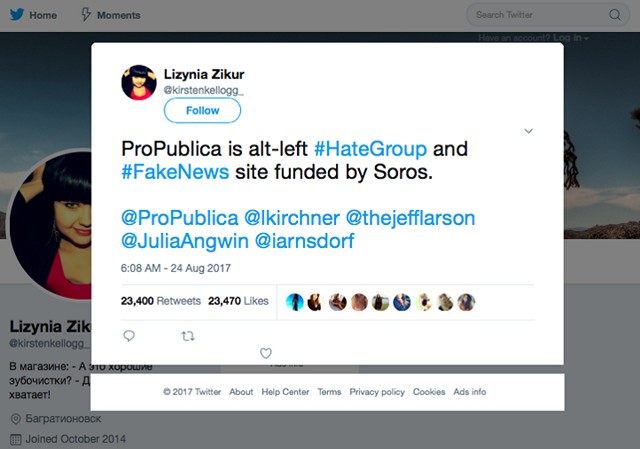 This activity from the spambots has resulted in the spread of politically incorrect info and other rage-infused messages across Twitter, which has been sighted as the biggest problem with the platform right now. It is due to the platform's openness that the bots are operating freely without any checks and balances.
Twitter's Responsibility
Twitter already has a defined set of rules against automation, which means that it'll ban or delete your account if you violate or abuse their APIs. You're even not allowed to send any unsolicited texts or hateful tweets to anyone but there has been a lack of checks to define who should be banned or not. Twitter's lack of attention towards this problem has resulted in the creation of a cesspool of spambots that are now reeking havoc on the platform. They're conveniently spreading false info, misleading the masses to believe what they really want.
Though Twitter has started implementing new policies to weed out and block bots on its platform, there is still a long way to go. It has already made changes to the policies that prevent you from cyber-bullying, hate speech and handing even more power to users to report users and help improve the micro-blogging platform. It is high-time Twitter lay out the groundwork to stop bots else it'll affect the credibility of the news-focused platform it has been trying to become in the past year.
SEE ALSO: 15 Best Twitter Tips and Tricks You Should Know
Identify Bots on Twitter, Stop Spam!
It is presently unknown how much time Twitter would take to implement new policies and act upon them to circumvent spambots on the micro-blogging platform. But, if the public can learn to identify the difference between real and bot Twitter accounts, it'll certainly not be simple to influence public opinion. This will help reduce the spread of misinformation, as well as political propaganda that may affect the outcome of any real-world events. What is your opinion on spambots on Twitter? Share your thoughts in the comments section down below.