Smartphone operating systems might have become a lot more advanced but the truth is, we still need computers. Even though the sales of Windows PCs might be on a decline, the Windows platform remains a household name and is used by millions. There are a few tasks that only a computer can handle and with the rising penetration of technology in our lives, it's important that all of us, including people with disabilities like low vision can use PCs efficiently.
So, it's only fitting that the latest iteration of Windows, that is Windows 10, features some really useful accessibility settings for people with visual impairment. So, if you have low vision or know someone who does, here are a few tips to make Windows 10 more accessible:
1. Use Narrator (Screen Reader)
Narrator is a feature in Windows 10, which reads you the contents of the screen. So, if you have problems viewing the display, you can use Narrator to make sure you are clicking the right options. You can turn on Narrator by going to Windows Settings->Ease of Access->Narrator and turning on the "Narrator" toggle. You can even make sure that Narrator automatically starts up every time you switch on your PC by turning on the toggle "Start Narrator automatically".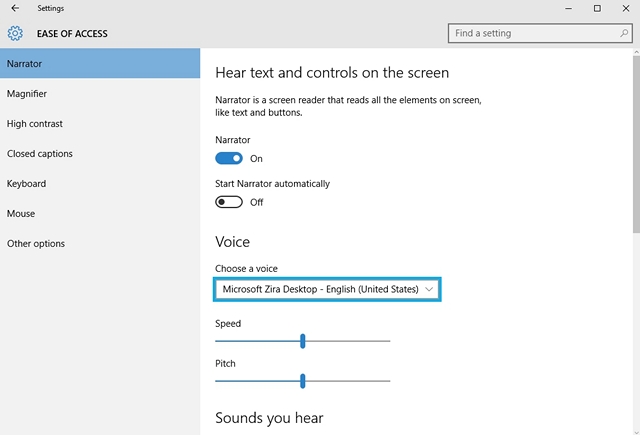 While the feature works well in letting you know about the various UI elements in Windows 10, it's incompatible with third party software and apps, which is a let down.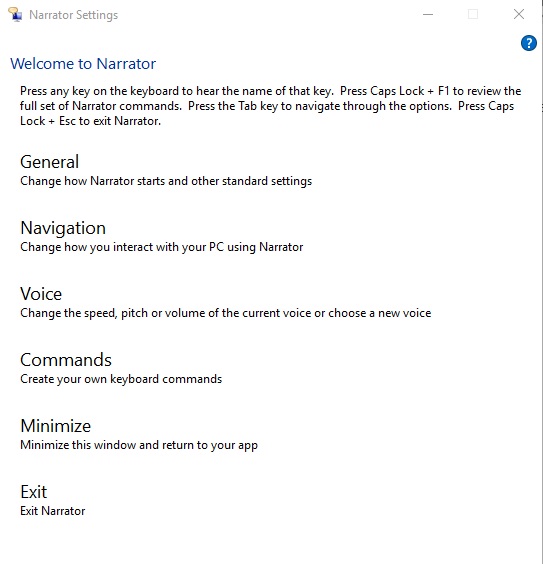 2. Set up Speech Recognition to control Windows 10
Windows 10 includes a cool Speech Recognition feature that lets you control the whole interface with a plethora of commands. To set up Speech Recognition, go to Control Panel->Ease of Access and click on the option that says "Start Speech Recognition". Then, set up your PC's microphone. Once you've set it up, you can check out various commands to control Windows 10. You can even speak "What can I say?" to get a list of all the commands anytime you want. Also, we'd recommend you to take the Windows 10 tutorial to use various speech recognition features.

Speech recognition in Windows 10 is available in languages like English (United States and United Kingdom), French, German, Japanese, Mandarin (Chinese Simplified and Chinese Traditional) and Spanish.
3. Try Text to Speech and Use Cortana
Windows 10 brings Cortana, which might not be aimed to improve accessibility but it still does brings some handy features for a hands-free experience. Using the "Hey Cortana" command, you can easily wake up the virtual assistant and ask her to do various tasks like opening apps, settings reminders, alarms, events; checking the weather, news and more. Moreover, you can even use Cortana to even shutdown or restart your PC.
Also, Windows 10 lets you enable text to speech features in Control Panel->Ease of Access->Speech Recognition. Once enabled, you can use Narrator to use text to speech features. However, we'd recommend you to use various Text to speech software for Windows, which bring way more functionality and options.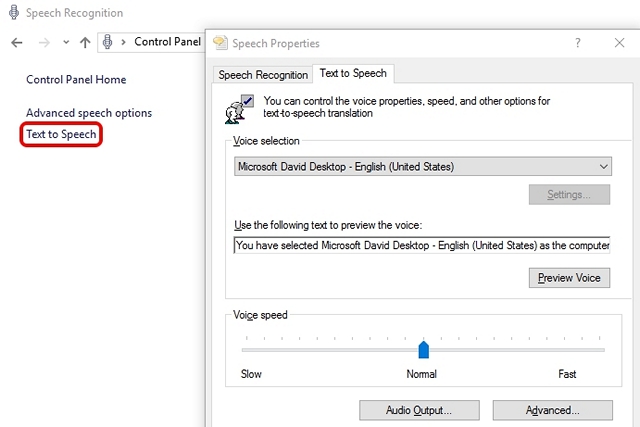 4. Change DPI
If you feel that Windows 10's UI elements are a bit on the smaller side, there's an option to increase the interface's DPI. To do so, you can go to Settings->System->Display and then use the slider bar to increase the size of text, apps and more. This should definitely help in making things more visible if you have problems with your vision. However, some apps might not scale properly to the DPI changes.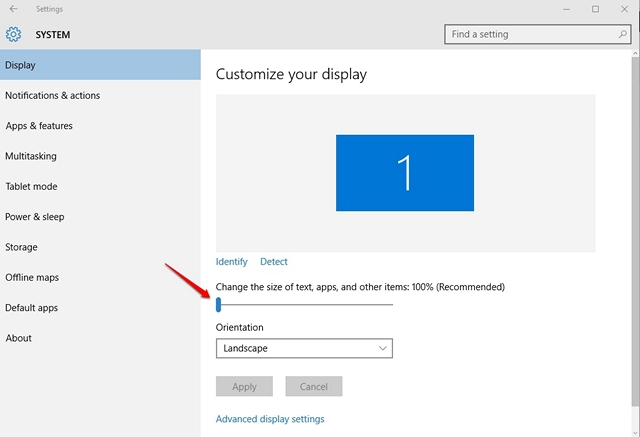 5. Enable Magnifier
Magnifier lets you zoom into the interface temporarily to view text or elements more easily. To enable magnifier, go to Settings->Ease of Access->Magnifier and turn on the Magnifier toggle. Once enabled, you will see a magnifying glass floating across the interface, which when clicked becomes the magnifier dialog box. You can then zoom in and zoom out with ease by clicking the plus and the minus buttons. There are also options to zoom into the whole screen, zoom into a portion of the screen or use a dock to show the zoomed in content (as seen below).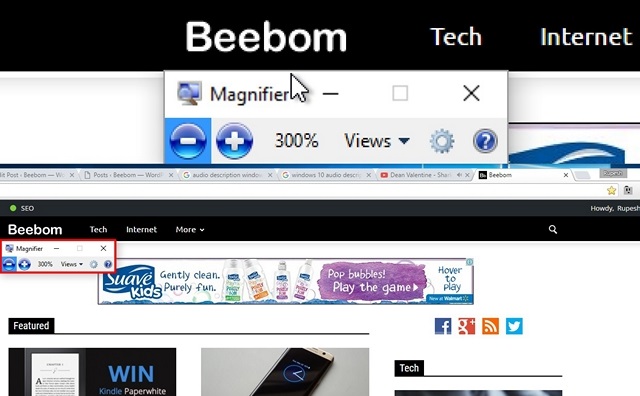 Overall, the Magnifier feature on Windows 10 is certainly very well thought out and easy to use. It's user friendly and should come to good use for people with low vision.
6. Turn On Audio Description
Audio description is a feature in Windows that describes you the on-goings in a video when available. To turn it on, go to Control Panel->Ease of Access and enter the Ease of Access Center. Then, click on "Make the computer easier to see" and tick on the option to "Turn on audio description". While this is certainly a great feature for people with sight problems, there aren't many videos that support audio description, which is a shame.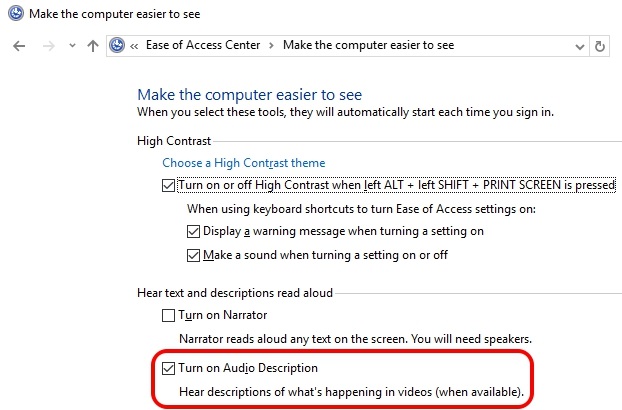 7. Set High Contrast Themes
Windows 10 includes four high contrast themes for visually impaired people, as people with low vision can more easily distinguish between elements when things are either black or white. So, to enable the high contrast themes, go to Settings->Ease of Access->High contrast and select one of the four themes from the drop down menu and click "Apply".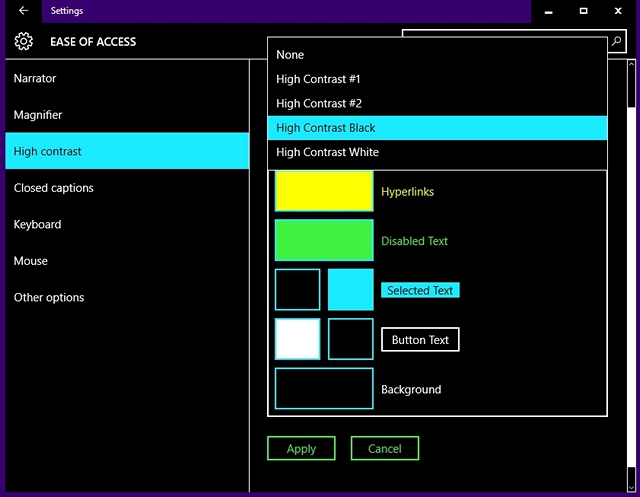 While the high contrast themes work well in the Windows 10 UI but apps & websites with poor design elements make things even harder for visually impaired people.
8. Increase Pointer size and Cursor thickness
There are times when we lose the track of mouse pointer, so it's no surprise that the small size of the pointer might be a problem for people with low vision. Thankfully, Windows 10 lets you increase the size of the pointer in Settings->Ease of Access->Mouse. You can even change the pointer color to Black for more visibility.
There's also an option to increase cursor thickness, if you face problems locating the cursor when typing. You can increase the cursor thickness in Settings->Ease of Access->Other options.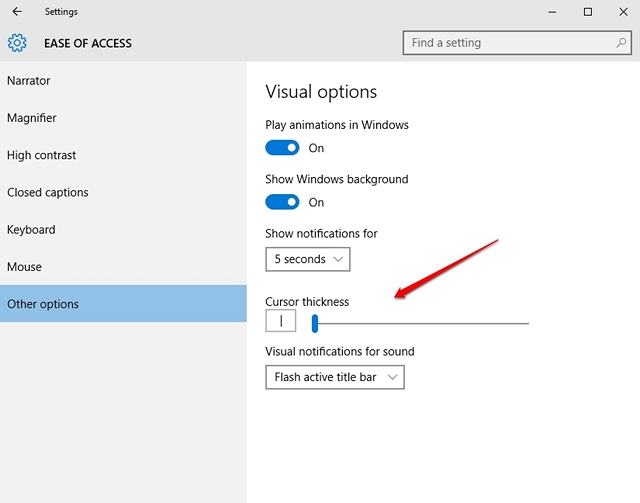 SEE ALSO: How To Uninstall Programs and Software in Windows 10
Improve the Windows 10 experience for low vision with these options
We surely appreciate Microsoft's efforts in incorporating these cool accessibility features in Windows 10 and we hope the Redmond giant keeps on innovating. So, try out these options and do let us know if they improved the user experience for you or anyone you know with a visual impairment. Don't forget to let us know in the comments section below.