One of the biggest feature that is still exclusive to flagship Android devices is the ability to record slow-motion videos. While most of the other features have trickled down to budget devices, the ability to record slow motion videos is something only flagship devices can perform. That said, while you won't be able to record slow motion videos natively, there are certain third-party apps out there which allow you to add slow-motion effects to your recorded videos. With the help of these apps, you will be able to record slow motion videos on any Android device. If you are interested in this feature, read on as we show you how to enable slow motion in any Android device:
Enable Slow Motion in Any Android Device
While there are a ton of third-party apps out there which promises to enable slow-motion video recording, most of them are trash. After testing a number of such apps, we found that Slow Motion Video FX (free, with in-app purchases) is the best of the bunch. In the next section, we will show you how you can use the app to enable slow-motion video on your device:
Enabling Slow Motion Video Using Slow Motion Video FX
Once you have installed the Slow Motion Video FX app on your device launch it. Here, tap on "Slow Motion FX" button. Now, select whether you want to record a new video or apply slow motion effect to an already existing video. For the purposes of this article, we will select the "Choose movie" option.
2. Once the video has been imported, the app will give you a short tutorial on how to use the app. You can check out the tutorial or skip it.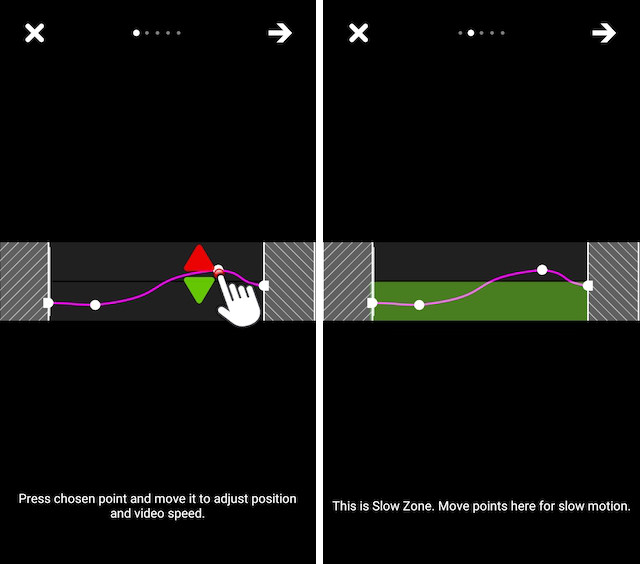 3. To use this app, all you need to know is that the editing takes place in the timeline which is divided into two parts by a faint line. There are two dots in the middle which mark the start and the end of your effect. You can slide the dots up and down to change the speed of the video. To enable slow-motion video, make sure that both the dots are below the partition line. The closer the dots are to the bottom, the slower will be the video.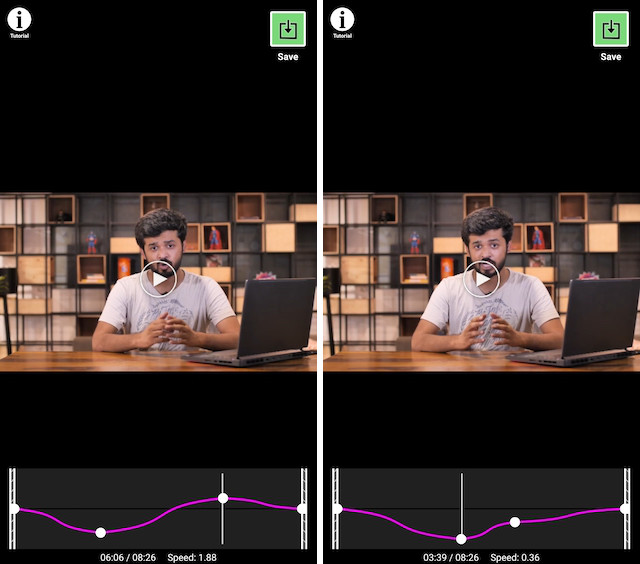 While it is not a part of our original article, you should know that you can also speed up videos using the same app. To speed up your videos, in the editor, just slide the dots above the partition line and not below it.
Other Android Apps for Slow-Motion Video Recording
While the Slow Motion Video FX is my favorite app to use when applying slow-motion video effects, it's not the only app out there. Some of the other apps that have impressed me a lot include the Video Slow Reverse Player (Free with in-app purchases) and the Slow Motion Frame Video Player (Free with in-app purchases). Actually, we have already published an article detailing the best slow-motion Android apps which you should definitely check out if you want to learn more about these apps.
SEE ALSO: How to Right Click Using Keyboard on Mac
Shoot Slow Motion Videos on Your Android Device
While the slow-motion effect using the third-party apps will never be as good as the ones recorded natively by the supported phones, they do allow you to produce an almost similar effect which does come in handy a lot. Do use this app and let us know if you liked its performance or not. Also, if there's an app which you are already using and you believe it to be better than this one, share its name along with the download link in the comments section below.
---
Load More