A few months back, Microsoft had announced that it was going to compete with Google's Chrome OS with Windows 10 S. The streamlined version of Windows, was launched alongside the Surface Laptop and is developed for primary use in educational institutions. Built from the core of Windows 10 Pro, the Windows 10 S is meant to be faster, more secure, lightweight, and with improved battery life over its sibling operating systems. Although the standalone release is still a good few months away, Microsoft recently made the latest member of the Windows family available for developers and IT pros to download and test. The company has now released a self-installer app that allows you to test Windows 10 S on existing devices running Windows 10. If you're interested in trying out the latest offering from Microsoft, here is how you can download and install Windows 10 S on your PC.
Note: Windows 10 S installer currently only supports devices running Windows 10 Pro, Windows 10 Pro Education, Windows 10 Education, and Windows 10 Enterprise. Devices running on Windows 10 Home and Windows 10 N editions are currently not supported.
Install Windows 10 S Using Windows 10 S Installer Tool
Before proceeding, make sure to backup all your important data and connect your system to the internet before proceeding.
Download the Windows 10 S Installer here and run it. Click on the "Next" button to proceed.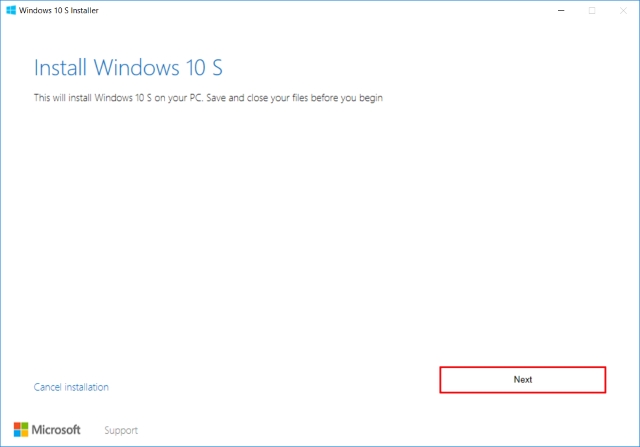 Once you click Next, the system will now check if your hardware is compatible, that is, meets the minimum requirements for Windows 10 S. If your system meets the requirements, click the "Next" button to continue.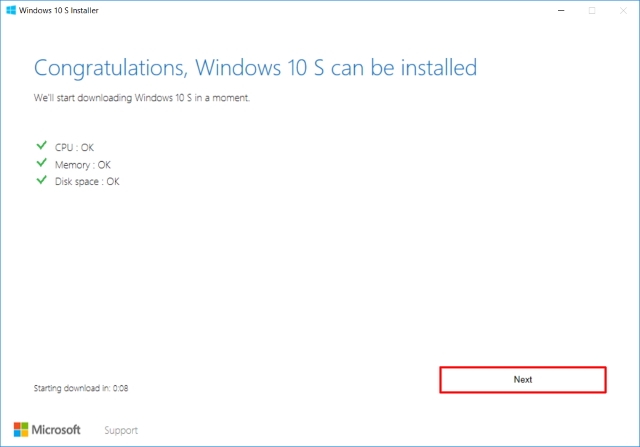 The setup will now Download the Windows 10 S files onto your system and then begin installing it on your device itself. You can continue to browse the web or perform other tasks on the system. You can simply click on the "Minimize" button to send the setup to the background.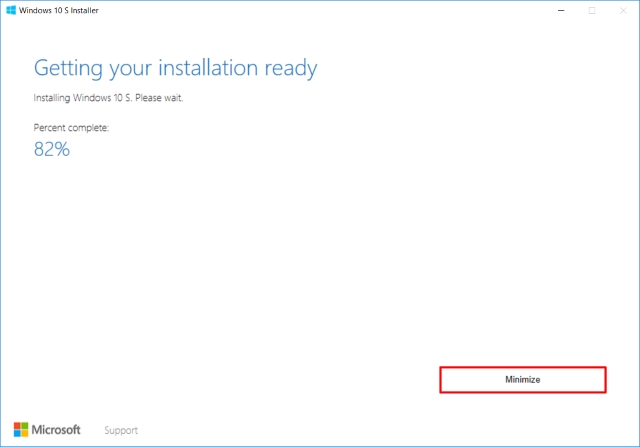 Once the setup has been completed, you will be prompted to restart your device. Click on the "Restart Now" button to restart your device.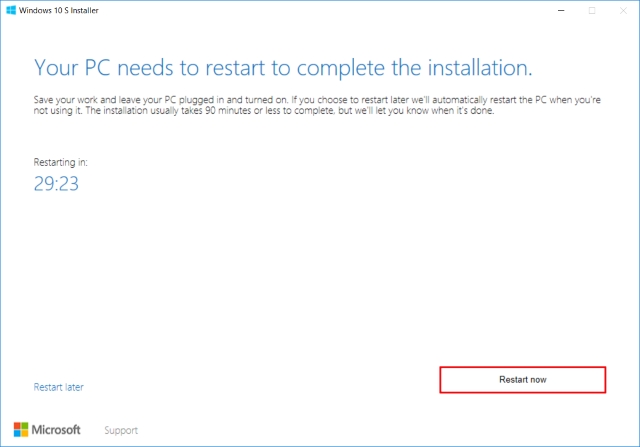 Your system will now restart. Upon booting, you will be greeted with a blue screen where the actual installation will begin. Your system will restart multiple times during the installation. Make sure that the system is connected to the power outlet to avoid any issues.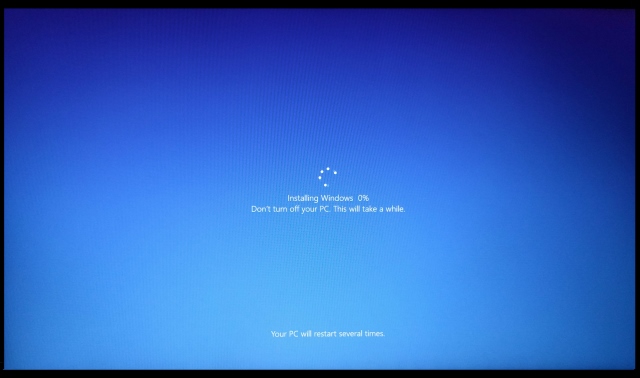 Once the system has finished installing Windows 10 S, the PC will restart on its own. You will now be greeted with the Setup page, similar to the normal Windows 10 installation, where you'll be required to connect to a WiFi network, login with your account or add a new account, and configure other Windows settings. Once you're done with it all, click the "Next" button to finish the installation.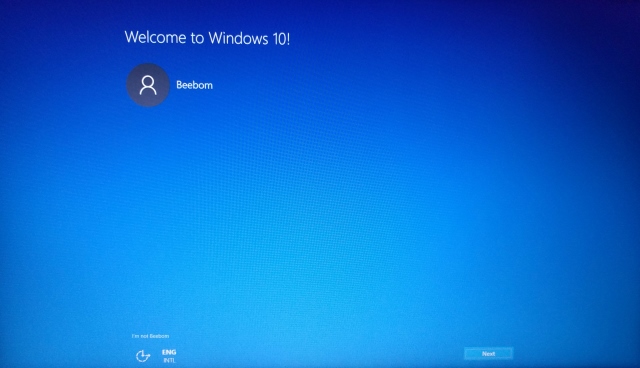 Your system will now boot into Windows 10 S. Simply log in with your account and you're good to go.
Note: Do note that while your personal data will be preserved, all Win32 software and apps, as well as your personal settings will be removed.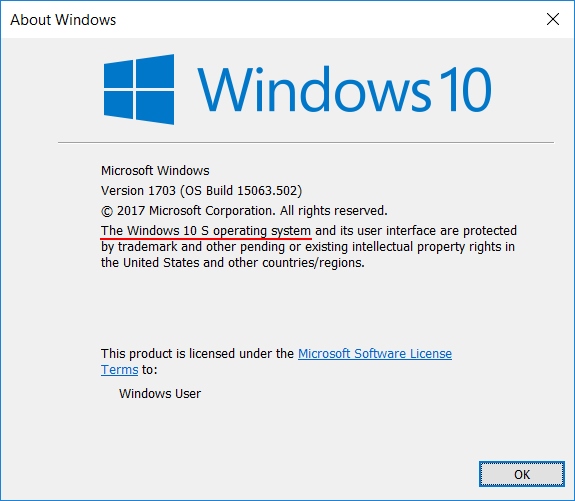 Clean Install Windows 10 S
Alternatively, you can perform a clean Windows 10 S installation as well. To do so, you can download the ISO Image File of Windows 10 S from here and create a bootable USB to install it. Do note that you need to be an MSDN user with Visual Studio Professional or Enterprise subscription, which costs about $539/year or $45/month. As of now, Windows 10 S is in its infancy and is available only for developers. Over the course of next few months, we can expect to see retail images available for consumers. Once they are released, you can download and install them by creating a bootable USB disk.
Changes in Windows 10 S
Windows 10 S comes as a direct alternative to Google's Chrome OS, with the idea of providing a familiar environment for the users. While the environment is similar to the normal Windows 10, you do end up being limited to Microsoft's environment only. What this basically means is that you can only install apps from the Microsoft Store, and there's no way, as of now, to install desktop programs. Additionally, the default browser is Microsoft Edge, and cannot be changed.
Also, since third party apps are not allowed, it also results in incompatibility with some drivers, since they rely on the installation of third party programs. For example, you cannot even install AMD's Control Center or NVIDIA's GeForce Experience. Furthermore, if you followed the above guide to using the Windows 10 S Installer, even though your data will be preserved, all your third party apps will automatically be erased from the system.
Another noteworthy thing is the fact that since you cannot install apps from outside the Windows Store, Windows 10 S users are limited to Office 365 which is the only available variant of Microsoft Office in the Windows Store. Users cannot install Microsoft Office 2016 or any other annual variant. This is in line to keep the security in check, as well as to reduce piracy. To take a better look at the differences between Windows 10 and Windows 10 S, read our detailed article here.
SEE ALSO: Windows 10 Home vs Pro: Which One You Should Upgrade to?
Ready to Install Windows 10 S on Your PC?
While the retail version of Windows 10 S may still be a few months away, thanks to Microsoft, you can try out the Windows 10 S in its current state using the above guide. Obviously, after using Windows 10 Pro, switching to Windows 10 S will give you a very locked down feeling, being trapped inside Microsoft's Store. The Store itself has a limited number of apps, so there's not much you can do with the Windows 10 S in its current state. That being said, the "streamlined" version of Windows 10 does seem promising in its aim of becoming a competitor to ChromeOS and being used ideally for schools and institutes.
Tell us what you think about the latest offering from Microsoft, and whether you'd like Google's ChromOS or prefer Windows 10 S in the comments section below.