When Apple unveiled their latest flagships last month, they brought a display feature that was so far exclusive to this year's iPad Pro. It's called "True Tone" display, a technology that makes use of the device's front facing sensors to automatically adjust the white balance of the display to match the ambient lighting. As a result, the display causes lesser eye strain and the information displayed is more legible. However, this is quite different from Night Shift mode found on iOS, which pretty much as a blue-light filter when you're using your phone late-night. That being said, not everyone might adapt quickly to the dynamic change in white balance as a result of True Tone display, and your screen might look odd while running certain applications and games. If you think the new True Tone display doesn't suit you well enough, let's take a look at how to disable True Tone on iPhone 8 and iPhone X:
Disable True Tone on iPhone X, iPhone 8 and iPhone 8 Plus
Note: I've disabled the feature on my iPhone 8 Plus running iOS 11.0.3, so the steps that I'm about to mention should be exactly the same for the iPhone 8 as well as the upcoming iPhone X.
True Tone can be turned off either from the device settings or directly from the iOS 11's revamped Control Center using 3D Touch. Simply follow the steps below to disable the feature without any hassle:
Go to "Settings" on your iPhone and tap on "Display & Brightness". In the next menu, simply tap on the toggle to disable True Tone.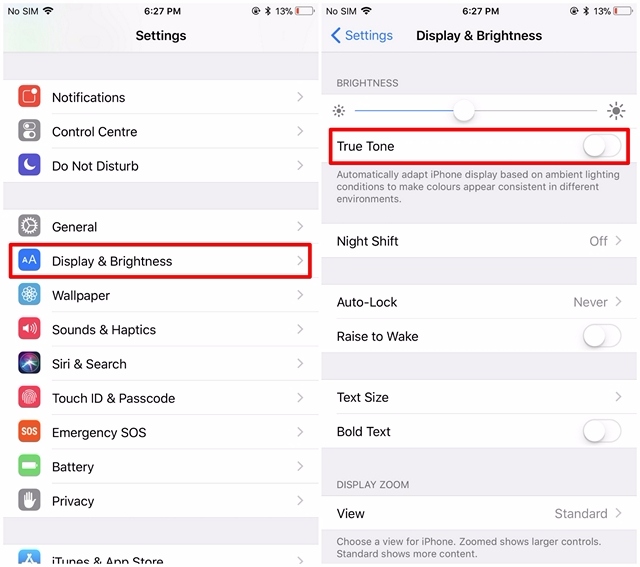 In order to turn the feature off right from the Control Center, simply swipe up from the bottom of the screen to access Control Center on your iPhone 8 or iPhone 8 Plus. However, if you're using an iPhone X, swipe down from the upper-right corner of the screen, to access Control Center. Now, 3D Touch on the brightness slider and you'll see the option to enable or disable True Tone with just a tap.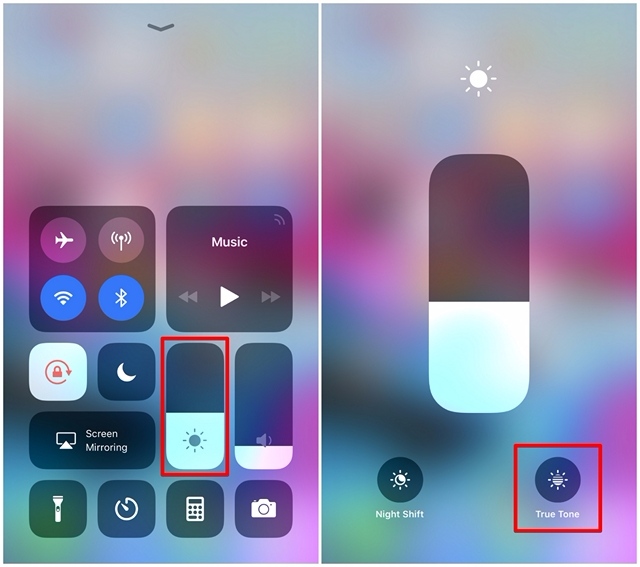 SEE ALSO: How to Use Portrait Lighting on iPhone 8 Plus and iPhone X
Better Off Without True Tone Display?
The new True Tone display on the new iPhones is certainly not for everyone. Moreover it might be something that you could either love or hate, depending on what you do with your smartphone. Certain apps and games might not work well with the dynamic change in white balance, and as a result, the display might look odd at times. At the same time, it also improves the legibility and can reduce eye strain. All in all, it comes down to personal preference on how you want your iPhone's display to be. So, are you going to disable True Tone on your new iPhone, or do you still prefer using it? Do let us know, by dropping your valuable opinions in the comments section down below.