Many applications release updates with the latest security patches to their users. So does Google Chrome. If you use Chrome on a Windows system, you may have often noticed some changes either in the design or in the settings. This is because it silently downloads and installs all the latest updates automatically in the background. And most of them increase the security of your browser and have no disadvantages as such. Given that Chrome does not give you an option to disable the auto-update anyhow, you will have to use some other ways to get that done. In case you are wondering what they are, here is how you can disable Chrome auto-update in Windows 10:
Note: I have tried the following methods on my Windows 10 PC and they worked out fine. Having said that, these methods should work fine on older Windows versions, like Windows 8.1, 8, 7 etc.
Turn Off Chrome Automatic Updates Using Local Group Policy Editor
This method involves downloading the Google Update (auto-update) template in ADM form from The Chromium Projects. You can also download it directly by clicking here. This template will be used to disable Chrome auto-update on your computer using the Local Group Policy Editor. Here are the steps for that:
Note: Local Group Policy Editor is not available on every Windows edition. In case your system does not have it, this method will not work for you.
Open Run command by pressing Windows + R on your keyboard. Here, type "gpedit.msc" and hit Enter. This will open the Local Group Policy Editor.
In this window, under "Computer Configuration", right-click on "Administrative Templates", and select "Add/Remove Templates…".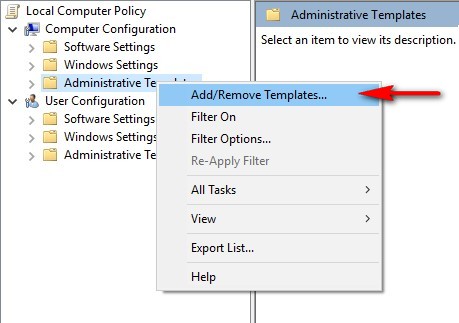 On the following window, click on "Add…".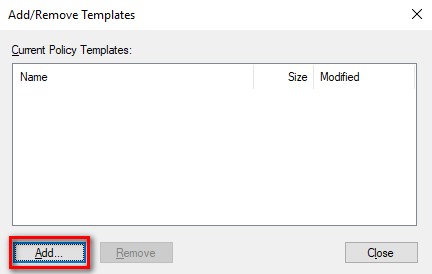 Now you will be prompted to locate a Policy Template. Navigate to the Google Update template that you downloaded from the link above and select it. This should add it to the list. Click on "Close" to continue.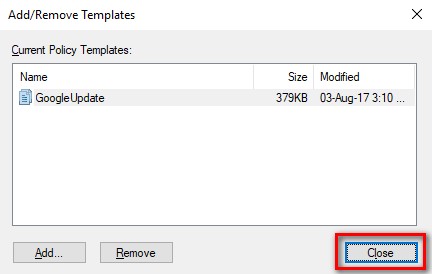 From the left pane of Local Group Policy Editor, navigate to the following path:


Computer Configuration\Administrative Templates\Classic Administrative Templates (ADM)\Google\Google Update\Applications\Google Chrome

Here, double-click on "Update Policy Override".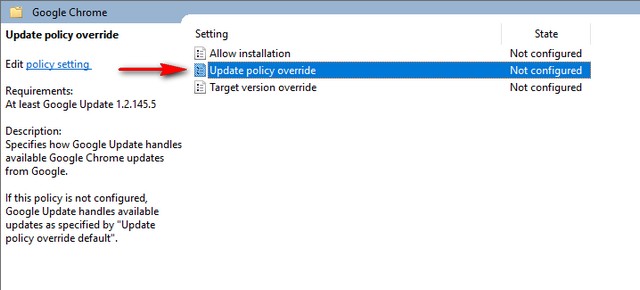 You will now be taken to its configuration page. First, enable the service by clicking on the "Enabled" radio button. Now from the "Policy" drop-down menu, select the option that suits you the best. To completely disable all updates – both automatic and manual – select "Updates disabled". The descriptions for each of these options is available under the "Help" section of the same window. Click on "OK" when you've selected an option.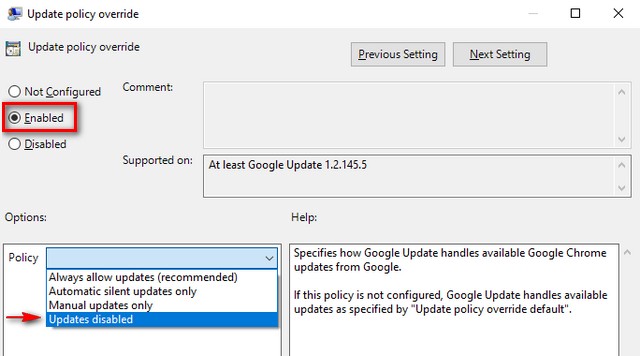 Now the next time you restart your computer, the Google Update service would be disabled. To reset it to the original setting, choose "Always allow updates (recommended)" from the Policy drop-down menu.
Disable Chrome Updates Using System Configuration
This method involves disabling the service that Google Chrome uses to check for updates in the first place. Once disabled, Chrome wouldn't get updated automatically unless you re-enable the service. So, without wasting any more time, here are the steps for this method:
Open Run command by pressing Windows + R on your keyboard. Here, type "msconfig" and hit Enter. This will open the System Configuration window.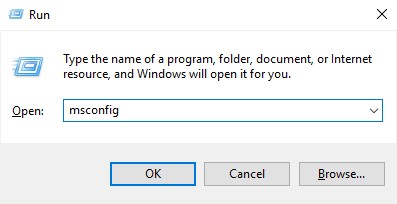 In this window, head over to the "Services" tab and click on "Manufacturer" to sort them accordingly. Now scroll down till you find the manufacturer named "Google" and "Google Inc" and uncheck the three services – "Google Updater Service", "Google Update Service (gupdate)", and "Google Update Service (gupdatem)". Finally, click on "OK" to save the changes.
You will now see a window that asks you to restart. Click on "Restart".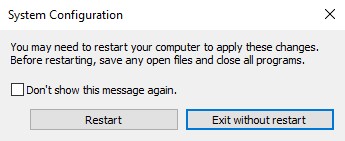 When your computer turns back on again, the Google Chrome update service should be stopped and hence, any further updates won't get installed automatically. In case you wish to turn Chrome auto-update back on again, simply check the boxes of the same three services and then click on "OK".
SEE ALSO: How to Disable Chrome Automatic Updates in Mac
Disable Chrome Auto-Update in Windows 10
While Chrome auto-update is a good thing, some people want to take full control of their system and want to manage when each and every update gets installed. If you are one of those people, the two methods mentioned above may come in handy to you. So, did you try the methods to disable Chrome updates in Windows 10? Do let me know in the comments section below.