Black Friday is almost upon us, and with us come a ton load of deals. If you're an action sports enthusiast and are looking for a great action camera to record all your videos, you can't do much better than a GoPro camera. They have a wide variety of action cameras on sale, and since it is Black Friday, there are some pretty nice deals available on them. So, here are 6 of the best Black Friday 2017 deals on GoPro cameras that you should check out:
Note: While most of these deals do not mention a specific end-date, chances are that they'll be available till Cyber Monday.
3. BestBuy: GoPro Hero 5 Black 4K
BestBuy has some great deals on offer this Black Friday. One of these deals includes a decent discount on the GoPro Hero 5 Black 4K Action camera. While the original one retails for $399, BestBuy is offering a $50 discount as well as a $50 gift card. This gift card can then later be redeemed for other purchases from BestBuy. Also, the GoPro Hero 5 bundle comes a WiFi remote included as well.

Buy here ($349)
2. Sam's Club: GoPro Hero 5 Black Essentials Bundle
Sam's Club is offering a pretty great bundle at quite a decent price for the GoPro Hero 5. The bundle includes the GoPro Hero 5 Black, a 16GB SD card, dual chargers, a battery, along with a head-strap with QuickClip as well. All that for merely $349, thus essentially saving $50 off your pockets.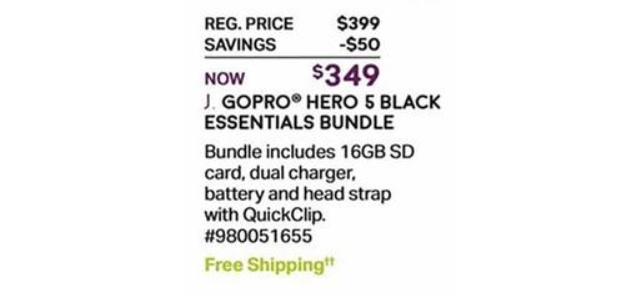 Buy here ($349)
3. Cabela: GoPro Hero Session Holiday Bundle
Cabela is offering a great bundle for the GoPro Hero 5 Session, which regularly goes for $299. Along with the camera, you get a 16GB microSD card and a head strap. While the package in itself retails for about $339, Cabela is offering this entire deal for just $249. Now that's nearly $90 of saving, which, in my opinion, is great.
Buy here ($249)

4. Cabela: GoPro Hero 6 Action Camera
Now this one's a rare occurrence. While most sellers are offering deals on the Hero 5, Cabela is offering a pretty impressive deal for the GoPro Hero 6 as well. While there is no discount as such, because the Hero 6 is available on Amazon for $496, the seller is offering $75 in Cabela Bucks. These Bucks can then, later on, be used for any other purchases through Cabela. This in itself sounds like a great deal, especially since it is available for GoPro's flagship action camera.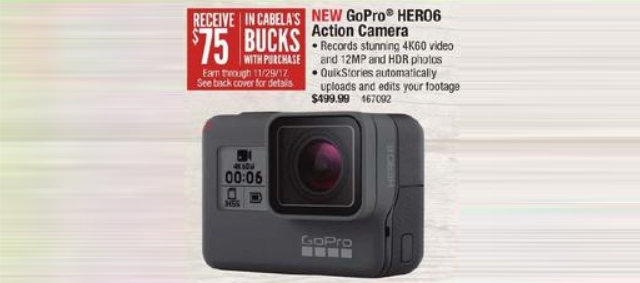 Buy here ($499)
5. Overstock: GoPro Hero 5 Bundle
In a world full of deals, Overstock probably has the best bundle there is available for the Hero 5. Apart from the GoPro Hero 5, which goes for $399, the bundle includes 2 extra rechargeable batteries, 1 external rapid quick travel charger with car charger attachment, a carrying case, an HDMI cable, a pack of LCD screen protectors, a memory card wallet,  two 64GB microSD cards, a memory card reader, and a full size digital camera tripod. Yes, all that! While the bundle is currently available for $557.24, Overstock states that the price will drop down so low that it's "too low to show". Make sure to check out the link below during the Black Friday for the best bundle for GoPro Hero 5.
Buy here (TBA)
6. AAFES: GoPro Hero 5 Action Black Bundle
Another great offer that's available for the GoPro Hero 5 comes from AAFES. They're offering a pretty decent deal on the Hero 5, selling it for $299 as opposed to the retail price of $379. The Hero 5 is one of the most promising action cameras out there, and it is good to see AAFES have a decent deal on it.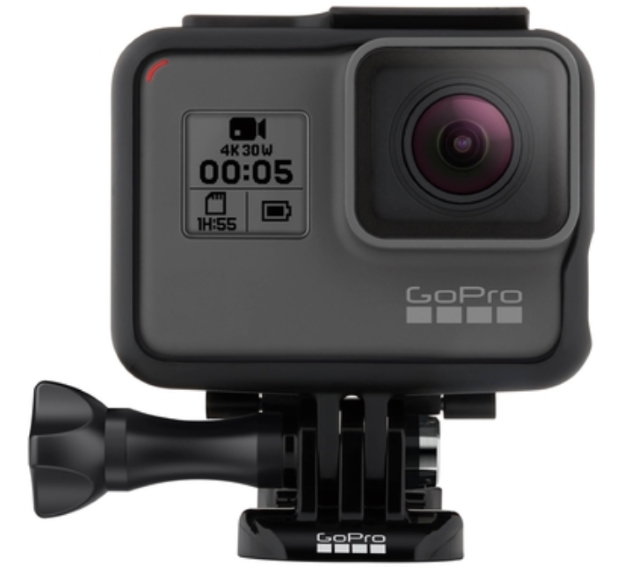 Buy here ($299)
SEE ALSO: Best Xbox One and PS4 Black Friday Deals in 2017
Make Use of these Great GoPro Black Friday Deals in 2017
GoPro has some of the best action cameras out there. It is nice to see multiple sellers offer various different deals on the GoPro cameras. If you're looking to get hold of an action camera, GoPro's deals are definitely one to consider. We've listed above all the Black Friday deals available for the GoPro action cameras. But which one will you be going with? Let us know in the comments down below.