Google Chrome is one of the most popular browsers and has garnered a number of fans over the years. While its abundance of features may look like a lot to some people, Chrome also has a ton of hidden features in Chrome Settings and Chrome Flags that'll help quench the thirst of users who want more. I especially admire the Chrome flags as they can not just tweak the UI or boost performance, but also add new features to everyone's favorite browser. Chrome flags, if you have not heard of it before, are experimental features that Google is currently working on but has made it available for trial to users. You can learn everything there's to know about Chrome flags and how to enable the one in our detailed guide right here. Now that you know all about flags, here are the 25 most useful and cool Chrome flags.
Note: A word of caution. Chrome flags are experimental features which are currently in development and thus, their functionality could be finicky.
Google Chrome Flags to Make Browsing Fun in 2020
In this section, we have mentioned Chrome Flags which are common and available on both desktop and smartphone devices, be it Windows, Android, macOS, Linux or Chrome OS. They can be found on the chrome://flags page on any of the platforms.
1. Quieter Notification
We know how notifications have become almost a nuisance on Google Chrome. Almost every website abuses the notification permission and incessantly prompts a dialog box to allow notifications. However, with the Quieter Notification flag turned on, the notification prompts gets blocked completely. How awesome is that? So open chrome://flags and enable "Quieter notification permission prompts" flag and you are done.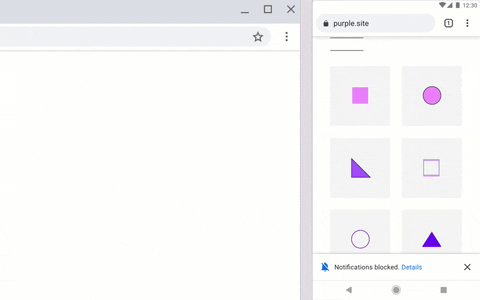 2. Faster Download Speeds
Parallel Downloading has been in the Chrome Flags repository for a very long time. It seems Google is not working on this feature to make it part of the stable channel. Nevertheless, this flag accelerates download speed by breaking the files into smaller chunks, similar to how IDM and other download managers work. So search for "parallel downloading" and enable the flag.

3. Password Import
Google Chrome has offered the option to export passwords for some time now, but if you are moving to the most popular browser from one of its competitors and want to import your password, well, enabling the #PasswordImport flag is what you should do right after downloading the browser. You can then go to "Settings -> Passwords" and tap the 'three dots' icon next to 'Saved Passwords' to see the 'Import' option.
4. Enable Smooth Scrolling
As the name suggests, this Chrome flag helps improve the scrolling experience on your mobile and desktop. It reduces the janks and jitters that you may witness while scrolling and it works with Windows, Linux, and Chrome OS as well. You can enable #smooth-scrolling from the Chrome Flags page.

5. Secure DNS Lookups
Another awesome Chrome Flag that you must enable is Secure DNS Lookups. Many users, including me, have been using HTTPS Everywhere extension to always force HTTPS connection while using the internet. And now, Google has brought a flag that does the same thing. So just enable the flag and Chrome will try to use a secure HTTPS connection for any website that you are visiting. By the way, Mozilla has already made DNS over HTTPS a default feature on Firefox.
6. UPI/VPA Values
Since Google Pay has gotten pretty popular and UPI has almost become a primary way of payments in India, Google is bringing an option to autofill UPI/VPA values in payment forms. After enabling this flag, Chrome will be able to recognize UPI ID or VPA and offer you to save or autofill your VPA address in the payment box. That's awesome, right?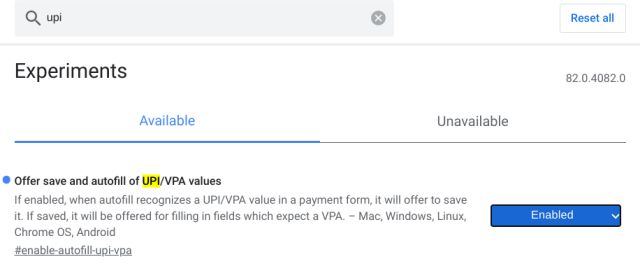 7. Share Webpages Using QR Codes
This is one of the latest Google Chrome Flags and its job is to make sharing links easier. Suppose you are browsing web on your desktop and you want to quickly open that link on your mobile device. Well, there's no easy way to share link to your mobile device unless you are logged in the desktop Chrome and your mobile device with same Google ID. Well, if you enable this flag you will be able to share links in seconds. To make this work, open Google Flags page and search for "QR". Now enable the "#sharing-qr-code-generator" flag.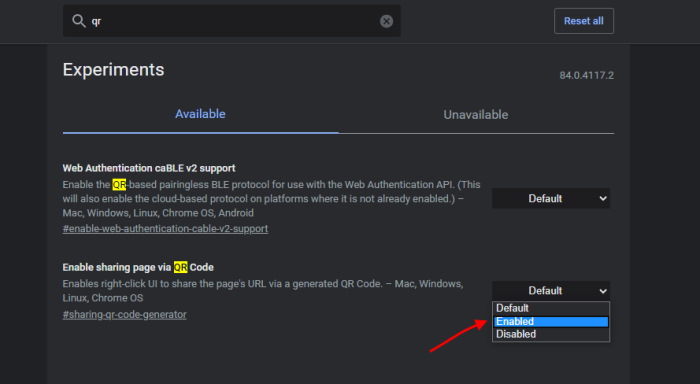 Once you do that, you will see a 'QR code' icon in the address bar, next to the bookmark (star) icon. Click on it and Chrome will show you a QR code corresponding to the webpage that's on your current tab. Just scan it with your phone to open the link on your smartphone. However, as I said, this is a new flag and hence it's available only in the latest Canary build of Google Chrome. if you are using the stable version of Chrome, you might have to wait for a few weeks before you can access this flag.
8. Hover Cards
Hover Cards is a new way to identify and navigate through tabs. It's especially helpful when you are dealing with lots of Chrome tabs. Basically, if you enable this flag then a preview image of the tab will show in the form of hovercard. I am using this feature on my Chromebook and it's absolutely great for seamless navigation.

9. Tab Groups
Tab Groups is again a flag for those users who are tab hoarders. It basically lets you organize tabs into visually distinct groups. For example, you can organize a group of tabs in a common color so that you can easily move to that certain group of tabs. You can assign colors based on the nature of the tasks.
10. Extension Toolbar Menu
Earlier, Chrome extensions used to sit inside the Settings menu, but now it's located beside the address bar. And if you are using too many extensions then your Chrome becomes cluttered and you can't really navigate properly. In such a case, you can move all the extensions into a single toolbar menu. The address bar looks clean, more effective and has permission controls as well.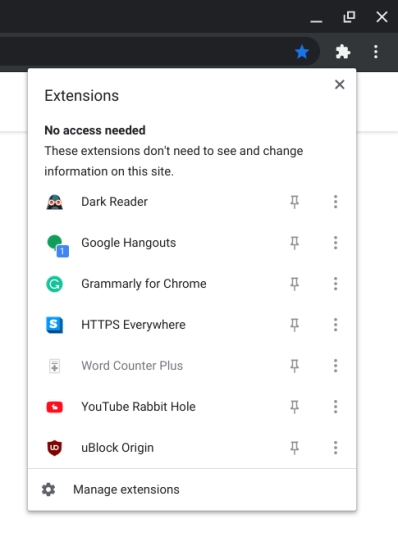 11. Global Media Controls
In order to make media controls on Chrome accessible, Chrome has brought a global flag that will allow you to play/pause/change tracks from a single location. After enabling this flag, you will find the media toolbar on the top-right corner.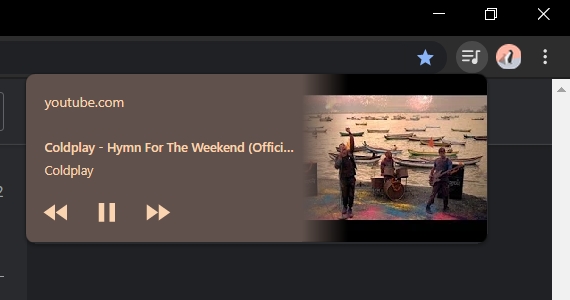 12. Pull to Refresh Gesture
This is one of my favorite Chrome flags in this list. You can enable this gesture on your laptop and swipe down on the trackpad to refresh the webpage. On my Chromebook, it works satisfyingly good.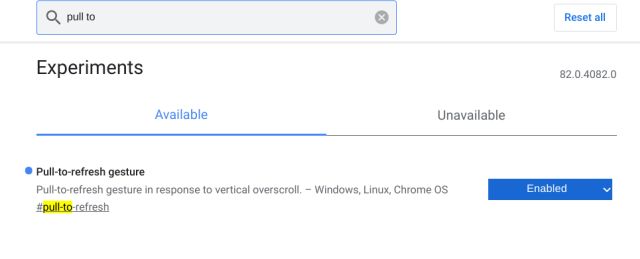 13. Disable Google Chrome Incognito Mode Detection
Native File System API is for allowing websites to access your native file manager. However, users have found out that, after you enable this flag, websites are not able to detect the incognito mode. And that's why this flag is important. If you want to block websites from detecting incognito mode then enable the Native File System API flag.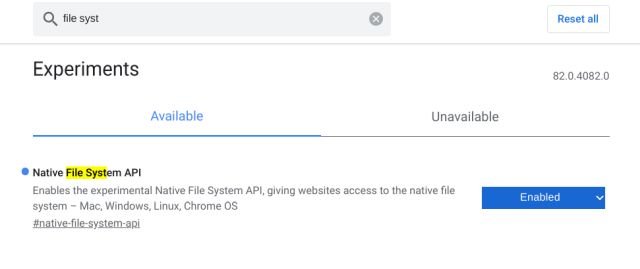 14. Enable Reader Mode
While Safari has an excellent Reader Mode, we do not have such a feature on Google Chrome. However, there is a hidden Chrome flag that lets you enable Reader mode on Chrome. You get a barebone reader mode which simplifies the web page and removes unnecessary ads. Sure, it's not as good as Safari's Reader Mode, but it does work.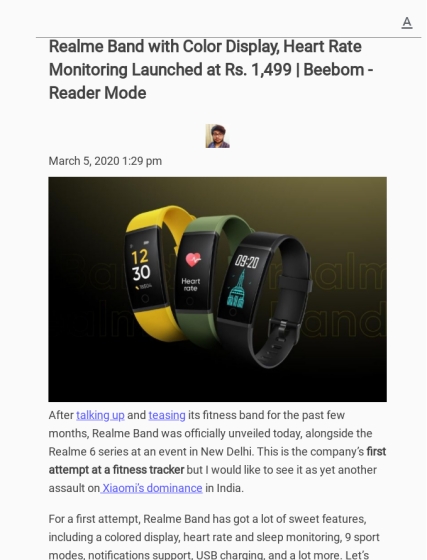 15. Focus Mode
Focus Mode is another Chrome flag that I personally use. It lets you isolate a tab in a separate window just like PWAs (Progressive Web App). For example, when you want to deal with a Chrome tab in a separate window then this mode can let you do it. The best part is that you do not have to make a PWA first. Just right-click on the tab and choose "Focus".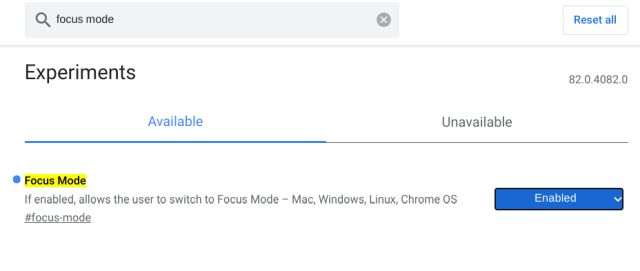 16. Treat Risky Downloads
First of all, this flag is not for everyone. However, if you are introducing the internet and web browser (in this case, Chrome) to someone who is new to this whole internet world then consider enabling this flag. It prevents downloading of files that can be executed on your computer like EXE, DMG, DEB and more. Chrome does this so that amateur users don't download malware or adware unintentionally. The flag also blocks downloads that are originating from insecure pages. In case you want to learn more about how to enhance Google Chrome security then head over to our linked article.
17. Chrome Duet UI
Most phones now have massive displays so if you're having trouble reaching to the top to access the tab switcher or settings, then Chrome Duet (formerly known as Chrome Home) is here to your rescue. Just search for the "Duet" and activate both the flags. After that, restart your Chrome twice. Now, Chrome will display important buttons, such as home, tab switcher, search, share, and overflow menu in the bottom bar for easy one-handed use.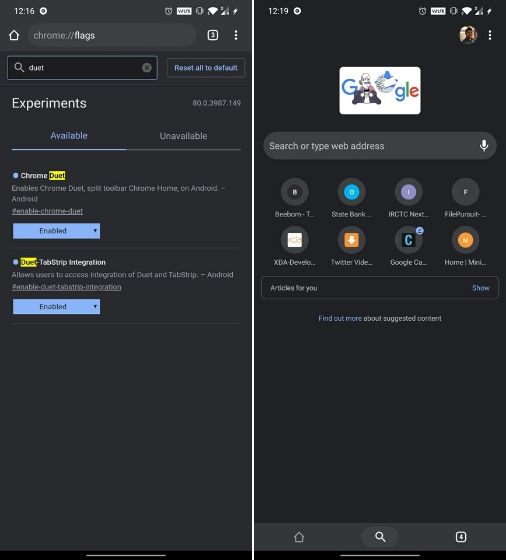 18. Dark Mode
Chrome has finally received dark mode, which you can easily enable from the Settings page (Settings -> Theme -> Dark). However, you can now activate dark mode for web pages as well. It works just like the Dark Reader extension on the desktop. And the best part is that the earlier issue of inverting the images has been resolved. So search for "dark" in Chrome Flags and enable "Force Dark Mode for Web Contents". You are done.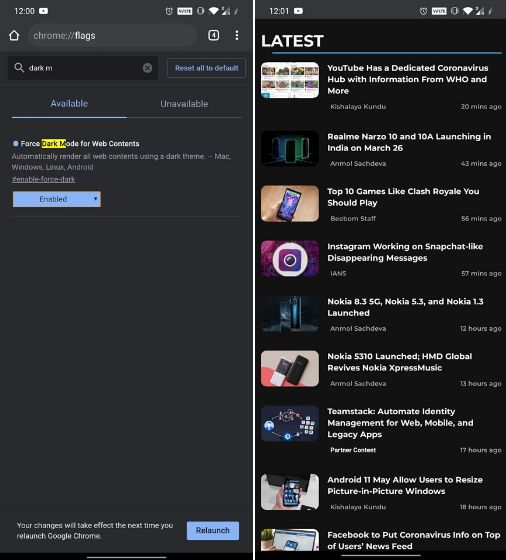 19. Tab Grid and Tab Groups
Chrome developers have been working on a tab grouping feature for a long time and it's finally here. You can search for "Tab Groups" in Chrome Flags and enable all three flags. After that, search for "Tab Grid Layout" and enable it. Now, once you open a website in a new tab, tap the tab switcher icon, and tap on the "+" icon that appears on top. This will create a tab group and you can continue to add and open websites inside this group. Also, you will see a tab grid layout instead of the horizontal layout on the tabs page.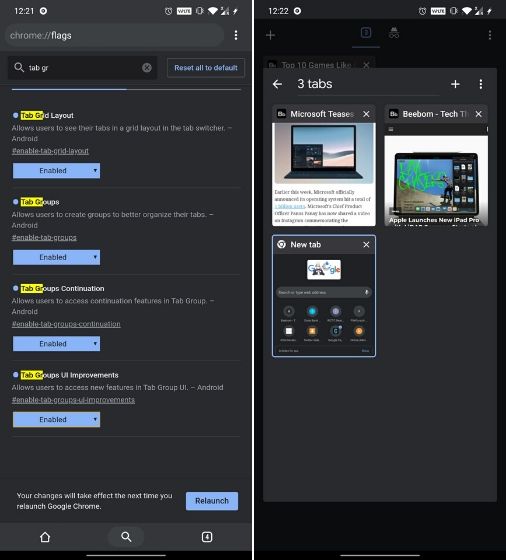 20. Chrome Sharing Hub
Chrome Sharing Hub is a new flag that brings an Android Q-like layout in the Chrome share sheet menu. Once you enable it and tap on the Share button, you will find the sharing options at the bottom and you can scroll horizontally as well. So just search for "chrome sharing hub" and enable the flag.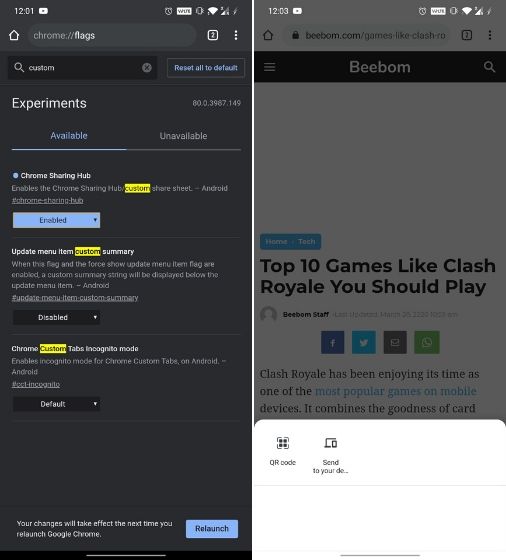 21. Google Lens
Google Lens integration has finally arrived on Chrome. However, it's still hidden behind a flag. To enable it, search for "Lens" and enable "Google Lens powered image search in the context menu" flag. Now, you can reverse search images with Google Lens while browsing the web in just one tap.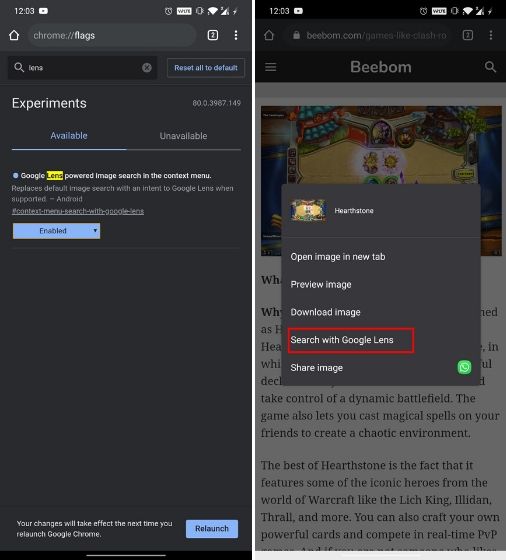 22. Share Clipboard Across Devices
Finally, clipboard sharing is part of Chrome and I am personally very excited. You can share whatever you have copied (like URLs and large texts) on your smartphone and paste it on your desktop seamlessly. How amazing is that? To enable it, search for "clipboard" and activate "shared-clipboard-ui" and "shared-clipboard-receiver". You may have to enable this flag on your desktop Chrome as well. After that, select a text on your smartphone and tap on Share. Now, you will get an option to share the clipboard with your desktop Chrome in the share sheet menu. And on your desktop, it will be automatically copied to your clipboard.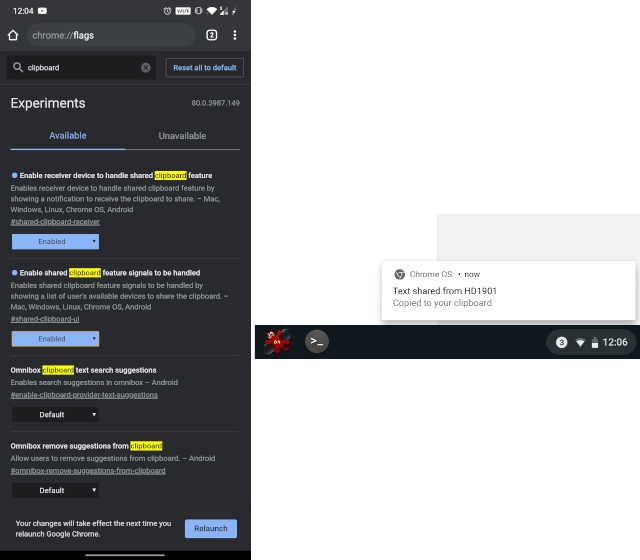 23. Explore Websites
Lately, Google is going overboard with content suggestions on Chrome and it's a very frustrating experience. Earlier, you could disable the content feed on the new tab page, but now the flag (Interest Feed Content Suggestion) is not working. Nevertheless, you can remove the 'Top Sites' menu from the homepage. Just search for "explore websites" and disable the flag outrightly. Now the Top Sites box will be gone from the homepage.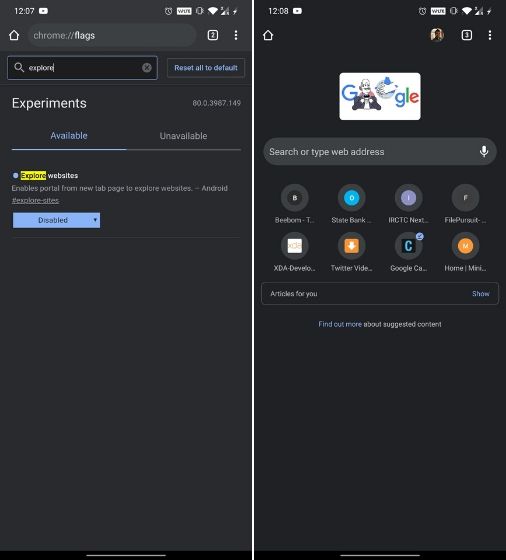 24. Ephemeral Preview Tab
This flag lets you open hyperlinks in a preview tab which means you can easily move from your current tab to the preview tab comfortably. It's just like peeking on a webpage without opening it and it works like a charm. To enable it, search for "ephemeral" and enable the "Ephemeral Preview Tab in an overlay panel" flag.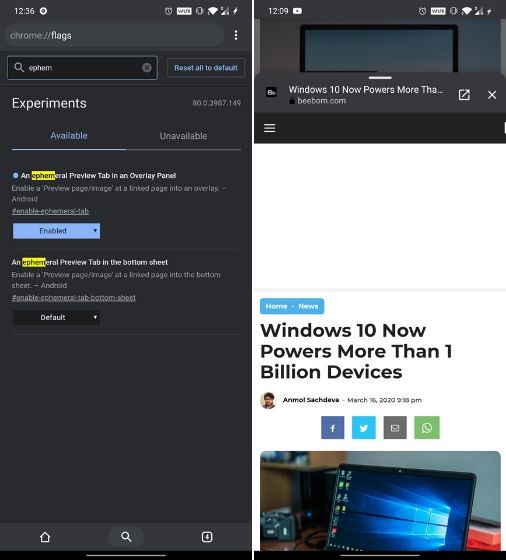 25. Password Leak Detection
Password Leak Detection is an important flag and you must enable it on your Android smartphone. Whenever you create or enter a password on your device, Chrome will alert you if your password has been leaked in any major security breach. It will immensely help you safeguard your data on the internet. So look for "password leak detection" and enable it right away.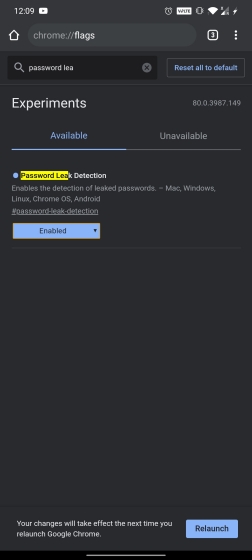 Bonus. Direct Actions
Direct Actions flag is for those users who have got the new Google Assistant update — most likely in the US and Japan. It lets you operate Chrome with direct instructions from Google Assistant: open a tab, close a tab, refresh this page, share the page with someone, switch to the next tab and so on. Basically, you will be able to directly command Chrome with several voice instructions. So just search for "Direct actions" flag and enable it on your Chrome.
Google Chrome Flags You Should Use
If you're a regular Google Chrome user and want to enhance your browsing experience, well, you now have a list of 20+ Chrome flag which should check out. Since a lot of the aforementioned features are still under testing, we suggest you proceed with caution to benefit from the Chrome flags. Toying with the flags could disrupt the existing browsing experience or performance, so be sure of what you're enabling/ disabling before you do. So, which of these Chrome flags would you be tinkering with? Do you think we missed some cool and fun flags? Let us know in the comments down below.