No one can deny the fact that Day One was and still is one of the best journal apps you can get for your Mac and iPhone. However, since they have introduced the new subscription-based pricing model, it has turned a lot of happy users off. To begin with, Day One was not cheap by any standards but as a regular Day One user I can say that the money I paid was worth it. However, I am not so sure now. You pay almost the same amount for a yearly subscription, essentially forcing you to buy the app every year. Some people like me who already have been journaling on Day One for a long time, might find it hard to switch to a new app, still, there is a lot of resentment out there and there are people searching for a new alternative to the beloved journal app on Mac and iPhones. If you are such a person, or if you are looking for a Day One app that's available on other platforms like Android, we have you covered. Here are 7 best Day One alternative journal apps you can use:
1. Journey
Journey is your best bet when searching for a journal app which is as good as Day One. Not only it has an app for Mac, it also supports Windows and Android. You can truly go cross-platform with this app. The app is also fairly affordable when compared to the Day One app. Okay, let's get into the feature set of the Journey app which is as good as Day One's if not more. You can create multiple journals inside the app and attach photos (up to 4) inside each entry. The app supports Markdown and Syntax editing, which is kind of becoming the norm these days.
It has a night theme which is quite useful if you are up late night journaling. You can protect your journals with passwords. Other features include printing to PDF, exporting to docs, bulk exporting, adding reminders and much more. But, by far the biggest feature which will help you move away from Day One is its import feature. It lets you import your journals from Day One so that you do not loose on your previous journals created on Day One. The only drawback I found about the journey was that it uses Google Drive to sync across the web and doesn't support iCloud or Dropbox. If they include iCloud support in the future, I might also switch to Journey forever.
Install: Android (Free, with $4.99 for Pro), macOS ($12.99), Windows ($12.99), Chrome ($7.99)
2. Capture 365
Apart from Day One, Capture 365 is one of the few journal apps which supports both macOS and iOS. This means you can sync your journal between your devices and journal on the go, even if you are not carrying your Mac. It also has an app for the Apple Watch, but I don't think that will be of much use. The best part is that all your notes saved on the cloud are end to end encrypted. You can even lock the iOS app with Touch ID, which I think is a nice feature.
Other features include automatic date, location, and weather tagging in all your entries, the ability to attach media files including photos and videos, exporting to PDF and other formats, theme support to customise the look and feel of the app, and much more. The only missing feature for me is the unavailability of import from Day One, otherwise, it is one of the best journaling apps out there.
Install: macOS ($22.99), iOS ($4.99)
3. Reminisce Journal
If you are looking for a cheaper alternative to Day One, Reminisce Journal can be for you. This is a very simple yet powerful journaling app which supports both macOS and iOS platform. When you launch the Mac App, you will see that it has a very intuitive interface. You land on the "New" tab where you can start writing your entry. The New tab is just like a blank sheet of paper. You can attach photos and videos to your entries. You can access all your entries from the "List" tab, which houses all your entries in chronological order.
The "Calendar" view lets you switch to entries pertaining to the date you selected while the "Maps" will show you the locations. This app is very similar to functionality to Day One, however, some crucial features are missing. For example, in my short time of using this app, I could not find a way to create multiple journals. But, the price at which the app is selling is very compelling to ignore. You can use the free version if you don't want to spend even that. It is one of those apps which are good but are hidden in the depths of App Store. Do try this one out.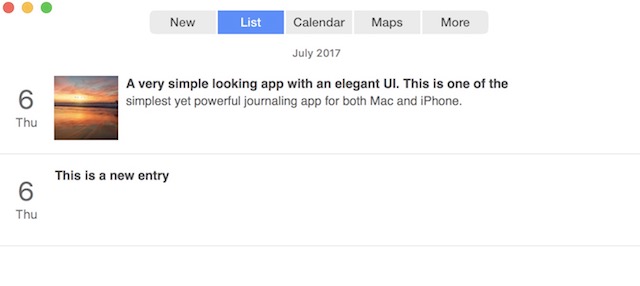 Install: macOS, iOS (Free, with in-app purchases)
4. Evernote
Before you strike Evernote off your list because it's more of a note taking app, take a pause and read the explanation. Evernote can replace the best of journaling apps because of its adaptability. Of course, it is a note taking app first, but, Evernote can even be used for writing your first novel or researching for your paper, such is its versatility. In the same way, you can use Evernote as a journal app. The only you thing you need to do is to create an independent folder (notebook) for journals. The ability to nest notebooks inside other notebooks allows you to have different folders for different months or years.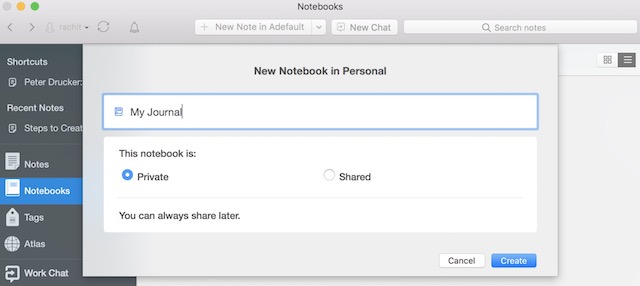 Each note can act as a single entry which already comes tagged with date and time. However, there is no location or weather tagging, but I think we can live without that. Not only you can add photos, you can even add audio files. It also has apps for all the platforms including iOS, macOS, Android, and Windows. So your journals are synced across the devices. Not only that the web app allows you to access your journal from anywhere.
The only major drawback of using Evernote will be the absence of UI features which make apps like Day One great. At the end of the day, it will look more like a note taking app than a journal app. So, if you can get over the looks, this can surely act as a replacement for Day One.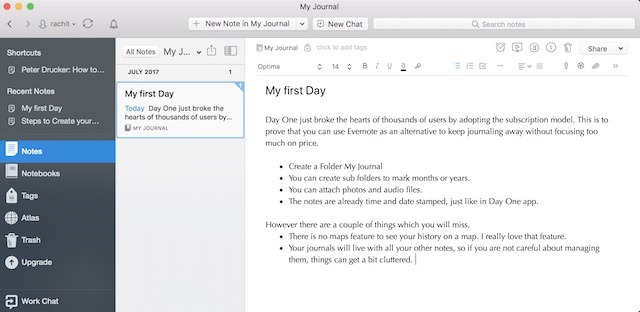 Install: Android, iOS, macOS, Windows, Web (Free, Paid subscriptions start at $34.99/year)
5. Grid Diary
If you are looking for an app which syncs your journal between your Mac and iPhone, the above options are the best ones out there. However, if you can do with an app which is either available for iPhone or for Mac, there are a couple more options you can check out and Grid Diary is one of them. I really loved the premise of the app where you get grids with specific questions (For example: What I am grateful for today?), which makes it easier for you to record the day. You can even create your own custom templates with questions if you don't like the ones which already come with the app.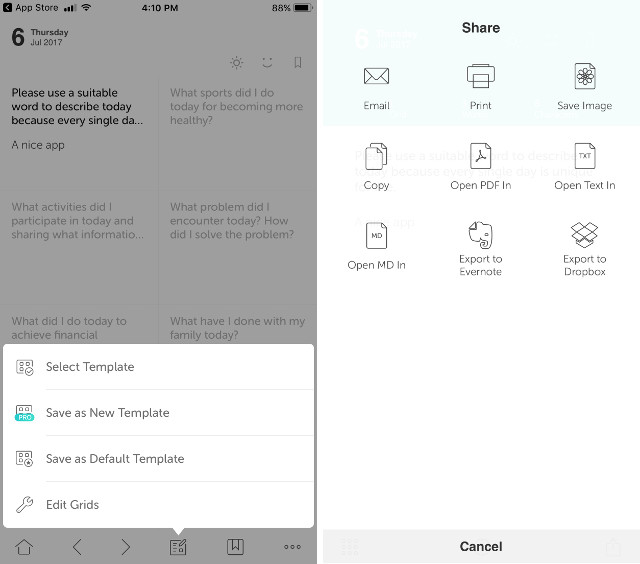 You can attach photos, set up reminders, sync to the cloud, and export your entries to Evernote and Dropbox. There's also an inbuilt password lock, which helps protect your entries from prying eyes. The best part is that the app is free to use for the most part and you only need to pay for additional features, like passcode lock, cloud sync, night mode, export features, etc., which are unlocked by the Pro version.
Install: iOS (Free, with $4.99 for Pro)
6. Momento
This is probably one of the best journal apps you can get for your iPhone. The app is very well made with a fluid UI sporting a retro colour scheme. The app works flawlessly allowing you to create entries at the tap of a button. It automatically records your time and location to stamp your entries. It has various social media integration which not only allows you to export your entries to them but also allows you to import your check-ins, photos, and memories from them. You can use people and tags to sort and search the notes. The app is free to use with in-app purchases to unlock additional features like touchID protection and export abilities.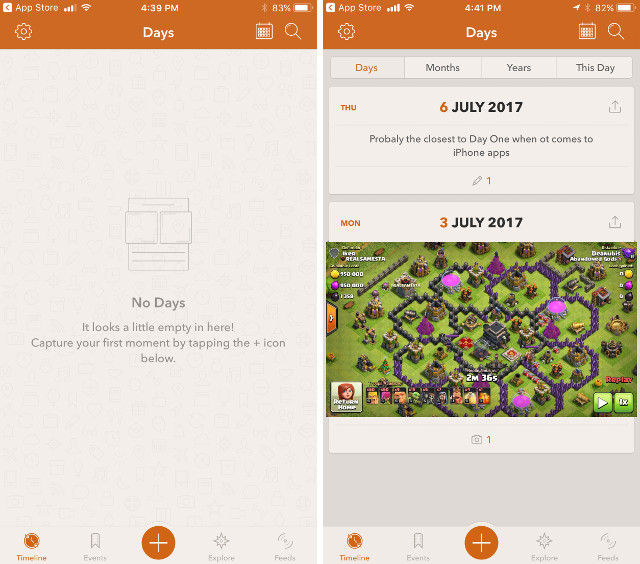 Install: iOS (Free, with in-app purchases)
7. Diaro
Another good journal app for iOS that can work as a great alternative to Day One Journal is Diaro. The best part about this app is that it also has a web companion app which essentially allows you to record your journals from your Mac too. Other than that, it has all the usual features including photo attachment, automatic date and location tagging and so on. You can also use the inbuilt app lock to protect your entries. I really love its theming capabilities which allow me to refresh the look of the app whenever I want too. The app is free to download and use with in-app purchases to unlock some additional features.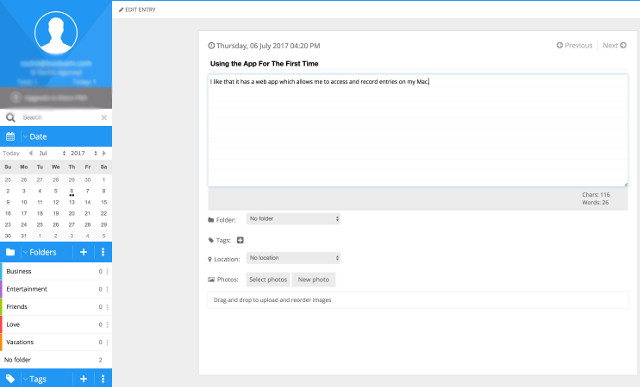 Install: iOS, Web (Free, with in-app purchases)
SEE ALSO: 10 Best Writing Apps For Mac You Can Use 
Don't Want to Pay for Day One Journal Subscription? Try Out These Journal Apps
Day One Journal has adopted the subscription model for its pricing and it has made many of its users angry. I can live with a subscription model for apps like Day One which I use on a daily basis, however, I do think that the subscription is a bit over priced. If you were looking for its alternatives, we have covered the best ones available in the market today. Do tell us if you going to switch or not in the comment section below. Also, tell us the alternative app you think can replace Day One.