So, you've been using that Windows PC of yours for a long time. But don't you miss the super fast performance it had when you had just built it? With time, system's performance does degrade, and that's true. But have you ever wondered why? Well, that's because system essential files such as cache, cookies, and other unnecessary files keep on getting clustered on your device which slows down your PC. Then there's the Windows registry, which, if populated by outdated entries, can have a really bad impact on your system's performance. So, don't you wish there was a simple way to clear your system of all that junk?
Well, that's where CleanMyPC comes in. CleanMyPC for Windows users comes with plenty of tools and features to help clean and optimize their systems. The company claims the software to be the best PC Cleaner out there, but is it so? Let's find out as we review CleanMyPC:
First Impressions
CleanMyPC is one of those software that features a welcoming user interface, one that makes you want to use it again and again. While there are a lot of software out there that claim to be an effective PC cleaner, none of them manage to look as good as CleanMyPC. Featuring a blue-white screen that matches the accent of default Windows, CleanMyPC features a sidebar on the left offering all the features, with the right section of the software for showcasing the results.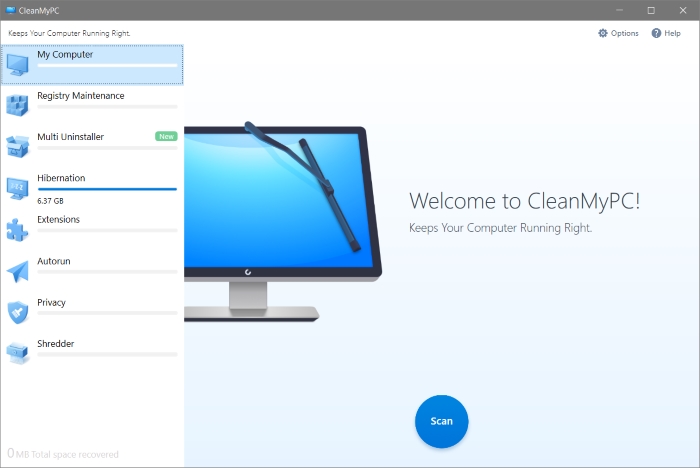 There's also a options menu on the top-right corner which allows you to configure various settings related to the app's features, along with a help section to aid the new users. All in all, the user interface is kept quite neat and minimal. Despite the fact that almost every feature is available on the main screen as it is, the user interface still feels fresh, unlike other competing software that offer a rather clustered user interface. For me, the first impressions of CleanMyPC were great.
Key Features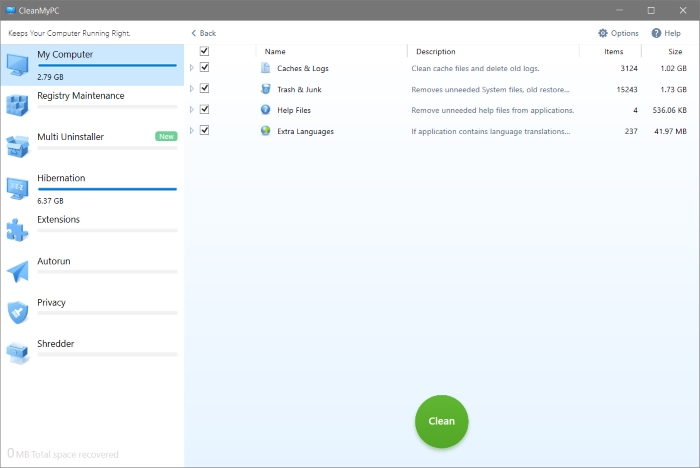 Cache and cookies are all files that are intended to make the user experience faster. However, over time, piling up of these files can be termed as junk. This junk gobbles up your disk space and drags down your computer's performance. That's where CleanMyPC comes in. The software knows exactly where to find the useless files, and which of them are safe to remove. Using just a couple of clicks, the user can remove all these garbage files from their system, and bring back the super speedy performance.
Windows Registry is one of the most core and essential parts of the Windows system. However, when it's cluttered with outdated entries, your software and OS have trouble finding the right data in there. This further slows down your speed. While you could manually edit your registry as well, considering it is a system file, experts suggest you not to go about tampering it yourself. Instead, you can rely on a trusted software such as CleanMyPC, which keeps the Registry on your PC clean to make sure your computer is up to speed, without interfering with other important registry entries.
Advanced Multi Uninstaller
So you feel like you don't need a specific software anymore, so you uninstall it. And now you think that the process is finished, right? You couldn't be any more wrong. Most uninstallers don't always remove the entire program and leave behind useless cache files or toolbars. Well, that's where CleanMyPC comes in. With its Advanced Multi Uninstaller, you can get rid of several apps at a time along with all their leftovers that are typically overlooked. So that means when you uninstall an app using CleanMyPC, the software automatically cleans all the cache, leftover files, as well as registry entries to ensure all traces of that software are removed from your system.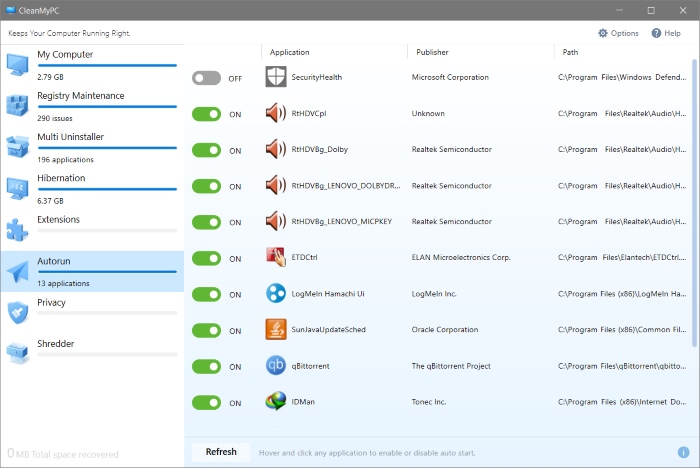 The average user doesn't realize this, but most software that you install on your system gets installed in a way to start automatically while your system boots. This causes an extra load on your system, causing the device to boot slowly. With CleanMyPC, you get the ability to see the autorun items in a single list, so all it takes to disable them is a click. So the next time you feel your PC is booting up slowly, all you have to do is disable the unnecessary apps on startup using CleanMyPC.
User Experience
The overall user experience of CleanMyPC was more than satisfactory. As a power user, I know of all the adverse effects unnecessary junk and garbage files can have on my system's performance. Having CleanMyPC do all the tasks for me is great, and it has proved to be a reliable piece of software.
The software also offers a method to get rid of the system's hibernation file, which can help preserve the user of valuable disc space. It also scans all the browsers installed on the system to check for unnecessary extensions as well as ensure online privacy. On top of that, the software also comes with a file shredder, which is much more secure than normally deleting a file, ensuring that it can never be recovered again.
All in all, CleanMyPC is a fantastic software, one that I see myself using regularly.
Pricing and Availability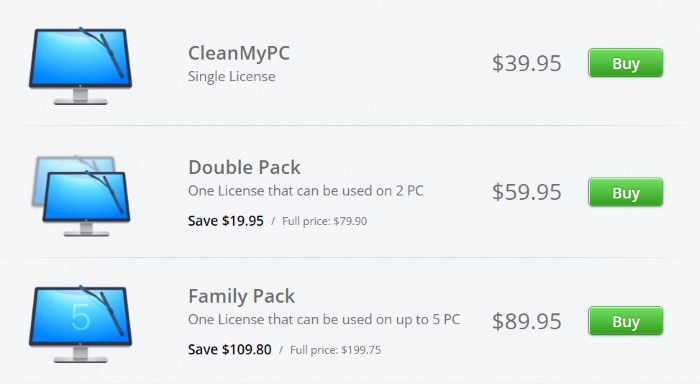 So, how much would this excellent software cost you? Well, if I had to put a price on it, considering the user experience along with its superb performance, I'd easily put it north of a hundred bucks. However, the company has priced the product quite competitively. A single license for CleanMyPC is available for just $39.95, while a double pack for $59.95. Users wanting to get a bigger solution can also buy the family pack for $89.95 which can be used on up to 5 PCs.
CleanMyPC: Worth it or Not?
So, would I recommend CleanMyPC for you? Well, absolutely! The software is excellent, you get a ton of features all packed inside a neat and clean user interface. The performance of the software is excellent, and it takes the hassle away from cleaning and optimizing your PC. For me, CleanMyPC is one of the best software I've ever reviewed, and one that I'd easily recommend to anyone out there looking for a reliable and easy-to-use PC cleaner.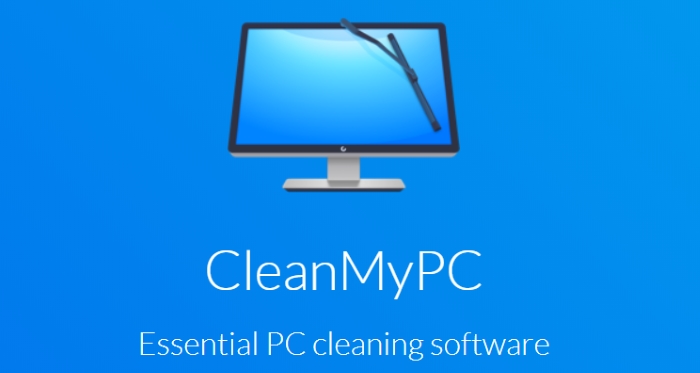 Pros:
Excellent Junk Cleaner
Reliable Registry Cleaner
Advanced Uninstaller is great
Cons:
Clean and Optimize your PC with CleanMyPC
CleanMyPC proves to be a great solution for users who have been looking for an effective and reliable software to clean and optimize their PC. It comes with plenty of useful features such as junk cleaner, registry cleaner, startup optimization, and much more. Yes, it is a paid software, but considering the quality of the product, the offered deal is a steal. CleanMyPC is a fantastic software, which would aid every Windows user out there in optimizing their system and keeping its performance as fast as possible.