Black Friday sales are here and if you're on the lookout for new software deals, here are some pretty great ones for you. GoodOffer24.com is running its Black Friday software sale right now and whether you're looking for fast software license key delivery via email, or you're looking to buy digital game keys or game cards, GoodOffer24.com has pretty much everything on discount.
Get Extra 20% Off on Office 2019 Professional Plus: JGO24bf20
If you've been thinking of upgrading your old Office apps to the latest and greatest that Microsoft has to offer, and you've been holding back because it's just too expensive, GoodOffer24's deal is definitely meant for you. Right now, you can save an additional 20% on the Office 2019 Professional Plus if you buy the CD key from from GoodOfferr24.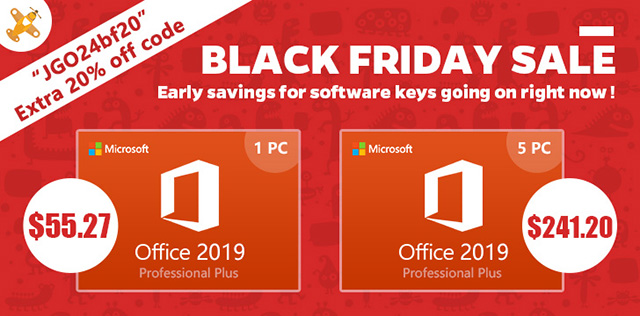 Get Extra 15% Off on All Software Products: JGO24bf15
The second deal from GoodOffer24.com has pretty much everything you might need to buy for your office productivity solutions for incredibly affordable prices. There are offers on Windows 10 Pro, Office 2016, Office 365, and even on Windows 10 + Office 2016 Pro bundles.
These are pretty great because Windows 10 licenses are really expensive, and if you're planning on getting both Windows 10 and Microsoft Office for your work, it's even more expensive. However, with GoodOffer24.com, you can get all these things for an incredibly low price.
Here are the offers you can get on GoodOffer24 right now:
Grab These Black Friday Deals on GoodOffer24.com Right Now
So what are you waiting for? Go ahead and grab these incredible deals on Office 2019, Windows 10, Office 2016, and even Office 365 from GoodOffer24.com right now. Keep in mind that you'll first have to download the software on your system and then activate it with the keys you buy from GoodOffer24.com. So download your office productivity apps, and grab these amazing deals before its too late.
---
Load More